Trump Touts "Pro-Worker" Agenda at Meeting with Union Leaders; Some Waiting for Proof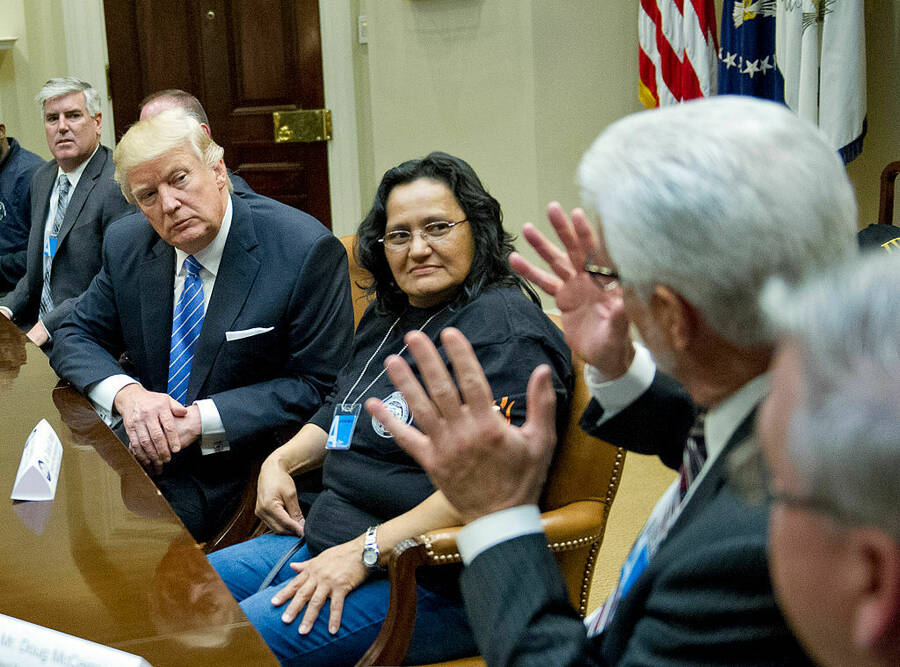 On his first full working day in the White House, President Donald Trump hosted what was announced as two ​"listening" sessions: one with business leaders, the other with union leaders and ​"American workers."
Press secretary Sean Spicer told reporters, ​"The president has been honored to receive tremendous support from union working men and women on Election Day and he's dedicated to growing and deepening their support. And he made it a priority to meet with these union workers." At the meeting, said Spicer, the president would ​"discuss his pro-worker agenda."
But a look at who was in the room and who was not — for both the business and union meetings — offers clues as to where the new administration might be headed. In his remarks, the president focused on eliminating regulations. To the business leaders, Trump said that he would provide them with ​"great service," but offered no specifics as to how his promised cuts in regulation would ensure worker health and safety and help protect the environment. And there were hints of a coming dispute between the administration and labor over the prevailing wages now required on most federal construction projects.
Most unions missing from union meeting
Trump's meeting with union leaders involved representatives from the construction industry. That's essentially it. The group included members of the United Brotherhood of Carpenters, the Laborers' International Union of North America — whose president supports Trump's secretary of state nominee, former ExxonMobil CEO Rex Tillerson—the SMART/​Sheet Metal Workers' union, and members of the Steamfitters and Ironworkers unions.
"I've hired a few of them over the years," Trump told the union leaders. He promised, ​"We're going to put a lot of people back to work." No details were offered but the president said, ​"We're going to have a lot of building going on … You guys will be responsible for getting those plants built."
Many of the nation's largest and most important unions were not at the meeting, including the United Auto Workers, United Steelworkers (USW), Teamsters, the Service Employees International Union (SEIU), UNITE HERE, and the American Federation of State, County and Municipal Employees (AFSCME). Also missing was anyone from the AFL-CIO. Nor were any agricultural workers' unions present.
While many union members supported Trump, many unions and their members have also been vocal in opposing his Cabinet nominees and the policies they support. The AFL-CIO was active in Saturday's Women's March, as was AFSCME, UAW and USW, while SEIU is fighting to protect the Affordable Healthcare Act as is UNITE HERE, which is also active in the fight to protect DACA (Deferred Action for Childhood Arrivals). And these are just a few examples.
North America's Building Trades Unions, whose president Sean McGarvey attended the White House meeting, issued a statement calling it ​"a great day for America and American workers," but also cautioning against cutting wages and benefits — including prevailing wage requirements — for construction workers. United Steelworkers director of health, safety and environment, Michael J. Wright, whose union was not invited to the meeting, noted that moving forward, ​"part of what we have to do is test Trump's rhetoric on issues like trade and infrastructure."
Massive cuts in taxes and regulations — and ​
"

great service"

Earlier in the day, Trump promised business leaders — among them top executives of Corning, Dell, Dow Chemical, Ford Motor Company, International Paper, Johnson & Johnson, Lockheed Martin, SpaceX, Under Armour, U.S. Steel, Whirlpool, and Arconic — that his administration would cut taxes ​"massively." Trump said regulations would be slashed by at least 75 percent. It was not immediately clear which regulations he was referring to. Also promised by the president was ​"a very major border tax" on goods made outside of the United States but sold here.

Virtually all of the companies at the meeting have global operations, which — for many — include both overseas manufacturing and suppliers. For example, 63 percent of Under Armour​'s products are made in China, Jordan, Vietnam and Indonesia; Dell relies on suppliers outside the United States, while Johnson & Johnson has major manufacturing plants in China and the majority of its revenue comes from outside the United States.

Said Trump, ​"We're going to have regulation, and it will be just as strong and just as good and just as protective of the people as the regulation we have right now. The problem with the regulation that we have now is you can't do anything," he said, ​"it's gotten out of control."

"We're going to take care of the environment. We're going to take care of safety and all of the other things we have to take care of," Trump told the executives, ​"but you're going to get such great service. There will be no country that's going to be faster, better, more fair."

After their meeting with the president, representatives from most of the companies said that they looked forward to working with the administration to spur economic growth and U.S. manufacturing.

But David Levine, co-founder and CEO of the American Sustainable Business Council (ASBC), which represents more than 250,000 businesses said, ​"Before gutting business regulations the administration should talk to the business leaders who support them." He explained, ​"Well-constructed regulations actually help business. Businesses depend on good regulations that promote prosperity and ensure a level playing field. When Toledo's restaurants and offices had to close because unrestricted agricultural runoff poisoned Lake Erie, that was hardly good for business."
Be one of the first
Help kick off the new era of In These Times! Without a media that brings people together and creates a written record of the struggles of workers, their voices will be fragmented and forgotten.
The mission of In These Times is to be that written record, and to guide and grow those movements.
We have a lot of work ahead of us, and that work starts today. Early support is the most valuable support, and that's why we're asking you to pitch in now. If you are excited for this new era of In These Times, please make a donation today.
Elizabeth Grossman
is the author of
Chasing Molecules: Poisonous Products, Human Health, and the Promise of Green Chemistry
,
High Tech Trash: Digital Devices, Hidden Toxics, and Human Health
, and other books. Her work has appeared in a variety of publications including
Scientific American
,
Yale e

360
,
Environmental Health Perspectives
,
Mother Jones
,
Ensia
,
Time
,
Civil Eats
,
The Guardian
,
The Washington Post
, Salon and
The Nation
.