Trump Touts "Pro-Worker" Agenda at Meeting with Union Leaders; Some Waiting for Proof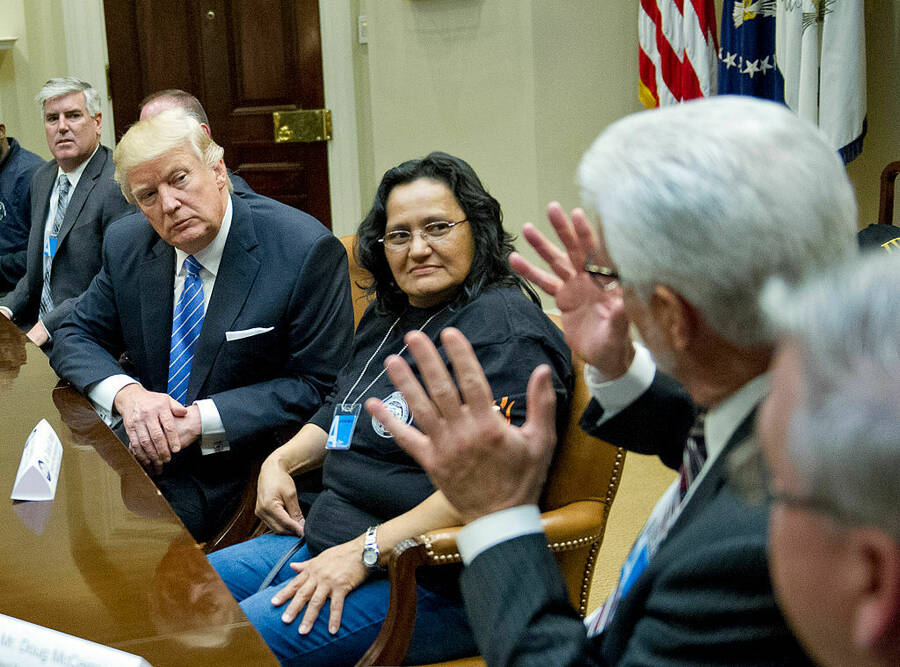 On his first full work­ing day in the White House, Pres­i­dent Don­ald Trump host­ed what was announced as two ​"lis­ten­ing" ses­sions: one with busi­ness lead­ers, the oth­er with union lead­ers and ​"Amer­i­can workers."
Press sec­re­tary Sean Spicer told reporters, ​"The pres­i­dent has been hon­ored to receive tremen­dous sup­port from union work­ing men and women on Elec­tion Day and he's ded­i­cat­ed to grow­ing and deep­en­ing their sup­port. And he made it a pri­or­i­ty to meet with these union work­ers." At the meet­ing, said Spicer, the pres­i­dent would ​"dis­cuss his pro-work­er agenda."
But a look at who was in the room and who was not — for both the busi­ness and union meet­ings — offers clues as to where the new admin­is­tra­tion might be head­ed. In his remarks, the pres­i­dent focused on elim­i­nat­ing reg­u­la­tions. To the busi­ness lead­ers, Trump said that he would pro­vide them with ​"great ser­vice," but offered no specifics as to how his promised cuts in reg­u­la­tion would ensure work­er health and safe­ty and help pro­tect the envi­ron­ment. And there were hints of a com­ing dis­pute between the admin­is­tra­tion and labor over the pre­vail­ing wages now required on most fed­er­al con­struc­tion projects.
Most unions miss­ing from union meeting
Trump's meet­ing with union lead­ers involved rep­re­sen­ta­tives from the con­struc­tion indus­try. That's essen­tial­ly it. The group includ­ed mem­bers of the Unit­ed Broth­er­hood of Car­pen­ters, the Labor­ers' Inter­na­tion­al Union of North Amer­i­ca — whose pres­i­dent sup­ports Trump's sec­re­tary of state nom­i­nee, for­mer Exxon­Mo­bil CEO Rex Tiller­son—the SMART/​Sheet Met­al Work­ers' union, and mem­bers of the Steam­fit­ters and Iron­work­ers unions.
"I've hired a few of them over the years," Trump told the union lead­ers. He promised, ​"We're going to put a lot of peo­ple back to work." No details were offered but the pres­i­dent said, ​"We're going to have a lot of build­ing going on … You guys will be respon­si­ble for get­ting those plants built."
Many of the nation's largest and most impor­tant unions were not at the meet­ing, includ­ing the Unit­ed Auto Work­ers, Unit­ed Steel­work­ers (USW), Team­sters, the Ser­vice Employ­ees Inter­na­tion­al Union (SEIU), UNITE HERE, and the Amer­i­can Fed­er­a­tion of State, Coun­ty and Munic­i­pal Employ­ees (AFSCME). Also miss­ing was any­one from the AFL-CIO. Nor were any agri­cul­tur­al work­ers' unions present.
While many union mem­bers sup­port­ed Trump, many unions and their mem­bers have also been vocal in oppos­ing his Cab­i­net nom­i­nees and the poli­cies they sup­port. The AFL-CIO was active in Saturday's Women's March, as was AFSCME, UAW and USW, while SEIU is fight­ing to pro­tect the Afford­able Health­care Act as is UNITE HERE, which is also active in the fight to pro­tect DACA (Deferred Action for Child­hood Arrivals). And these are just a few examples.
North America's Build­ing Trades Unions, whose pres­i­dent Sean McGar­vey attend­ed the White House meet­ing, issued a state­ment call­ing it ​"a great day for Amer­i­ca and Amer­i­can work­ers," but also cau­tion­ing against cut­ting wages and ben­e­fits — includ­ing pre­vail­ing wage require­ments — for con­struc­tion work­ers. Unit­ed Steel­work­ers direc­tor of health, safe­ty and envi­ron­ment, Michael J. Wright, whose union was not invit­ed to the meet­ing, not­ed that mov­ing for­ward, ​"part of what we have to do is test Trump's rhetoric on issues like trade and infrastructure."
Mas­sive cuts in tax­es and reg­u­la­tions — and ​
"

great service"

Ear­li­er in the day, Trump promised busi­ness lead­ers — among them top exec­u­tives of Corn­ing, Dell, Dow Chem­i­cal, Ford Motor Com­pa­ny, Inter­na­tion­al Paper, John­son & John­son, Lock­heed Mar­tin, SpaceX, Under Armour, U.S. Steel, Whirlpool, and Arcon­ic — that his admin­is­tra­tion would cut tax­es ​"mas­sive­ly." Trump said reg­u­la­tions would be slashed by at least 75 per­cent. It was not imme­di­ate­ly clear which reg­u­la­tions he was refer­ring to. Also promised by the pres­i­dent was ​"a very major bor­der tax" on goods made out­side of the Unit­ed States but sold here.

Vir­tu­al­ly all of the com­pa­nies at the meet­ing have glob­al oper­a­tions, which — for many — include both over­seas man­u­fac­tur­ing and sup­pli­ers. For exam­ple, 63 per­cent of Under Armour​'s prod­ucts are made in Chi­na, Jor­dan, Viet­nam and Indone­sia; Dell relies on sup­pli­ers out­side the Unit­ed States, while John­son & John­son has major man­u­fac­tur­ing plants in Chi­na and the major­i­ty of its rev­enue comes from out­side the Unit­ed States.

Said Trump, ​"We're going to have reg­u­la­tion, and it will be just as strong and just as good and just as pro­tec­tive of the peo­ple as the reg­u­la­tion we have right now. The prob­lem with the reg­u­la­tion that we have now is you can't do any­thing," he said, ​"it's got­ten out of control."

"We're going to take care of the envi­ron­ment. We're going to take care of safe­ty and all of the oth­er things we have to take care of," Trump told the exec­u­tives, ​"but you're going to get such great ser­vice. There will be no coun­try that's going to be faster, bet­ter, more fair."

After their meet­ing with the pres­i­dent, rep­re­sen­ta­tives from most of the com­pa­nies said that they looked for­ward to work­ing with the admin­is­tra­tion to spur eco­nom­ic growth and U.S. manufacturing.

But David Levine, co-founder and CEO of the Amer­i­can Sus­tain­able Busi­ness Coun­cil (ASBC), which rep­re­sents more than 250,000 busi­ness­es said, ​"Before gut­ting busi­ness reg­u­la­tions the admin­is­tra­tion should talk to the busi­ness lead­ers who sup­port them." He explained, ​"Well-con­struct­ed reg­u­la­tions actu­al­ly help busi­ness. Busi­ness­es depend on good reg­u­la­tions that pro­mote pros­per­i­ty and ensure a lev­el play­ing field. When Toledo's restau­rants and offices had to close because unre­strict­ed agri­cul­tur­al runoff poi­soned Lake Erie, that was hard­ly good for business."
Eliz­a­beth Gross­man
is the author of
Chas­ing Mol­e­cules: Poi­so­nous Prod­ucts, Human Health, and the Promise of Green Chem­istry
,
High Tech Trash: Dig­i­tal Devices, Hid­den Tox­i­cs, and Human Health
, and oth­er books. Her work has appeared in a vari­ety of pub­li­ca­tions includ­ing
Sci­en­tif­ic Amer­i­can
,
Yale e

360
,
Envi­ron­men­tal Health Per­spec­tives
,
Moth­er Jones
,
Ensia
,
Time
,
Civ­il Eats
,
The Guardian
,
The Wash­ing­ton Post
, Salon and
The Nation
.