'Uber is a rip-off for its drivers and the public': Cab Drivers Protest Rideshares in Chicago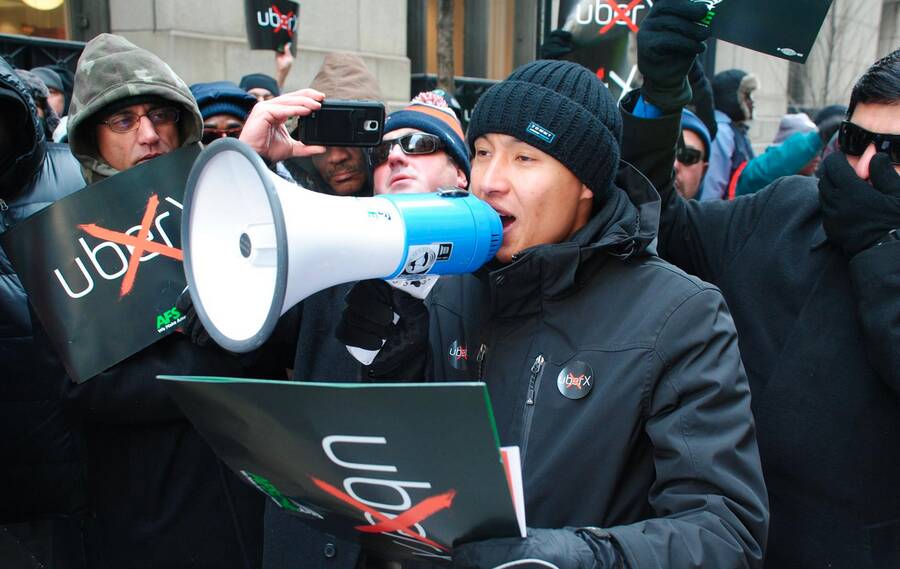 If you've tak­en an Uber recent­ly, you prob­a­bly forked over an extra dol­lar for a ​"Safe Ride Fee," a recent­ly-added cost that the tech giant says will help ensure that dri­vers and their vehi­cles are fit for the road. Soon, you will also be able to share details of your loca­tion and ETA with peo­ple wait­ing at the oth­er end of your Uber ride, just in case your dri­ver decides to dri­ve you to a seclud­ed loca­tion, sex­u­al­ly assault you, and/​or hit you over the head with a ham­mer—all offens­es that Uber dri­vers have alleged­ly com­mit­ted against rid­ers dur­ing the past year.
Uber denied lia­bil­i­ty in these inci­dents, as well as in the death of a 6‑year-old girl struck by one of its dri­vers in San Fran­cis­co last year. But in Decem­ber Uber hired a ​"head of glob­al safe­ty" and pledged to ramp up pre­cau­tions. Rid­ers may or may not be com­fort­ed by the results so far: Among them, an assur­ance that they will now be able to press an app-based ​"pan­ic but­ton" if things in the pas­sen­ger seat start to go awry. But they're con­sis­tent with Uber's approach of let­ting the free mar­ket to take the wheel — while con­tin­u­ing to col­lect com­mis­sions of up to 25 per­cent. Uber is cur­rent­ly val­ued at $40 billion.
The com­pa­ny has faced a slew of bad head­lines in Chica­go as of late, includ­ing two alleged sex­u­al assaults by its dri­vers over a three-week peri­od in Jan­u­ary. Nev­er­the­less, the city announced this week that it would license Uber to oper­ate as a ​"trans­porta­tion net­work provider" (TNP), a new cat­e­go­ry of com­mer­cial vehi­cle trans­porta­tion cre­at­ed last year.
On Wednes­day, more than 100 Chica­go cab dri­vers ral­lied at City Hall to protest the deci­sion, which they say harms their liveli­hoods as well as pub­lic safe­ty. Chica­go cab dri­vers must pass back­ground checks and drug and phys­i­cal exams each year as a con­di­tion of license renew­al, lead­ing cab­bies to com­plain that they're vic­tims of a ​"two-tier" sys­tem that sub­jects them to oner­ous reg­u­la­tion while giv­ing a free pass to Uber, Lyft and oth­er app-based ride services.
​"The issues are pil­ing up and the city is not solv­ing them," said Ismail Onay, who has been a licensed taxi dri­ver in Chica­go for 14 years. ​"Dri­ving a cab used to be a path­way to the mid­dle class, but Uber is dis­rupt­ing and killing our industry."
While Chica­go caps the num­ber of cabs that can oper­ate at any giv­en time to about 6,500, there are as many as 13,000 Uber dri­vers in the city accord­ing to Cab Dri­vers Unit­ed, a labor group affil­i­at­ed with AFSCME Coun­cil 31 that staged Wednesday's protest. The Unit­ed Taxidrivers Com­mu­ni­ty Coun­cil, anoth­er labor group, staged a sep­a­rate protest against Uber on Tuesday.
App-based ​"shar­ing econ­o­my" com­pa­nies have long enjoyed a reg­u­la­to­ry Wild West, but Chica­go, Boston and sev­er­al oth­er cities have moved recent­ly to impose new rules on rideshar­ing. After pass­ing an ordi­nance last spring that estab­lished a licens­ing process and pro­tec­tions against price surg­ing, Chica­go issued the first TNP licens­es to Lyft and Side­car in November.
Accord­ing to the rideshar­ing ordi­nance, com­pa­nies whose dri­vers log an aver­age of more than 20 hours per week must obtain a ​"Class B" license, which requires dri­vers on the plat­form to obtain a pub­lic chauffeur's license and sub­mit to back­ground checks and annu­al vehi­cle inspec­tions con­duct­ed by the city. But both Lyft and Side­car were grant­ed the less restric­tive and expen­sive ​"Class A" license cre­at­ed by the ordi­nance, under which the com­pa­nies must pay $10,000 for the licens­es but can con­tin­ue to con­duct their own back­ground and vehi­cle inspections.
The city allows com­pa­nies to choose which license they apply for, and then allows them to self-report their own data on dri­ver hours to prove that they are com­ply­ing with its reg­u­la­tions. As a result, say cab com­pa­nies and oth­er crit­ics of the ordi­nance, few com­pa­nies are like­ly to opt for the more expen­sive and oner­ous license — effec­tive­ly con­tin­u­ing the unreg­u­lat­ed sta­tus quo for ridesharing.
Uber also applied for a TNP license, but the city had delayed its approval in the wake of the alleged sex­u­al assaults by its dri­vers. Accord­ing to the Chica­go Sun-Times, the city's deci­sion this week to license Uber is con­tin­gent on a ​"promise" from the com­pa­ny to imple­ment a list of addi­tion­al safe­ty mea­sures in Chica­go, includ­ing coop­er­at­ing with police in inves­ti­ga­tions of its dri­vers, employ­ing off-duty police offi­cers to con­duct month­ly safe­ty audits and check­ing the city's list of sus­pend­ed, denied and revoked chauffeur's licens­es and deac­ti­vat­ing any dri­vers who appear on this list. (Nei­ther the City of Chica­go nor Uber respond­ed to requests for com­ment on this decision).
Cab dri­vers believe this is woe­ful­ly inadequate.
"After two years of oper­at­ing ille­gal­ly in Chica­go, the city's response to allow Uber, a polit­i­cal­ly con­nect­ed, bil­lion-dol­lar cor­po­ra­tion to oper­ate based on a ​'promise' is unlike any­thing I've ever seen," said Cheryl Miller, a mem­ber of CDU.
They're not the only ones cry­ing foul. Alder­man Bob Fioret­ti, who is run­ning for may­or in Chicago's elec­tions this month, has accused cur­rent May­or Rahm Emanuel of polit­i­cal favoritism towards Uber. The mayor's broth­er, Hol­ly­wood agent Ari Emanuel, is a major investor in Uber, though his William Mor­ris Endeav­or agency has declined to state exact­ly how large its own­er­ship inter­est is.
The may­or has said that his advo­ca­cy of rideshar­ing reg­u­la­tions are ​"just the oppo­site" of favoritism. ​"Let me say this about Ari. He doesn't need his old­er broth­er to get rich. Think of it as me get­ting back at him," Emanuel told the Chica­go Sun-Times last year.
Uber pas­sen­gers, of course, aren't the only ones being tak­en for a ride by Sil­i­con Val­ley. As In These Times has report­ed pre­vi­ous­ly, dri­vers on the Uber plat­form have been stag­ing protests of their own in oppo­si­tion to what they say are errat­ic fare cuts and a dwin­dling share of the company's profits.
Cab Dri­vers Unit­ed (CDU), which began orga­niz­ing Chica­go taxi dri­vers last year, says that it cur­rent­ly has 4,000 mem­bers, none of them UberX dri­vers. But a spokesper­son says that the group would wel­come dri­vers who work on app-based plat­forms, giv­en the exploita­tive nature of the industry.
Fol­low­ing efforts by AFSCME to orga­nize cab dri­vers in New Orleans, CDU has been work­ing to reduce the rates dri­vers pay to lease their vehi­cles; improve the process for adju­di­cat­ing com­plaints and cita­tions, for which dri­vers can lose their licens­es; and decrease the max­i­mum fines dri­vers can receive for vio­la­tions like rid­er com­plaints or traf­fic vio­la­tions. The group is not offi­cial­ly a union, and AFSCME says it has no plans at present to file for an elec­tion, but CDU was suc­cess­ful in pass­ing a ​"taxi dri­ver fair­ness" ordi­nance through the city coun­cil that will take effect this month.
Still, taxi dri­vers say that Uber is cut­ting into their fares and that the city needs to cre­ate a lev­el play­ing field.
"Uber is a rip-off for its dri­vers and a rip-off for the pub­lic," said cab dri­ver and CDU mem­ber David Boakye. ​"This is our first big protest against Uber in Chica­go, but if we need to we will escalate."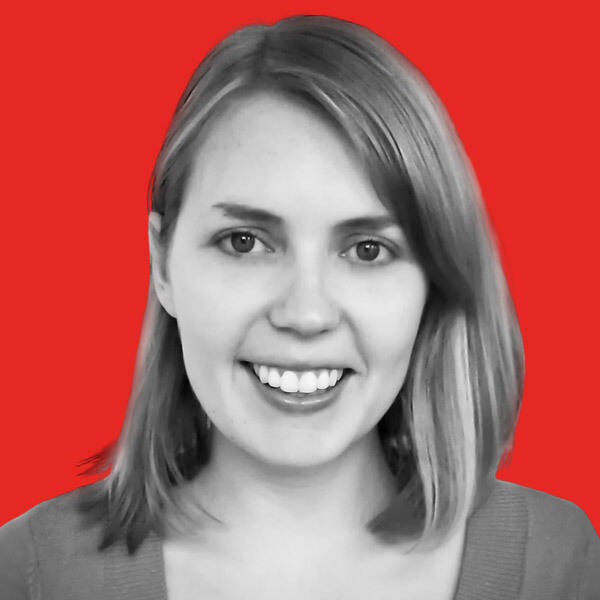 Rebec­ca Burns
is an award-win­ning inves­tiga­tive reporter whose work has appeared in The Baf­fler, the Chica­go Read­er, The Inter­cept and oth­er out­lets. She is a con­tribut­ing edi­tor at In These Times. Fol­low her on Twit­ter @rejburns.