Indian Bank Workers Join Crippling General Strike Against Government Plans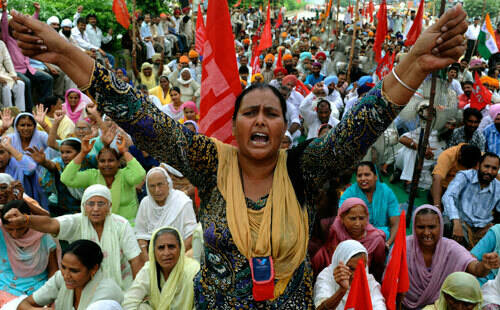 Labor and bank­ing unions in India orga­nized a strike on Tues­day over a slew of com­plaints, includ­ing ris­ing prices, eco­nom­ic reforms and anti-union policies.
In the sec­ond strike dur­ing the last two months, the walk­out halt­ed life in the pre­dom­i­nant­ly Com­mu­nist Par­ty-led states of the coun­try, shut­ter­ing schools, busi­ness­es and led to some flight can­cel­la­tions. The walk­out was more mea­sured than the nation­wide strike led by the nation­al government's oppo­si­tion par­ty in July, where peo­ple protest­ed against high fuel costs at a time when the pop­u­la­tion was already deal­ing with infla­tion near­ing the dou­ble dig­its.

But this time, bank work­ers joined the mount­ing dis­sat­is­fac­tion with gov­ern­ment plans to reform the bank­ing sec­tor. An esti­mat­ed eight major trade unions called for the strike, includ­ing two large bank­ing unions: the All-India Bank Employ­ees' Asso­ci­a­tion (AIBEA) and the Bank Employ­ees Fed­er­a­tion of India (BEFI).
The AIBEA, which is India's largest and old­est bank union, and oth­er labor groups are opposed to gov­ern­ment plans for for­eign direct invest­ment in the finan­cial sec­tor and con­sol­i­da­tion of the state-run banks that threat­en jobs.

AIBEA sec­re­tary Vish­was Uta­gi said in a state­ment that pub­lic banks should be strength­ened since they were more resilient dur­ing the finan­cial cri­sis.
​"Expan­sion of pub­lic sec­tor banks net­work is nec­es­sary for reach­ing out to the poor­est of the poor for mak­ing the finan­cial inclu­sion mod­el of the RBI a suc­cess," Uta­gi added.
The BEFI, which rep­re­sents 100,000 work­ers, echoed a pop­ulist tone and crit­i­cized the influ­ence of cor­po­rate and for­eign inter­ests in a state­ment: ​"It is most regret­table that despite per­sis­tant demands of the work­ing class,…the Cen­tral Gov­ern­ment appears to be total­ly indif­fer­ent to the prob­lems afflict­ing the lives and liveli­hood of the com­mon man," wrote joint sec­re­tary Joy­deb Das­gup­ta.

Most of the strik­ing work­ers were in south­ern Ker­ala and West Ben­gal. The mass mobi­liza­tion of India's bank­ing sec­tor is in stark con­trast to the Unit­ed States, where work­ers in the finan­cial ser­vices have nev­er been union­ized.

As pre­vi­ous­ly report­ed here by Mike Elk, less than 1 per­cent of Amer­i­can bank work­ers who work in front office posi­tions are in a union. If the finan­cial indus­try union­ized, Elk says work­ers could influ­ence banks to imple­ment more con­sumer-friend­ly poli­cies.

That's what labor groups in India are attempt­ing to do as Prime Min­is­ter Man­mo­han Singh's admin­is­tra­tion faces a large deficit. Singh has been push­ing ahead with mea­sures to curb spend­ing in Asia's third largest econ­o­my with some dif­fi­cult bud­get cuts. The deci­sion to low­er fuel sub­si­dies, which would raise prices for the aver­age con­sumer, was the pri­ma­ry rea­son for the July strike. More than 828 mil­lion peo­ple in India live on less than $2 dol­lars a day.

The tim­ing of the strike this week, coin­ci­den­tal­ly, occurs at the same time bank exec­u­tives are attend­ing the annu­al con­fer­ence for the Indi­an Banks' Asso­ci­a­tion in Mum­bai, who say they face a job short­fall for those with the nec­es­sary skills.

More than 70 per­cent of the banks in India are pub­licly owned. James Fontanel­la-Khan of the Finan­cial Times says that pri­va­tiz­ing banks is sug­gest­ed to fos­ter com­pe­ti­tion. But he also points out that India's state banks pay less than the pri­vate sec­tor and could lose their best workers.
While The Times of India, the country's biggest news­pa­per, has writ­ten off the gen­er­al strike and protests, also called bandh, as out­dat­ed tac­tics. But the unions have nego­ti­at­ed wage and con­tract issues before, and will most like­ly be in the fore­front of mak­ing sure their needs are met as the coun­try under­goes a tran­si­tion in the bank­ing sec­tor with dis­in­vest­ment and mergers.