When Unions Save Lives
The threat of fines doesn't always make mines safer. But unions can.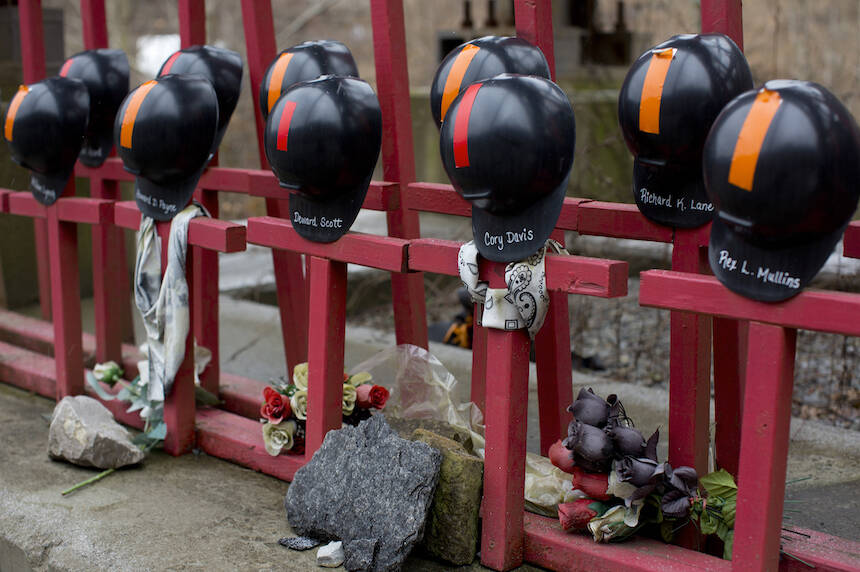 CEN­TRAL CITY, KY. — It was a typ­i­cal work­day for Michael ​"Flip" Wil­son when a splin­tered steel bit punc­tured his fore­head an inch above his eye. He was oper­at­ing the claw-like con­tin­u­ous min­er, a machine that cuts coal from an under­ground seam. Back above ground, Wilson's super­in­ten­dent tweezed out the met­al, slapped on a BandAid and sent him back under, Wil­son says. It hap­pened again two days later.
'I've carried out a guy with a leg or an arm cut off. I've seen guys burn up. I've seen 10 get killed down there at one time in an explosion.'
That was about five years ago, when Wil­son was 60. Wil­son left his final coal job at Park­way Mine in 2015. He insists he loved his 44-year career through­out West­ern Ken­tucky, though it was check­ered with sim­i­lar injuries: a bro­ken fin­ger, elec­tro­cu­tion from a bad cable, and mul­ti­ple inci­dents of being buried under rockfall.
"I've seen a guy with a bro­ken back," Wil­son says. ​"I've car­ried out a guy with a leg or an arm cut off. I've seen guys burn up. I've seen 10 get killed down there at one time in an explosion."
Ken­tucky has seen five coal mine fatal­i­ties this year, and while injuries from mine acci­dents are on the decline nation­al­ly — from more than 5,000 report­ed in 2005 to about 1,500 in 2018 — the Mine Safe­ty and Health Admin­is­tra­tion (MSHA) cred­its the decline in part to the over­all decline in coal jobs, as well as tougher enforcement.
MSHA, cre­at­ed in 1977, inspects under­ground mines quar­ter­ly. When it finds a safe­ty haz­ard, MSHA can fine the mine oper­a­tors. How­ev­er, $100 mil­lion of $1 bil­lion levied in penal­ties between 2000 and 2017 remains unpaid. MSHA has no pow­er to com­pel pay­ment unless it files a law­suit, and oper­a­tors with unpaid fines can open new mine oper­a­tions with­out consequences.
The Depart­ment of Labor's Office of Inspec­tor Gen­er­al report­ed in August that MSHA's col­lec­tions pro­gram hasn't led to safer min­ing oper­a­tions, and no cor­re­la­tion exists between the amount or fre­quen­cy of penal­ties and the safe­ty of a mine. ​"Many com­pa­nies see fines as the cost of doing busi­ness," says Tony Oppe­gard, an attor­ney who spe­cial­izes in mine safe­ty cases.
There is, how­ev­er, one way to pre­vent acci­dents: unions. Accord­ing to a new Stan­ford Uni­ver­si­ty study of under­ground safe­ty from 1993 to 2010, ​"Union­iza­tion is asso­ci­at­ed with a 13 – 30% drop in trau­mat­ic injuries and a 28- 83% drop in fatalities."
"At a union­ized mine, you have safe­ty com­mit­teemen who are appoint­ed by the union to look out for the safe­ty of their fel­low work­ers," Oppe­gard says.
Almost 20% of mines were union­ized in 1993, but by 2010, the pro­por­tion was below 10%. No union­ized coal mines are left in Kentucky.
Wil­son did not have the ben­e­fit of union pro­tec­tion, so he was at the mer­cy of the com­pa­nies. ​"They can make it safer, but … they just want the coal," Wil­son says.
Oppe­gard thinks MSHA should be using more pow­er­ful enforce­ment tools at its dis­pos­al. For exam­ple, the agency can rec­om­mend the Sec­re­tary of Labor file an injunc­tion to shut down dan­ger­ous mines. MSHA used this pow­er for the first time in 2010 against a Massey Ener­gy Com­pa­ny mine that had almost 2,000 cita­tions in two years. (Massey is the same cor­po­ra­tion respon­si­ble for the 2010 Upper Big Branch mine dis­as­ter that left 29 dead in West Virginia.)
In response, Massey sim­ply closed the mine. Oppe­gard hopes legal action can reduce future safe­ty and health vio­la­tions. He has rep­re­sent­ed Wil­son in safe­ty com­plaints against Arm­strong Coal Com­pa­ny, oper­a­tor of Park­way Mine, where Wil­son worked. Wil­son claims the com­pa­ny vio­lat­ed MSHA reg­u­la­tions by run­ning tests of coal dust lev­els for 4 to 5 hours instead of the required 8 to 10, cheat­ing the results. Now, the fed­er­al gov­ern­ment has filed a crim­i­nal com­plaint against for­mer man­agers of Arm­strong Coal (which went under in 2017) over the alleged test tam­per­ing. Lawyers for the defen­dants did not respond to a request for comment.
The Nation­al Insti­tute for Occu­pa­tion­al Safe­ty and Health reports that 1 in 5 long­time coal min­ers in cen­tral Appalachia has black lung, a poten­tial­ly fatal clus­ter of lung dis­eases, from inhal­ing unsafe amounts of coal dust. Since 1969, black lung has caused the death of at least 76,000 for­mer coal miners.
Wil­son has had black lung for at least 5 years. He is tes­ti­fy­ing in the fed­er­al case. But a suc­cess­ful suit won't cure his condition.
"Hell, I can't do any­thing," Wil­son says of his con­di­tion. ​"I've got three great-grand­kids and I can't play with them the way I want to. I run out of oxy­gen. And there ain't no cure for it."
Austyn Gaffney
is a free­lance writer from Ken­tucky who has writ­ten for Huff­Post, onEarth, Sier­ra and Vice.