The New UN Secretary-General Is a Portuguese Socialist Who Speaks Out for Refugees
António Guterres isn't perfect, but he's been a consistent voice for multiculturalism in an increasingly right-wing world.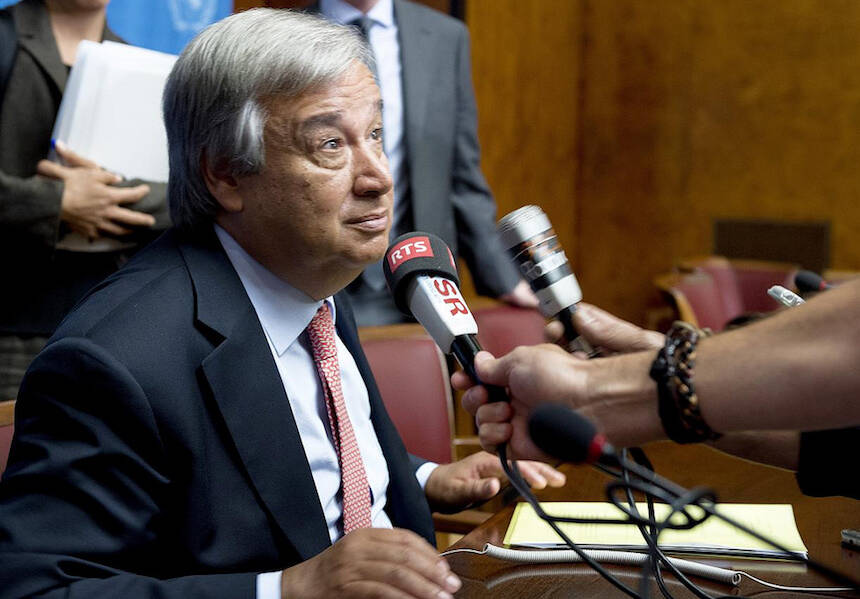 On Jan­u­ary 1, as rev­el­ers world­wide wel­comed the end of a dis­as­trous 2016, the Unit­ed Nations swore in its new Sec­re­tary-Gen­er­al. António Guter­res, a Por­tuguese politi­cian and diplo­mat who has occu­pied major posi­tions in his country's gov­ern­ment, in the UN and in the Social­ist Inter­na­tion­al, began his five-year term with a com­mit­ment to mul­ti­cul­tur­al­ism and human­i­tar­i­an­ism in the face of a glob­al rise of right-wing nation­al­ist movements.
Guterres also worked to achieve gender parity within the Office of the UN High Commissioner for Refugees.
In an Oct. 13, 2016, state­ment, he declared his belief ​"that diver­si­ty in all its forms is a tremen­dous asset, and not a threat; that in soci­eties that are more and more mul­ti-eth­nic, mul­ti-cul­tur­al and mul­ti-reli­gious, diver­si­ty can bring us togeth­er, not dri­ve us apart.."
Guter­res is exact­ly the sort of Sec­re­tary-Gen­er­al that the Unit­ed Nations — and the world — needs today.
He began his polit­i­cal career as a fast-ris­ing star in the Por­tuguese Social­ist Par­ty short­ly after the Car­na­tion Rev­o­lu­tion unseat­ed Portugal's 41-year fas­cist dic­ta­tor­ship in 1974. In the late 1970s, he worked in the Office of the Sec­re­tary of State of Indus­try, nego­ti­at­ing the entrance of Por­tu­gal into the Euro­pean Com­mu­ni­ty (which would lat­er become the Euro­pean Union).
By 1988, Guter­res was the leader of the Social­ists in Par­lia­ment, in oppo­si­tion to the neolib­er­al Social Demo­c­ra­t­ic Par­ty. Three years lat­er, he helped found the Por­tuguese Refugee Coun­cil, which serves as a nation­al part­ner to the UN High Com­mis­sion­er for Refugees — this was an ear­ly indi­ca­tor of his lat­er path in life as a refugee advocate.
Final­ly, after the Social Democ­rats rout­ed the Social­ists yet again, Guter­res became head of the Social­ist Par­ty in 1992, and led it to vic­to­ry in the 1995 elec­tions. As prime min­is­ter, he worked hard to final­ize Portugal's decol­o­niza­tion, relin­quish­ing Macau to Chi­na in 1999 and cam­paign­ing for UN peace­keep­ing pro­tec­tion for the for­mer colony of East Tim­or as it reject­ed a 24-year West­ern-backed Indone­sian occu­pa­tion. He also suc­cess­ful­ly pushed for the decrim­i­nal­iza­tion of drug use in 2001.
This doesn't mean his tenure was per­fect. Despite its name, the Por­tuguese Social­ist Par­ty is in truth clos­er to the cen­ter, and as its head Guter­res over­saw the increased pri­va­ti­za­tion of indus­try. He did attempt to democ­ra­tize this process, how­ev­er, giv­ing more shares to more peo­ple in major indus­tri­al and media companies.
He also proved flawed on abor­tion and LGBT rights. On the for­mer, Guter­res opposed the lib­er­al­iza­tion of Portugal's dra­con­ian abor­tion laws in 1998 — which only per­mit­ted abor­tions in cas­es of rape, threats to the woman's health, or mal­for­ma­tions of the fetus — going against the major­i­ty of his par­ty. He ulti­mate­ly led the No cam­paign to a ref­er­en­dum vic­to­ry, in a defeat for repro­duc­tive rights advo­cates across the coun­try. Not until 2007, under a dif­fer­ent Social­ist Par­ty leader, were the laws liberalized.
On the lat­ter, Guter­res said in 1995 that ​"he did not like homo­sex­u­al­i­ty." He did, how­ev­er, pre­side over the legal­iza­tion of same-sex civ­il unions a few years later.
Also dur­ing his time as Prime Min­is­ter, Guter­res became the Pres­i­dent of the Social­ist Inter­na­tion­al, which he led until 2005.
After an eco­nom­ic down­turn led to loss­es for the Social­ist Par­ty in local elec­tions in the ear­ly 2000s, Guter­res resigned from office, and turned instead to diplo­ma­cy. It was here he began the work that would lead him to head the Unit­ed Nations.
In 2005, Guter­res was elect­ed as the UN High Com­mis­sion­er for Refugees (UNHCR), the Unit­ed Nations' pre­mier refugee agency. His most sig­nif­i­cant act was to over­haul the agency's bureau­cra­cy, slash­ing bud­gets in the Gene­va head­quar­ters to free up more resources to deploy in the field. He also worked to achieve gen­der par­i­ty with­in the orga­ni­za­tion, bring­ing the per­cent­age of women in UNHCR senior posi­tions to 42 per­cent from less than 30 per­cent. On his Senior Man­age­ment Com­mit­tee of 20, by the end of his tenure, ten mem­bers were women.
The first exter­nal focus­es of his tenure were the Iraqi refugee cri­sis and a num­ber of crises in Cen­tral Africa, which he described as under­re­port­ed and under­rep­re­sent­ed in West­ern media cov­er­age. When announc­ing Guter­res' lat­er appoint­ment as UN Sec­re­tary Gen­er­al, cur­rent UN head Ban Ki-moon said that Guter­res is ​"best known where it counts most, on the front lines of armed con­flict and human­i­tar­i­an suffering."
In 2010, Guter­res was re-elect­ed for anoth­er five-year term, and in 2015 he was appoint­ed for an addi­tion­al six months. Thus, he was also the head of the UNHCR dur­ing the Syr­i­an refugee cri­sis, the largest since the Sec­ond World War. More than 6 mil­lion Syr­i­ans are inter­nal­ly dis­placed, and more than 4 mil­lion are refugees out­side Syr­i­an borders.
Guter­res worked hard to secure aid for these refugees, most notably launch­ing UNHCR's largest ever aid dri­ve to raise $5 bil­lion for Syrians.
What he is most not­ed for, how­ev­er, is his tire­less effort to push West­ern and par­tic­u­lar­ly Euro­pean coun­tries to accept more refugees. Guter­res repeat­ed­ly admon­ished these nations for not mak­ing enough of an effort to raise mon­ey and admit refugees. Lebanon and Jor­dan, he said, were bear­ing the brunt of the cri­sis while the Euro­peans dithered and debat­ed the sup­posed dan­gers to their nation­al cul­tures if too many Syr­i­ans were to enter their countries.
In April 2015, Guter­res wrote in Time that ​"it's time for Euro­peans to aban­don the delu­sion that we can iso­late our­selves from this cri­sis. Our region is liv­ing through the great­est human­i­tar­i­an dis­as­ter since World War II, but our response is lag­ging far behind. It's time to shift gears."
He called not just for more humane treat­ment of more refugees, but also for an active and explic­it embrace of mul­ti­cul­tur­al­ism. He sees a ris­ing trend of xeno­pho­bic nation­al­ism as a threat to the safe­ty and com­fort of refugees as well as to the fab­ric of Euro­pean society.
At the Nation­al Press Club on Oct. 27, 2015, Guter­res said that Euro­peans have ​"a sense of false iden­ti­ty relat­ed to a real­i­ty that is no longer pos­si­ble. … Diver­si­ty is the essence of soci­ety. All soci­eties are becom­ing mul­ti­cul­tur­al … and that is a good thing."
This is essen­tial, espe­cial­ly in light of a world­wide rise of right-wing move­ments that view diver­si­ty as unde­sir­able at best, and as ​"white geno­cide" at worst.
That the new Sec­re­tary-Gen­er­al of the Unit­ed Nations is so out­spo­ken in favor of a world­view that rejects the iso­la­tion­ism and xeno­pho­bia of the Right is one of the few things pro­gres­sives can be thank­ful for in the years to come. See­ing as Guter­res' first term will coin­cide with Trump's first term and elec­tions across Europe, we must work to encour­age him to speak out in favor of mul­ti­cul­tur­al­ism domes­ti­cal­ly and human­i­tar­i­an­ism inter­na­tion­al­ly, no mat­ter the forces that stand against him.
Marc Daalder
is a jour­nal­ist based in Detroit, Michi­gan and Welling­ton, NZ who writes on pol­i­tics, pub­lic hous­ing, and inter­na­tion­al rela­tions. Twit­ter: @marcdaalder.