Do We Need a Universal Basic Income? A Debate.
Getting free money from the government is popular. But would it prop up capitalism?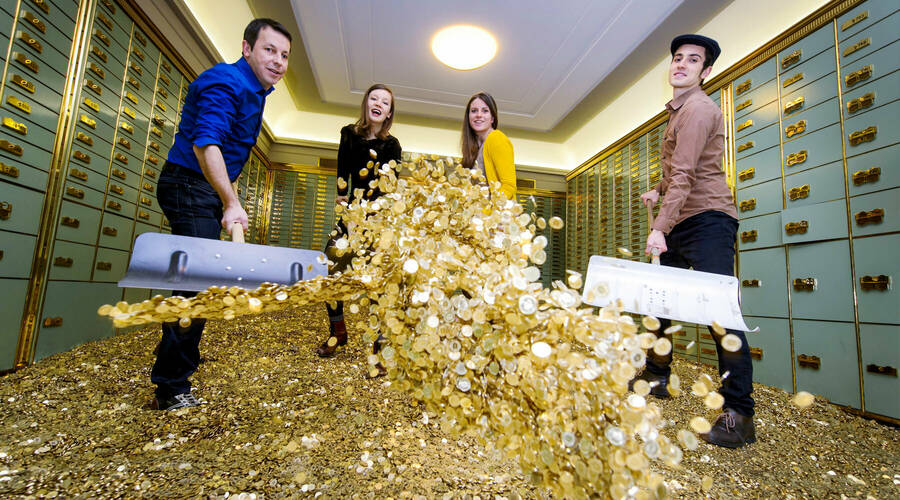 The Case for a Uni­ver­sal Basic Income
Unlike a JG, this kind of UBI has been tried successfully.
by Matt Bruenig
In Amer­i­ca today, around two-thirds of the nation­al income is paid out to work­ers in the form of labor com­pen­sa­tion: wages, salaries, tips and ben­e­fits. The remain­ing one-third is paid out to cap­i­tal­ists in the form of pas­sive income: div­i­dends, inter­est, rents and cap­i­tal gains. The cap­i­tal­ists do not work for their share of the nation­al income. They sim­ply own things and, by virtue of that own­er­ship, pas­sive­ly extract income.
This arrange­ment would not be so dis­e­qual­iz­ing if the own­er­ship of pas­sive income-gen­er­at­ing cap­i­tal was even­ly dis­trib­uted, but it is not. Fed­er­al Reserve data show that mil­lion­aires own 80 per­cent of the country's cap­i­tal while the bot­tom 38 per­cent of Amer­i­cans own none. This means that a small group of peo­ple receives the over­whelm­ing major­i­ty of the nation's pas­sive income, which is one of the rea­sons inequal­i­ty is so high.
For the last hun­dred years or so, mar­ket social­ists like Rudolf Hil­fderd­ing, Oskar Lange, Rudolf Mei­d­ner and John Roe­mer have argued that we should solve this prob­lem by col­lec­tiviz­ing the own­er­ship of wealth into com­mon pools. The Nor­we­gian gov­ern­ment made the idea work over the past few decades through nation­al­iz­ing oil resources, cre­at­ing dozens of state-owned enter­pris­es, and just ordi­nary tax­ing and sav­ing. Today, Nor­we­gian cit­i­zens col­lec­tive­ly own 59 per­cent of their wealth in these types of funds (and 76 per­cent if you exclude own­er-occu­pied housing).
The main Nor­we­gian social wealth fund is espe­cial­ly inter­est­ing because it does not invest in spec­u­la­tive real estate or coal, and is plan­ning to divest from oil and gas. It also excludes com­pa­nies from its port­fo­lio if they vio­late human rights and labor rights or engage in envi­ron­men­tal­ly destruc­tive practices.
Once the wealth is col­lec­tive­ly owned, that rais­es an inter­est­ing ques­tion: What to do with the income it gen­er­ates? In Nor­way, the mon­ey goes into pub­lic spend­ing, most­ly on robust social wel­fare pro­grams. Anoth­er answer is to fund a uni­ver­sal basic income, or UBI (also called a ​"uni­ver­sal basic div­i­dend" or ​"social div­i­dend") for every­one in soci­ety. Such a pro­gram exists in Alas­ka and helps to ensure every­one ben­e­fits from the state's wealth, not just the super-rich. In part because of this, Alas­ka is the most equal state in America.
Unlike a JG, this kind of UBI has been tried suc­cess­ful­ly. Since 1982, Alas­ka has used invest­ment returns from the Alas­ka Per­ma­nent Fund to pay out a uni­ver­sal basic div­i­dend to every­one who lives in the state. In some years, the div­i­dend has been as high as $2,072 for a sin­gle per­son or $8,288 for a fam­i­ly of four. If Nor­way paid a div­i­dend from its much larg­er fund, it would have been $23,970 per per­son last year or $95,880 for a fam­i­ly of four. Both the Alaskan and Nor­we­gian pro­grams are wild­ly pop­u­lar, work as adver­tised and could eas­i­ly be copied by our nation­al government.
The Prob­lem Is Profits
by Rohan Grey and Raúl Carrillo
Like Matt, we oppose the con­cen­tra­tion of wealth and own­er­ship. How­ev­er, his approach of redis­trib­ut­ing cap­i­tal income, rather than reduc­ing it, stands to make a bad sit­u­a­tion worse.
Finan­cial inequal­i­ty is a symp­tom, not a cause, of cap­i­tal­ism. It exists because cap­i­tal­ists and man­agers con­trol pro­duc­tion while exploit­ing work­ers and the broad­er pub­lic for their own pow­er and prof­it. This sys­tem scars com­mu­ni­ties and the envi­ron­ment in ways div­i­dends can­not heal, caus­ing death, dis­ease and eco­log­i­cal col­lapse. Con­se­quent­ly, pro­pos­als that rely on ever-greater prof­its risk entrench­ing the cur­rent economy's worst abuses.
In par­tic­u­lar, we oppose link­ing the per­for­mance of stocks, bonds and real estate to pover­ty reduc­tion, as Matt's social wealth fund pro­pos­al would do. Gold­man Sachs, Mon­san­to, Hal­libur­ton, Face­book, Ama­zon and the rest of the For­tune 500 are not mere­ly mon­ey-mak­ing machines; they are sprawl­ing pri­vate gov­er­nance regimes that warp the lives of bil­lions. What's good for Gen­er­al Motors is rarely good for the coun­try (or plan­et). Fur­ther­more, the hos­til­i­ty of cen­tral bankers to the work­ing class, espe­cial­ly work­ers of col­or, should cause left­ists to balk at reforms fea­tur­ing a tech­noc­ra­cy of fund managers.
The Nor­we­gian and Alaskan expe­ri­ences also cause us con­cern rather than com­fort. Norway's sov­er­eign wealth fund (SWF), for exam­ple, amassed its wealth by invest­ing in fos­sil fuels. Today it invests in over­seas real estate and earns pas­sive income off the backs of work­ers in the Glob­al South. The Alas­ka Per­ma­nent Fund (APF), still rakes in healthy prof­its from fos­sil fuel extrac­tion, while Alas­ka remains plagued by pover­ty, unem­ploy­ment and under­in­vest­ment in pub­lic ser­vices. Mean­while, the high­est div­i­dend paid by the APF — $2,072 per per­son — is still far too low to pro­vide sub­stan­tial respite from work, the alleged advan­tage of a uni­ver­sal basic income (UBI) over a job guar­an­tee (JG).
Regard­less of the size of the pay­out, we are con­cerned that mail­ing every­one an iden­ti­cal check will increase inequal­i­ty, rather than reduce it. Ear­ly social div­i­dend pro­po­nents, such as C.H. Dou­glas, envi­sioned an ​"aris­toc­ra­cy of pro­duc­ers and a democ­ra­cy of con­sumers." A stand­alone UBI, financed by a wealth fund or oth­er­wise, does not chal­lenge the cap­i­tal­ist sys­tem of pro­duc­tion. His­to­ry demon­strates tech­no­crat­ic elites favor a stand­alone UBI pre­cise­ly because it actu­al­ly sub­si­dizes cor­po­rate pow­er, rather than threat­ens it.
Instead of a stock div­i­dend, we should guar­an­tee hous­ing, health­care, edu­ca­tion, fam­i­ly and dis­abil­i­ty sup­port, repa­ra­tions, and oth­er pub­lic goods through a full employ­ment econ­o­my, under­gird­ed by a JG. Rather than lean­ing into finan­cial­iza­tion, we should reduce our depen­dence on mega-cor­po­ra­tions and mon­ey man­agers by estab­lish­ing a right to a job, then build­ing alter­na­tive sys­tems of com­mu­ni­ty-ori­ent­ed pro­duc­tion. The solu­tion to cap­i­tal­ist-dri­ven inequal­i­ty is not mak­ing every­one a cap­i­tal­ist. It's less capitalism.
Matt Bru­enig
is the founder of the Peo­ple's Pol­i­cy Project, a social­ist-lean­ing think tank in Wash­ing­ton D.C. He blogs at Mat​tBru​enig​.com and tweets at @mattbruenig.