University of Chicago Grad Students, After Being Told Their Labor Isn't Work, Vote on Union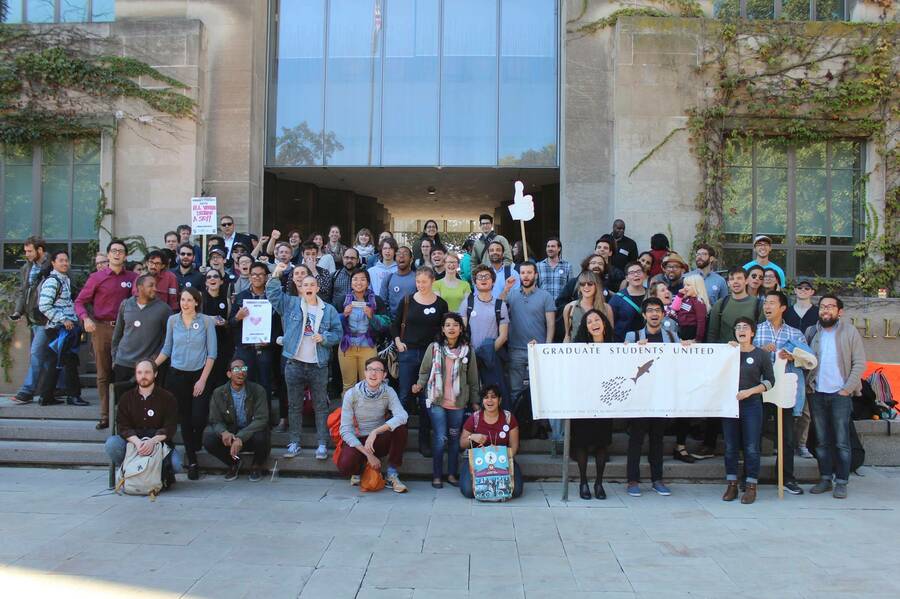 Update: The stu­dents vot­ed to union­ize 1,103 to 479 (with 149 votes challenged).
After months of legal bat­tles, delays and high-dol­lar oppo­si­tion from their admin­is­tra­tion, Uni­ver­si­ty of Chica­go grad­u­ate stu­dents will vote in a union elec­tion on Octo­ber 17 and 18. A win will make Grad­u­ate Stu­dents Unit­ed (GSU) — affil­i­at­ed with the AFT, IFT and AAUP—the offi­cial rep­re­sen­ta­tion of UChicago's grad­u­ate students.
The elec­tion is being con­duct­ed against the back­drop of an ongo­ing court bat­tle over grad stu­dent union­iza­tion that rep­re­sents a dou­ble-edged sword for the uni­ver­si­ty. A vic­to­ry would decer­ti­fy the union, and com­pli­cate grad stu­dent orga­niz­ing at pri­vate insti­tu­tions nation­wide. But over the course of the case, the university's hard­line anti-union state­ments both in and out of court may have helped the union's cause more than hurt it.
The labor is not work defense
In 2016, in response to a peti­tion by grad­u­ate stu­dents at Colum­bia Uni­ver­si­ty, the NLRB ruled that grad­u­ate instruc­tors at pri­vate insti­tu­tions could union­ize, cer­ti­fy­ing that stu­dents can be clas­si­fied as work­ers. The rul­ing set off a wave of union elec­tions at pri­vate insti­tu­tions, includ­ing the Uni­ver­si­ty of Chica­go, where grad stu­dents filed for recog­ni­tion this spring. UChicago's admin­is­tra­tion chal­lenged the fil­ing, argu­ing that while some grad stu­dents are work­ers, its stu­dents are not.
UChica­go insist­ed it wasn't attack­ing the stan­dard set by the 2016 Colum­bia rul­ing. Columbia's stu­dents instruc­tors, it con­ced­ed, worked when they taught, where­as UChicago's didn't. Accord­ing to the UChica­go admin­is­tra­tion, its grad stu­dents, unlike Columbia's, didn't pro­vide any finan­cial ben­e­fit to the uni­ver­si­ty through their teach­ing, tutor­ing, grad­ing or research.
The uni­ver­si­ty's admin­is­tra­tion had to make provoca­tive claims in sup­port of this argu­ment. First, it main­tained that the entire uni­ver­si­ty is run pri­mar­i­ly for grad­u­ate stu­dents' ben­e­fit. Qual­i­ty under­grad­u­ate edu­ca­tion, offi­cials tes­ti­fied, was a ​"sec­ond goal."
UChica­go was also forced to argue that no grad stu­dent labor — includ­ing teach­ing entire cours­es — had a ben­e­fit to the uni­ver­si­ty more impor­tant than the expe­ri­ence it pro­vid­ed grad stu­dents. Pro­fes­sors with admin­is­tra­tive posi­tions and fund­ed chairs tes­ti­fied that grad-stu­dent graders made grad­ing more dif­fi­cult and research assis­tants slowed down their research.
Attor­neys for the uni­ver­si­ty from the inter­na­tion­al firm Proskauer Rose, an employ­er favorite in labor cas­es, issued a stand­ing objec­tion to every use of the word ​"work," ​"salary," or ​"com­pen­sa­tion" for grad­u­ate stu­dents' ser­vices — includ­ing slips by their own wit­ness­es. (Uni­ver­si­ty offi­cials have also opposed any use of ​"labor" and ​"employ­ee" in the same context.)
The uni­ver­si­ty lost its case in an August 8 deci­sion issued by Region­al Direc­tor Peter Sung Ohr. The deci­sion clas­si­fied UChicago's grad stu­dents as work­ers with­in the Colum­bia stan­dard, upheld their pro­posed bar­gain­ing unit (which UChicago's admin­is­tra­tion con­test­ed on mul­ti­ple counts), and direct­ed an elec­tion. Ohr includ­ed a sec­tion on grad labor's ben­e­fits to the uni­ver­si­ty — ​"some depart­ments," he wrote in the 27-page deci­sion, ​"rely on grad­u­ate stu­dents in order to pro­vide this excel­lent education."
In the short run, the university's legal bid may have back­fired. Its argu­ments drew the ire of many grad stu­dents — and some pro­fes­sors — who were sur­prised to be told that their efforts in the class­room, office and lab weren't work.
One grad­u­ate orga­niz­er tells In These Times that grad­u­ate stu­dents were alien­at­ed by the university's argu­ment that any ben­e­fit of grad labor was ​"inci­den­tal."
"I think for a lot of peo­ple who were on the fence, hear­ing that was a slap in that face," says Clau­dio Gonzáles, a GSU orga­niz­er and math­e­mat­ics doc­tor­al student.
"The labor that they're doing needs to be done. There's no get­ting around this," says Anton Ford, an asso­ciate pro­fes­sor of phi­los­o­phy at UChica­go who also tes­ti­fied at the hearing.
The university's PR blitz against the union may also have done its case more harm than good. ​"I think it was very star­tling to a lot of stu­dents, these lawyers com­ing so aggres­sive­ly at us and the work that we do, the work that we've always inter­nal­ized as work," Gonzáles says.
His­tor­i­cal­ly anti-union, the uni­ver­si­ty has led a recent charge by sev­er­al elite pri­vate uni­ver­si­ties — includ­ing Har­vard, Yale, Colum­bia, Brown and Duke — to block the for­ma­tion of grad unions. Many of those schools bor­row direct­ly from UChicago's talk­ing points against unionization.
The admin­is­tra­tion warned stu­dents and fac­ul­ty that the union would be an inter­fer­ing third par­ty, gut­ting the university's prized sta­tus as a home of aca­d­e­m­ic free­dom and inter­fer­ing with direct rela­tion­ships between fac­ul­ty and grad stu­dents. The uni­ver­si­ty has spread this mes­sage through a pol­ished and pro­fes­sion­al web­site, small-group meet­ings with grads oppos­ing the union, and mass emails to grad stu­dents, includ­ing a last-minute sal­vo from exec­u­tive vice provost David Niren­berg in advance of the election.
Yali Amit, a pro­fes­sor of sta­tis­tics at the uni­ver­si­ty since 1991, is skep­ti­cal of these argu­ments. ​"I don't believe that [the university's oppo­si­tion] real­ly stems from a wor­ry that some fun­da­men­tal rela­tion­ship between grad stu­dents and fac­ul­ty will change," he says. ​"I just find it hard to believe."
"The union is a bunch of grad­u­ate stu­dents," con­tin­ues Amit, who tes­ti­fied for GSU before the NLRB. ​"They're get­ting sup­port from the AFT, but fun­da­men­tal­ly, the union, the local, is going to be a bunch of grad­u­ate stu­dents that are inter­est­ed in doing their research and get­ting their Ph. D. They're not inter­est­ed in chang­ing the way the uni­ver­si­ty works."
A recent move by the uni­ver­si­ty that com­pli­cates the union elec­tion pro­ce­dure, dis­trib­ut­ing vot­ing into four loca­tions based on last name, has reignit­ed GSU claims of ​"major admin obstruc­tion." Sources present at the pre-elec­tion hear­ing say NLRB rep­re­sen­ta­tives divid­ed the loca­tions at the request of Uni­ver­si­ty of Chica­go lawyers — a claim the uni­ver­si­ty denies. The loca­tion instruc­tion sheet attrib­ut­es the move to vot­er fraud concerns.
In response to a request for com­ment, a Uni­ver­si­ty of Chica­go spokesper­son referred In These Times to the university's ​"Know the Facts" page.
Chang­ing the game
Mean­while, the court bat­tle isn't over. After los­ing its case, the uni­ver­si­ty admin­is­tra­tion fell back on a request for review, which con­tests the region­al­ly bind­ing deci­sion by appeal­ing to the nation­al board. Accord­ing to the admin­is­tra­tion, that request is still under consideration.
The uni­ver­si­ty may be onto some­thing: The NLRB is noto­ri­ous­ly fick­le on pri­vate-school grad­u­ate unions. Since 2000's New York Uni­ver­si­ty case, which first brought pri­vate uni­ver­si­ty grad­u­ate work­ers under the board's juris­dic­tion, each pres­i­den­tial admin­is­tra­tion has seen the NLRB flip-flop on the question.
In 2004, George W. Bush's NLRB appointees turned the tide and sided with Brown University's admin­is­tra­tion in a rever­sal of the 2000 case. The Brown deci­sion marked a win for that school's admin­is­tra­tion. Its then-Provost Robert Zim­mer, who issued the university's pub­lic state­ments against grad stu­dent union­iza­tion, is now the Uni­ver­si­ty of Chicago's president.
That deci­sion stood until 2016, when Oba­ma appointees over­turned it in favor of Columbi­a's grad­u­ate union. A suc­cess­ful appeal by the Uni­ver­si­ty of Chica­go won't over­turn that rul­ing. But it would estab­lish a com­plex and chal­leng­ing stan­dard for pri­vate grad­u­ate unionization.
The Trump admin­is­tra­tion filled the board's last vacan­cy on Sep­tem­ber 25, with appointees who were vocal­ly opposed by labor. The future of the UChica­go hear­ing — and the entire Colum­bia prece­dent — is in the new board's hands.
But GSU's cam­paign has picked up some promi­nent allies: Bernie Sanders addressed a let­ter this week to Uni­ver­si­ty of Chica­go grad stu­dents in sup­port of their right to union­ize, a high­ly vis­i­ble boost for the union cam­paign in the days before their elec­tion. And on Sat­ur­day, Chelsea Man­ning sent a mes­sage of sol­i­dar­i­ty to GSU mem­bers on Twitter.
What­ev­er the out­come of the elec­tion and the court case, there's rea­son to believe that the pos­si­bil­i­ty of union­iza­tion has changed the game for grad stu­dents at UChica­go, push­ing admin­is­tra­tors to address qual­i­ty-of-life issues and improve pay and ben­e­fits. ​"It's pret­ty clear to me that a lot of the ini­tia­tives that the uni­ver­si­ty has under­tak­en for grad­u­ate stu­dents are the result of GSU actions," Amit says.
At the request of the Uni­ver­si­ty of Chica­go, this arti­cle has been updat­ed to clar­i­fy that the NLRB has final author­i­ty over elec­tion pro­ce­dures. An ear­li­er ver­sion attrib­uted loca­tion instruc­tions direct­ly to the university.