Unraveling Afghanistan
A veteran correspondent details what's going wrong, and why.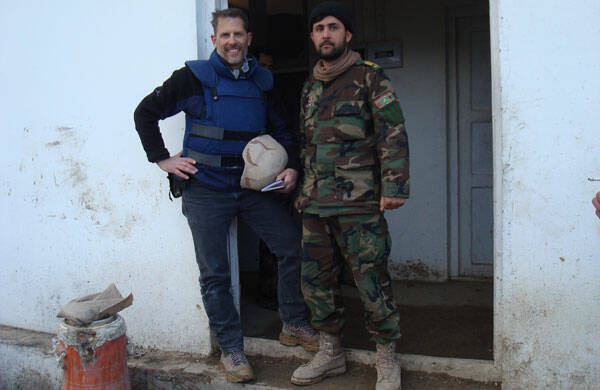 The Unit­ed States has two abid­ing nation­al secu­ri­ty inter­ests in South Asia: pre­vent­ing a nuclear war between Pak­istan and India, and avert­ing the pro­lif­er­a­tion of atom­ic weapons. The Unit­ed States should work towards South Asian nuclear arms reduc­tions, or even disarmament.
But it must also find inno­v­a­tive ways to help Pak­istan main­tain inter­nal polit­i­cal sta­bil­i­ty. Cur­rent U.S. pol­i­cy approach­es the chal­lenge ass-back­wards. Instead of acknowl­edg­ing a nuclear threat, we've propped up an ille­git­i­mate, cor­rupt gov­ern­ment in Kab­ul and picked a fight with the Pash­tun peo­ple that fun­da­men­tal­ly desta­bi­lizes Pak­istan. Approx­i­mate­ly 40 mil­lion Pash­tuns, an East­ern Iran­ian peo­ple that have suc­cess­ful­ly resist­ed British and Russ­ian con­trol in the past, live on either side of the Afghanistan-Pak­istan bor­der. The longer we stay this course, the worse things will get. How can we change the mis­sion with­out a domi­no effect of polit­i­cal col­lapse that adds to the nuclear risk?
Jonathan Lan­day, the senior nation­al secu­ri­ty and intel­li­gence cor­re­spon­dent for McClatchey News­pa­pers, per­forms an invalu­able ser­vice in report­ing on var­i­ous dimen­sions of this quandary. It's impos­si­ble to sec­ond-guess his con­clu­sion that a pre­cip­i­tous U.S. with­draw­al would be cat­a­stroph­ic. Less clear is whether we have the time, or intel­li­gence, to come up with a work­able plan. I spoke with Lan­day in March, short­ly after his return from a month in Afghanistan.
You spoke to many Afghans who shared their frus­tra­tions with you. Can local U.S. and NATO units suc­cess­ful­ly address any of their complaints?
About a year and a half ago, there was a rec­om­men­da­tion by some Amer­i­can com­man­ders that they would not be able to, as some U.S. offi­cials are now say­ing, ​"kill their way to vic­to­ry." Yet the guid­ance under the Bush admin­is­tra­tion was, essen­tial­ly, to go after al Qae­da, the Tal­iban and asso­ci­at­ed mil­i­tants. There was real­ly no coun­terin­sur­gency strat­e­gy despite the fact that the Unit­ed States had prac­ticed coun­terin­sur­gency in oth­er places, par­tic­u­lar­ly in Viet­nam, and was well aware of what that strat­e­gy entails.
Amer­i­can com­man­ders rec­og­nized this and began try­ing to address that prob­lem at a local lev­el, pri­mar­i­ly, using funds they had avail­able – quick-fix projects. But it wasn't suf­fi­cient, and I think the new admin­is­tra­tion rec­og­nizes that. You cer­tain­ly hear more will­ing­ness to speak frankly about what's hap­pen­ing in Afghanistan. As Pres­i­dent Oba­ma and oth­ers, includ­ing Nation­al Secu­ri­ty Advi­sor James Jones, have acknowl­edged, the Unit­ed States is not win­ning there. And now there are pret­ty intense efforts to turn that around – to address it and bring about recon­struc­tion projects at the local lev­el to try and gain con­fi­dence among ordi­nary Afghans who, eight years since the U.S. inter­ven­tion, have not seen its promised ben­e­fits. The Bush admin­is­tra­tion promised a Mar­shall Plan for Afghanistan that it did not deliver.
Anoth­er thing con­tribut­ing to this sense of betray­al is the absolute­ly epi­dem­ic, record-break­ing cor­rup­tion tak­ing place­-fueled by an unprece­dent­ed amount of for­eign cur­ren­cy float­ing around Afghanistan. And this cor­rup­tion goes from the cop on the beat right up to the high­est lev­els of the Afghan gov­ern­ment. It is eat­ing the heart out of the U.S.-led enterprise.
A fur­ther major fac­tor is civil­ian casu­al­ties caused by U.S.-led mil­i­tary oper­a­tions, despite the fact that the Tal­iban is respon­si­ble for far more civil­ian deaths than the Unit­ed States and its allies are. The Unit­ed States is los­ing the infor­ma­tion bat­tle in that regard.
Richard Hol­brooke, Pres­i­dent Obama's Spe­cial Rep­re­sen­ta­tive to Afghanistan and Pak­istan, recent­ly talked about try­ing to enlist Iran­ian help on Afghanistan. Is there a pro­duc­tive way to bring Iran into U.S. policy-making?
Absolute­ly. Iran has a huge inter­est in Afghanistan. The Ira­ni­ans do not want to see the Tal­iban return – the Tal­iban are Sun­ni fun­da­men­tal­ists, as opposed to the Shi­ite branch of Islam that is prac­ticed in Iran. The Ira­ni­ans also have an enor­mous inter­est in see­ing an end to the world's largest opi­um pro­duc­tion, which takes place in Afghanistan, because they are wrestling with nar­cotics smug­gling and the vio­lence that comes with it. And they want sta­bil­i­ty because they prob­a­bly would like to sell their oil and nat­ur­al gas to Pak­istan and India. Afghanistan is also a major mar­ket­place for Iran­ian goods.
Is there a way to make a con­tin­u­ing U.S. pres­ence pos­i­tive for Afghanistan?
There is, but my ques­tion is whether or not the Unit­ed States has time to do that. A senior NATO offi­cer said to me, ​"Afghanistan is a nation of fence-sit­ters." The U.S. mil­i­tary was the first for­eign mil­i­tary in his­to­ry that the Afghans, for the most part, wel­comed into their coun­try. That good­will has been wast­ed by the pre­vi­ous admin­is­tra­tion. The Oba­ma admin­is­tra­tion rec­og­nizes that, but after eight years, the ques­tion is: Is there still time left to reas­sure Afghans that the Unit­ed States is not in their coun­try as part of a war against Islam? This is the view that was cre­at­ed in the Mus­lim world based on the Bush admin­is­tra­tion – who were care­less and arro­gant in the exe­cu­tion of their poli­cies, par­tic­u­lar­ly in Afghanistan. Their pol­i­cy was: Let's patron­ize the war­lords as our proxy to hold this place as we take our troops, mon­ey and time and invade Iraq. By doing that, they rein­stat­ed many of the hat­ed ele­ments whose mis­be­hav­ior, exploita­tion and repres­sion were what gave rise to the Tal­iban, who in turn allowed al Qae­da to use Afghanistan as its sanctuary.
You said you're unsure how much time we have left. In talk­ing with U.S. mil­i­tary per­son­nel, is that a sub­ject on their minds?
They're aware they are in a race against time. The Unit­ed States has to regain the con­fi­dence of the Afghan peo­ple if it hopes to con­tain the Tal­iban insur­gency because the insur­gents need the people­-they're fish that swim among the peo­ple. But if you drain the sea, they have nowhere to swim. Whether by choice or out of anger at their gov­ern­ment or the Unit­ed States, there are peo­ple who are will­ing to pro­vide the Tal­iban with sanc­tu­ary, shel­ter, food, and recruits. That's the sea that's got to be drained, and that hasn't hap­pened in the last eight years.
Is there still time to do that before this becomes more than the Tal­iban insur­gency – before it turns into a gen­er­al insur­gency out of anger at the ​"occu­pi­er"? We haven't reached that stage yet because the Tal­iban are enor­mous­ly unpop­u­lar. Afghans don't want to revert back, but the more they become con­vinced that the U.S. and NATO pres­ence is an occu­pa­tion rather than a lib­er­a­tion, the more chance that you'll see peo­ple sup­port­ing the Taliban.
If we do run out of time and the Oba­ma admin­is­tra­tion decides on an order­ly with­draw­al, leav­ing Afghanistan to its own devices, what would be the consequences?
Failed state. Very quick­ly. At this stage, despite the progress made in build­ing the Afghan army, there are very few peo­ple who believe that the Tal­iban could be held back from tak­ing Kab­ul for very long. And then you have the implo­sion of Afghanistan, you have a new civ­il war, and you have a new sanc­tu­ary for al Qae­da. There would be a new base for these Islam­ic mil­i­tants. This would be a gigan­tic boost for them, and their next tar­get would be Islamabad.
What is your bot­tom line?
That, at this point, there are two major rea­sons why things are going wrong. One is the cor­rup­tion that the Amer­i­cans are doing noth­ing to stop. Cor­rup­tion is under­min­ing and help­ing to accel­er­ate the lack of con­fi­dence and the frus­tra­tion and anger of the Afghan people.
The sec­ond prob­lem is one of mis­per­cep­tion. As I said, a NATO offi­cial remarked to me on how Afghanistan is a nation of fence sit­ters – one rea­son why peo­ple have been unable to make their minds up about which side to join is because of the infil­tra­tion of the Tal­iban into their areas and the inabil­i­ty of the gov­ern­ment and the Unit­ed States to stop it. If you're an ordi­nary Afghan and you think the Tal­iban is win­ning, which side are you going to go to?
The Unit­ed States has a very seri­ous prob­lem with try­ing to cor­rect mis­per­cep­tions. I don't think there's any ques­tion that the Tal­iban would lose in a mil­i­tary con­flict with the Unit­ed States, but this abil­i­ty to infil­trate has cre­at­ed the impres­sion that they can win. As long as the Unit­ed States and its allies are there, the Tal­iban is not an exis­ten­tial mil­i­tary threat to the Afghan gov­ern­ment. What is an exis­ten­tial threat is the per­cep­tion that they are winning.
George Ken­ney
, a for­mer career U.S. for­eign ser­vice offi­cer, resigned in
1991
over U.S. pol­i­cy toward the Yugoslav con­flict. He is now a writer in Wash­ing­ton, and host and pro­duc­er of the pod­cast
Elec­tric Pol­i­tics
.