How Border Patrol Occupied the Tohono O'odham Nation
Under ever-expanding high-tech surveillance, the reservation has become "the most militarized community in America."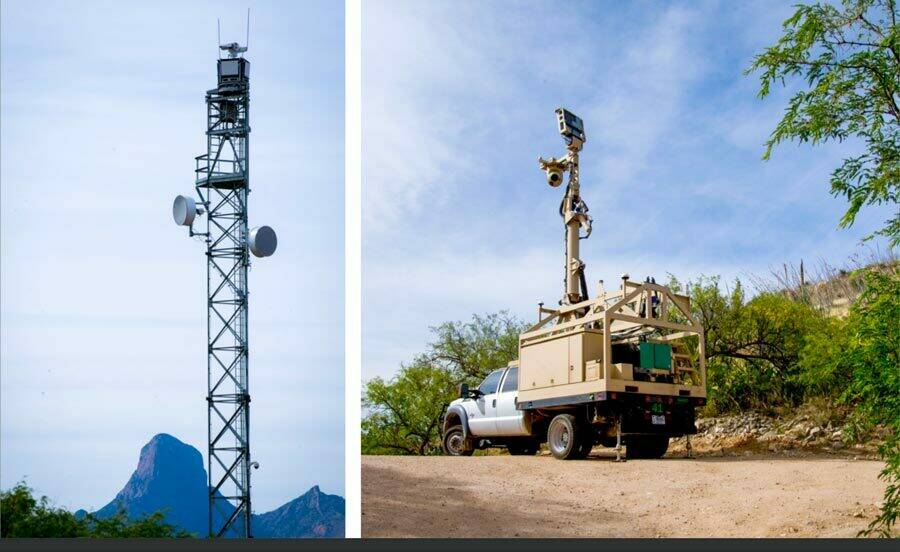 TOHONO O'OD­HAM NATION, ARIZ. — In March 2018, Joaquin Este­van was on his way back home to Sells, Ariz., after a rou­tine jour­ney to fetch three pots for cer­e­mo­ni­al use from the Tohono O'odham com­mu­ni­ty of Kom Wahia in Sono­ra, Mex­i­co (where he grew up) — a trek his ances­tors have made for thou­sands of years. His cousin dropped him off on the Mex­i­co side of the San Miguel bor­der gate, and he could see the com­mu­ni­ty van of the Tohono O'odham Nation wait­ing for him just beyond.
Undocumented migrants are the ostensible targets, but border patrol agents have long indicated that Tohono O'odham are also in the crosshairs.
But when Este­van hand­ed over his trib­al card for iden­ti­fi­ca­tion, as he had done for years, to the sta­tioned Bor­der Patrol agent, he was accused of car­ry­ing a fraud­u­lent ID, denied entry to Ari­zona and sent back to Mexico.
Tohono O'odham abo­rig­i­nal land, in what is now south­ern Ari­zona, his­tor­i­cal­ly extend­ed 175 miles into Mex­i­co, before being sliced off — with­out the tribe's con­sent — by the 1853 Gads­den Pur­chase. As many as 2,500 of the tribe's more than 30,000 mem­bers still live on the Mex­i­co side. Tohono O'odham peo­ple used to trav­el between the Unit­ed States and Mex­i­co fair­ly eas­i­ly on roads with­out check­points to vis­it fam­i­ly, go to school, vis­it a doc­tor or, like Este­van, a tra­di­tion­al dancer, per­form cer­e­mo­ni­al duties.
But inci­dents of U.S. Cus­toms and Bor­der Pro­tec­tion (CBP) aggres­sion toward mem­bers of the Tohono O'odham Nation have become increas­ing­ly fre­quent since 9⁄11, as Bor­der Patrol has dou­bled in size and fur­ther mil­i­ta­rized its bor­der enforce­ment. In 2007 and 2008, the Unit­ed States built vehi­cle bar­ri­ers on the Tohono O'odham Nation's stretch of the U.S.-Mexico bor­der, and restrict­ed crossings.
The Tohono O'odham's strug­gles with Bor­der Patrol received lit­tle atten­tion, how­ev­er, until Pres­i­dent Don­ald Trump took office and pushed for­ward his vision for a wall along the bor­der. Ver­lon Jose, Tohono O'odham vice chair­man, announced in 2016 that the wall would be built ​"over my dead body," a quote that went viral.
What the bor­der wall debate has obscured, how­ev­er, is the exist­ing 650 miles of walls and bar­ri­ers on the U.S. inter­na­tion­al divide with Mex­i­co, includ­ing the 62 miles of bor­der that run through the Tohono O'odham Nation. An increas­ing­ly sig­nif­i­cant part of that wall is ​"vir­tu­al," a net­work of sur­veil­lance cam­eras, sen­sors and radar sys­tems that let Bor­der Patrol agents from Cal­i­for­nia to Texas mon­i­tor the remote desert stretch­es where bor­der crossers have been delib­er­ate­ly pushed — a strat­e­gy that has led to thou­sands of migrant deaths in the dan­ger­ous desert ter­rain. The vir­tu­al wall expands away from the inter­na­tion­al bound­ary, deep into the inte­ri­or of the country.
As Trump fights Con­gress and the courts to get $5 bil­lion in ​"emer­gency fund­ing" for a bor­der wall, Bor­der Patrol is already tap­ping into exist­ing funds to expand both phys­i­cal and vir­tu­al walls. While new bor­der bar­ri­er con­struc­tion on the Tohono O'odham Nation remains in lim­bo, new sur­veil­lance infra­struc­ture is mov­ing onto the reservation.
On March 22, the Tohono O'odham Leg­isla­tive Coun­cil passed a res­o­lu­tion allow­ing CBP to con­tract the Israeli com­pa­ny Elbit Sys­tems to build 10 inte­grat­ed fixed tow­ers, or IFTs, on the Nation's land, sur­veil­lance infra­struc­ture that many on the reser­va­tion see as a high-tech occupation.
The IFTs, says Amy Juan, Tohono O'odham mem­ber and Tuc­son office man­ag­er at the Inter­na­tion­al Indi­an Treaty Coun­cil, will make the Nation ​"the most mil­i­ta­rized com­mu­ni­ty in the Unit­ed States of America."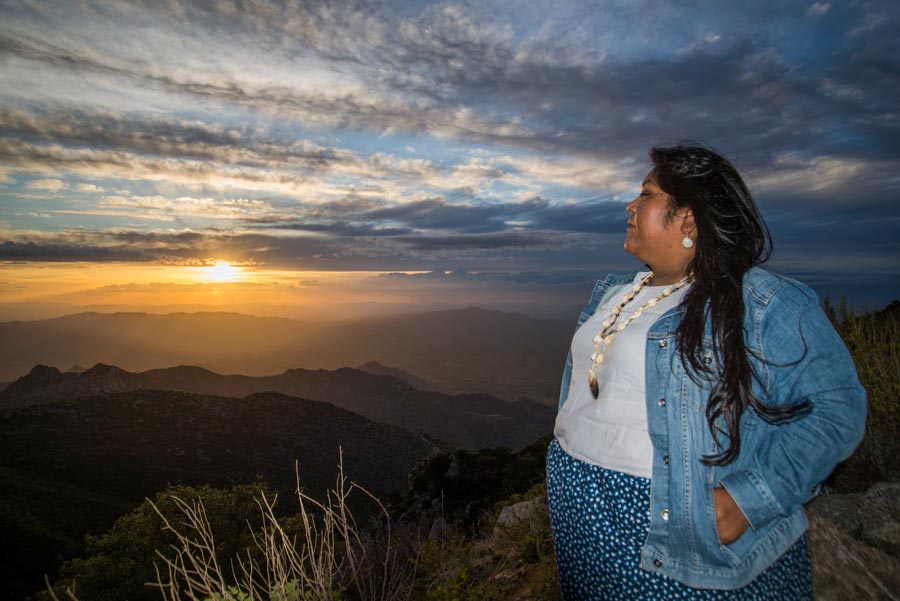 Tohono O'odham Nation activist Amy Juan watch­es the sun­set over Kitt Peak in south­ern Ari­zona, a sacred moun­tain known to the O'odham as loligam Doag. (Pho­to by Raechel Running)
Amy Juan and Nel­lie Jo David, mem­bers of the Tohono O'odham Hema­jkam Rights Net­work (TOHRN), joined a del­e­ga­tion to the West Bank in Octo­ber 2017 con­vened by the Pales­tin­ian orga­ni­za­tion Stop the Wall. It was a relief, Juan says, to talk ​"with peo­ple who under­stand our fears … who are deal­ing with mil­i­ta­riza­tion and technology."
Juan and David told a group of women in the Pales­tin­ian com­mu­ni­ty about the planned IFTs, and they respond­ed unequiv­o­cal­ly: ​"Tell them no. Don't let them build them."
The group was very famil­iar with these par­tic­u­lar tow­ers. Elbit Sys­tems pio­neered the tow­ers in the West Bank. ​"They said that the IFTs were first test­ed on them and used against them," says David. Com­mu­ni­ty mem­bers described the con­stant buzzing sounds and the sense of being con­stant­ly watched.
These IFTs are part of a broad­er sur­veil­lance appa­ra­tus that zigza­gs for hun­dreds of miles through the West Bank and includes motion sen­sor sys­tems, cam­eras, radar, aer­i­al sur­veil­lance and obser­va­tion posts. In dis­tant con­trol rooms, sol­diers mon­i­tor the feeds. The prin­ci­pal archi­tect, for­mer Israeli Col. Dan­ny Tirza, explained in 2016, ​"It's not enough to con­struct a wall. You have to con­struct all the sys­tem around it."
That is hap­pen­ing now in the U.S.-Mexico borderlands.
The mas­sive post‑9/​11 bol­ster­ing of bor­der enforce­ment dra­mat­i­cal­ly changed life on the Tohono O'odham Nation. At a UN hear­ing in Jan­u­ary on the rights of indige­nous peo­ples in the con­text of bor­ders, immi­gra­tion and dis­place­ment, Tohono O'odham Nation Chair­man Edward Manuel tes­ti­fied that when he came back to the Nation in 2009 after six years liv­ing off-reser­va­tion, it had become ​"a mil­i­tary state."
Bor­der Patrol has juris­dic­tion 100 miles inland from U.S. bor­ders, giv­ing it access to the entire­ty of the reser­va­tion. Drones fly over­head, and motion sen­sors track foot traf­fic. Vehi­cle bar­ri­ers and sur­veil­lance cam­eras and trucks appeared near bur­ial grounds and on hill­tops amid ancient saguaro forests, which are sacred to the Tohono O'odham.
"Imag­ine a bull­doz­er park­ing on your fam­i­ly grave­yard, turn­ing up bones," then-Tohono O'odham Nation Chair­man Ned Nor­ris Jr. tes­ti­fied to Con­gress in 2008. ​"This is our reality."
Around 2007, CBP began installing inte­ri­or check­points that mon­i­tored every exit from the reser­va­tion — not just on the U.S.-Mexico bor­der, but toward Tuc­son and Phoenix.
"As a per­son who once could move freely on our land, this was very new," Amy Juan says. ​"We have no choice but to go through the armed agents, dogs and cam­eras. We are put through the trau­mat­ic expe­ri­ence every day just to go to work, movies, gro­cery shop­ping, to take your chil­dren to school."
Juan calls this ​"check­point trau­ma." The most severe impact is on chil­dren, she says, recall­ing one case in which two kids ​"wet them­selves" approach­ing a check­point. Pre­vi­ous­ly the chil­dren had been force­ful­ly pulled out of a car by Bor­der Patrol agents dur­ing a sec­ondary inspection.
Pulling peo­ple out of their vehi­cles is one in a long list of abus­es alleged against the Bor­der Patrol agents on the Tohono O'odham Nation, includ­ing tail­ing cars, pep­per spray­ing peo­ple and hit­ting them with batons. Clos­er to the bor­der, peo­ple have com­plained about agents enter­ing their homes with­out a warrant.
In March 2014, a Bor­der Patrol agent shot and injured two Tohono O'odham men after their truck side­swiped his vehi­cle. (The dri­ver said he was swerv­ing to avoid a bush and mis­judged; Bor­der Patrol charged him with assault with a dead­ly weapon.) In 2002, a Bor­der Patrol agent ran over and killed a Tohono O'odham teenager.
Between check­points and sur­veil­lance, there is a feel­ing of being ​"watched all the time," Tohono O'odham mem­ber Joseph Flo­res told Tuc­son tele­vi­sion sta­tion KVOA.
"I've got­ten flat tires, then when I come to the check­point the agents made com­ments about me hav­ing a flat ear­li­er in the day," says Joshua Gar­cia, a mem­ber of TOHRN. ​"I felt like they were try­ing to intim­i­date me."
An anony­mous respon­dent to TOHRN's O'odham Bor­der Patrol Sto­ry Project said, ​"One time a BP told me, ​'We own the night,' mean­ing that they have so much sur­veil­lance cam­eras and equip­ment on the rez, they can see every­thing we do all the time."
Undoc­u­ment­ed migrants are the osten­si­ble tar­gets, but agents have long indi­cat­ed that Tohono O'odham are also in the crosshairs. One Tohono O'odham youth (who wish­es to remain anony­mous because of fears of reprisal) says that when they com­plained to a Bor­der Patrol agent in Feb­ru­ary about a cam­era near their house, the agent respond­ed, ​"It's your own peo­ple that are smug­gling, so you real­ly need to ask your­self what is going on in that area for a cam­era to be set up in the first place." That per­cep­tion is com­mon. Geo­g­ra­ph­er Ken­neth Mad­sen quotes an agent who believed as many as 80% to 90% of res­i­dents were involved in drug or human smug­gling. Mad­sen believes the num­bers could only be that high if agents were count­ing human­i­tar­i­an acts, such as giv­ing water to thirsty border-crossers.
Elder and for­mer trib­al coun­cil­man David Gar­cia acknowl­edges some ​"smug­gling that involves trib­al mem­bers." As Tohono O'odham mem­ber Jay Juan told ABC News, there is ​"the entice­ment of easy mon­ey" in a place with a pover­ty rate over 40%.
Nation Vice Chair­man Ver­lon Jose also told ABC, ​"Maybe there are some of our mem­bers who may get tan­gled up in this web. … But the issues of bor­der secu­ri­ty are cre­at­ed by the drugs … intend­ed for your citizen[s'] towns across America."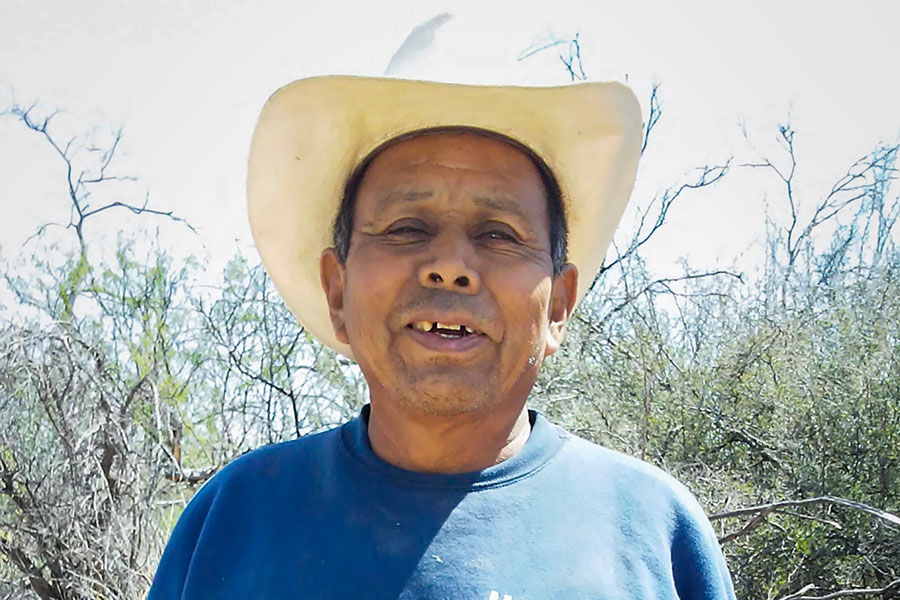 After a trip to Mex­i­co to retrieve some cer­e­mo­ni­al items, Tohono O'odham mem­ber Joaquin Estevan's trib­al ID card was reject­ed by U.S. Bor­der Patrol agents, leav­ing him strand­ed. (Pho­to by David Garcia)
Este­van knew the agent who turned him back at the bor­der — it was the same agent who had accused him of smug­gling drugs years pri­or and who had ran­sacked his car in the search, find­ing noth­ing and leav­ing Este­van to do the repairs. A few days after being turned away, Este­van tried again to get home, cross­ing into the Unit­ed States at a place known as the Vamori Wash — one of the planned loca­tions for an IFT. He got a ride north from a friend (the kind of favor that Bor­der Patrol might con­sid­er human smug­gling). Eleven miles from the bor­der on the crum­bling Route 19, the same agent flashed his lights and pulled them over. Accord­ing to Este­van, the agent yanked him out of the car, say­ing, ​"I told you that you were not sup­posed to come here," and hand­cuffed him.
Este­van was trans­port­ed to a short-term deten­tion cell at Bor­der Patrol head­quar­ters in Tuc­son, where he was stripped of every­thing ​"except my T‑shirt and pants," he says. The hold­ing cell was frigid, and Bor­der Patrol issued him what he describes as a ​"paper blan­ket." Este­van con­tract­ed bron­chi­tis as he was shuf­fled around for days, hav­ing his bio­met­rics and pic­ture tak­en for facial recog­ni­tion — Bor­der Patrol's stan­dard prac­tice for updat­ing its database.
At one point, Este­van faced a judge and attempt­ed to talk to a lawyer. But because he was not sup­plied a Tohono O'odham inter­preter, he had only a vague idea of what was going on. Lat­er, Este­van was tak­en 74 miles north to a deten­tion cen­ter in Flo­rence, Ariz., where the pri­vate com­pa­ny Core­Civic holds many of the peo­ple arrest­ed by Bor­der Patrol. Este­van was for­mal­ly deport­ed and ban­ished from the Unit­ed States. He was dropped off in the late after­noon in Nogales, Mexico.
Este­van is far from the only Tohono O'odham from Mex­i­co to say they have been deport­ed, although there has not been an offi­cial count. The Supreme Coun­cil of the O'odham of Mex­i­co — which rep­re­sents the Tohono O'odham who live on the Mex­i­can side of the bor­der — made an offi­cial com­plaint to the Tohono O'odham Nation's gov­ern­ment in May 2018, say­ing the Nation was ​"allow­ing the depor­ta­tion of our peo­ple from our own lands."
Some mem­bers of the Nation, such as Ofe­lia Rivas, of the Gu-Vo dis­trict, have long con­tend­ed that the Leg­isla­tive Coun­cil is too cozy with Bor­der Patrol. Rivas said in a 2006 inter­view that the Nation ​"has allowed the fed­er­al gov­ern­ment to con­trol the north­ern ter­ri­to­ry [in the U.S.] and allows human rights vio­la­tions to occur." The Nation has received grants from the fed­er­al gov­ern­ment for its police depart­ment through a pro­gram known as Oper­a­tion Stone­gar­den. Over the years, the Leg­isla­tive Coun­cil has vot­ed to allow a check­point, sur­veil­lance tech and two Bor­der Patrol sub­sta­tions (one a For­ward Oper­at­ing Base) on the reservation.
These ten­sions resur­faced again around the IFTs.
*****
In 2006, Bor­der Patrol began to use south­ern Ari­zona as a test­ing ground for its ​"vir­tu­al wall." The agency award­ed the Boe­ing Com­pa­ny a con­tract for a tech­nol­o­gy plan known as SBI­net, which would build 80-foot sur­veil­lance tow­ers in the Ari­zona desert.
When Sec­re­tary of Home­land Secu­ri­ty Janet Napoli­tano can­celled the plan in 2011, com­plain­ing about cost, delays and inef­fec­tive­ness, CBP launched a new project, the 2011 Ari­zona Bor­der Sur­veil­lance Tech­nol­o­gy Plan. As part of it, Elbit Sys­tems won a $145 mil­lion con­tract to con­struct 53 IFTs in 2014. As CBP's Chief Acqui­si­tion Offi­cer Mark Borkows­ki explained in 2017 at the San Anto­nio Bor­der Secu­ri­ty Expo, CBP sought tech­nol­o­gy that ​"already exist­ed" else­where. Elbit, with its tow­ers in the West Bank, fit the bill.
The IFTs take the all-see­ing eye of Bor­der Patrol to a whole new lev­el. Jacob Stuken­berg, a Bor­der Patrol pub­lic infor­ma­tion offi­cer, tells In These Times they are ​"far supe­ri­or than any­thing else we've had before," adding that ​"one agent can sur­veil an area that it might take 100 agents on foot to surveil."
The IFT sys­tem has high-def­i­n­i­tion cam­eras with night vision and a 7.5‑mile radius, along with ther­mal sen­sors and a 360-degree ground-sweep­ing radar. The data feeds into com­mand cen­ters where agents are alert­ed if any of thou­sands of motion sen­sors are tripped. In an inter­view in May with the Los Ange­les Times, Bor­der Patrol trib­al liai­son Rafael Castil­lo com­pared IFTs to ​"turn­ing on a light in a dark room."
As with oth­er mon­i­tor­ing, the tow­ers — some as tall as 140 feet and placed very vis­i­bly on the tops of hills — have already dri­ven migrants into more des­o­late and dead­ly places, accord­ing to a Jan­u­ary paper in the Jour­nal of Bor­der­lands Stud­ies. The first IFT went up in Jan­u­ary 2015, just out­side of Nogales, Ariz. By 2017, accord­ing to Borkows­ki, near­ly all the tow­ers had been built or were about to be built around Nogales, Tuc­son, Dou­glas, Sonoi­ta and Ajo. The hold­out was the Tohono O'odham Nation.
Between 2015 and 2018, Joshua Gar­cia of TOHRN gave more than 30 pre­sen­ta­tions around the Nation rais­ing the neg­a­tives of the IFTs, includ­ing fed­er­al gov­ern­ment encroach­ment on their lands, the loss of con­trol over local roads, the poten­tial health con­se­quences and racism in bor­der polic­ing. ​"I didn't expect peo­ple nec­es­sar­i­ly to agree with me," Gar­cia says, ​"but I was sur­prised at how much the pre­sen­ta­tions resonated."
Gar­cia joined oth­er trib­al and com­mu­ni­ty mem­bers and Sier­ra Club Bor­der­lands in con­test­ing CBP's 2016 draft envi­ron­men­tal assess­ment — required for con­struc­tion to begin — which claimed the IFTs would have ​"no sig­nif­i­cant impact" on Tohono O'odham land. Gar­cia list­ed the sites that new roads would threat­en, like a saguaro fruit-har­vest­ing camp and his own family's cemetery.
The Sier­ra Club argued the assess­ment had failed to prop­er­ly look at the impacts on endan­gered species, such as the cac­tus fer­rug­i­nous pygmy owl and the less­er long­nosed bat, and hadn't ade­quate­ly stud­ied how elec­tro-mag­net­ic radi­a­tion from the tow­ers might affect peo­ple, birds and oth­er wildlife. CBP agreed that more study was need­ed of the ​"avian brain," but issued its final report in March 2017: no sig­nif­i­cant impact.
In July 2017, the Gu-Vo dis­trict passed a res­o­lu­tion in oppo­si­tion to the IFTs. ​"Hav­ing the land remain open, unde­vel­oped and home to food pro­duc­tion and wildlife, and car­bon seques­tra­tion with nat­ur­al water stor­age is cru­cial to the com­mu­ni­ty," the state­ment read.
At the March 22 Leg­isla­tive Coun­cil meet­ing, Gar­cia, the trib­al elder (and a close rel­a­tive of Este­van), implored the Coun­cil not to approve the IFTs. He looked to Coun­cil­man Edward Manuel, who had two months ear­li­er described the Bor­der Patrol pres­ence on the Nation as a ​"mil­i­tary state," and said, ​"Veto it, if it passes."
The res­o­lu­tion passed, with­out veto, although with a num­ber of stip­u­la­tions, includ­ing com­pen­sa­tion for leased land.
Nation Vice Chair­man Jose told the Los Ange­les Times that the vote was intend­ed to be a com­pro­mise to dis­suade the fed­er­al gov­ern­ment from build­ing the wall. The Nation is ​"only as sov­er­eign as the fed­er­al gov­ern­ment allows us to be," Jose said.
A Bor­der Patrol spokesper­son told the Los Ange­les Times, how­ev­er, that there are no plans to reduce agents, and that the IFTs do not elim­i­nate the need for a wall.
*****
Gar­cia and oth­er resisters are up against an enor­mous sys­tem. Trump's plan has nev­er been just about a bor­der wall: The admin­is­tra­tion wants to for­ti­fy a mas­sive sur­veil­lance appa­ra­tus built over mul­ti­ple pres­i­den­cies. Asked in Feb­ru­ary what he thought about the focus on the wall, Bor­der Patrol's Stuken­berg said it was just one com­po­nent of bor­der infra­struc­ture. Three things are required — fence, tech­nol­o­gy and per­son­nel, he said, to build a ​"very sol­id system."
The endeav­or is cer­tain­ly very prof­itable. Boe­ing received more than $1 bil­lion for the can­celled SBI­net tech­nol­o­gy plan. For the 49 mobile sur­veil­lance trucks now patrolling the bor­der, CBP award­ed con­tracts to the U.S.-based pri­vate com­pa­nies FLIR Sys­tems and Tele­phon­ics. Anoth­er con­tract went to Gen­er­al Dynam­ics to upgrade CBP's Remote Video Sur­veil­lance Sys­tems, com­posed of tow­ers and mon­i­tor­ing sys­tems. As of 2017, 71 such tow­ers had been deployed in des­o­late areas of south­ern Ari­zona, includ­ing one on the Tohono O'odham Nation. Oth­er major com­pa­nies that have received CBP con­tracts include Northrop Grum­man, Lock­heed Mar­tin, Raytheon and KBR (a for­mer Hal­libur­ton subsidiary).
These com­pa­nies wield tremen­dous lob­by­ing pow­er in Wash­ing­ton. In 2018, Gen­er­al Dynam­ics spent more than $12 mil­lion on lob­by­ing and gave $143,000 in cam­paign con­tri­bu­tions to mem­bers of the House Home­land Secu­ri­ty Com­mit­tee. To com­pare, the Tohono O'odham Nation spent $230,000 on lob­by­ing and $6,900 on cam­paign con­tri­bu­tions to the com­mit­tee mem­bers in 2018.
Mean­while, at the UN hear­ing in Jan­u­ary, Ser­e­na Padil­la, of the near­by Akimel O'odham Nation, described an inci­dent in which Bor­der Patrol agents held a group of youth at gun­point. She end­ed her tes­ti­mo­ny: ​"As a woman who is 65 years old with four chil­dren, 15 grand­chil­dren, 33 great-grand­chil­dren — I'll be damned if I won't go down fight­ing for my future great-great-grandchildren."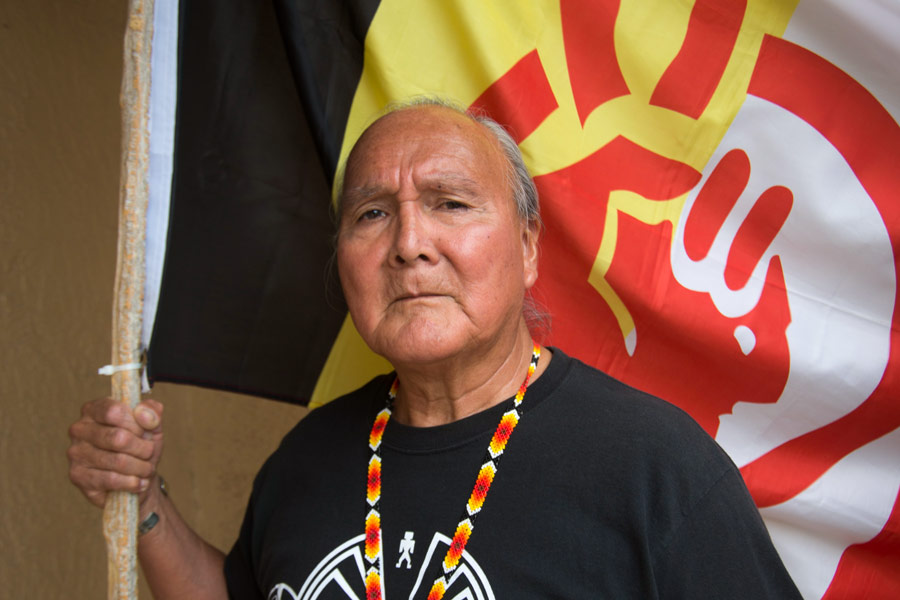 David Gar­cia, for­mer Tohono O'odham trib­al coun­cil­man and mem­ber of the O'odham Elder Coun­cil, holds the flag of the Amer­i­can Indi­an Move­ment, found­ed in 1968. Gar­cia sees the flag as a sym­bol of Native rights and con­tin­ued resis­tance, from Wound­ed Knee to the bor­der­lands. (Pho­to by Raechel Running)
Todd Miller
is the author of Empire of Bor­ders: The Expan­sion of the U.S. Bor­der Around the World, Storm­ing the Wall: Cli­mate Change, Migra­tion and Home­land Secu­ri­ty and Bor­der Patrol Nation: Dis­patch­es From the Front Lines of Home­land Secu­ri­ty. He has writ­ten on bor­der and immi­gra­tion issues for the New York Times, Al Jazeera Amer­i­ca, and else­where. You can fol­low him on twit­ter @memomiller and view more of his work at his website.