Volunteers Convicted for Leaving Water Out for Migrants
"I didn't understand that humanitarian aid was criminal," said Zaachila Orozco.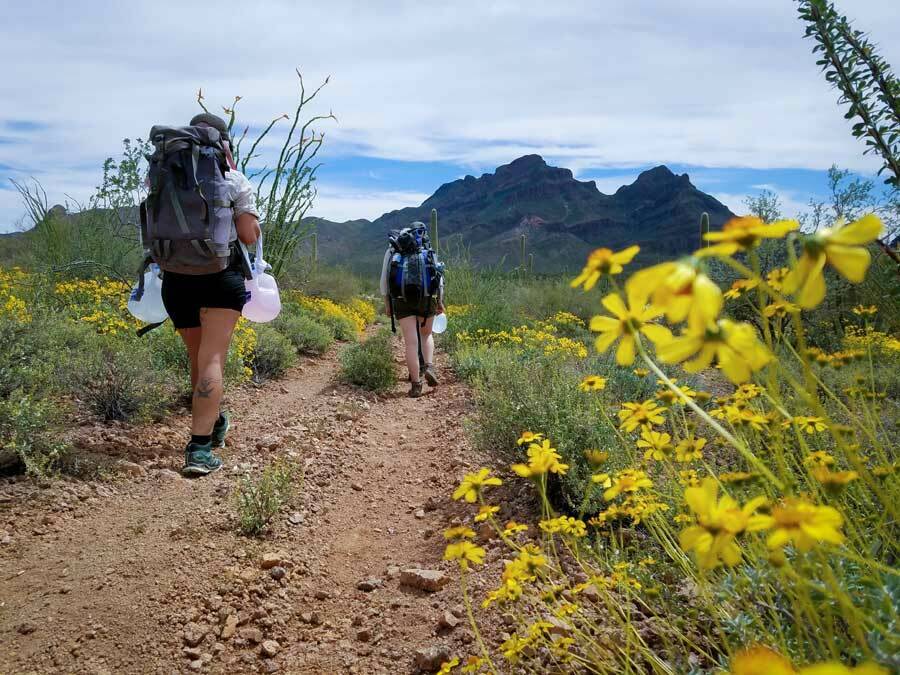 TUC­SON, ARIZ. — In a crowd­ed court­room Jan­u­ary 15, defense lawyer Chris Dupont asked Michael West, a U.S. Fish and Wildlife offi­cer at the Cabeza Pri­eta Nation­al Wildlife Refuge in the Ari­zona desert, if he was aware that bor­der crossers were dying in the refuge. Had he found bod­ies him­self? ​"Yes," West affirmed. Pressed for an exact num­ber, West said he didn't know.
In total, the U.S.-Mexico borderlands have seen more than 7,000 fatalities (a conservative estimate) since 1994.
Made­line Huse, a vol­un­teer with the Ari­zona-based human­i­tar­i­an aid orga­ni­za­tion No More Deaths, has a clear­er mem­o­ry of the bod­ies she's seen along the bor­der. She tes­ti­fied two days lat­er that, in just one month of vol­un­teer­ing in 2016, she and those with her encoun­tered more than a dozen people's remains. Expert wit­ness Ed McCul­lough, a retired geol­o­gist who maps migrant routes in the desert, described Growler Val­ley in the Cabeza Pri­eta refuge as a ​"trail of deaths."
On Aug. 13, 2017, in the Growler Val­ley, West stopped Huse and fel­low vol­un­teers Natal­ie Hoff­man, Oona Hol­comb and Zaachi­la Oroz­co as they were leav­ing food and water for migrants dur­ing one of the dead­liest sum­mers on record. By year's end, the remains of 32 peo­ple would be found on the refuge.
Charged with enter­ing a nation­al wildlife refuge with­out a per­mit, aban­don­ing prop­er­ty and (in the case of Hoff­man, the dri­ver) oper­at­ing a vehi­cle in a wilder­ness area, the four were fac­ing up to six months in prison. Dupont's defense team argued that the vol­un­teers' sin­cere­ly held val­ues com­pelled them to aid those who were dying, and that they did not know this was a pros­e­cutable offense.
In total, the U.S.-Mexico bor­der­lands have seen more than 7,000 fatal­i­ties (a con­ser­v­a­tive esti­mate) since the Clin­ton admin­is­tra­tion first deployed the cur­rent bor­der enforce­ment strat­e­gy of deter­rence in 1994. More walls, more sur­veil­lance tech­nolo­gies and more armed agents (from 4,000 in 1994 to 21,000 in 2014) pre­vent­ed access to the much safer cross­ing areas in and around cities such as El Paso, Texas; Nogales, Ariz.; and San Diego — push­ing peo­ple to take longer routes through des­o­late areas, like Cabeza Prieta.
Accord­ing to anthro­pol­o­gist Jason De León, who directs the Undoc­u­ment­ed Migra­tion Project, ​"There's no way you can car­ry enough water" to make the six-day hike through the desert. You would need 10 gal­lons, he says, and ​"the most you can pos­si­bly car­ry is four."
It was in this con­text that No More Deaths formed in 2004, to pro­vide direct aid and raise pub­lic aware­ness of the bor­der death cri­sis. Around the same time, the Bor­der Patrol opened up Camp Grip, a base on the Cabeza Pri­eta refuge, and began to work more close­ly with Fish and Wildlife offi­cers like West. Bor­der Patrol's F‑150 trucks and ATVs began to rou­tine­ly criss­cross the pro­tect­ed wilder­ness, and the agency installed a net­work of cam­eras. It was one of those cam­eras that alert­ed West to the No More Deaths vol­un­teers' white pick­up truck in 2017.
Unaware they'd been spot­ted, the four vol­un­teers parked the truck and hiked out into the desert, car­ry­ing heavy back­packs full of water and cans of beans into the unbear­able 110-degree heat. They couldn't sit down to rest; the ground was siz­zling hot. Jump­ing chol­la cac­ti punc­tured their shoes, and they stopped sev­er­al times to extract the thorns. When they reached the drop-off point, they found cloth­ing, shoes and back­packs left behind by bor­der crossers. ​"You feel some­one else's pres­ence," Oroz­co testified.
When West got in his patrol car to track down the pick­up, he may not have real­ized he was about to be a key actor in the Trump administration's esca­lat­ing crack­down on human­i­tar­i­an assis­tance on the bor­der. In June 2017, Bor­der Patrol had raid­ed the No More Deaths camp in Ari­va­ca, Ariz., and arrest­ed four undoc­u­ment­ed bor­der crossers who were receiv­ing med­ical treat­ment. A month lat­er, the wildlife refuge (with input from the Depart­ment of the Inte­ri­or and Depart­ment of Defense) amend­ed the per­mit stip­u­la­tions with a new para­graph pro­hibit­ing peo­ple from leav­ing food and water — inten­tion­al­ly tar­get­ing No More Deaths.
West wait­ed at the white pick­up for the vol­un­teers, ques­tioned them and asked them to leave the refuge. He con­fis­cat­ed the cache of water jugs and beans the vol­un­teers had dropped off and took the crates to the refuge office. There, he pho­tographed the ​"prop­er­ty," lin­ing the crates up side by side as if he had bust­ed drug run­ners. In Decem­ber 2017, the Trump Jus­tice Depart­ment would use his report as evi­dence in fil­ing charges.
On Jan­u­ary 18, Mag­is­trate Judge Bernar­do Velas­co found the four vol­un­teers guilty on all counts, rebuk­ing them for defil­ing a ​"pris­tine nature" (no men­tion that Bor­der Patrol roads have been decried by envi­ron­men­tal groups). The tri­al was the first of four No More Deaths cas­es to be adju­di­cat­ed this year. One defen­dant, Scott War­ren, faces felony charges and up to 20 years in prison for pro­vid­ing med­ical assistance.
"I didn't under­stand," said Oroz­co dur­ing her tes­ti­mo­ny, ​"that human­i­tar­i­an aid was criminal."
Todd Miller
is the author of Empire of Bor­ders: The Expan­sion of the U.S. Bor­der Around the World, Storm­ing the Wall: Cli­mate Change, Migra­tion and Home­land Secu­ri­ty and Bor­der Patrol Nation: Dis­patch­es From the Front Lines of Home­land Secu­ri­ty. He has writ­ten on bor­der and immi­gra­tion issues for the New York Times, Al Jazeera Amer­i­ca, and else­where. You can fol­low him on twit­ter @memomiller and view more of his work at his website.