As radi­a­tion poi­sons areas around Japan's Fukushi­ma Dai­ichi com­plex, it also floats and falls across the planet.
The nuclear industry and the feds will likely fight back. Entergy, the plant owner, will likely sue Vermont all the way to the Supreme Court.
Even the U.S. Envi­ron­men­tal Pro­tec­tion Agency, with its dubi­ous record of pro­tect­ing the pub­lic good over indus­try prof­it, says there is ​"no firm basis for set­ting a ​'safe' lev­el of expo­sure above back­ground for sto­chas­tic effects."
A sto­chas­tic effect is a pat­tern that can be ana­lyzed sta­tis­ti­cal­ly but not pre­dict­ed pre­cise­ly. So if Fukushima's fall­out expos­es, say, 1 mil­lion peo­ple to excess radi­a­tion, we know some will get can­cer – but not who.
It is not even true – with­in lim­its – that high­er expo­sure equals greater like­li­hood of dis­ease. ​"The risk of can­cer from long-term expo­sure to low dos­es of radi­a­tion could be as much as 10 times high­er … than has been seen in atom­ic bomb blast sur­vivors," accord­ing to a 1991 fed­er­al­ly man­dat­ed study in the Jour­nal of the Amer­i­can Med­ical Asso­ci­a­tion that tracked 8,318 Oak Ridge Nation­al Lab­o­ra­to­ry employ­ees over 40 years.
Sources of pow­er plant radi­a­tion range from cat­a­stroph­ic acci­dents – like Three Mile Island, Cher­nobyl and now Fukushi­ma – to the endur­ing waste prob­lem. Three quar­ters of America's near­ly 72,000 tons of com­mer­cial nuclear pow­er plant-waste sits in water-filled cool­ing pools like those at Fukushima.
Reg­u­la­tion has failed to ensure safe­ty. When a Japan­ese whistle­blow­er revealed in 2000 that Tokyo Elec­tric had fal­si­fied inspec­tion records and hid­den cracks at Dai­ichi, two years passed before then-pre­fec­tur­al gov­er­nor Eisaku Sato was informed. He recent­ly told the New York Times: ​"An orga­ni­za­tion that is inher­ent­ly untrust­wor­thy is charged with ensur­ing the safe­ty of Japan's nuclear plants. So the prob­lem is not lim­it­ed to Tokyo Elec­tric, which has a long his­to­ry of cov­er-ups, but it's the whole sys­tem that is flawed. That's frightening."
The same fright­en­ing flaws and cracks exist not only in U.S. nuclear pow­er plants, but in our own cor­rupt­ed, pro-indus­try reg­u­la­to­ry system.
In both democ­ra­cies, cit­i­zens can­not vote to shut down a dan­ger­ous plant. Except, quite pos­si­bly, in Ver­mont, where Ver­mont Yan­kee (VY), an aging, acci­dent-prone plant owned by Enter­gy, is near­ing the end of its 40-year license. The Gen­er­al Elec­tric Mark 1 boil­ing water mod­el was dis­con­tin­ued in 1972, the year it was built in Ver­mont and one year after Fukushi­ma began operating.
By 2002, Ver­mont Yankee's poor safe­ty record prompt­ed the state to require Enter­gy to obtain a cer­tifi­cate of pub­lic good before it could extend its license past 2012. Last year the leg­is­la­ture denied that cer­tifi­cate. With a new Demo­c­ra­t­ic gov­er­nor who cam­paigned on shut­ting the plant and a leg­is­la­ture roy­al­ly pissed at Entergy's repeat­ed lies about leaks, one last vote this year is expect­ed to kill the pow­er plant. Gov. Peter Shum­lin is demand­ing that Enter­gy pay not only decom­mis­sion­ing costs, but stor­age fees for any waste left behind.
The nuclear indus­try and the feds will like­ly fight back. The Nuclear Reg­u­la­to­ry Com­mis­sion just rub­ber­stamped Entergy's renew­al request, as it did with all 64 oth­er re-licens­ing requests. Enter­gy will like­ly sue Ver­mont all the way to the Supreme Court. On April 18, Enter­gy filed a law­suit in U.S. Dis­trict Court in Burling­ton, Vt., to stop the state from clos­ing the plant; the com­pa­ny claims states have no author­i­ty to license nuclear plants.
Ver­mon­ters believe a deal is a deal, and that the leg­is­la­ture has the right under a democ­ra­cy to uphold the con­tract and shut down the plant. They also see the hor­ror unfold­ing in Japan and remem­ber when Chernobyl's radioac­tive plume, dri­ven by ill winds, fell with spring rain onto fresh­en­ing Ver­mont fields, taint­ing some of the state's milk supply.
One rea­son I live in Ver­mont is the com­mit­ment to com­mu­ni­ty and envi­ron­ment that has fueled the decades-long effort to shut VY. I also lived in Japan for almost sev­en years; its eth­i­cal, social and aes­thet­ic val­ues shaped me, as did the gen­eros­i­ty and kind­ness of strangers and friends there. Both places are now com­ing to terms with the inher­ent stu­pid­i­ty of trust­ing that gov­ern­ments and reg­u­la­tors in thrall to indus­try can safe­guard the public.
Japan­ese poets love to write about hakanai, the tran­sience that defines the human con­di­tion. The metaphor of ephemer­al cher­ry blos­som petals drift­ing gen­tly in the wind is roman­ti­cal­ly sad; the real­i­ty of the mil­len­nia-long con­t­a­m­i­na­tion from a nuclear melt­down is too painful to bear.
This arti­cle has been updat­ed to note Entergy's law­suit to pre­vent the state of Ver­mont from forc­ing clo­sure of the Ver­mont Yan­kee plant.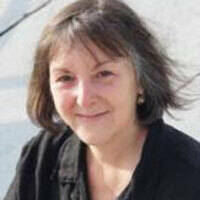 Ter­ry J. Allen
is a vet­er­an inves­tiga­tive reporter/​editor who has cov­ered local and inter­na­tion­al pol­i­tics and health and sci­ence issues. Her work has appeared in the
Guardian, Boston Globe, Times Argus, Harper's
, the Nation​.com, Salon​.com, and
New Sci­en­tist
. She has been an edi­tor at Amnesty Inter­na­tion­al,
In These Times
, and Cor​p​watch​.com. She is also a pho­tog­ra­ph­er. Her por­traits of peo­ple sit­ting in some of the
1900
cars lined up out­side a New­port, Vt., food drop can be seen on www​.flickr​.com/​p​h​o​t​o​s​/​t​e​r​r​y​a​l​l​e​n​/​a​lbums. Ter­ry can be con­tact­ed at tallen@​igc.​org or through www​.ter​ry​jallen​.com.