Car Wash Workers' L.A. Victory Inspires Chicago Campaign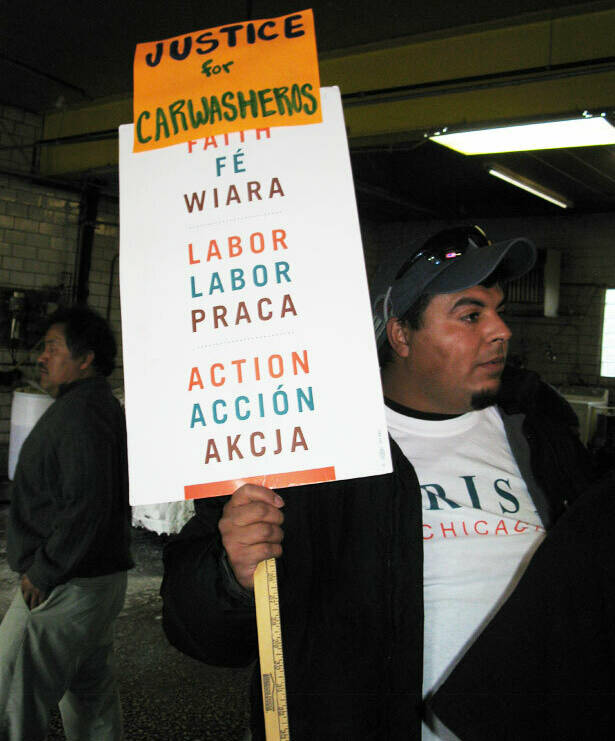 Arise Chica­go and oth­er groups take aim at often-over­looked industry
Though car wash­es reg­u­lar­ly sub­ject their work­ers to haz­ardous con­di­tions and wages far below the legal min­i­mum, they have sel­dom been the tar­get of union orga­niz­ing. But inspired by a cam­paign in south­ern Cal­i­for­nia that won the industry's first union con­tract for car wash work­ers last month, work­ers, com­mu­ni­ty groups and unions have launched their own dri­ve to fight exploita­tion at car wash­es in Chica­go.
On Tues­day, Novem­ber 15, approx­i­mate­ly 50 mem­bers and sup­port­ers of com­mu­ni­ty and labor orga­ni­za­tions gath­ered out­side the Lit­tle Vil­lage Car Wash on Cer­mak Road to protest what they described as per­sis­tent wage theft and dan­ger­ous work­ing con­di­tions at the business.
The demon­stra­tion, orga­nized by the inter­faith labor group Arise Chica­go and sup­port­ed by the Unit­ed Steel­work­ers, Stand Up! Chica­go, and Inter­faith Work­er Jus­tice, was demand­ing back wages for two for­mer employ­ees. Car­los Ruiz, who worked at the car wash from 2000 until 2011, report­ed los­ing part of his thumb in a work­place acci­dent and being com­pen­sat­ed only with tips for the dura­tion of his employ­ment. He told those assem­bled that on a good day, he would receive about $40 for 12 hours of work. When busi­ness was slow, he would make as lit­tle as $15 over the course of the day.
Mar­tin Mon­toya, anoth­er for­mer employ­ee of the car wash, told In These Times that the busi­ness' own­ers were tak­ing advan­tage of the work­ers because many of them were undocumented.
Though the min­i­mum base wage for tipped work­ers (includ­ing car wash work­ers) is low­er than the legal min­i­mum wage in Illi­nois ($4.95 rather than $8.25), a 2010 study from the Uni­ver­si­ty of Illi­nois at Chica­go found that more than 15 per­cent of tipped work­ers in Cook Coun­ty earned less than the tipped work­er min­i­mum wage and reg­u­lar­ly had tips stolen from then by employers.
Mic­ah Uet­richt, an orga­niz­er with Arise (and occa­sion­al con­trib­u­tor to In These TImes) who has been inves­ti­gat­ing con­di­tions at Chica­go car wash­es, report­ed that though con­di­tions at the Lit­tle Vil­lage Car Wash are par­tic­u­lar­ly griev­ous, abuse of min­i­mum wage, over­time, and work­er safe­ty laws is the norm in the indus­try in Chicago.
"Almost all the car wash­es we've vis­it­ed pay below the min­i­mum wage, work their work­ers eleven or twelve hours with no over­time, have nonex­is­tent health and safe­ty con­sid­er­a­tions," says Uet­richt. ​"The lev­el of exploita­tion in this indus­try is mind-blowing."
As sup­port­ers marched out­side the car wash, hold­ing signs in Span­ish and Eng­lish and chant­i­ng, ​"What's out­ra­geous? Steal­ing wages!" a del­e­ga­tion entered the busi­ness and asked to set up a meet­ing with the own­er. Uet­richt told In These Times that he had already made mul­ti­ple attempts by let­ter and phone call to con­tact the own­er, but to no avail.
When Ruiz, Mon­toya and staff mem­bers from Arise approached the man­ag­er, he report­ed­ly refused to talk to them or to call the car wash's owner.
After the del­e­ga­tion exit­ed the car wash, sup­port­ers regrouped in the busi­ness' park­ing lot and empha­sized that this was the begin­ning rather than the end of the push to demand pay­ment of back wages and improved con­di­tions at the busi­ness. ​"We hope that next time, the boss will be will­ing to show his face," said Ruiz.
Though Uet­richt said it was sur­pris­ing that the busi­ness was still unwill­ing to nego­ti­ate after a strong show of sup­port from the com­mu­ni­ty, he was encour­aged by cur­rent Lit­tle Vil­lage Car Wash employ­ees' recep­tive­ness to the action.
Arise, togeth­er with the Unit­ed Steel­work­ers and oth­er com­mu­ni­ty orga­ni­za­tions, will con­tin­ue to push for improve­ments in the car wash indus­try. But the cam­paign that result­ed in union rep­re­sen­ta­tion for car wash work­ers in L.A. (which USW was involved in) took near­ly four years, and Chica­go orga­niz­ers empha­sized that the move­ment was still form­ing and con­sid­er­ing how to draw from the strengths of the var­i­ous orga­ni­za­tions involved.
Antho­ny Alfano, an orga­niz­ing coun­sel for the Unit­ed Steel­work­ers (USW) Dis­trict 7, empha­sized that while USW was now rep­re­sent­ing the South­ern Cal­i­for­nia car wash work­ers, it was not the aim of the union to lead the move­ment in Chica­go. ​"This is an organ­ic move­ment," Alfano told In These Times. ​"And we're here in sup­port. Our first pri­or­i­ty here is to help these work­ers achieve social jus­tice, achieve the pay that they're enti­tled to under the law. We take our cues from oth­er peo­ple in the com­mu­ni­ty, as well as the car wash work­ers themselves."
Nev­er­the­less, Arise orga­niz­ers acknowl­edged the sig­nif­i­cance of what had been accom­plished in Cal­i­for­nia and point­ed to the lessons that it held for oth­er areas of the coun­try. Said Uet­richt of the cam­paign in Cal­i­for­nia, ​"It was a pret­ty ground-break­ing cam­paign in that these are immi­grant work­ers in an indus­try that many unions thought you could nev­er orga­nize in the past. It was pret­ty inspir­ing to see that…it could be done."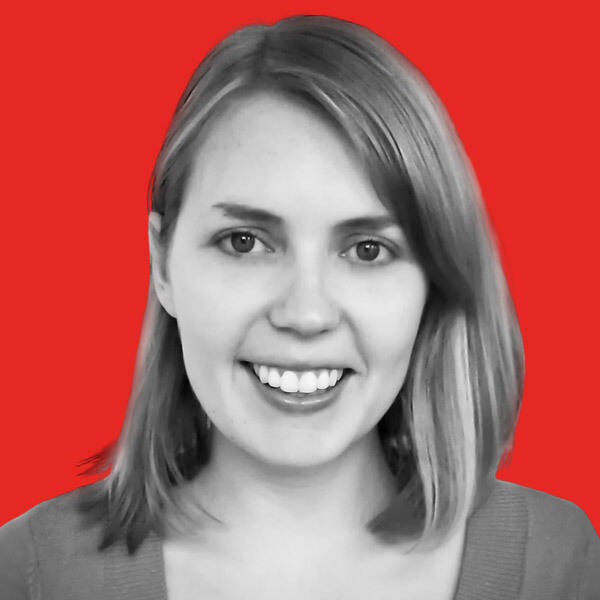 Rebec­ca Burns
is an award-win­ning inves­tiga­tive reporter whose work has appeared in The Baf­fler, the Chica­go Read­er, The Inter­cept and oth­er out­lets. She is a con­tribut­ing edi­tor at In These Times. Fol­low her on Twit­ter @rejburns.