Victory for Smithfield Workers
A 16-year unionization campaign gets a happy ending.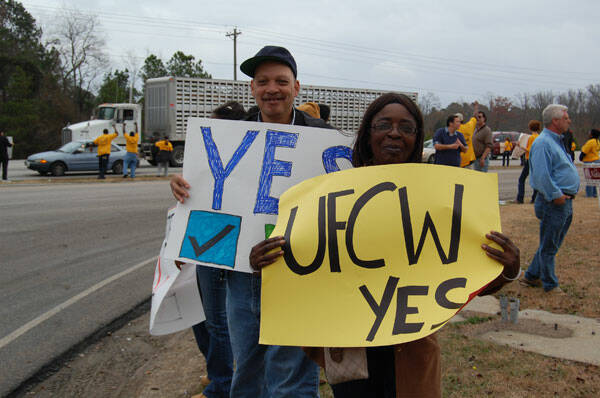 On Dec. 11, 52 per­cent of work­ers vot­ed to union­ize at Tar Heel, N.C.-based Smith­field hog plant, the world's largest hog slaugh­ter­house. The slim mar­gin is a poor indi­ca­tor of an enor­mous vic­to­ry, fol­low­ing a 16-year dri­ve in a state with only 3.3 per­cent union den­si­ty – the low­est in the country.
Smith­field set up shop in 1992 in North Car­oli­na, where right-to-work laws sti­fle orga­niz­ing and let work­ers in union­ized plants refuse mem­ber­ship dues and fees.
With high-speed assem­bly lines and sharp knives, work­ers process 33 hogs a minute – 32,000 a day – often under lax safe­ty rules. Smith­field has large­ly ignored demands for new equip­ment and safer machin­ery, and often fired injured workers.
"From the day they laid the first brick down, the own­er said this plant would nev­er union­ize, and if so, he would close the damn doors," says Ter­ry Slaugh­ter, who has worked there for sev­en years.
In 1994 and 1997, orga­niz­ers for the Unit­ed Food and Com­mer­cial Work­ers (UFCW) failed to win elec­tions. Some work­ers were fired for sign­ing union cards, and the com­pa­ny alleged­ly dis­rupt­ed the sec­ond elec­tion with vio­lence. Until 2005, Smith­field dep­u­tized its own police force and set up an on-site deten­tion cen­ter to keep a lid on organizing.
Slaugh­ter says that when he arrived in 2002, the major­i­ty-Lati­no work­force had almost com­plete­ly turned over since the 1997 elec­tion. Orga­niz­ing had hit a lull. He and co-work­ers got a boost in 2006 after the Nation­al Labor Rela­tions Board (NLRB) ruled that pre­vi­ous elec­tions were taint­ed by com­pa­ny malfea­sance and called for anoth­er vote.
The NLRB deci­sion forced Smith­field to pay $1.5 mil­lion in back pay and re-hire fired work­ers like Kei­th Lud­lum, who was ter­mi­nat­ed in 1994 for organizing.
"The com­pa­ny was react­ing with such aggres­sion to our activ­i­ties," says Slaugh­ter. ​"When Lud­lum showed up, he knew his rights, and it gave [us] a step­ping stone."
Lati­nos made up two-thirds of the plant's work­force until a series of raids, start­ing in Jan­u­ary 2007, cut their ranks – send­ing the union cam­paign into dis­ar­ray as a rumored elec­tion drew near. Twen­ty-one work­ers were locked up and hun­dreds nev­er returned to work.
In Octo­ber 2007, the com­pa­ny filed a suit under the Rack­e­teer Influ­enced and Cor­rup­tion Orga­ni­za­tion Act against the union's year-old Justice@Smithfield cam­paign. UFCW had called a boy­cott while under­writ­ing envi­ron­men­tal groups to expose Smithfield's pol­lu­tion record. The company's suit alleged extor­tion, say­ing the union's cam­paign had cost it $1 bil­lion. A U.S. dis­trict court agreed and dis­missed UFCW's appeals, rul­ing that the union could face charges even if its claims against the com­pa­ny were true. Work­ers con­tin­ued to dis­trib­ute union mate­ri­als and began writ­ing ​"Union Time" on their hard hats.
"We took the oppor­tu­ni­ty to say, ​'You guys are the union,' " says Carl Green, ground coor­di­na­tor for UFCW. ​"You have to act like the union, even if we haven't won yet."
It worked. In late Octo­ber, Smith­field set­tled out of court. The agree­ment called for a union elec­tion in six weeks – the first in 10 years. The com­pa­ny dropped its law­suit and the union end­ed the boy­cott. Union orga­niz­ers were allowed inside the plant to talk with work­ers, an unprece­dent­ed gain.
Work­ers must now bat­tle Smith­field man­age­ment to get a con­tract. Employ­ees don't have sick days and remain sub­ject to a puni­tive point sys­tem for missed work. Despite win­ning small rais­es, work­ers have seen irreg­u­lar pay­ment from Smith­field, which has uni­lat­er­al­ly altered rates. Ben­e­fits remain pal­try and work­ers have lit­tle job security.
"Any mis­take you make, you can be fired, no expla­na­tions, no noth­ing," says Slaugh­ter. ​"Right now they can treat you any way they want."
The suc­cess of the con­tract cam­paign – much like the orga­niz­ing cam­paign that led to the vote – relies on sus­tained involve­ment by work­ers to keep Smith­field from foment­ing divi­sions or push­ing a watered-down agree­ment. After more than 16 years of bat­tling for the right to orga­nize, work­ers are undaunted.
Says Lydia Vic­to­ria, a 14-year Smith­field employ­ee: ​"We won't be hap­py until we're all mov­ing together."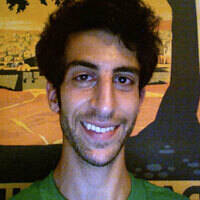 Paul Abowd
lives in Detroit, where he writes for
Crit­i­cal Moment
mag­a­zine. His work has also appeared in
Labor Notes
,
Z Mag­a­zine
,
Month­ly Review
, Truthout,
Coun­ter­punch
and
The Elec­tron­ic Intifa­da
.