Village Of The Dammed
In Panama, the Ngäbe-Buglé fight to save their river and their land.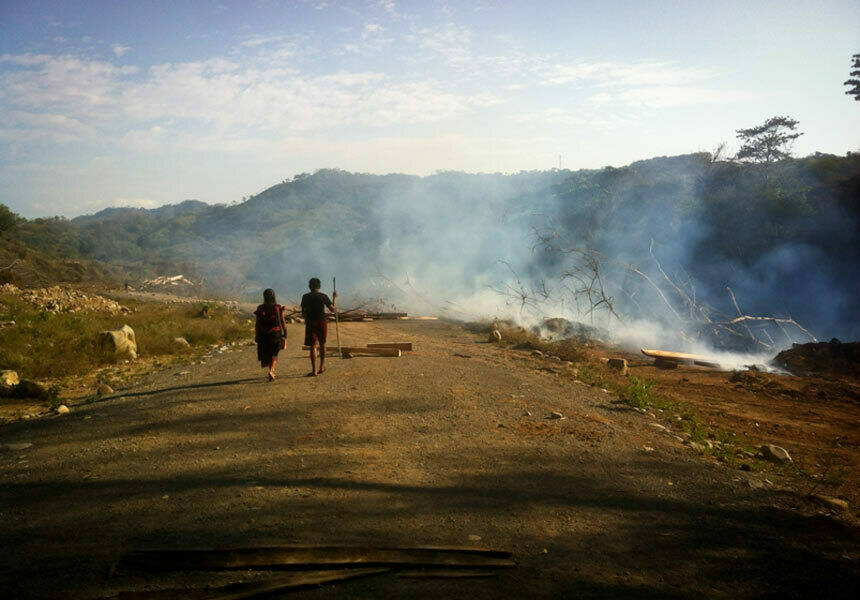 Walk­ing along the stone and dirt road that fol­lows the Tabasará Riv­er to the con­struc­tion site of Panama's con­tro­ver­sial Bar­ro Blan­co hydro­elec­tric dam is a bit like step­ping into a Gabriel Gar­cía Márquez nov­el, one titled Chron­i­cle of a Bat­tle Fore­told. The road is blocked by huge felled trees and seem­ing­ly end­less piles of rocks and boul­ders. You know the battle's com­ing, but you don't know when, or how vio­lent it will be.
On several occasions Ngäbe-Buglé activists and their indigenous, Latino, labor and supporters have blocked the nearby Pan-American Highway, Panama's chief economic lifeline. ... But they've paid a heavy price for their militancy. At least two protesters have been killed in clashes with police.
The road­blocks were put in place by indige­nous Ngäbe-Buglé activists who say that the pri­vate Pana­man­ian com­pa­ny that's build­ing the Bar­ro Blan­co dam, Gen­er­ado­ra del Ist­mo S.A. (Genisa), built the road so Pana­man­ian police can cross the rough ter­rain and evict poten­tial­ly hun­dreds of Ngäbe-Buglé pro­test­ers. The Ngäbe-Buglé firm­ly refuse to leave the land — their land — that is slat­ed to be inun­dat­ed by the dam. The trees, rocks and boul­ders they've used to block the road might not pose much of a chal­lenge for Genisa's heavy equip­ment, but the gap­ing hole that they tore through Genisa's makeshift bridge over the deep, fast-flow­ing Tabasará could be a real problem.
High up on a bluff over­look­ing the Bar­ro Blan­co con­struc­tion site and the scarred Tabasará, hun­dreds of Ngäbe-Buglé demon­stra­tors have con­struct­ed a makeshift protest camp replete with ban­ners and flags and one small, rudi­men­ta­ry, three-wall struc­ture made of palm fronds. Scores of pro­test­ers sleep under the stars on tarps and pieces of card­board. They eat hand­fuls of Froot Loops, and refried beans are dished out of a five-gal­lon buck­et into cut­away plas­tic soda bottles.
A few hun­dred yards away on anoth­er rough dirt road, a small con­tin­gent of police wear­ing shirts that read ​"ANTI-DIS­TUR­BIO" (anti-riot) keeps an eye on the camp.
Defy­ing heat in the upper 90s, a young man sit­ting beside me is cov­ered from head to toe, mask­ing his iden­ti­ty. Only his eyes show. ​"Where are we sup­posed to go?" he says. ​"This is our land. We live here. We have always lived here." This refrain is repeat­ed over and over by the Ngäbe-Buglé.
Con­struc­tion of the hydro­elec­tric project began in 2011, and resis­tance to it has been fierce. On sev­er­al occa­sions Ngäbe-Buglé activists and their indige­nous, Lati­no, labor and sup­port­ers have blocked the near­by Pan-Amer­i­can High­way, Panama's chief eco­nom­ic life­line. In one 2012 action, they grabbed nation­al head­lines by shut­ting down the road for more than eight days. But they've paid a heavy price for their mil­i­tan­cy. At least two pro­test­ers have been killed in clash­es with police. And now, with con­struc­tion of the dam approach­ing com­ple­tion, the stakes are even higher.
Genisa has said that only 14 acres of land and five indige­nous fam­i­lies will be affect­ed by the dam. Accord­ing to Ngäbe-Buglé activists, those five fam­i­lies have all refused offers from Genisa of between $1,000 and $4,000 each to aban­don the lands they have cul­ti­vat­ed, hunt­ed, fished and lived on for what they call ​"for­ev­er."
But Ricar­do Miran­da, a Ngäbe activist fight­ing the dam, says that more than 400 Ngäbe-Buglé will be dis­placed and anoth­er 3,500-plus will lose farm­land, hunt­ing and fish­ing grounds, and access to fresh, clean, potable water. A 2013 report from the Unit­ed Nations Devel­op­ment Pro­gramme con­clud­ed that it's like­ly that three Ngäbe-Buglé vil­lages will even­tu­al­ly be flood­ed by the project. Gone too will be four pre-Columbian pet­ro­glyphs, which, accord­ing to Pana­man­ian archae­ol­o­gist Jonathan González, are pro­tect­ed nation­al mon­u­ments. (Genisa did not respond to a request for comment.)
Genisa is incor­po­rat­ed in Pana­ma, but its board chair­man is Luis Kafie, one of the rich­est men in Hon­duras. Accord­ing to Genisa's web­site, the Ngäbe-Buglé Comarca's Gen­er­al Con­gress del­e­gat­ed a deci­sion on Bar­ro Blan­co to the Region­al Con­gress of Kädriri, which approved the project. But Ricar­do Miran­da insists that the agree­ment is invalid because the con­gress is not autho­rized to nego­ti­ate a land deal with a pri­vate com­pa­ny, and that in such cas­es a pub­lic ref­er­en­dum is required.
Bar­ro Blan­co is being financed by the Dutch FMO Bank, the Ger­man DEG Bank and the Cen­tral Amer­i­can Bank for Eco­nom­ic Inte­gra­tion (CABEI). All the banks' web­sites tout their envi­ron­men­tal and social respon­si­bil­i­ty, and Miran­da says he hopes sol­i­dar­i­ty groups in Hol­land and Ger­many will pres­sure FMO and DEG to adhere to offi­cial Euro­pean Union social respon­si­bil­i­ty stan­dards and aban­don Bar­ro Blanco.
In the mean­time, the Ngäbe-Buglé have tak­en their fight right to Genisa and the Pana­man­ian gov­ern­ment. Their first protest camp was a mile or two upstream from, and out of sight of, the dam's con­struc­tion site. But in March they upped the ante and moved the camp down­stream to its cur­rent loca­tion, with­in eye­sight of the con­struc­tion site. Pana­ma has nation­al elec­tions com­ing up on May 4, and few think the gov­ern­ment will move on pro­test­ers before the elec­tion. But all bets are off if the pro­test­ers move on to the Bar­ro Blan­co con­struc­tion site, which they have said they like­ly will — although they won't say when.
Miran­da is the gen­er­al coor­di­na­tor of the April 10 Move­ment (M‑10), an orga­ni­za­tion found­ed by Ngäbe-Buglé activists in April 1999 to defend the Tabasará water­shed from exploita­tive hydro­elec­tric projects, and in an inter­view in Pana­ma City, Miran­da said that M‑10 is ready if the gov­ern­ment moves against the pro­test­ers. Accord­ing to Miran­da, 20 labor unions and indige­nous and campesino groups have com­mit­ted to shut­ting down major roads and high­ways in at least 15 spots scat­tered through­out the coun­try if Bar­ro Blan­co con­struc­tion is not halt­ed soon. Miran­da added that at least some roads will be closed if the gov­ern­ment attacks the Ngäbe-Buglé protest camp.
Mean­while, the Pana­man­ian gov­ern­ment is ratch­et­ing up the pres­sure. On March 20, Miran­da says, the gov­ern­ment issued war­rants for him and for his uncle and fel­low activist Manolo Miran­da. And activists blame the gov­ern­ment for a recent wave of cell phone mal­func­tions affect­ing their ranks. With Panama's econ­o­my boom­ing, elec­tric­i­ty short­ages widen­ing, and the Ngäbe-Buglé dig­ging in to defend their land, the real bat­tle over Bar­ro Blan­co may be just beginning.
Lawrence Reichard
is an activist and free­lance jour­nal­ist cur­rent­ly resid­ing in Pana­ma. He can be reached at lreichard@​gmail.​com.