Wal-Mart Eyes New York Again After Chicago Victory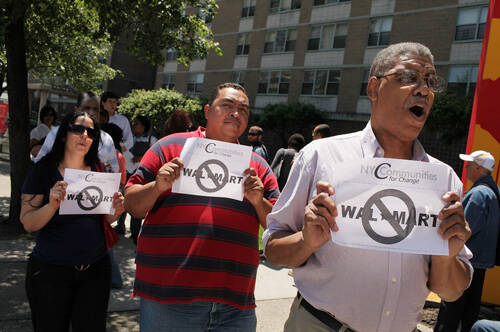 When Wal-mart won approval to build a second and third store in Chicago this July, it was just the beginning of its push to expand into urban areas. Now, just months after the Midwestern initiative, the retail giant is attempting to enter New York City again with a new strategy focused on smaller-scale stores.
Four years ago, the Arkansas-based retailer attempted to set up supercenters in the Queens and Staten Island boroughs in what would have been a marriage between the nation's largest city and the world's largest retailer.
But the plan encountered stiff opposition from community groups, unions and even some politicians. Wal-Mart ultimately scrapped the plan, and H. Lee Scott Jr., the Chief Executive at the time, left town telling reporters that a New York bid was ​"not worth the effort."
Times have changed for Wal-Mart though. Their working-class consumer base is still cash-strapped; stores that have been operating for at least a year have lost revenue for six consecutive quarters; and competitors like Costco and Target have chipped away at their profits by making headway in New York City.
By already exhausting rural development, Wal-Mart is hoping to gain a foothold in cities by riding the momentum and strategy of their successful Chicago campaign. This time, the company is aiming to create several smaller stores in order to break into one of the remaining frontiers left for domestic expansion. In turn, labor and community groups have opposed the stores for their low-pay and anti-union history.
Nevertheless, Wal-Mart has wrangled up political support. Last month, the company hired New York City Mayor Michael Bloomberg's former campaign manager Bradley Tusk. The mayor himself has also warmed to Wal-Mart since it would create jobs, which is the same message used by the company in Chicago to win over the City Council, community leaders and construction unions.
The public relations campaign has also started. The New York Post obtained a copy of an auspicious ​"analysis" that said New York residents spent $165 million last year at Wal-Mart's suburban stores. The article wrote that the city could benefit from the millions of tax revenue dollars and hundreds of jobs but that assertion is overstated. The folks over at the Drum Major Institute point out that taxable retail revenue in New York City from 2008-2009 was $31.3 billion. That means the amount city residents spend at suburban Wal-Marts is less than one-half of 1 percent. And if Chicago is any example, there is no evidence that shows big box stores stimulate economic growth.
Wal-Mart may still be able to build in New York City. Crain's reports the company has hired dozens of real estate agents to scout locations in the city that can accommodate smaller stores. The key reason is because it is easier for the company to circumnavigate zoning approvals by the City Council.
That will erode the bargaining power for unions. Furthermore, Wal-Mart may look to create further rifts between the building trade unions and retail workers. That tactic was eerily similar to what happened in Chicago. A building trade union reached a three-year deal to construct local stores. Meanwhile, non-unionized staff workers did not reach any deal with Wal-Mart.
Crain's details the conflicts festering in New York:
Meanwhile, leaders of the city's building trades are still irritated that the retail union engineered the defeat of a proposed mall at the Kingsbridge Armory last year, killing 1,000 construction jobs. With its members facing 30%-plus unemployment rates, the trades have little incentive to join the retail unions in fighting Walmart, which said it will build with union labor. The Building and Construction Trades Council declined comment.
While Wal-Mart continues to be the scourge of labor and community groups, other retailers like Target have moved into the city. Some union members have questioned whether the attention has focused too much on Wal-Mart since Target has a less than stellar labor record. Whoever it is, the creation of more low-wage jobs has picked up steam. And another showdown between the community and big box retailers is looming.