Any Dem Who Wants to Be President Should Reject War with Iran, Not Hide Behind Process Criticisms
Here's where 2020 Democratic hopefuls stand.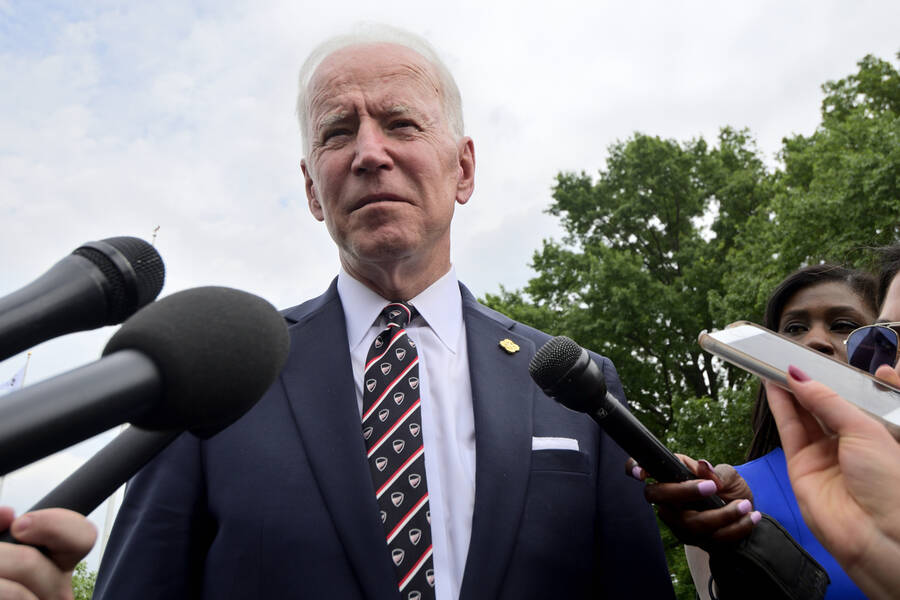 On the evening of June 20, Don­ald Trump report­ed­ly gave ini­tial autho­riza­tion to launch strikes on Iran, then revoked the order at the eleventh hour. The move — which was the lat­est action in a long-sim­mer­ing cam­paign to wage war against Iran — was false­ly framed by the Trump admin­is­tra­tion as retal­ia­to­ry: Ear­li­er on the same day, reports sur­faced that a U.S. Navy sur­veil­lance drone vio­lat­ed Iran's air­space bor­der, prompt­ing the Rev­o­lu­tion­ary Guard to shoot it down, which Trump called ​"a big mis­take."
The moral stakes of Washington's escalating actions against Iran couldn't be higher.
The pre­vi­ous week, shep­herd­ed by neo­con Nation­al Secu­ri­ty Advi­sor John Bolton, the admin­is­tra­tion alleged, with no con­clu­sive evi­dence, that Iran was respon­si­ble for attacks on two com­mer­cial oil tankers near the Gulf of Oman on June 13. This occurred just over a year after the Trump admin­is­tra­tion with­drew from the 2015 Joint Com­pre­hen­sive Plan of Action, also known as the Iran nuclear deal, putting the U.S. on a path to greater aggres­sion towards Iran.
Iran has denied the Trump administration's oil-tanker claims, which remain unsub­stan­ti­at­ed. On June 14, the U.S. mil­i­tary released indis­tinct video footage, which the U.S. mil­i­tary insist­ed showed an Iran­ian mil­i­tary patrol boat approach­ing one of the tankers. The Pen­ta­gon fol­lowed this with addi­tion­al ​"clear­er" pho­tos meant to ​"prove" Iran's involve­ment in the attack, and claimed that the Islam­ic Rev­o­lu­tion­ary Guard Corps (IRGC) removed an unex­plod­ed limpet mine from one of the ships, yet failed to prove that these mines were even attached to the ship. Fur­ther, the head of the Japan­ese com­pa­ny Koku­ka Sangyo Co., which owns one of the ships, con­tra­dict­ed the U.S. military's allegations.
The cri­sis, fueled by the Trump administration's bel­li­cose rhetoric and dan­ger­ous provo­ca­tions, has offered a glimpse into the for­eign-pol­i­cy plat­forms of some of the lead­ing 2020 Demo­c­ra­t­ic hope­fuls. The respons­es of these can­di­dates — Kamala Har­ris, Pete Buttigieg, Joe Biden, Eliz­a­beth War­ren, and Bernie Sanders — ranged from express­ing skep­ti­cism about the U.S. nar­ra­tive on Iran's actions and con­demn­ing ​"for­ev­er wars" to hand­wring­ing about whether Trump is fol­low­ing the right process for start­ing a war and rein­forc­ing the White House nar­ra­tive that Iran as a ​"threat." While Sanders appears to adopt the strongest and most moral­ly informed oppo­si­tion­al stance, War­ren trails just behind him, owed to her slight­ly weak­er leg­isla­tive record on Iran. Mean­while, can­di­dates like Har­ris and Biden, who con­tin­ue to espouse rhetoric about the sup­posed nation­al secu­ri­ty threat posed by Iran and focus more on pro­ce­dur­al cri­tiques, rank among the weakest.
Kamala Har­ris
Cal­i­for­nia Sen­a­tor and pres­i­den­tial can­di­date Kamala Har­ris has vowed to rejoin the Iran nuclear deal if elect­ed, com­ment­ing that Trump's deci­sion to with­draw ​"was not only not smart, because so far it was work­ing, but it was also uni­lat­er­al action, not bring­ing along and appar­ent­ly not con­sult­ing our allies around the globe who are also invest­ed in the right outcome."
The Iran nuclear deal was an agree­ment between the U.S., UK, France, Chi­na, Rus­sia and Ger­many in which Iran would restrict sup­posed nuclear-weapons devel­op­ment in exchange for lift­ed eco­nom­ic sanc­tions. While the deal is a step towards deesca­la­tion, it meets a low bar, as it is premised on a pow­er imbal­ance: U.S. intel­li­gence agen­cies acknowl­edged in 2007 and 2012 that Iran does not have a nuclear-weapons pro­gram. What's more, per the agree­ment, the U.S. is allowed to retain nuclear weapons, despite its hor­rif­ic nuclear his­to­ry. Nonethe­less, U.S. with­draw­al is dis­as­trous, as it puts the U.S. on a path to greater con­fronta­tion with Iran, and because of this, the deal should be defended.
Har­ris, how­ev­er, has remained large­ly mum on the oil-tanker canard. In May, when Sec­re­tary of State Mike Pom­peo sug­gest­ed that the U.S. could lever­age the post‑9/​11 Autho­riza­tion for Use of Mil­i­tary Force (AUMF) as legal jus­ti­fi­ca­tion to attack Iran, Har­ris stat­ed that she was unaware of the com­ments. To her cred­it, Har­ris became a cospon­sor of the ​"Pre­ven­tion of Uncon­sti­tu­tion­al War with Iran Act of 2019," which pro­hibits funds from being used for a war with Iran with­out con­gres­sion­al approval. But she was more than three weeks behind War­ren, who signed up as a cospon­sor on May 14, and even fur­ther behind Sanders, who cospon­sored the day the bill was intro­duced: April 4. Trou­bling­ly, Har­ris vot­ed in favor of and co-spon­sored a 2017 bill that imposed new sanc­tions on Iran by bundling them with sanc­tions against Rus­sia and North Korea. War­ren vot­ed in favor of this bill but did not cospon­sor, and Sanders was the only con­gressper­son in the House or Sen­ate who cau­cus­es with the Democ­rats to vote against.
Har­ris has ques­tioned Washington's Iran nar­ra­tive, but frames it not in terms of moral­i­ty — say, spar­ing the lives of Iran­ian peo­ple — but in terms of nation­al secu­ri­ty. On June 18, she tweet­ed:
"This pres­i­dent likes to talk tough, but for six months now, we've gone with­out a per­ma­nent Sec­re­tary of Defense and he just with­drew his nom­i­nee — all as Trump march­es us toward con­flict with Iran. The pres­i­dent is mak­ing us less safe."
She con­tin­ued on June 20:
"Either the Trump Admin­is­tra­tion is angling for anoth­er dis­as­trous war in the Mid­dle East, or they've spent two years saber-rat­tling against Iran with no strat­e­gy and no endgame. This pres­i­dent is mak­ing Amer­i­ca weak­er and less safe."
Har­ris' com­ments boil down to a sub­stance­less process cri­tique. The lack of a Sec­re­tary of Defense isn't the prob­lem: The prob­lem is a polit­i­cal estab­lish­ment clam­or­ing for war with Iran. Har­ris, then, ignores the moral stakes of the issue, while accept­ing the Trump administration's charge that Iran is a threat to ​"nation­al security."
Pete Buttigieg
South Bend, Indi­ana May­or Pete Buttigieg, whose cam­paign is informed by a ​"pol­i­cy details lat­er" approach, has endorsed the unsub­stan­ti­at­ed claim that Iran orches­trat­ed the attacks. In a June 16 inter­view on ​"Meet the Press," he called the evi­dence that Iran orches­trat­ed the attacks ​"com­pelling" and stated:
"It's a lit­tle dis­tress­ing to think that because this admin­is­tra­tion's cred­i­bil­i­ty is so low in gen­er­al, I think a lot of peo­ple are think­ing twice at a moment when America's word should be decisive.

When the U.S. says this is some­thing that has hap­pened and this is the con­sen­sus of our admin­is­tra­tion, that should be some­thing that goes with­out ques­tion. But of course, that's just not the case in an admin­is­tra­tion that has been extreme­ly unre­li­able in so many ways."
The same day, Buttigieg expressed dis­agree­ment with Bolton's efforts to ratch­et up aggres­sion when he told CNN's Jake Tap­per that ​"we need a mea­sured assess­ment of infor­ma­tion as it con­tin­ues to come in." Buttigieg added:
"There's no ques­tion that Iran has a pat­tern of malign activ­i­ties. There's also no ques­tion that there is a pat­tern that is dis­turbing­ly rem­i­nis­cent of the run-up to the war in Iraq, in some cas­es being dri­ven by the same people.

I mean, the fact that one of the archi­tects of the Iraq War is the Pres­i­den­t's Nation­al Secu­ri­ty Advis­er right now, when the pres­i­dent him­self has pre­tend­ed that he was against the Iraq War all along, this is shock­ing. And it should be extreme­ly dis­turb­ing to all of us."
Buttigieg is right to con­demn those who orches­trat­ed the Iraq War and to warn of the par­al­lels between Iraq and Iran as tar­gets of U.S. mil­i­tary action. How­ev­er, he is mis­tak­en to ignore the pow­er assym­e­try between the U.S. and Iran.
Joe Biden
Joe Biden's his­to­ry as Vice Pres­i­dent from 2009 to 2017 — which includ­ed over­see­ing the Iran nuclear deal — col­ors his response to the White House. Like Har­ris, Biden has remained most­ly silent in response to the Pentagon's recent account, but as of 2017, reject­ed Trump's intent to with­draw from the Iran nuclear deal. Like Har­ris, his ratio­nale gave pri­ma­cy to the ​"secu­ri­ty" of the U.S. and Israel. "[The Iran nuclear deal] is work­ing," he wrote on Face­book. ​"It is mak­ing the Unit­ed States and our allies, includ­ing Israel, more secure." He added, ​"The Iran deal does one thing: remove the imme­di­ate threat that a nuclear-armed Iran would present to the region, Israel, and the Unit­ed States."
After the Navy drone was shot down, Biden called Trump's Iran strat­e­gy ​"a self-inflict­ed dis­as­ter." He continued:
"Trump also promised that walk­ing away would some­how lead to a bet­ter deal — instead, the pre­dictable has hap­pened: Iran is build­ing back up its nuclear capa­bil­i­ty. It's sad­ly iron­ic that the State Depart­ment is now call­ing on Iran to abide by the very deal the Trump admin­is­tra­tion abandoned."

"By walk­ing away from diplo­ma­cy, Trump has made mil­i­tary con­flict more like­ly. Anoth­er war in the Mid­dle East is the last thing we need."
The same day, Biden also tweet­ed:
"Make no mis­take: Iran con­tin­ues to be a bad actor that abus­es human rights and sup­ports ter­ror­ist activ­i­ties through­out the region.

What we need is pres­i­den­tial lead­er­ship that will take strate­gic action to counter the Iran­ian threat, restore Amer­i­ca's stand­ing in the world, rec­og­nize the val­ue of prin­ci­pled diplo­ma­cy, and strength­en our nation and our secu­ri­ty by work­ing strate­gi­cal­ly with our allies."
While Trump's strat­a­gems should be rebuked, Biden mis­places his focus on the sup­posed dan­ger of Iran, rather than the vio­lent pos­tur­ing of the Trump administration.
Eliz­a­beth Warren
Sen­a­tor Eliz­a­beth War­ren (D‑Mass.), who has sup­port­ed the nuclear agree­ment since its incep­tion, has levied crit­i­cism toward the White House. On June 18, in response to a New York Times report titled, ​"Trump Adds Troops After Iran Says It Will Breach Nuclear Deal" (a ques­tion­able media fram­ing giv­en that the U.S. had already vio­lat­ed the deal), she tweet­ed:
"I hope Iran choos­es a dif­fer­ent path. But let's be clear: Trump pro­voked this cri­sis. He has no strat­e­gy to con­tain it, he's burned through our friends and allies, and now he's dou­bling down on mil­i­tary force. We can't afford anoth­er for­ev­er war."
While War­ren was cor­rect to argue against war, she opens by appear­ing to place blame against Iran, neglect­ing to acknowl­edge the U.S.'s role in vil­lainiz­ing Iran in the first place.
On June 20, after reports of the Navy drone were pub­lished, War­ren elab­o­rat­ed on her com­ments, adopt­ing a stronger oppo­si­tion­al stance to the prospect of war with Iran.
"Trump pro­voked this cri­sis, and his reck­less for­eign pol­i­cy by tweet will only wors­en it. I've co-spon­sored leg­is­la­tion to pro­hib­it a war with Iran. We need to de-esca­late ten­sions — not let the war hawks in this admin­is­tra­tion drag us into con­flict. #NoWar­WithI­ran"
That same day, she fol­lowed with
"Don­ald Trump promised to bring our troops home. Instead he has pulled out of a deal that was work­ing and insti­gat­ed anoth­er unnec­es­sary con­flict. There is no jus­ti­fi­ca­tion for fur­ther esca­lat­ing this cri­sis — we need to step back from the brink of war."
Here, War­ren uses stronger lan­guage to denounce Trump's actions, but still falls short of a moral denun­ci­a­tion of U.S. vio­lence or a more inci­sive analy­sis of the Iran nuclear deal's pow­er rela­tions. Mean­while, Warren's vote for new sanc­tions against Iran in 2017 weak­ens her leg­isla­tive record.
Bernie Sanders
Like War­ren, Sen­a­tor Bernie Sanders (and Inde­pen­dent from Ver­mont who is seek­ing the Demo­c­ra­t­ic dom­i­na­tion) has tak­en a decid­ed­ly oppo­si­tion­al stance, explic­it­ly ques­tion­ing the offi­cial Wash­ing­ton nar­ra­tive. In a June 18 inter­view on MSNBC, he commented:
"If you look at the recent his­to­ry of this coun­try, I think we under­stand that the two worst for­eign pol­i­cy dis­as­ters [the Viet­nam War and the Iraq War] were based on lies that came from the White House."
He added:
"Let me just say this: I will do every­thing I per­son­al­ly can as a Unit­ed States Sen­a­tor to stop the Unit­ed States attack­ing Iran. If we go into a war with Iran, this will be an asym­met­ri­cal war which will go on and on and on. There will be nev­er-end­ing wars in the Mid­dle East…So we have got to do every­thing we can to bring the antag­o­nists, Sau­di Ara­bia, which is a bru­tal dic­ta­tor­ship, togeth­er with Iran…Use the pow­er of the Unit­ed States to work out a diplo­mat­ic solu­tion, not a mil­i­tary solution."
Sanders repeat­ed these points on Twit­ter on June 18, not­ing Trump has ​"no legal author­i­ty to launch an attack on Iran," and on June 20:
"If you think the inva­sion of Iraq was a dis­as­ter, a war with Iran would be worse. The Unit­ed States must bring Iran and Sau­di Ara­bia to the nego­ti­at­ing table, not foment a nev­er-end­ing, uncon­sti­tu­tion­al war in the region."
And in a June 20 MSNBC inter­view fol­low­ing the sur­veil­lance drone reports:
"I think if there was a war with Iran, it would be an absolute dis­as­ter for our coun­try, for Iran, for the region, and for the world."
Sanders, who vot­ed against new sanc­tions against Iran in 2017, acknowl­edges U.S. provo­ca­tion and rejects the notion that Iran is a true threat. Because of this, Sanders' cen­sure of the White House's lat­est war attempt offers the most robust rejec­tion of war with Iran.
Sanders' was the only cam­paign that imme­di­ate­ly respond­ed to In These Times' request for com­ment, send­ing the fol­low­ing state­ment (which had pre­vi­ous­ly been pub­licly released).
"Attacks on oil tankers in the Gulf of Oman are unac­cept­able and must be ful­ly inves­ti­gat­ed. But this inci­dent must not be used as a pre­text for a war with Iran, a war which would be an unmit­i­gat­ed dis­as­ter for the Unit­ed States, Iran, the region and the world. The time is now for the Unit­ed States to exert inter­na­tion­al lead­er­ship and bring the coun­tries in the region togeth­er to forge a diplo­mat­ic solu­tion to the grow­ing ten­sions. I would also remind Pres­i­dent Trump that there is no con­gres­sion­al autho­riza­tion for a war with Iran. A uni­lat­er­al U.S. attack on Iran would be ille­gal and unconstitutional."
Can­di­dates, of course, are right to crit­i­cize the pow­er of Trump to wage war with­out Con­gress, thanks in part to the expan­sion of pres­i­den­tial war-mak­ing pow­ers under George W. Bush and Oba­ma. But on the eve of pos­si­ble war, it won't suf­fice to point out this pro­ce­dur­al break­down. Can­di­dates need to make it clear they're against a pos­si­ble war itself, rather than sim­ply the means by which Trump is exe­cut­ing it.
The moral stakes of Washington's esca­lat­ing actions against Iran couldn't be high­er. The war the White House seeks is, as Sanders notes, based on lies, and it would unequiv­o­cal­ly do untold harm to Iran­ian peo­ple. The evi­dence doesn't show that Iran is a ​"threat," but rather that the U.S. has man­u­fac­tured a pre­text for yet anoth­er bru­tal war.
Julianne Tveten
writes about tech­nol­o­gy, labor, and cul­ture, among oth­er top­ics. Her work has appeared in The Nation, Cap­i­tal
&
Main, KPFK Paci­fi­ca Radio, and elsewhere.