War or Peace?
Colombia's new president must choose between Washington and his own people.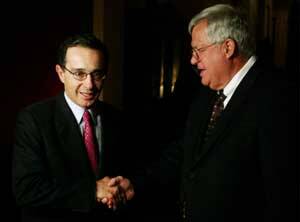 On the night of May 26, when Alvaro Uribe Velez won the Colombian presidential race in a landslide, his victory was perceived in Bogota and Washington as a resounding mandate from Colombian voters for escalating the war against the Revolutionary Armed Forces of Colombia (FARC).

Uribe, who takes office on August 7, campaigned on a pledge to re-establish the government's authority throughout Colombia. He proposes to raise taxes to triple defense spending, double the number of professional soldiers and police, give the army new powers to carry out preventive detentions and searches, and create a million-man civilian intelligence militia to gather information on guerrillas and their supporters.

After years of frustration with President Andres Pastrana's failed peace process, Uribe's victory is precisely what the Bush administration has been waiting for to pursue its twin obsessions—drugs and terrorists—in Colombia. The American ambassador arrived at the candidate's headquarters to assure him of Washington's support even before he was declared the winner. Otto Reich, the undersecretary of state for Latin America, flew to Bogota five days later to meet Uribe and discuss his requests for increased military aid and the removal of U.S. restrictions on the use of counter-narcotics helicopters and American-trained battalions against the guerrillas.

When asked whether the nature of American aid to Colombia was about to change "from counter-narcotics to some kind of counter-insurgency role," Reich's answer encapsulated the denial of political reality that has become routine in Washington's relations with Latin America. "We're not going to engage in counter-insurgency in Colombia," he said, "because there is no counter-insurgency in Colombia. What you have is three terrorist groups that operate as organized-crime families, except they wear combat fatigues and they have a lot of people and some very high-powered weapons. … These are not insurgents. These are criminals. These are terrorists. … and Colombia is a democratic country, freely elected. It's a friend, and we're going to support them."

Since then, Reich has continued raising the stakes for deepening America's military involvement. In a recent Washington Times column he claimed that "Our values, our security, and the future of our hemisphere are tied to Colombia's victory in its war against terror." On July 23, after only an hour's debate, Congress duly passed the administration's $28.9 billion anti-terrorism package that includes $500,000 to fight terrorism in Colombia, provides funds to create and equip a new Colombian army brigade to protect Occidental's oil pipeline from guerrilla attacks, and lifts all restrictions on military aid. Meanwhile the U.S. Embassy in Bogota has announced the resumption of one of the chief catalysts of Colombian rebellion: The spray planes of America's drug eradication program are once again flying over the plots of tens of thousands of small farmers, fumigating everything that grows with a new, stronger version of the controversial chemical Roundup.

"Plan Colombia"—re-Christened the Andean Regional Initiative—has indeed been revealed as the capacious Trojan horse for American counter-insurgency intervention in the Andes that critics always predicted. Already Colombia's war has spilled across the borders of Ecuador and Venezuela. More than 100 civilians have been killed recently in the Ecuadoran town of Lago Agrio, since Colombian guerrillas and paramilitaries arrived to establish rival camps. "If Colombia is going to become another Vietnam, we don't want Ecuador to be the next Cambodia," the Ecuadoran foreign minister recently told the Los Angeles Times.

————–

Yet while the Bush administration has been escalating Washington's involvement in Colombia's war, in Bogota a different interpretation of Uribe's electoral mandate has emerged. On election night, nothing in Uribe's victory speech resonated so powerfully across Colombia as his surprise vow to seek U.N. mediation to begin a fresh round of negotiations with the guerrillas and the paramilitaries.

Three weeks later, in the first post-electoral test of public attitudes on the issues of war and peace, a poll conducted in Colombia's five largest cities by Georgetown University and a German NGO, chalked up another unexpected result: 65 percent of those consulted wanted Uribe to seek a negotiated end to the conflict; 77 percent supported his decision to request U.N. mediation; only 14 percent wanted international military aid; and 26 percent thought the best way the international community could advance a future peace process was by providing help to promote human rights.

Ever since, the pressure on Uribe to reinstate talks with the guerrillas, and include the right-wing paramilitaries in negotiations to end the conflict, has increased steadily, with calls from the Catholic Church, a consortium of regional governors and mayors, and an elite group of lobbyists campaigning for the release of high-profile political hostages held by the guerrillas, including former presidential candidate Ingrid Betancourt.

Uribe is the first independent ever elected to the Colombian presidency. Yet he also owes a debt to the Colombian far right for their support. The extreme right is an autonomous, well-organized minority, united behind a clearly defined political agenda. They want Uribe to put the country on a war footing and expect him to carry out a reform of the justice system that will tame the independence of the Constitutional Court, abolish the office of the public ombudsman—the last resort for human rights protections—and amend the constitution so he can declare a state of emergency and give army commanders a free hand to deal with the war.

If Uribe's supporters, who promote their extremist views in the opinion pages, are to be believed, they also expect him to use these new judicial powers to dispatch the army on a witch hunt to root out members of a Colombian "fifth column": dissident intellectuals, labor leaders, priests, judges, human rights defenders, ecologists and assorted NGOs, whom they accuse of belonging to a new international communist conspiracy.

But whatever the ambitions of the fundamentalists, the majority of Uribe's voters were ordinary citizens, desperate for capable new leadership. They are hoping Uribe can fulfill his promises to return security to their streets and their farms, fight endemic corruption and political patronage, woo back investment and jobs to the broken economy, and increase social spending to reduce the extreme poverty that is at the root of the exponential growth of the guerrilla and paramilitary armies.

————–

Since President Pastrana broke off the peace talks with the FARC leaders last February, the guerrillas have launched three major coordinated offensives that have substantially altered the military balance of power. In early June, borrowing a strategy used to devastating effect by the Vietcong, the FARC started a campaign of death threats and ultimatums, aimed at driving elected mayors and municipal judges from their posts.

Within a few weeks, they had erased all traces of government authority from 35 municipalities in 24 of the nation's 32 states. A further 200 mayors had fled their town halls and were attempting to administer by remote control from military barracks and regional capitals. Hundreds more—including the mayor of Cali, one of the country's largest cities—are trying to hold out despite being targets.

The outgoing Pastrana government has been helpless to counter this threat. "If the situation was not so serious, the minister of the interior's recommendations would make us laugh," responded a regional newspaper to the offer of bodyguards, flak jackets and special credit arrangements so that threatened mayors could buy themselves guns for self-defense.

The FARC, meanwhile is planning the next stage of their strategy to impose an alternative local government, based on the formation of "revolutionary civilian councils"—which would function under the direction of community leaders, forced to carry out FARC "laws" at gunpoint.

Nor is this the only crisis confronting Uribe. Colombia is sitting on a social and economic powder keg. Public debt at close to 54 percent of GNP has brought the threat of an Argentina-style collapse frighteningly close. Beyond the bullet-proof windows of their SUVs, outside the gated communities where wealthy Colombians live under siege, the conditions for a violent social insurrection are brewing. Sixty-four percent of Colombians—27 million people—live below the poverty line (four years ago, that figure was 49 percent; in 1982, it was 39 percent); 9.6 million of them are destitute; one in five children in rural Colombia is undernourished; and 2 million people have been displaced by the war. (According to U.N. figures, 80 percent of this displaced population suffers from hunger.)

As Uribe faces the gargantuan task of salvaging a viable future for his country out of the wreck he has inherited, one thing is crystal clear: If the war continues, the next phase will not only destroy what is left of Colombia's democracy; it will eliminate every vestige of rural community life and culture. The FARC's "revolutionary civilian councils" are the mirror image of Alvaro Uribe's own proposal for a million-man civilian intelligence militia. For the first time in the 40-year saga of this war, these two repugnant projects will force civilians to participate in a war that has nothing to do with them.

Like every other Colombian president of the past 20 years, Uribe has a choice. He can follow Washington's lead into a wider war; or he can provide independent leadership, and with the mediation of the United Nations and the support of Europe and his closest Latin neighbors, he can revive the political route to a lasting negotiated peace. If he chooses the path to war, it won't be long before the embers of rebellion, already smoldering in Bolivia, Venezuela and Peru, flare up and set the entire region aflame.
Be one of the first
Help kick off the new era of In These Times! Without a media that brings people together and creates a written record of the struggles of workers, their voices will be fragmented and forgotten.
The mission of In These Times is to be that written record, and to guide and grow those movements.
We have a lot of work ahead of us, and that work starts today. Early support is the most valuable support, and that's why we're asking you to pitch in now. If you are excited for this new era of In These Times, please make a donation today.
Ana Carrigan
, author of
The Palace of Justice: A Colombian Tragedy
, is a frequent contributor to
In These Times
.