The Fight For Free College Moves to the States
How student organizers and a state representative are campaigning to eliminate tuition in Illinois.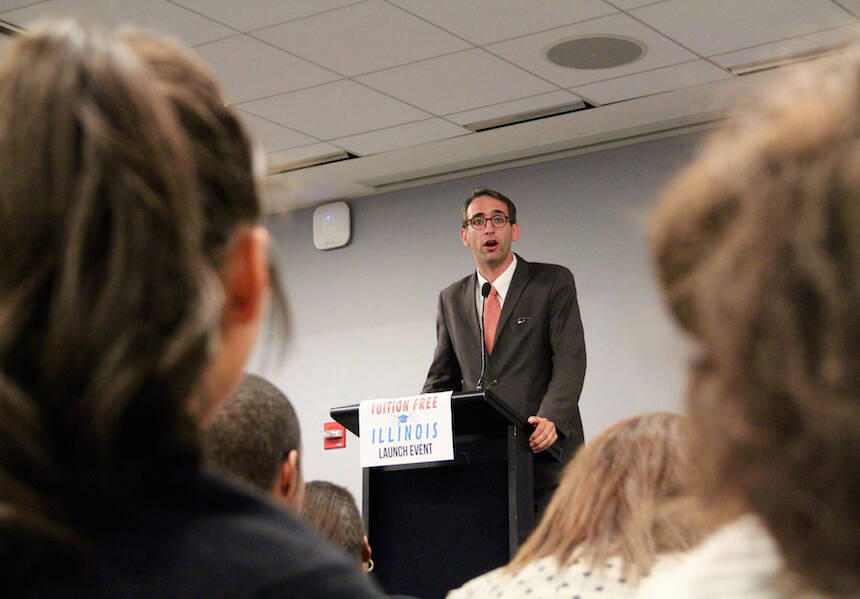 Standing before a crowd of about 200 college students at the University of Illinois at Chicago, 98-year-old Bea Lumpkin recounted her own college experience in New York in the 1930s.
"Senator Sanders' campaign really opened the door to this discussion. Free tuition is now really part of the mainstream national dialogue."
It was ​"the bottom of the Great Depression," the lifelong activist said at the October 7 gathering, and her family was on welfare. ​"Still, I was able to attend Hunter College for four years and earn a BA degree, and I did not have to borrow the tuition money. That's because the city colleges used to be tuition-free."
Lumpkin, a member of the Illinois Alliance for Retired Americans (IARA), an advocacy group representing retired union members, said her grand-sons have had a markedly different experience. ​"They have huge student loan debts, and I feel their burden," she said. ​"It's time to regain free tuition!"
Lumpkin was speaking at the launch event for Tuition Free Illinois, an ambitious new campaign that's trying to make change happen on the state level, regardless of who's in power in Washington. The coalition aims to make two-year and four-year public universities in Illinois free to in-state residents, regardless of income or immigration status. The average annual cost of tuition and fees at the state's 12 public universities is currently about $14,000, up from $7,900 in 2007. College students in the state (including those who attend private universities) graduate with an average debt of $28,984, slightly higher than the national average.
The campaign is the brainchild of 29-year-old state Rep. Will Guzzardi. The initiative is backed by a coalition of student organizations, including Chicago Student Action (CSA), Chicago Votes, Young Chicago Authors and College Democrats of Illinois, which plans to mobilize around legislation that Guzzardi is set to introduce next year.
Illinois public universities are facing an unprecedented crisis. Upon taking office last year, Republican Gov. Bruce Rauner proposed cutting state funding to higher education by 31 percent. The governor's other budget proposals — including a series of anti-worker measures — triggered an impasse with Democratic legislators, and the state failed to pass a budget for fiscal year 2016, leaving public universities without state funding for the 2015-2016 academic year.
The Monetary Award Program (MAP), a state grant that helps working-class students pay for tuition, also went unfunded for a year. A temporary stopgap budget passed this summer has kept public colleges and the MAP grant alive — but only just.
As a result of the budget crisis, enrollments at Illinois public universities have dropped dramatically. For example, Chicago State University (CSU) has seen its number of incoming freshmen plummet by 25 percent, with just 86 new students enrolling this fall. Meanwhile, faculty and staff have been significantly downsized. Earlier this year, CSU laid off a third of its staff and Eastern Illinois University (EIU) let go of nearly 200 employees. This has left students and their families wondering whether smaller institutions like CSU and EIU will be permanently closed.
To Guzzardi, ​"go[ing] back to the way things were" before the crisis isn't enough. ​"The damage has been done," he says. ​"We need to transform the way public education in Illinois works."
"Senator Sanders' [presidential] campaign really opened the door to this discussion," he adds. ​"Free tuition is now really part of the mainstream national dialogue."
Becca Wojcicki, a junior at Roosevelt University and an activist with CSA, a multi-issue advocacy group with chapters on six campuses, has felt the impact of the crisis in higher education. In addition to having $30,000 in student loan debt, Wojcicki relies on the MAP grant to fund her education. Because of the uncertainty caused by the state budget impasse, she didn't know that she would have MAP funds until just one week before the current academic year began. Without the grant, she would have had to borrow another $4,000.
"It's really been causing a lot of emotional stress along with financial stress," Wojcicki says. ​"That's something I don't think is right, especially in a state with very wealthy people who could be funding this through progressive taxation. This isn't something any student should have to go through."
Illinois is one of the only states in the country with a flat income tax rate — something activists say needs to change. ​"Illinois is not broke. It is time for the wealthy to pay their fair share, so that education can be a right for all people," Erica Nanton, a recent Roosevelt graduate, told the audience at the Tuition Free Illinois launch.
Specifically, Guzzardi plans to introduce legislation early next year that would enact some combination of a progressive income tax, a financial transactions tax and a millionaire's surtax, which would impose a 3 percent tax increase on anyone with a yearly income over $1 million. A nonbinding referendum calling for the latter was approved by more than 60 percent of Illinois voters in 2014.
If Illinois had the same progressive income tax rates as neighboring Wisconsin, Guzzardi argues, the state would bring in $11 billion in new revenue every year. This would be more than enough to close the $5 billion state budget deficit and cover the $2 billion Illinois students pay in in-state tuition at public colleges. ​"It's not magic, it's not utopia — it's Wisconsin," Guzzardi said at the campaign launch.
In addition to introducing legislation, Guzzardi promises that in the coming months, he will travel to college campuses across the state to build a network of activists and circulate a statewide petition for tuition-free public higher education to put pressure on the state government.
On October 24, as part of their ​"Reclaim Higher Ed" campaign, CSA held a rally of more than 100 demonstrators to protest billionaire hedge fund manager Ken Griffin, a trustee of the Art Institute of Chicago and Rauner's largest campaign contributor. In front of the Institute, eight student protesters dressed in caps and gowns blocked rush hour traffic on Michigan Avenue for nearly 30 minutes before police arrested them.
While the action was not formally part of the Tuition Free Illinois initiative, it shared the goal of eliminating tuition and making education ​"free and accessible to all students in Illinois as a fundamental human right," says Kenzo Esquivel, a CSA activist and University of Chicago student.
"Participating in civil disobedience is our only way to reach Grifin and Rauner and to get them to hear what we're saying," says Esquivel.
At the October 7 launch event, the nonagenarian Lumpkin had reminded young activists that progressive victories, from Social Security to tuition-free college, have never come without a struggle.
"Don't believe that President Franklin D. Roosevelt — great as he was — ​'gave' us the safety net," she advised. ​"We fought for it. People just like you. And we won. And that's exactly what we have to do today."
For a limited time: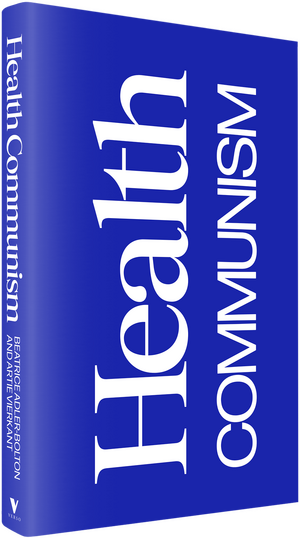 Donate $25 or more to support In These Times and we'll send you a copy of Health Communism.
A searing analysis of health and illness under capitalism from hosts of the hit podcast "Death Panel," Health Communism looks at the grave threat capitalism poses to global public health, and at the rare movements around the world that have successfully challenged the extractive economy of health.
"This is a book you should read before you die, because the ideas synthesized by Adler-Bolton and Vierkant could save our collective lives." –Jon Shaffer
Jeff Schuhrke is a labor historian, educator, journalist and union activist who teaches at the Harry Van Arsdale Jr. School of Labor Studies, SUNY Empire State College in New York City. He has been an In These Times contributor since 2013. Follow him on Twitter @JeffSchuhrke.