The Fight For Free College Moves to the States
How student organizers and a state representative are campaigning to eliminate tuition in Illinois.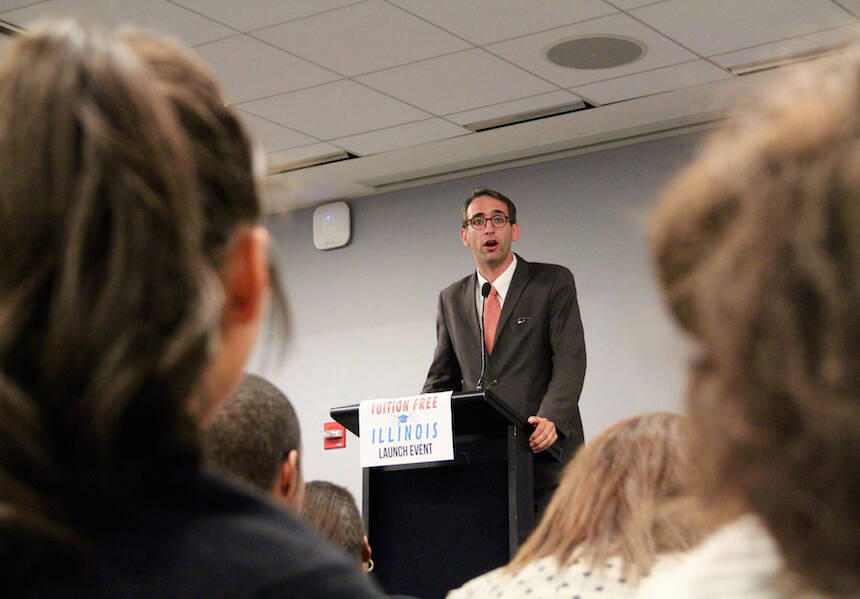 Stand­ing before a crowd of about 200 col­lege stu­dents at the Uni­ver­si­ty of Illi­nois at Chica­go, 98-year-old Bea Lump­kin recount­ed her own col­lege expe­ri­ence in New York in the 1930s.
"Senator Sanders' campaign really opened the door to this discussion. Free tuition is now really part of the mainstream national dialogue."
It was ​"the bot­tom of the Great Depres­sion," the life­long activist said at the Octo­ber 7 gath­er­ing, and her fam­i­ly was on wel­fare. ​"Still, I was able to attend Hunter Col­lege for four years and earn a BA degree, and I did not have to bor­row the tuition mon­ey. That's because the city col­leges used to be tuition-free."
Lump­kin, a mem­ber of the Illi­nois Alliance for Retired Amer­i­cans (IARA), an advo­ca­cy group rep­re­sent­ing retired union mem­bers, said her grand-sons have had a marked­ly differ­ent expe­ri­ence. ​"They have huge stu­dent loan debts, and I feel their bur­den," she said. ​"It's time to regain free tuition!"
Lump­kin was speak­ing at the launch event for Tuition Free Illi­nois, an ambi­tious new cam­paign that's try­ing to make change hap­pen on the state lev­el, regard­less of who's in pow­er in Wash­ing­ton. The coali­tion aims to make two-year and four-year pub­lic uni­ver­si­ties in Illi­nois free to in-state res­i­dents, regard­less of income or immi­gra­tion sta­tus. The aver­age annu­al cost of tuition and fees at the state's 12 pub­lic uni­ver­si­ties is cur­rent­ly about $14,000, up from $7,900 in 2007. Col­lege stu­dents in the state (includ­ing those who attend pri­vate uni­ver­si­ties) grad­u­ate with an aver­age debt of $28,984, slight­ly high­er than the nation­al average.
The cam­paign is the brain­child of 29-year-old state Rep. Will Guz­zar­di. The ini­tia­tive is backed by a coali­tion of stu­dent orga­ni­za­tions, includ­ing Chica­go Stu­dent Action (CSA), Chica­go Votes, Young Chica­go Authors and Col­lege Democ­rats of Illi­nois, which plans to mobi­lize around leg­is­la­tion that Guz­zar­di is set to intro­duce next year.
Illi­nois pub­lic uni­ver­si­ties are fac­ing an unprece­dent­ed cri­sis. Upon tak­ing office last year, Repub­li­can Gov. Bruce Rauner pro­posed cut­ting state fund­ing to high­er edu­ca­tion by 31 per­cent. The governor's oth­er bud­get pro­pos­als — includ­ing a series of anti-work­er mea­sures — trig­gered an impasse with Demo­c­ra­t­ic leg­is­la­tors, and the state failed to pass a bud­get for fiscal year 2016, leav­ing pub­lic uni­ver­si­ties with­out state fund­ing for the 2015 – 2016 aca­d­e­m­ic year.
The Mon­e­tary Award Pro­gram (MAP), a state grant that helps work­ing-class stu­dents pay for tuition, also went unfund­ed for a year. A tem­po­rary stop­gap bud­get passed this sum­mer has kept pub­lic col­leges and the MAP grant alive — but only just.
As a result of the bud­get cri­sis, enroll­ments at Illi­nois pub­lic uni­ver­si­ties have dropped dra­mat­i­cal­ly. For exam­ple, Chica­go State Uni­ver­si­ty (CSU) has seen its num­ber of incom­ing fresh­men plum­met by 25 per­cent, with just 86 new stu­dents enrolling this fall. Mean­while, fac­ul­ty and staff have been sig­nifi­cant­ly down­sized. Ear­li­er this year, CSU laid off a third of its staff and East­ern Illi­nois Uni­ver­si­ty (EIU) let go of near­ly 200 employ­ees. This has left stu­dents and their fam­i­lies won­der­ing whether small­er insti­tu­tions like CSU and EIU will be per­ma­nent­ly closed.
To Guz­zar­di, ​"go[ing] back to the way things were" before the cri­sis isn't enough. ​"The dam­age has been done," he says. ​"We need to trans­form the way pub­lic edu­ca­tion in Illi­nois works."
"Sen­a­tor Sanders' [pres­i­den­tial] cam­paign real­ly opened the door to this dis­cus­sion," he adds. ​"Free tuition is now real­ly part of the main­stream nation­al dialogue."
Bec­ca Woj­ci­c­ki, a junior at Roo­sevelt Uni­ver­si­ty and an activist with CSA, a mul­ti-issue advo­ca­cy group with chap­ters on six cam­pus­es, has felt the impact of the cri­sis in high­er edu­ca­tion. In addi­tion to hav­ing $30,000 in stu­dent loan debt, Woj­ci­c­ki relies on the MAP grant to fund her edu­ca­tion. Because of the uncer­tain­ty caused by the state bud­get impasse, she didn't know that she would have MAP funds until just one week before the cur­rent aca­d­e­m­ic year began. With­out the grant, she would have had to bor­row anoth­er $4,000.
"It's real­ly been caus­ing a lot of emo­tion­al stress along with finan­cial stress," Woj­ci­c­ki says. ​"That's some­thing I don't think is right, espe­cial­ly in a state with very wealthy peo­ple who could be fund­ing this through pro­gres­sive tax­a­tion. This isn't some­thing any stu­dent should have to go through."
Illi­nois is one of the only states in the coun­try with a flat income tax rate — some­thing activists say needs to change. ​"Illi­nois is not broke. It is time for the wealthy to pay their fair share, so that edu­ca­tion can be a right for all peo­ple," Eri­ca Nan­ton, a recent Roo­sevelt grad­u­ate, told the audi­ence at the Tuition Free Illi­nois launch.
Specifi­cal­ly, Guz­zar­di plans to intro­duce leg­is­la­tion ear­ly next year that would enact some com­bi­na­tion of a pro­gres­sive income tax, a finan­cial trans­ac­tions tax and a millionaire's sur­tax, which would impose a 3 per­cent tax increase on any­one with a year­ly income over $1 mil­lion. A non­bind­ing ref­er­en­dum call­ing for the lat­ter was approved by more than 60 per­cent of Illi­nois vot­ers in 2014.
If Illi­nois had the same pro­gres­sive income tax rates as neigh­bor­ing Wis­con­sin, Guz­zar­di argues, the state would bring in $11 bil­lion in new rev­enue every year. This would be more than enough to close the $5 bil­lion state bud­get defic­it and cov­er the $2 bil­lion Illi­nois stu­dents pay in in-state tuition at pub­lic col­leges. ​"It's not mag­ic, it's not utopia — it's Wis­con­sin," Guz­zar­di said at the cam­paign launch.
In addi­tion to intro­duc­ing leg­is­la­tion, Guz­zar­di promis­es that in the com­ing months, he will trav­el to col­lege cam­pus­es across the state to build a net­work of activists and cir­cu­late a statewide peti­tion for tuition-free pub­lic high­er edu­ca­tion to put pres­sure on the state government.
On Octo­ber 24, as part of their ​"Reclaim High­er Ed" cam­paign, CSA held a ral­ly of more than 100 demon­stra­tors to protest bil­lion­aire hedge fund man­ag­er Ken Griffin, a trustee of the Art Insti­tute of Chica­go and Rauner's largest cam­paign con­trib­u­tor. In front of the Insti­tute, eight stu­dent pro­test­ers dressed in caps and gowns blocked rush hour traffic on Michi­gan Avenue for near­ly 30 min­utes before police arrest­ed them.
While the action was not for­mal­ly part of the Tuition Free Illi­nois ini­tia­tive, it shared the goal of elim­i­nat­ing tuition and mak­ing edu­ca­tion ​"free and acces­si­ble to all stu­dents in Illi­nois as a fun­da­men­tal human right," says Ken­zo Esquiv­el, a CSA activist and Uni­ver­si­ty of Chica­go student.
"Par­tic­i­pat­ing in civ­il dis­obe­di­ence is our only way to reach Grifin and Rauner and to get them to hear what we're say­ing," says Esquivel.
At the Octo­ber 7 launch event, the nona­ge­nar­i­an Lump­kin had remind­ed young activists that pro­gres­sive vic­to­ries, from Social Secu­ri­ty to tuition-free col­lege, have nev­er come with­out a struggle.
"Don't believe that Pres­i­dent Franklin D. Roo­sevelt — great as he was — ​'gave' us the safe­ty net," she advised. ​"We fought for it. Peo­ple just like you. And we won. And that's exact­ly what we have to do today."
Jeff Schuhrke has been a Work­ing In These Times con­trib­u­tor since 2013. He has a Ph.D. in His­to­ry from the Uni­ver­si­ty of Illi­nois at Chica­go and a Master's in Labor Stud­ies from UMass Amherst. Fol­low him on Twit­ter: @JeffSchuhrke