A Message to Trump: We're Not Going Back in the Shadows
Undocumented immigrants are ready to mobilize and resist.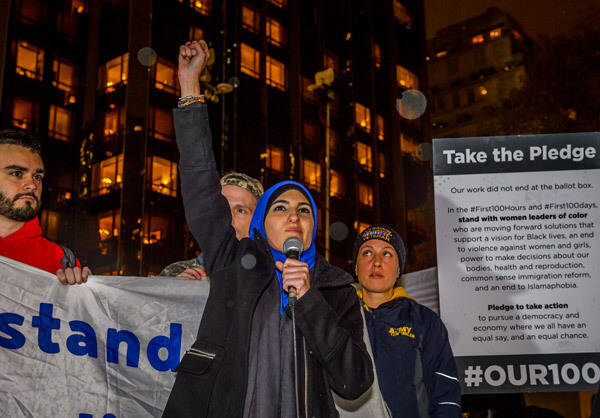 Mil­lions of immi­grants in the Unit­ed States woke up to a new polit­i­cal real­i­ty Novem­ber 9: We will soon have the most rabid­ly anti-immi­grant pres­i­dent in liv­ing mem­o­ry. Even at the Undoc­u­ment­ed Stu­dent Pro­gram at the Uni­ver­si­ty of Cal­i­for­nia, Berke­ley, where we have built a strong and resilient com­mu­ni­ty, immi­grant youth and par­ents walked into my office full of grief and fear.
We must continue to be bold and uncompromising in our vision of justice.
Pres­i­dent-elect Trump has promised to undo the reforms we fought so hard to win. His plan for his first 100 days in office, laid out in Octo­ber, includes revok­ing legal pro­tec­tions giv­en to young immi­grants through Pres­i­dent Obama's Deferred Action for Child­hood Arrivals pro­gram, build­ing a wall at the Mex­i­can bor­der, block­ing fund­ing for sanc­tu­ary cities, deport­ing peo­ple with crim­i­nal con­vic­tions and mak­ing it hard­er to legal­ly immi­grate to the Unit­ed States.
Thanks to the expan­sion of immi­gra­tion enforce­ment under both Pres­i­dents Bush and Oba­ma, the Trump admin­is­tra­tion will already have the data it needs to launch new attacks on immi­grants. Trump has appoint­ed such hard­lin­ers to his tran­si­tion team as Kris Kobach, the archi­tect of the anti-Mus­lim reg­is­tra­tion sys­tem ini­ti­at­ed tem­porar­i­ly in as part of the War on Terror.
But immi­grants have already shown we can mobi­lize and resist under grave polit­i­cal cir­cum­stances. When Rep. James Sensen­bren­ner (R – Wis.) intro­duced leg­is­la­tion in 2005 that would have turned undoc­u­ment­ed immi­grants into felons, mil­lions of demon­stra­tors took to the streets in dozens of cities. The bill was defeat­ed. Even as Oba­ma deport­ed more than 2 mil­lion undoc­u­ment­ed peo­ple, many of them moth­ers and fathers, immi­grants came out as ​"undoc­u­ment­ed and unafraid," occu­py­ing streets, polit­i­cal offices and lawns out­side the White House and Congress.
Many orga­niz­ers have long known that, regard­less of who is in office, we will need to resist local and nation­al immi­gra­tion enforce­ment against all mar­gin­al­ized com­mu­ni­ties. Under Oba­ma, young immi­grant orga­niz­ers had to fight our lib­er­al friends to win tem­po­rary relief from depor­ta­tions. A Clin­ton pres­i­den­cy would have like­ly brought more of the same.
The end of a seem­ing­ly end­less elec­tion should bring some relief. Time spent cam­paign­ing for one politi­cian over anoth­er, while know­ing that depor­ta­tions would con­tin­ue under a Demo­c­ra­t­ic régime, took ener­gy away from col­lec­tive grass­roots action. The threat loom­ing before us is now crys­tal clear. Trump's vic­to­ry has gal­va­nized lib­er­als, who can­not look away from the very real vio­lence his sup­port­ers are already unleash­ing against immi­grants and peo­ple of color.
We need to shift away from pure­ly elec­toral pol­i­tics to mobi­lize and pro­tect our com­mu­ni­ties — and engage all peo­ple who are left behind by the polit­i­cal establishment.
We can't just fight fed­er­al anti-immi­grant poli­cies for the next four years, either. We need to put for­ward pro-immi­grant mea­sures through local and state leg­is­la­tion, as well as con­tin­ue to orga­nize for edu­ca­tion, sin­gle-pay­er health­care, a social safe­ty net and bet­ter envi­ron­men­tal poli­cies. As Trump launch­es an onslaught against our sanc­tu­ary cities, we need to push to end coop­er­a­tion between local police and immi­gra­tion enforce­ment. As Trump revokes legal pro­tec­tions for young immi­grants, we need to ensure our K‑12 and high­er edu­ca­tion insti­tu­tions con­tin­ue to be safe spaces for our stu­dents. We need to take to the streets with young peo­ple pro­claim­ing they won't go back into the shad­ows while pur­su­ing cre­ative lit­i­ga­tion strate­gies for more per­ma­nent relief for immi­grants. With lawyers, advo­cates and com­mu­ni­ty mem­bers, we need to resist all depor­ta­tions with every tool in our arsenal.
We need to think nation­al­ly and engage local­ly. Most of all, we must con­tin­ue to be bold and uncom­pro­mis­ing in our vision of jus­tice. And we need to con­tin­ue to take our cues from those direct­ly impact­ed and fol­low their lead.

Pre­rna Lal
is a staff attor­ney and clin­i­cal super­vi­sor at the East Bay Com­mu­ni­ty Law Cen­ter. They cur­rent­ly serve as the attor­ney for the UC Berke­ley Undoc­u­ment­ed Stu­dent Program.