Were Sanctions Worth the Price?
As conflict with Iran looms, questions remain about the moral implications of sanctions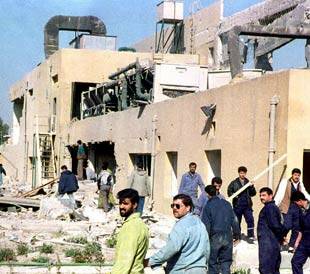 As he makes the rounds pro­mot­ing his mem­oir and attempt­ing to dis­tance him­self from the fail­ures of the Iraq occu­pa­tion, Paul Bre­mer con­sis­tent­ly offers the same excuse. ​"I have to say I was sur­prised by … how run down the econ­o­my was," he told NPR's Ter­ry Gross in Jan­u­ary. ​"I found a sit­u­a­tion that was quite a bit more dif­fi­cult than I had anticipated."
If hon­est, this is a shock­ing admis­sion. The rea­son Iraq's econ­o­my was ​"run down" and its infra­struc­ture dec­i­mat­ed has more than a lit­tle to do with a mas­sive Amer­i­can bomb­ing cam­paign dur­ing the first Gulf War, fol­lowed by 13 years of the most com­pre­hen­sive sanc­tions in the his­to­ry of the Unit­ed Nations. Bremer's ​"sur­prise" at Iraq's dev­as­ta­tion is like a Union gen­er­al arriv­ing in Atlanta after Sher­man and express­ing shock that the place had been torched.
Bremer's not alone in his amne­sia: With the war and occu­pa­tion front-and-cen­ter, the sanc­tions era has been rel­e­gat­ed to a his­tor­i­cal foot­note. But we haven't heard the last of sanc­tions. Recent­ly, a grow­ing cho­rus of pun­dits and politi­cians has called for sanc­tions against Iran. With the 1968 Nuclear Non-Pro­lif­er­a­tion Treaty unrav­el­ing before our eyes and pre­emp­tive war dis­cred­it­ed, sanc­tions seem the only viable means of deter­ring regimes that seek nuclear weapons or engage in gross human rights violations.
And yet it's easy to for­get that in the wan­ing days of the Clin­ton era and ear­ly Bush years, the sanc­tions in Iraq had increas­ing­ly few sup­port­ers. As sanc­tions experts David Cor­tright and George Lopez not­ed in a 2004 arti­cle in For­eign Affairs, the sanc­tions régime was ​"dis­missed by hawks as weak and inef­fec­tive and reviled by the left for its human­i­tar­i­an costs."
The Iraq war changed all that. From the New York Times edi­to­r­i­al board to Sen­a­tor John Ker­ry, many now argue that by forc­ing inspec­tions that suc­cess­ful­ly dis­man­tled Iraq's weapons pro­grams, sanc­tions achieved U.S. pol­i­cy goals with­out the need for an expen­sive and bloody war. In oth­er words, to quote the title of Lopez and Cortright's arti­cle, ​"Sanc­tions Worked."
But the sanc­tions also caused wide­spread mis­ery and death. Before pos­si­bly repeat­ing the same mis­takes, it makes sense to get a bet­ter han­dle on the lega­cy of the Iraq sanc­tions. Did sanc­tions suc­cess­ful­ly dis­arm Sad­dam Hus­sein ​"non-vio­lent­ly" as many now say, or did they cre­ate a human­i­tar­i­an abom­i­na­tion of epic proportions?
Or: did they do both?
— —  —  —  —  —  — —
The idea of using eco­nom­ic block­ades as a tool of coer­cion is as old as war­fare itself, but the mod­ern con­cept of sanc­tions as an alter­na­tive to war didn't come about until after World War I and the League of Nations. The idea was lat­er enshrined in Chap­ter 7 of the U.N. Char­ter, which autho­rizes the Secu­ri­ty Coun­cil to respond to ​"breach­es of the peace" with ​"com­plete or par­tial inter­rup­tion of eco­nom­ic relations."
For the next 40 years, Cold War paral­y­sis in the Secu­ri­ty Coun­cil meant that mul­ti­lat­er­al U.N. sanc­tions were rarely used, with two excep­tions: Rhode­sia in 1966 and South Africa in 1977. Though more lim­it­ed in scope than those lat­er imposed on Iraq, these sanc­tions undoubt­ed­ly helped to bring down the apartheid régime and were wide­ly viewed as a tri­umph for the inter­na­tion­al community.
"South Africa was the par­a­digm," says Joy Gor­don, a pro­fes­sor of phi­los­o­phy at Fair­field Uni­ver­si­ty who has writ­ten exten­sive­ly on sanc­tions. ​"They were seen as both peace­ful and effective."
Then came Iraq.
By the time Iraq invad­ed Kuwait on August 2, 1990, the dead­lock on the Secu­ri­ty Coun­cil had crum­bled along with the Berlin Wall. In response to Iraq's aggres­sion, the U.N. Secu­ri­ty Coun­cil passed Res­o­lu­tion 661 requir­ing mem­ber states to cease all imports from or exports to Iraq. When the sanc­tions failed to induce Hussein's with­draw­al, the Unit­ed States launched Oper­a­tion Desert Storm and forced his retreat. After the Gulf War, the Unit­ed Nations main­tained the sanc­tions (now mod­i­fied under Res­o­lu­tion 687), in order to force Iraq's com­pli­ance with weapons inspec­tors and the oth­er con­di­tions of the cease­fire. They were not meant to be indefinite.
After five years of sanc­tions, a ris­ing tide of U.N. offi­cials, along with U.S. and Euro­pean activists, began call­ing atten­tion to the policy's cat­a­stroph­ic effects on the peo­ple of Iraq. In 1996, gen­er­al sanc­tions mor­phed into the Oil-For-Food Pro­gram. The pro­gram allowed the Iraqi gov­ern­ment to sell lim­it­ed amounts of oil and use the pro­ceeds to pay con­trac­tors to bring in food and human­i­tar­i­an goods. The coun­cil, how­ev­er, still blocked any­thing that qual­i­fied as ​"dual use" goods – items that could con­ceiv­ably be used in a banned weapons pro­gram. These could include every­thing from water tankers to vaccines.
To artic­u­late the full scope of the result­ing human­i­tar­i­an dis­as­ter is a tall order; there have been hun­dreds of con­flict­ing reports, and num­bers are dis­put­ed. But one thing is clear: hun­dreds of thou­sands of Iraqis suf­fered and died due to sanctions.
Con­sid­er the eco­nom­ic toll alone. Pri­or to the sanc­tions, 60 per­cent of Iraq's GDP came from oil exports, which meant that an export ban imme­di­ate­ly reduced the country's econ­o­my by more than half. To put this in per­spec­tive, in 1933, at the height of the Great Depres­sion, U.S. GDP had fall­en only 27 per­cent from its pre-depres­sion lev­els. A study pub­lished in 2005 esti­mat­ed that by 1993, three years into the sanc­tions, real per capi­ta GDP in Iraq – adjust­ed by real val­ue of the Iraqi dinar – had fall­en by 98 per­cent, from $718 in 1990 to just $13
The eco­nom­ic effects were ampli­fied by the wide­spread bomb­ing dur­ing the first Gulf War, when over 90,000 tons of bombs were dropped on Iraq and Kuwait. Many of these bombs hit elec­tric­i­ty facil­i­ties and water treat­ment plants. A declas­si­fied 1991 U.S. Defense Intel­li­gence Agency doc­u­ment titled ​"Iraq Water Treat­ment Vul­ner­a­bil­i­ties" accu­rate­ly pre­dict­ed the com­bined effects of bomb­ing and sanc­tions: ​"With no domes­tic sources of both water treat­ment replace­ment parts and some essen­tial chem­i­cals, Iraq will con­tin­ue attempts to cir­cum­vent Unit­ed Nations sanc­tions," it read. ​"Fail­ing to secure sup­plies will result in a short­age of pure drink­ing water for much of the pop­u­la­tion. This could lead to increased inci­dences, if not epi­demics, of disease."
Indeed, between 1990 and 1994, the inci­dence of typhoid went from 11.3 to 142 per 100,000 and cholera grew from zero cas­es to 7.8 per 100,000.
— —  —  —  —  —  — —
Though the sanc­tions stirred up much pub­lic debate in Europe and out­rage across the Arab world, they received rel­a­tive­ly lit­tle atten­tion in the Unit­ed States – until a small num­ber of reli­gious activists, most notably the Chica­go-based Voic­es in the Wilder­ness (now Voic­es for Cre­ative Non Vio­lence), start­ed pub­licly protest­ing the hav­oc wreaked by America's policies.
Voic­es was not met with a warm recep­tion. The U.S. gov­ern­ment pros­e­cut­ed the group for vio­lat­ing the sanc­tions (by bring­ing banned items like aspirin into Iraq), ulti­mate­ly levy­ing a $20,000 fine. In the press, Voic­es was gen­er­al­ly por­trayed as either fool­ish do-good­ers or out­right apol­o­gists for the Baathist régime. ​"I know peo­ple said we were dupes and use­ful idiots," Voic­es founder Kathy Kel­ly says weari­ly, ​"It's a sad thing to me. If you wait till you're per­fect, you'll nev­er get any­thing done. I know that our project was inher­ent­ly flawed from the begin­ning because we couldn't go and do a demon­stra­tion in front of Saddam's palace," she says in ref­er­ence to Hussein's hor­rif­ic crack­downs on dis­si­dents. ​"We quick­ly would have endan­gered oth­er people."
Kel­ly is attrac­tive and intense, with a boun­ty of grey-brown curls and clear, pen­e­trat­ing eyes. A long­time mem­ber of the Catholic Work­er move­ment, she and oth­ers were gal­va­nized into action in 1995, when the U.N. Food and Agri­cul­tur­al Orga­ni­za­tion (FAO) pub­lished a study in the British med­ical jour­nal Lancet esti­mat­ing that as many as 576,000 chil­dren had died as a result of the sanc­tions. ​"We real­ized that if we are not doing any­thing about this, it's unlike­ly that any­body else is," she says.
The FAO casu­al­ty esti­mate became a kind of ral­ly­ing cry for sanc­tions oppo­nents, and was for­ev­er immor­tal­ized in 1996, when ​"60 Min­utes" asked then‑U.N. ambas­sador Made­line Albright about the death toll of 500,000 chil­dren. She respond­ed: ​"I think this is a very hard choice, but the price – we think the price is worth it."
Lat­er stud­ies would cri­tique the method­ol­o­gy of the FAO report, but even a con­ser­v­a­tive analy­sis of the child mor­bid­i­ty and mor­tal­i­ty rate in Iraq, pub­lished by pub­lic health and sanc­tions expert Richard Garfield, came up with a like­ly esti­mate of 350,000 dead children.
The bulk of these casu­al­ties came before the switch to ​"oil-for-food," which led to a dra­mat­ic decrease in mal­nu­tri­tion and a dou­bling of food intake. But even after the most abject human­i­tar­i­an cri­sis was relieved, sanc­tions still enforced wide­spread social mis­ery. ​"I would say sanc­tions made Sad­dam Hus­sein stronger, not weak­er," says Denis Hal­l­i­day, a for­mer U.N. Human­i­tar­i­an Coor­di­na­tor in Iraq. ​"They demol­ished any polit­i­cal oppo­si­tion. Mid­dle class pro­fes­sion­als were so busy try­ing to make a liv­ing or keep­ing their kids alive, they had no inter­est in chang­ing the system."
After 13 months over­see­ing the Oil-for-Food pro­gram, Hal­l­i­day quit in protest, even­tu­al­ly call­ing the Unit­ed Nations pol­i­cy ​"geno­cide." He was suc­ceed­ed by Hans Von Spo­neck, who last­ed two years before he, too, quit in disgust.
When sanc­tions sup­port­ers could no longer deny its dis­as­trous impact, they blamed Iraqis' suf­fer­ing on Sad­dam Hus­sein. ​"If any child is with­out food, or med­i­cine or a roof over his or her head in Iraq," Bill Clin­ton told Amy Good­man of Democ­ra­cy Now! in 2000, it was because Sad­dam was ​"stick­ing it to his own children."
There's no ques­tion that Hus­sein exploit­ed and exac­er­bat­ed the suf­fer­ing of Iraqis dur­ing the sanc­tions régime. But if the sanc­tions gave Hus­sein a pre­text for cru­el­ty and abuse, it's hard to see how that counts as a point in the sanc­tions' favor: ​"It's as if the Unit­ed States said ​'We don't like Sad­dam, let's starve the poor Iraqis,' " says Richard Garfield. ​"And Sad­dam said: ​'That's my job. You want to starve, I'll show you starving.' "
Even with Hus­sein bilk­ing the Unit­ed Nations and under­fund­ing cru­cial health and wel­fare ser­vices, it's impos­si­ble to ascribe the total­i­ty of Iraq's mis­ery under the sanc­tions to Hussein's treach­ery. For exam­ple, a much-pub­li­cized recent report on Oil-for-Food abus­es esti­mat­ed that the régime had skimmed as much $10 bil­lion dol­lars in kick-backs. But in 2003 the World Bank esti­mat­ed that just rebuild­ing Iraq's basic infra­struc­ture would cost $55 bil­lion dollars.
The prob­lem, Joy Gor­don says, was that U.S. pol­i­cy­mak­ers refused to see the des­ti­tu­tion caused by the sanc­tions as ​"a form of vio­lence because it doesn't look like vio­lence to us. There's a famous line by Woodrow Wil­son," she says, ​"as he's describ­ing the League of Nations' use of boy­cotts as a response to aggres­sion. He calls it a ​'peace­ful, silent … dead­ly rem­e­dy.' That's what this was."
— —  —  —  —  —  — —
But if the Iraq sanc­tions were a human­i­tar­i­an and moral fail­ure, viewed through a nar­row enough lens, they were also a dis­ar­ma­ment suc­cess. For the first time in his­to­ry, mul­ti­lat­er­al sanc­tions helped open up a régime to inter­na­tion­al weapons inspec­tors, who suc­ceed­ed in destroy­ing a fair­ly exten­sive pro­gram to devel­op bio­log­i­cal, chem­i­cal and nuclear weapons.
For George Lopez and David Cor­tright, this is the lega­cy of the Iraq sanc­tions that is impor­tant to pre­serve. With their tag-team style and easy rap­port, Cor­tright and Lopez come across as the Lau­rel and Hardy of sanc­tions wonkery. Lopez is short, olive-com­plect­ed and vol­u­ble, Cor­tright, taller, pale and reserved. Togeth­er they have writ­ten some 20 arti­cles and five books about sanc­tions, giv­en hours of tes­ti­mo­ny and pre­sen­ta­tions to diplo­mats and U.N. pol­i­cy­mak­ers and authored guide­lines for assess­ing the impact of sanc­tions that were sub­se­quent­ly adopt­ed by the Unit­ed Nations.
Both men work out of Notre Dame's Joan B. Kroc Insti­tute for Inter­na­tion­al Peace Stud­ies, which is ded­i­cat­ed to study­ing the ​"caus­es of vio­lence and the con­di­tions for sus­tain­able peace." For the pair, pre­serv­ing sanc­tions as a viable option is part of a larg­er strug­gle to move the world toward an inter­na­tion­al gov­er­nance sys­tem in which war is no longer an option, or at least, a very rare occurrence.
"What we're see­ing is the mil­i­ta­riza­tion of Amer­i­can for­eign pol­i­cy," says Cor­tright with a hint of despair. He fears that if sanc­tions are dis­cred­it­ed, we will ​"increas­ing­ly look to the mil­i­tary as a way to solve these problems."
Lopez and Cor­tright argue that sanc­tions in Iraq were most effec­tive in the first few years after the Gulf War, when Hus­sein reluc­tant­ly start­ed com­ply­ing with the terms of the cease-fire. ​"The Iraqis were say­ing: ​'If you get access to this, this and this, is there a chance the sanc­tions will come off?,'" says Lopez. ​"So the dri­ve for Iraqi coop­er­a­tion was part­ly fueled by want­i­ng to get the sanc­tions untight­ened or lifted."
But even with Iraq's con­tin­ued grudg­ing accep­tance of inspec­tors, and sig­nif­i­cant progress in expos­ing and destroy­ing banned weapons, the Unit­ed States blocked any move­ment at the Unit­ed Nations to alter or loosen the sanc­tions. "[Iraq] had com­plied with four, five, six of the eight pro­vi­sions" in the orig­i­nal U.N. res­o­lu­tion, Lopez says, ​"and they were get­ting no response on the oth­er side."
It was when Iraq real­ized that its com­pli­ance would bring no rewards that things began to dete­ri­o­rate. In 1997, Clin­ton said sanc­tions would be main­tained ​"until the end of time or as long as [Hus­sein] lasts," and on Octo­ber 31, 1998, he signed the Iraqi Lib­er­a­tion Act, which made ​"régime change" the offi­cial pol­i­cy of the U.S. gov­ern­ment. The same day, Iraq announced it would no longer coop­er­ate with inspec­tors; the Unit­ed States pulled them from the coun­try and retal­i­at­ed with bomb­ing raids. Sanc­tions stayed on after 1998 as a puta­tive induce­ment to let the inspec­tors back in, but with the Unit­ed States open­ly endors­ing régime change, it's hard to see what Hus­sein had to gain from complying.
That said, Lopez and Cor­tright say the arrange­ment was still sal­vage­able. The inter­na­tion­al­ly coor­di­nat­ed effort to stop weapons from enter­ing Iraq – a drag­net that was, we now know, essen­tial­ly 100 per­cent effec­tive – could have been de-linked from sanc­tions. ​"You could trade like crazy and sim­ply focus on mil­i­tary means," says Lopez. ​"That's the sys­tem we advo­cat­ed; the sys­tem we fought like crazy for." They had some suc­cess. In 2001, the Bush admin­is­tra­tion pushed the Unit­ed Nations to mod­i­fy Oil-for-Food to allow more trade.
Even if all that is true, what about the human­i­tar­i­an cost? I ask Cor­tright and Lopez a mod­i­fied ver­sion of the infa­mous ques­tion to Albright: ​"Was it worth it?"
There's silence. Cor­tight and Lopez both vis­i­bly squirm. They look at the table.
"We were less com­mit­ted to the sanc­tions and more com­mit­ted to the inspec­tions," says Lopez halt­ing­ly. ​"But we were con­vinced that the only thing that kept the inspec­tions viable was to have the sanc­tions." If the left had suc­ceed­ed in end­ing sanc­tions, he says, you would have like­ly had a re-armed Iraq. ​"Then you're in real trou­ble." Ulti­mate­ly, Lopez says, they could have got­ten up on a ​"soap box" and con­demned the sanc­tions, but it would have meant for­feit­ing their abil­i­ty to influ­ence high-lev­el deci­sion makers.
It strikes me, as I lis­ten to this, that Lopez and Cor­tright faced the same kind of moral dilem­ma sanc­tions oppo­nents like Kathy Kel­ly faced in Iraq. In hopes of mit­i­gat­ing suf­fer­ing, they were forced to tac­it­ly com­ply with a sys­tem that unques­tion­ably pro­duced it.
— —  —  —  —  —  — —
What, then, are the lessons? First, sanc­tions can­not be an indef­i­nite means of ​"con­tain­ment," Lopez and Cor­tright say. They should only be imposed when there are clear­ly defined incen­tives and a will­ing­ness on the part of the par­ties to give and take. Sec­ond, and most impor­tant­ly, com­pre­hen­sive eco­nom­ic sanc­tions cre­ate such hard­ship for the inno­cent that they vio­late fun­da­men­tal prin­ci­ples of jus­tice. This is now a firm con­sen­sus with­in pol­i­cy cir­cles. ​"They were sui gener­is," Lopez says of the Iraq sanc­tions. ​"It's unlike­ly you'll ever see some­thing like that again."
Not every­one got the memo: A week before I inter­viewed Lopez and Cor­tright, Sen. Evan Bayh (D‑Ind.) intro­duced a res­o­lu­tion call­ing for Bush to impose com­pre­hen­sive eco­nom­ic sanc­tions on Iran.
The future of sanc­tions, Lopez and Cor­tright con­tend, is ​"smart sanc­tions," which promise the ben­e­fits with­out the human­i­tar­i­an costs by aim­ing the restric­tions at those at the top of the régime in ques­tion. ​"You lock down weapons imports," says Lopez, freeze assets and restrict trav­el: ​"The general's daugh­ter now can't go to Prince­ton." Since Iraq, near­ly all of the sanc­tions imposed by the Unit­ed Nations have been of this ilk.
The results are mixed: In Yugoslavia they man­aged to get Milo­se­vic to the bar­gain­ing table, and in Libya they were very effec­tive in con­vinc­ing Khadaf­fi to stop his pur­suit of nuclear weapons. In Soma­lia, Liberia and Rwan­da, they've been near-total failures.
Cor­tright and Lopez are con­fi­dent that smart sanc­tions will grow more effec­tive as they are more rou­tine­ly applied, but Hal­l­i­day is skep­ti­cal. ​"In the­o­ry you can focus on the wrong­do­er," he says, ​"curb their trav­el and their good­ies and their import­ed Jaguars, or what­ev­er they're into, but in the case of a dic­ta­tor­ship, it doesn't make a dif­fer­ence. It's not going to real­ly upset the apple-cart."
But if sanc­tions of any kind shouldn't ever be tried again, as Hal­l­i­day and Kel­ly both argue, the only two respons­es to gross vio­la­tions of inter­na­tion­al norms would seem to be war or inac­tion. Sanc­tions oppo­nents are brac­ing in the moral clar­i­ty of their cri­tique of sanc­tions, but their pro­pos­als for alter­na­tives – more ​"dia­logue" and devel­op­ment incen­tives – seem a touch anemic.
It's clear, how­ev­er, that the voic­es of Hal­l­i­day and Kel­ly weigh heav­i­ly on Lopez and Cor­tright. In an op-ed they're cir­cu­lat­ing about the impend­ing Iran ​"cri­sis," Lopez and Cor­tright cau­tion U.S. pol­i­cy­mak­ers that ​"over­ly force­ful sanc­tions toward Iran might be coun­ter­pro­duc­tive," and stress that sanc­tions work best when they are com­bined with incen­tives. The spec­tre of Iraq looms large.
But their op-ed seems to miss the biggest les­son. No mat­ter how high-mind­ed or nuanced the pol­i­cy may be, it will only pro­duce good out­comes if the coun­tries involved act in good faith. For more than a decade, both Iraq and the Unit­ed States were fun­da­men­tal­ly act­ing in bad faith. Hus­sein was so intent on deceiv­ing the weapons inspec­tors that he refused to acknowl­edge he had been dis­armed, even after he had been, while the Unit­ed States had no inten­tion of lift­ing the sanc­tions, even after Hus­sein was disarmed.
When dis­cussing ear­ly oppo­si­tion to sanc­tions, Lopez men­tioned the Amer­i­can Friends Ser­vice Com­mit­tee, one of the ear­li­est groups to protest the pol­i­cy. Accord­ing to Lopez, they feared that sanc­tions would be a ​"trap-door for war. We eco­nom­i­cal­ly stran­gle him and then he won't cry uncle so we cut off his head."
"Isn't that exact­ly what hap­pened?" I ask.
"That is what hap­pened," says Lopez. ​"But it didn't have to."
Christo­pher Hayes
is the host of MSNBC's All In with Chris Hayes. He is an edi­tor at large at the Nation and a for­mer senior edi­tor of In These Times.