What Europe Can Learn from Ukraine
European leftists are too quick to patronize Ukrainian protesters.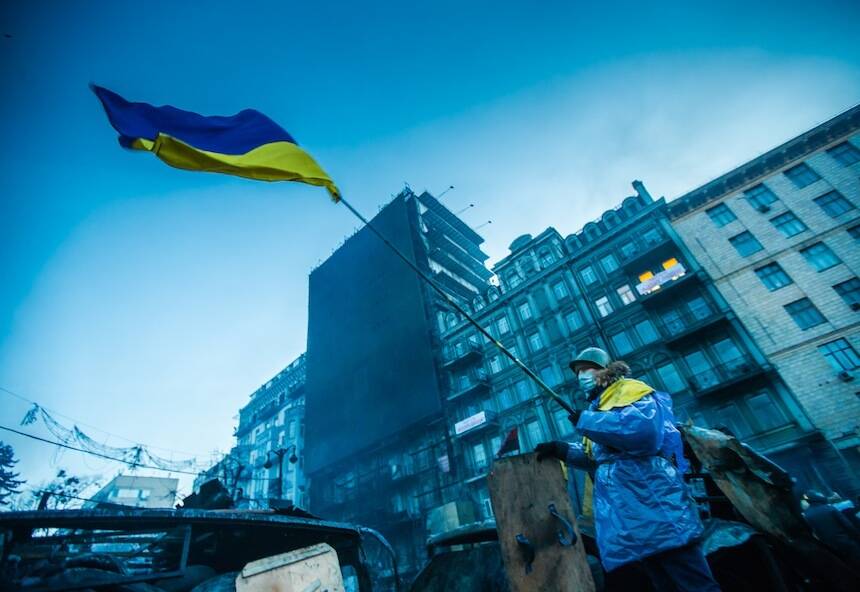 As the Euro­pean Par­lia­ment elec­tions sched­uled to take place in late May draw near, one should keep in mind the recent events in Ukraine. The protests that even­tu­al­ly top­pled Prime Min­is­ter Vik­tor Yanukovych and his gang in late Feb­ru­ary were trig­gered by the government's deci­sion to pri­or­i­tize good rela­tions with Rus­sia over the country's pos­si­ble inte­gra­tion into the Euro­pean Union. Pre­dictably, many Left­ists react­ed to the news about of the mas­sive protests by patron­iz­ing the poor Ukraini­ans: How delud­ed they are to con­tin­ue ide­al­iz­ing Europe, unable to see that Europe is in decline! They don't under­stand that join­ing the Euro­pean Union will just make the Ukraine an eco­nom­ic colony of West­ern Europe, much like Greece is today.
The question is not if Ukraine is worthy of Europe, good enough to enter the EU—but if today's Europe is worthy of the deepest aspirations of the Ukrainians.
What these Left­ists ignore, how­ev­er, is that Ukraini­ans are far from blind about the real­i­ty of the Euro­pean Union. They are ful­ly aware of its trou­bles and dis­par­i­ties. Their mes­sage was, sim­ply, that their own sit­u­a­tion is much worse. Europe's prob­lems — its eco­nom­ic insta­bil­i­ty, its unre­lent­ing unem­ploy­ment — are still rich men's prob­lems. Remem­ber that, in spite of the ter­ri­ble predica­ment of Greece, African refugees are still arriv­ing there en masse, fuel­ing the ire of Right­ist patriots.
A much more impor­tant ques­tion is: What does the ​"Europe" to which the Ukrain­ian pro­test­ers refer stand for? Europe can­not be reduced to a sin­gle vision: It spans the entire scope from nation­al­ist and — even Fas­cist— ele­ments up to the idea of what Éti­enne Bal­ibar calls égal­ib­erté, free­dom-in-equal­i­ty, which is the unique con­tri­bu­tion of Europe to the glob­al polit­i­cal imag­i­nary, even if it is today more and more betrayed by Euro­pean insti­tu­tions. Between these two poles, only the naïve put their trust in lib­er­al-demo­c­ra­t­ic cap­i­tal­ism. What Europe should see in Ukrain­ian protests, there­fore, is its own best and its own worst.
The Ukrain­ian Right's nation­al­ism is part of a renewed anti-immi­grant, pro-reli­gious pop­ulism that presents itself as the defense of Europe. The dan­ger of this new Right was clear­ly per­ceived a cen­tu­ry ago by G.K. Chester­ton who, in his Ortho­doxy, described the fun­da­men­tal dead­lock of the crit­ics of reli­gion: ​"Men who begin to fight the Church for the sake of free­dom and human­i­ty end by fling­ing away free­dom and human­i­ty if only they may fight the Church." Does the same not hold for the advo­cates of reli­gion them­selves? How many fanat­i­cal defend­ers of reli­gion start­ed with fero­cious­ly attack­ing the con­tem­po­rary sec­u­lar cul­ture and end­ed up for­sak­ing any mean­ing­ful reli­gious expe­ri­ence? Does the same not hold also for the recent rise of the defend­ers of Europe against the immi­grant threat? In their zeal to pro­tect Europe's Chris­t­ian lega­cy, the new zealots are ready to for­sake the true heart of this legacy.
So what are we to do in such a sit­u­a­tion? Main­stream lib­er­als are telling us that, when the basic demo­c­ra­t­ic val­ues are under threat by eth­nic or reli­gious fun­da­men­tal­ists, we should all unite behind the lib­er­al-demo­c­ra­t­ic agen­da of cul­tur­al tol­er­ance, save what can be saved and put aside dreams of a more rad­i­cal social trans­for­ma­tion. So what about the lib­er­al-demo­c­ra­t­ic cap­i­tal­ist Euro­pean dream that Ukrain­ian pro­test­ers advo­cat­ed for so fierce­ly? One can­not be sure what awaits Ukraine with­in the Euro­pean Union, but aus­ter­i­ty mea­sures are sure to be part of the package.
We all know the well-known joke from the last decade of the Sovi­et Union about Rabi­novitch, a Jew who wants to emi­grate. The bureau­crat at the emi­gra­tion office asks him why, and Rabi­novitch answers: ​"There are two rea­sons why. The first is that I'm afraid that in the Sovi­et Union the Com­mu­nists will lose pow­er, and the new pow­er will put all the blame for the Com­mu­nist crimes on us, the Jews, there will again be anti-Jew­ish pograms…" ​"But," inter­rupts him the bureau­crat, ​"this is pure non­sense, noth­ing can change in the Sovi­et Union, the pow­er of the Com­mu­nists will last for­ev­er!" ​"Well," responds Rabi­novitch calm­ly, ​"that's my sec­ond reason."
We can eas­i­ly imag­ine a sim­i­lar exchange between a crit­i­cal Ukrain­ian and a Euro­pean Union finan­cial admin­is­tra­tor. The Ukrain­ian com­plains: ​"There are two rea­sons we are in a pan­ic here in Ukraine. First, we are afraid that the EU will sim­ply aban­don us to the Russ­ian pres­sure and let our econ­o­my col­lapse…" The EU admin­is­tra­tor inter­rupts him: ​"But you can trust us, we will not aban­don you, we will tight­ly con­trol you and advise you what to do!" ​"Well," responds the Ukrain­ian calm­ly, ​"that's my sec­ond reason."
So yes, the Maid­an pro­test­ers in Kiev's Inde­pen­dence Square were heroes, but the true fight begins now: the fight for what the new Ukraine will be. And this fight will be much tougher than the fight against Putin's inter­ven­tion. The ques­tion is not if Ukraine is wor­thy of Europe, good enough to enter the EU — but if today's Europe is wor­thy of the deep­est aspi­ra­tions of the Ukrainians.
If Ukraine ends up as a mix­ture of eth­nic fun­da­men­tal­ism and lib­er­al cap­i­tal­ism, with oli­garchs pulling the strings, it will be as Euro­pean as Rus­sia (or Hun­gary) is today. Polit­i­cal com­men­ta­tors claimed that the EU did not sup­port Ukraine enough in its con­flict with Rus­sia and that the EU response to the Russ­ian occu­pa­tion and annex­a­tion of Crimea was half-heart­ed. But there is anoth­er kind of sup­port that was miss­ing to an even greater degree: Ukraine was nev­er offered a fea­si­ble strat­e­gy of how to break out of its socioe­co­nom­ic dead­lock. To do this, Europe should first trans­form itself and renew its com­mit­ment to the eman­ci­pa­to­ry core of its legacy.
In his Notes Towards a Def­i­n­i­tion of Cul­ture, the great con­ser­v­a­tive T. S. Eliot remarked that there are moments when the only choice is the one between sec­tar­i­an­ism and non-belief, when the only way to keep a reli­gion alive is to per­form a sec­tar­i­an split from its main corpse. This is our only chance today: Only by means of a ​"sec­tar­i­an split" from the decay­ing corpse of the old Europe can we keep the Euro­pean lega­cy of égal­ib­erté alive. Such a split should ren­der prob­lem­at­ic the very premis­es that we tend to accept as our des­tiny, as non-nego­tiable evi­dence of our predica­ment: the phe­nom­e­non usu­al­ly des­ig­nat­ed as the glob­al New World Order and the need, through ​"mod­ern­iza­tion," to accom­mo­date our­selves to it. To put it blunt­ly, if the emerg­ing New World Order is the non-nego­tiable des­tiny for all of us, then Europe is lost. So the only solu­tion for Europe is to take the risk and break this spell of our des­tiny. Only in such a new Europe could Ukraine find its place. It is not the Ukraini­ans who should learn from Europe, but Europe itself who must learn to incor­po­rate the dream that moti­vat­ed the Maid­an protesters.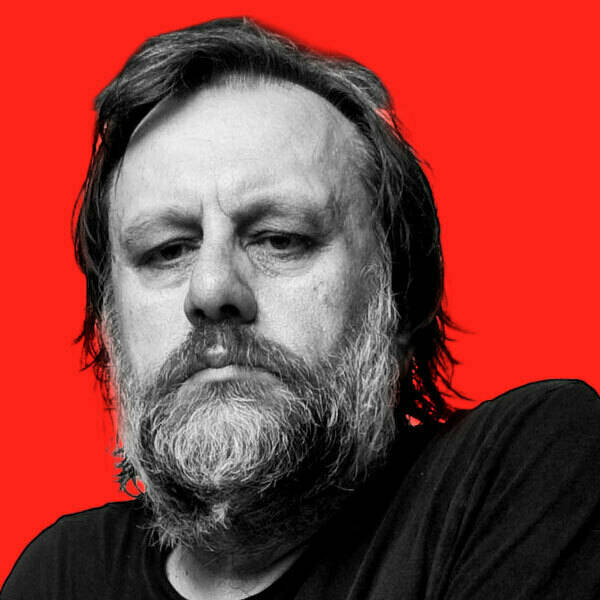 Slavoj Žižek
, a Sloven­ian philoso­pher and psy­cho­an­a­lyst, is a senior researcher at the the Insti­tute for Human­i­ties, Birk­beck Col­lege, Uni­ver­si­ty of Lon­don. He has also been a vis­it­ing pro­fes­sor at more than
10
uni­ver­si­ties around the world. Žižek is the author of many books, includ­ing Liv­ing in the End Times, First As Tragedy, Then As Farce, The Year of Dream­ing Dan­ger­ous­ly and Trou­ble in Paradise.