What Millennials Thought of the 2nd Trump/Clinton Debate
"If Donald Trump and the GOP love America so much," asks one, "then why do they hate so many Americans?"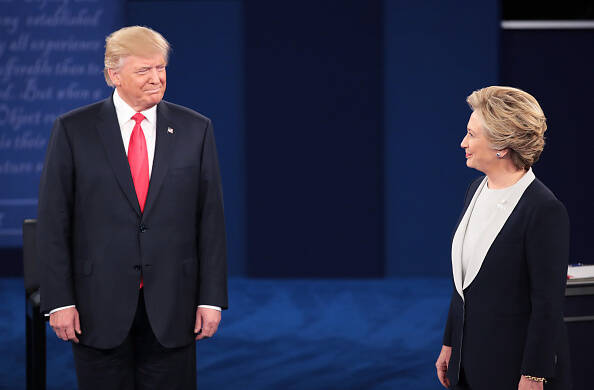 In the weeks lead­ing up to Sun­day night's debate, mil­len­ni­als have been some of the most talked about vot­ers but among the groups least talked to. A recent study found that some 39 per­cent of mil­len­ni­als were plan­ning to vote for either the Green Party's Jill Stein or Lib­er­tar­i­an Gary John­son in Novem­ber. The demo­graph­ic group that came out most strong­ly for Bernie Sanders, it seems, isn't as enthu­si­as­tic about sup­port­ing Hillary Clinton.
'The GOP has pushed a 50-year politics of hate towards black people, immigrants, Muslims, women and LGBTQ people.'
If there's one thing mil­len­ni­als can agree on, though, it's a deep dis­gust with Don­ald Trump, the now-scan­dal-racked GOP can­di­date. Six­ty-one per­cent hold a ​"strong­ly unfa­vor­able" opin­ion of him, and it's hard to imag­ine Friday's rev­e­la­tions — of Trump feel­ing enti­tled to ​"grab (women) by the pussy" — will win him many favors among the cov­et­ed 18 – 34 demo­graph­ic, now account­ing for just under a third of the electorate.
For Sunday's debate, I decid­ed to spend time with some bona fide mil­len­ni­als. #Allo­fUs, pro­filed here, is a mil­len­ni­al-led group look­ing to ramp up pres­sure on Trump and the GOP in the few weeks remain­ing before Novem­ber 8. Its lead­er­ship is culled from the so-called mil­len­ni­al move­ments, span­ning from Occu­py Wall Street to the cli­mate fight to the move­ment for black lives and immi­grant jus­tice. This com­ing week, it will host an action in Wash­ing­ton, D.C., of mil­len­ni­al women and femmes in response to what it calls Trump's and the GOP's ​"pol­i­tics of hate."
"Trump is despi­ca­ble," the group writes. ​"But we know where he came from. The GOP has pushed a 50-year pol­i­tics of hate towards black peo­ple, immi­grants, Mus­lims, women and LGBTQ people."
I spent Sun­day night with #AllofUs2016 at a watch par­ty in Brooklyn.
"I'm expect­ing Don­ald Trump to con­tin­ue his dis­gust­ing sex­ist racist cam­paign and I'm real­ly dis­ap­point­ed to see that none of the issues that our gen­er­a­tion cares about will like­ly be debat­ed this debate: sky­rock­et­ing tuition, racial inequal­i­ty and cli­mate change," Waleed Shahid, 26, an #AllofUs2016 orga­niz­er, said as the debate got start­ed. ​"Unfor­tu­nate­ly, the debate is going to be about the media circus."
"Their par­ty only cares about the bil­lion­aire donors try­ing to dig our coun­try into the ground. If Don­ald Trump and the GOP love Amer­i­ca so much," he asked, ​"then why do they hate so many Americans?"
Most of the Brook­lyn room was silent for the first half hour of the debate, as Trump threat­ened to throw Clin­ton in jail. One of the biggest cheers of the night was when Clin­ton men­tioned that Oba­macare has helped extend health care cov­er­age to minors under 26 cov­ered by their parents.
One thing that did come up ear­ly in the debate was immi­gra­tion, when mod­er­a­tors Ander­son Coop­er and Martha Rad­datz asked Trump to clar­i­fy his ear­li­er state­ments to ban Mus­lims from immi­grat­ing to the Unit­ed States ​"until we can fig­ure out what the hell is going on."
"What­ev­er hap­pens Novem­ber 8th, Trump has spent his cam­paign tying immi­gra­tion to ter­ror­ism and crime, and that's going to out­last this elec­tion," said Thaís Mar­ques of the immi­grant rights group Movimien­to Cosecha.
An over­time ques­tion on ener­gy pol­i­cy saw Trump repeat a few points he's pre­vi­ous­ly made about how the Envi­ron­men­tal Pro­tec­tion Agency and the admin­is­tra­tion of Barack Oba­ma are ​"killing our ener­gy busi­ness in this coun­try" and the ben­e­fits of (non-exis­tent) ​"clean coal." Clin­ton, while com­mit­ting again to turn the Unit­ed States into a ​"clean ener­gy super­pow­er," also praised nat­ur­al gas as a ​"bridge fuel," in mov­ing off of coal.
"I don't think Hillary's that great on cli­mate, and Trump denies that it exists so I'm not sur­prised," says Varshi­ni Prakash, 23, of the Divest­ment Stu­dent Net­work, a group sup­port­ing fos­sil fuel divest­ment cam­paigns on cam­pus­es around the coun­try. ​"It makes me sad and scared when two peo­ple run­ning for pres­i­dent of the Unit­ed States aren't clear about what their posi­tions are and how they're going to solve this crisis."
The night end­ed with­out any dis­cus­sion of mass incar­cer­a­tion or crim­i­nal jus­tice reform, among oth­er impor­tant issues.
Asked what was miss­ing from the debate, David Shor, 25 — who worked on Sanders' pri­ma­ry cam­paign — said, ​"excite­ment, and an appeal to ratio­nal young people.
"The things that we care so much about are not the first pri­or­i­ty for the con­ver­sa­tions that are being had at the high­est lev­els. We need to keep on forc­ing our­selves into those con­ver­sa­tions," Shor said.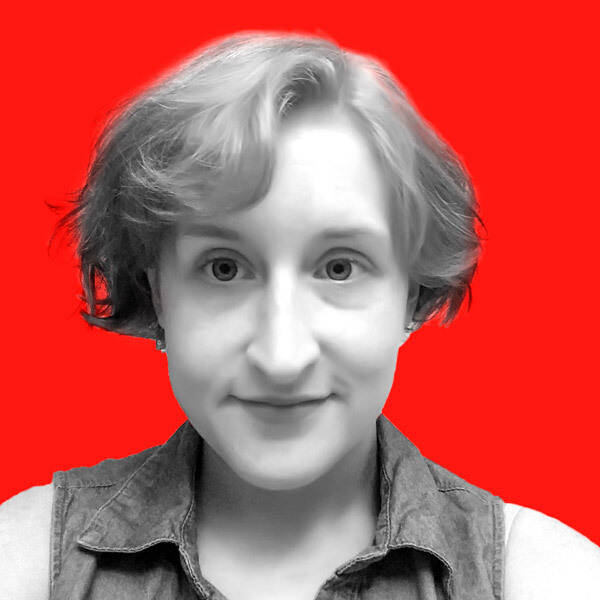 Kate Aronoff
is a Brook­lyn-based jour­nal­ist cov­er­ing cli­mate and U.S. pol­i­tics, and a con­tribut­ing writer at The Inter­cept. Fol­low her on Twit­ter @katearonoff.