Interviews for Resistance: What New York Taxi Workers Teach Us About Fighting Back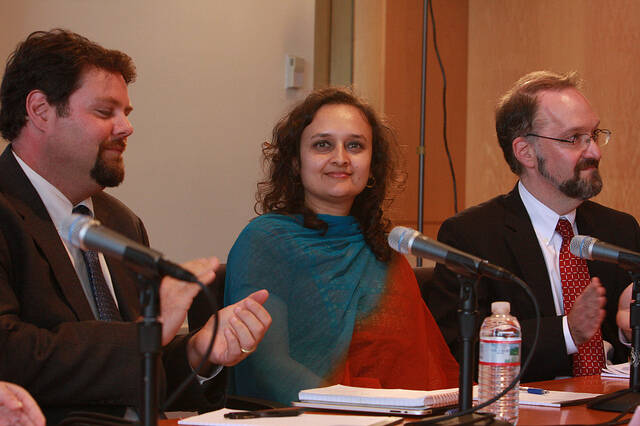 Wel­come to Inter­views for Resis­tance. Since elec­tion night 2016, the streets of the Unit­ed States have rung with resis­tance. Peo­ple all over the coun­try have wok­en up with the con­vic­tion that they must do some­thing to fight inequal­i­ty in all its forms. But many are won­der­ing what it is they can do. In this series, we'll be talk­ing with expe­ri­enced orga­niz­ers, trou­ble­mak­ers and thinkers who have been doing the hard work of fight­ing for a long time. They'll be shar­ing their insights on what works, what does­n't, what has changed and what is still the same.
On Jan­u­ary 28, as pro­test­ers rushed to air­ports around the coun­try seek­ing to defend refugees and migrants against Don­ald Trump's trav­el ban, taxi dri­vers with the New York Taxi Work­ers Alliance took the protest a step fur­ther and refused to pick up fares at JFK Air­port. The taxi dri­vers' strike caught the imag­i­na­tion of the pub­lic and even spurred a mas­sive cam­paign to #Dele­teU­ber after the ride-hail­ing app low­ered its fares in an appar­ent attempt to break the strike. (Uber has since apol­o­gized, repeat­ed­ly.) But the taxi work­ers have more to teach us than just this one action.
Bhairavi Desai: I am Bhairavi Desai. I am the exec­u­tive direc­tor of the New York Taxi Worker's Alliance.
Sarah Jaffe: The first thing that prob­a­bly brought the Taxi Worker's Alliance to the atten­tion of peo­ple around the coun­try was the strike at JFK Air­port over Trump's immi­gra­tion ban. Can you tell us a lit­tle bit about how that came to be?
Bhairavi: We are a work­force that is large­ly Mus­lim and Sikh and almost uni­ver­sal­ly immi­grant. Over 94 per­cent of the dri­vers in New York City are immi­grant and across the coun­try we are a large­ly immi­grant work­force. When the exec­u­tive order came down, there was a def­i­nite sense of urgency and a lot of anger. We real­ly were just start­ing to talk about all the dif­fer­ent mem­bers we knew who would be affect­ed and the fact that even though the major­i­ty of our Mus­lim mem­bers are not from one of the sev­en coun­tries in the exec­u­tive order, still the hys­te­ria around Islam­o­pho­bia and the fact that fear leads to hate crimes is a major con­cern of ours. We felt that we real­ly need­ed to act.
On Sat­ur­day, the day after the exec­u­tive order was signed, when we saw folks com­ing out to the air­port and protest­ing, it just felt like the most nat­ur­al thing to do was for us to stand in sol­i­dar­i­ty and par­tic­i­pate in that action in the best way that we know how, which was by strik­ing and hold­ing down that lot.
Sarah: One of the things that I found the most inter­est­ing about this is that there has been a lot of talk about the dif­fer­ent prob­lems with Uber's busi­ness mod­el, but the thing that real­ly prompt­ed, what reports say was, 200,000 peo­ple to delete Uber was that they were strike-breaking.
Bhairavi: It was amaz­ing to see the out­pour­ing of sup­port. I think peo­ple were real­ly touched that here was a work­force on the front lines of these hate­ful poli­cies and also the eco­nom­ic mar­gins of what we have seen is a grow­ing sec­tor of the econ­o­my which is piece­meal-ing and turn­ing a full­time pro­fes­sion into part-time gigs. Peo­ple out there know that taxi dri­vers are real­ly hard work­ing and that peo­ple real­ly strug­gle day to day to make ends meet. The idea that they would put their incomes on the line and it would be a work­force that is so vul­ner­a­ble, par­tic­u­lar­ly in these times, to sur­veil­lance and depor­ta­tions and fur­ther polic­ing, that they would be the ones to stand up. It seemed to real­ly touch peo­ple and we were so moved by their reac­tion. I think it was a beau­ti­ful start to sol­i­dar­i­ty with our movement.
Cer­tain­ly, there are many rea­sons to be crit­i­cal of Uber. Uber is a pret­ty hor­ri­ble com­pa­ny. It is true we have been fight­ing for a long time to bring atten­tion to Uber's eco­nom­ic prac­tices and the race to the bot­tom that it has cre­at­ed. But, how­ev­er peo­ple were meant to come and take a clos­er look at us, we are ready to accept and, hope­ful­ly, from this point for­ward, folks con­tin­ue with the struggle.
Sarah: The Taxi Worker's Alliance has been orga­niz­ing with Uber dri­vers. Can you talk a lit­tle bit more about the com­plaints the dri­vers have and their con­nec­tion to orga­niz­ing with more the tra­di­tion­al taxi workers?
Bhairavi: Sure. In New York City, it is the one Uber mar­ket in the whole coun­try where an Uber is a licensed black car base. The dri­vers are all licensed. I mean, Uber in New York City, itself, does remain under-reg­u­lat­ed, but the dri­vers, them­selves, are licensed and reg­u­lat­ed. Many of the Uber dri­vers used to dri­ve Yel­low Taxi, were our mem­bers and they switched to Uber and retained their mem­ber­ship. This is a com­pa­ny where it is real­ly dif­fi­cult for peo­ple to make ends meet. We see mem­bers who are work­ing like six­ty hours a week, retain­ing 4.8 star rat­ings, and yet, they are earn­ing below min­i­mum wage.
Sarah: You men­tioned the vio­lence that dri­vers face and par­tic­u­lar­ly how that esca­lates in times when racism and Islam­o­pho­bia are on the rise. Can you talk a lit­tle bit about some of the dri­vers' expe­ri­ence with some of that?
Bhairavi: A few years ago, peo­ple will recall, there was a lot of con­tro­ver­sy in New York City that down the street from Ground Zero an Islam­ic Cen­ter had opened. Many of the well-known Islam­o­phobes had tak­en up the issue as their main cause and cre­at­ed a lot of hys­te­ria around it. Folks like Sarah Palin, at the time was more rel­e­vant that today, heav­i­ly weigh­ing in. The rhetoric was quite hate­ful and strong. Well, in the midst of all of that, it was one of our mem­bers, Ahmed Sharif—this is dur­ing Ramadan, he picks up a fare, a pret­ty young guy, start­ed talk­ing to him and at one point the pas­sen­ger asked Ahmed, ​"Are you Mus­lim?" and when Ahmed answered, ​"Yes," he took out a knife and he slashed him across the neck.
We have seen through the years, right after 9⁄11, I remem­ber so many neigh­bor­hoods, pri­mar­i­ly immi­grant neigh­bor­hoods where taxis would be parked and overnight the tires would be slashed. The Yel­low Cab went from being kind of a cul­tur­al icon, a sym­bol of New York City to a sym­bol of Mus­lim work­ers. We would see pro­fan­i­ties carved into the taxi with a knife. Already, dri­vers are 20 times more like­ly to be killed on the job than oth­er work­ers. We are one of the most vis­i­ble immi­grant and Mus­lim work­forces. Our mem­bers tend to be on the front­lines of that hate and violence.
Sarah: I under­stand that anti-racist orga­niz­ing and dis­cus­sions have been part of the orga­niz­ing, that the Taxi Work­ers Alliance has been doing since the beginning.
Bhairavi: You can't com­part­men­tal­ize peo­ples' real­i­ty and their human­i­ty. I remem­ber, after 9⁄11, I remem­ber our mem­bers being sub­ject to a lot of ver­bal abuse and phys­i­cal assaults, and at the same time they lost so much work, because all of these streets were closed down and they still had to pay for their lease out of pock­et. We did a sur­vey and we found that one out of four dri­vers had received an evic­tion notice from their home. Peo­ple were in debt by as much as $25,000 because they were pay­ing for every­thing out of pock­et and just bor­row­ing mon­ey and tak­ing out cred­it cards.
At the same time, they were con­tend­ing with the fact that this coun­try was begin­ning to dis­cuss mil­i­tary action with­in the Mid­dle East in the same coun­tries where many of the mem­bers were from. You can't keep some­body whole and ignore a large part of their life and par­tic­u­lar­ly one when it comes to some­thing as deeply root­ed as racism and work­place vio­lence, which giv­en that we rep­re­sent a work­force that's in the pub­lic, the two often inter­sect in dri­vers' dai­ly lives.
Sarah: One of the things that also hap­pened in the wake of the taxi work­ers' strike was the Yemeni busi­ness own­ers clos­ing their busi­ness­es, the affec­tion­ate­ly termed #Bode­gaS­trike. I won­der if you could talk about the con­nec­tion between those two things and the rise of inter­est in strikes as a way to resist the Trump administration.
Bhairavi: Yes, it was so won­der­ful to see. It filled us with such pride and admi­ra­tion. Par­tic­u­lar­ly, to have Yemeni busi­ness own­ers, giv­en that Yemen is one of the sev­en named coun­tries. It was real­ly a beau­ti­ful show of courage. We have seen it sim­i­lar­ly, like in 1998 when we went out on strike against [Rudy] Giu­liani. After we had gone out on strike, there was a strike by street ven­dors and the stu­dents at the City Uni­ver­si­ty. We boost each oth­er. We learn from each oth­er. We gain courage from each oth­er. That real­ly is the essence of solidarity.
I think that, par­tic­u­lar­ly, strikes, with­in the labor move­ment we have known that you work on a cam­paign and there will be many months, if not years, of build-up before you go to strike vote. It is seen as the final action. It is a moment of urgency. Well, that is what mil­lions of peo­ple are wak­ing up to every sin­gle day under this pres­i­den­cy. There is a moment of urgency. This is not nor­mal. It is not nor­mal for us to live in the Unit­ed States of Amer­i­ca where we say to the world that refugees from war-torn coun­tries are not wel­come onto this land. A land built, in so many ways, by immi­grants. I think we are going to see more and more of such actions. Clear­ly, the White House, at the moment, seems to be regroup­ing and fig­ur­ing out next strate­gies, because I think their strat­e­gy of blitzkrieg­ing and bom­bard­ing us with one exec­u­tive order after anoth­er back­fired and it gal­va­nized peo­ple rather than exhaust­ing or intim­i­dat­ing us.
Sarah: For peo­ple who aren't famil­iar with the Taxi Work­ers Alliance, take us back to the his­to­ry of your orga­ni­za­tion and how it became one of the first non-tra­di­tion­al work­ers orga­ni­za­tions that was accept­ed into the AFL-CIO.
Bhairavi: We start­ed orga­niz­ing in 1996. Then, we for­mal­ly orga­nized the Taxi Work­ers Alliance in 1998. We have over 19,000 mem­bers today in New York City. A few years ago, we were giv­en a char­ter by the exec­u­tive coun­cil of the AFL-CIO to form a nation­al Taxi Work­ers Alliance. We have affil­i­ates in six dif­fer­ent cities across the coun­try. We are a grass­roots mem­ber­ship-led, mem­ber­ship-dri­ven orga­ni­za­tion. In most of our cities, we rep­re­sent dri­vers that are inde­pen­dent con­trac­tors, like in New York City with the Yel­low Cab dri­vers. We have worked out­side of the Nation­al Labor Rela­tions Act. We have no dues check-off. Nobody has to rec­og­nize us at the table. Every­thing we have done, all of the progress we have made, it comes from our work­ers, our mem­bers, going out onto the streets and build­ing a mil­i­tant activist-ori­ent­ed movement.
Sarah: We are already see­ing Repub­li­cans in Con­gress are intro­duc­ing a nation­al right-to-work law that Trump has said he is in favor of. As labor moves for­ward, what are some lessons from the taxi work­ers orga­niz­ing and actions that the rest of labor can take?
Bhairavi: I tell you, for 20 years we have been work­ing under con­di­tions that real­ly are right of right-to-work. Right-to-work will go after col­lec­tive bar­gain­ing and union­iza­tion, but for us, the dri­vers are not even con­sid­ered employ­ees, so they don't even have min­i­mum wage and over­time and Social Secu­ri­ty con­tri­bu­tions. None of the basic pro­tec­tions. Of course, it is the his­toric fight that we are up against right now with com­pa­nies like Uber and Lyft and the so-called ​"gig econ­o­my" play­ers that are using Wall Street investor mon­ey to cement that employ­ment mod­el with­in our indus­try that could do it in a way where, at least the one thing we have had over the past 30 years under inde­pen­dent con­trac­tor­ship, which is full-time work and full-time pay. That, itself, is what is being attacked right now besides employ­ee sta­tus and mis­clas­si­fi­ca­tion by these companies.
I think that the lessons that are to be offered are, one, you don't do what, for exam­ple, the Machin­ists have done with Uber, which is they formed some­thing called the Inde­pen­dent Dri­vers Guild, which is a com­pa­ny union. They have entered into a pri­vate agree­ment. No one has seen the con­tract. We know from media announce­ments that it is a five-year deal. They get mon­ey from Uber and in return, they have agreed to not chal­lenge Uber's mis­clas­si­fi­ca­tion and fight for employ­ee sta­tus even though any­body who knows this indus­try knows that Uber is more of an employ­er than any­thing we have seen in 30 years because of the lev­els of con­trol it exerts over the dri­vers. I think it is real­ly impor­tant to remain vig­i­lant. You have to allow your orga­niz­ing to do the work for you and that you have to build demo­c­ra­t­ic union­ism in order to sur­vive a right-to-work era. We need to fight for an end to employ­er intim­i­da­tion and intru­sion when it comes to elec­tions so work­ers can choose freely even with­in a right-to-work context.
Sarah: New York is, obvi­ous­ly, a blue city in a blue state. Talk about the impor­tance of resis­tance in cities like New York when you have this right-wing admin­is­tra­tion in the White House.
Bhairavi: I think local resis­tance at the city lev­el and at the state lev­el every­where is going to be so crit­i­cal. New York is inter­est­ing because New York and Cal­i­for­nia are two states where you can have more statewide ini­tia­tives, you can expect to have more statewide ini­tia­tives, cer­tain­ly around immi­gra­tion and fight­ing against some of the hate-spewed poli­cies that have come out already and I am sure more that are going to fol­low from this administration.
At the same time, there are still issues in places like New York or Cal­i­for­nia. For exam­ple, when the #Dele­teU­ber move­ment start­ed, and it was in defense of our strike and all these folks who said it was impor­tant to hold the Uber CEO account­able to his rela­tion­ship with Trump. Cer­tain­ly, we cel­e­brat­ed when Travis Kalan­ick was forced to give up his seat at the Trump table, but at the same time, the real Trumpian con­nec­tion between Uber and this admin­is­tra­tion is their eco­nom­ic poli­cies. Yet, in places like Cal­i­for­nia and New York, we see a lot of sup­port for this so-called ​"gig econ­o­my" and a lot of buy­ing into the notion that these com­pa­nies, which are destroy­ing full-time jobs, mis­clas­si­fy­ing, lob­by­ing active­ly to undo gen­er­a­tions-old labor law and labor pro­tec­tions, that some­how, because they have lib­er­al-to-pro­gres­sive demo­c­ra­t­ic oper­a­tives work­ing for them as lob­by­ists that some­how that makes them okay. Like, they are not real­ly Wall Street even though they are com­plete­ly fund­ed by Wall Street. I think that is real­ly dis­turb­ing and real­ly problematic.
I think that the chal­lenge remains that in states like New York and Cal­i­for­nia, we have to chal­lenge not only the back­wards social poli­cies that will come out of this admin­is­tra­tion, but we also have to hold up real ideals of eco­nom­ic jus­tice and pro­tect good jobs and pro­tect work­ers and not just undo labor pro­tec­tions that these com­pa­nies are fight­ing for.
Sarah: How can peo­ple keep up with you and the Taxi Work­ers Alliance?
Bhairavi: You can find us online at www​.NYT​WA​.org. We are also pret­ty active on Face­book and Twit­ter. We wel­come peo­ple to email us. One of the most beau­ti­ful things that hap­pened out of the defense of our strike, very sin­gle day, we are still get­ting post­cards in the mail from across the coun­try. It is so love­ly. You see that each fam­i­ly mem­ber has signed their own name because you see the dif­fer­ent hand­writ­ing on dif­fer­ent post­cards com­ing in. And emails. It has been amaz­ing to see. It is such a won­der­ful feel­ing, par­tic­u­lar­ly for us, because we are a work­force that is iso­lat­ed by the nature of the job itself. When you con­sid­er 94 per­cent immi­grant, most­ly peo­ple of col­or, non-employ­ees on the edge of the econ­o­my, we have been polit­i­cal­ly iso­lat­ed for so long. It is an amaz­ing feel­ing for us when the larg­er com­mu­ni­ty opens their eyes and their hearts to our strug­gle.
Inter­views for Resis­tance is a project of Sarah Jaffe, with assis­tance from Lau­ra Feuille­bois and sup­port from the Nation Insti­tute. It is also avail­able as a pod­cast. Not to be reprint­ed with­out permission.
Sarah Jaffe
is a for­mer staff writer at
In These Times
and author of
Nec­es­sary Trou­ble: Amer­i­cans in Revolt
, which Robin D.G. Kel­ley called ​
"
The most com­pelling social and polit­i­cal por­trait of our age." You can fol­low her on Twit­ter
@sarahljaffe
.