What the Media Need To Know About Trans People
After the suicide of 'Dr. V.' trans activists and journalists discuss how to prevent future tragedies.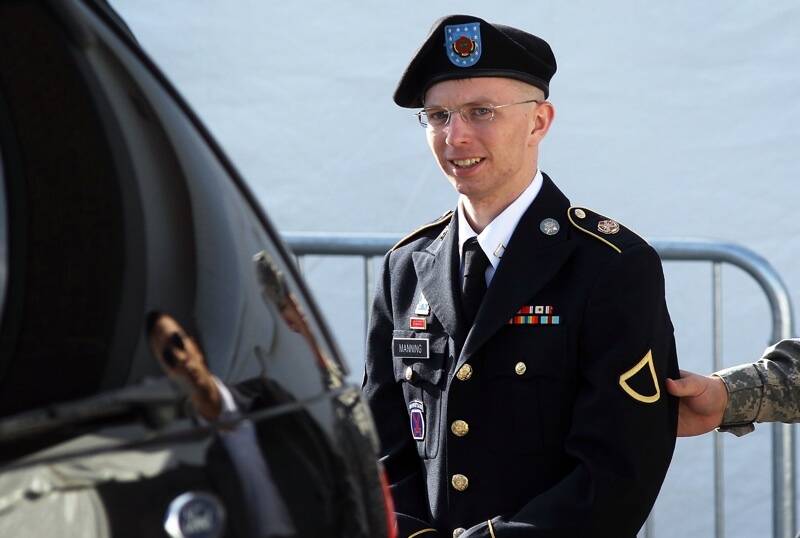 The media kicked off 2013 with a num­ber of high-pro­file fail­ures in cov­er­age of trans peo­ple and trans issues. On Jan­u­ary 6, mod­el Car­men Car­rerra and Orange is the New Black star Lav­erne Cox had to explain to Katie Couric why it was dehu­man­iz­ing and trans­pho­bic to ask about their gen­i­tals on live tele­vi­sion. On Jan­u­ary 15, sports and cul­ture site Grant­land pub­lished a sto­ry, ​"Dr. V's Mag­i­cal Put­ter," about a trans woman named Essay Anne Van­der­bilt who com­mit­ted sui­cide after the story's writer, Caleb Han­nan, out­ed her to col­leagues and refused to sign a state­ment pro­hibit­ing him from dis­clos­ing her per­son­al infor­ma­tion, from which she may have rea­son­ably assumed he would do so in the arti­cle. Fol­low­ing a mas­sive out­cry, Grant­land edi­tor Bill Sim­mons admit­ted that no trans peo­ple had been con­sult­ed dur­ing the story's report­ing or edit­ing process. And, on Feb­ru­ary 5, Redefin­ing Real­ness: My Path To Wom­an­hood, Iden­ti­ty, Love & So Much More author Janet Mock was invit­ed back for a sec­ond inter­view with Piers Mor­gan, where he shout­ed at her for sub­ject­ing him to ​"cis­pho­bia" because she'd cri­tiqued the show's choice to describe her as ​"born a boy."
The media assumes that the gender assigned to someone at birth is 'true,' but trans folks know that the gender we identify with is real regardless of personal medical and legal information.
To talk about why this cov­er­age is so flawed and what can be done to make it bet­ter, In These Times assem­bled a pan­el of experts, includ­ing Jos Tru­itt, co-exec­u­tive direc­tor of Fem​i​nist​ing​.com; Kather­ine Cross, Ph.D. Stu­dent at the CUNY Grad­u­ate Cen­ter, who wrote an ele­gy for Dr. V on Fem­i­nist­ing; and Emi­ly McA­van, edi­tor-in-chief of Glob­al Com­ment.
I want to start by talk­ing about the tragedy that prompt­ed this round­table: Grant­land​'s cov­er­age of Essay Anne Van­der­bilt, and her death. The sto­ry was wide­ly called out for being insen­si­tive and dehu­man­iz­ing; it framed Vanderbilt's gen­der and trans sta­tus as a ​"mys­tery" to be uncov­ered by the reporter. Even her sui­cide, which came at the end of a long process in which Han­nan out­ed her to col­leagues — by which point she prob­a­bly assumed, right­ly, that he would do so in his piece — didn't seem to spark much com­pas­sion or guilt in Han­nan. What struck me, read­ing it, was that it was obvi­ous nei­ther the writer nor the edi­tors had thought to con­sult any trans col­leagues in the media through­out the process (which Grant­land edi­tor Bill Sim­mons lat­er con­firmed). What are the con­di­tions in the media that led us to this point?
Kather­ine Cross: What's remark­able about that case, among many things, is not that the edi­to­r­i­al staff did not con­sult a trans per­son, but that such would even be nec­es­sary in order to remind them that Dr. V was, above all else, a human being. The piece turned Dr. V into a fic­tion­al char­ac­ter in some­one else's sto­ry, mir­ror­ing pat­terns of dehu­man­iza­tion that occur with count­less oth­er mar­gin­al­ized groups.
​"Trans­gen­der" or ​"transsexual"mean ​"sen­sa­tion" to many in the press, which already puts the peo­ple those terms describe at a cer­tain remove from human dig­ni­ty. When that col­lides with oth­er odi­ous forms of mar­gin­al­iza­tion — say that imposed on sex work­ers, the work­ing poor, and/​or peo­ple of col­or — what results is a ter­ri­fy­ing vor­tex of Oth­er­ing. Each facet of iden­ti­ty presents jour­nal­ists with anoth­er stig­ma they can exploit, not only for the sake of sen­sa­tion­al­ism, but also to write the sto­ry for them.
Many cis peo­ple think they know trans peo­ple's sto­ries, and the trope of the trans sex work­er, regur­gi­tat­ed through count­less police pro­ce­du­rals, is one they think they know espe­cial­ly well. When a jour­nal­ist is pre­sent­ed, then, with a dead trans woman of col­or, what results is less inves­ti­ga­tion and more recita­tion of received wis­dom that fits with what the jour­nal­ist thinks they already know. All these are the con­di­tions that not only made the Dr. V tragedy pos­si­ble, but also much of the ter­ri­ble jour­nal­ism on trans wom­en's deaths in general.
I agree with you on reporters ​"think­ing they know," on some lev­el, what a ​"trans" nar­ra­tive is and how to put it togeth­er. What strikes me about this Oth­er­ing is how it leaves trans peo­ple out — as sources, as media cre­ators them­selves. And that cre­ates a sort of self-per­pet­u­at­ing knowl­edge gap. For exam­ple, I've had con­ver­sa­tions with real­ly pro­gres­sive edi­tors about what the word ​"cis" means. How can we close that gap?
Kather­ine: Clos­ing the gap comes from remem­ber­ing that we are not an alien species; the lan­guage of respect used amongst cis peo­ple works well for us as well. On a more prac­ti­cal lev­el, ensur­ing that edi­to­r­i­al codes at var­i­ous press agen­cies make pro­vi­sion for trans peo­ple and answer the ​"fre­quent­ly asked ques­tions" of jour­nal­ists try­ing to find their way on these issues could go a long way towards ame­lio­rat­ing the prob­lems that gave rise to the Dr. V spec­ta­cle. There is only so much that ​"codes" can solve, however.
A big­ger part of the solu­tion lies in enlist­ing trans peo­ple to write and report on these issues them­selves. That won't fix every­thing, but in pulling down the bar­ri­ers that sep­a­rate trans peo­ple from the nation's news­rooms, it'll be a wor­thy start.
Jos Tru­itt: Trans women are incred­i­bly mar­gin­al­ized in every aspect of our cul­ture, includ­ing employ­ment, and includ­ing employ­ment as jour­nal­ists. Hir­ing trans women and learn­ing from our expe­ri­ence will of course improve news­rooms. Of course, this requires the will to treat trans women with respect. It's very dif­fi­cult to assume good faith when the press does already have guide­lines for report­ing on trans peo­ple, which aren't per­fect but are cer­tain­ly bet­ter than the cov­er­age we typ­i­cal­ly see.
Kather­ine has point­ed out that hos­tile cov­er­age of trans peo­ple, and par­tic­u­lar­ly trans women, ties into larg­er struc­tures of misog­y­ny. I'd love to explore those intersections.
Jos: Part of what's so trag­ic about the Dr. V sto­ry is that it could have just been about a golf club. Han­nan and his edi­tors made a delib­er­ate deci­sion to pur­sue the sto­ry in a way that sen­sa­tion­al­ized Dr. V's trans sta­tus. We see this time and again in the press, par­tic­u­lar­ly with trans women of col­or who've been mur­dered and might have done sex work: the New York Times had a par­tic­u­lar­ly pruri­ent frame for what should have been an obit­u­ary for Lore­na Escalera, a woman who was mur­dered more than a year ago. [The sto­ry began, ​"She was 25 and cur­va­ceous, and she often drew admir­ing glances in the grit­ty Brook­lyn neigh­bor­hood where she was known to invite men for vis­its to her apart­ment."]
Kather­ine: It is also worth men­tion­ing that so much of the dehu­man­iz­ing sen­sa­tion­al­iza­tion accrues to trans women pre­cise­ly because of pre-exist­ing misog­y­nist bias­es in the press.
If you look at the way trans wom­en's sto­ries are told, whether it's the Dr. V case or the trag­ic mur­der of Lore­na Escalera, what links the cov­er­age is a pruri­ent focus on phys­i­cal fea­tures. It is not uncom­mon for news sto­ries to rather lav­ish­ly describe a trans wom­an's breasts, hair, make­up, fig­ure, walk, and so on in order to tell their sto­ry. The ​"cam­era" of newsprint draws the read­er into an objec­ti­fy­ing gaze where trans women are con­cerned, and this mir­rors some of the tropes deployed against cis women as well, from celebri­ties to politi­cians. It's quite rea­son­able to sug­gest that the same stan­dards of report­ing that lead to objec­ti­fy­ing cov­er­age of cis­gen­der women also lead to sim­i­lar cov­er­age for trans women.
[The dif­fer­ence is that] when Hillary Clin­ton's cleav­age was turned into a Wash­ing­ton Post news sto­ry, there was a nation­al hue and cry (as well there should've been). For trans women of col­or, there is an over­rid­ing sense among both jour­nal­ists and the pub­lic that such lurid and qua­si-porno­graph­ic descrip­tions are not only seem­ly, but deserved,often jus­ti­fied with the idea that they brought both death and objec­ti­fi­ca­tion unto themselves.
Chelsea Manning's sto­ry also illu­mi­nates some inter­est­ing things about how trans folks are cov­ered. There were sto­ries that sug­gest­ed her trans sta­tus for sev­er­al years, but that was­n't part of the nar­ra­tive until she came out, at which point there hon­est­ly seemed to be some kind of debate with­in the media about how to write about her gender.
Emi­ly McA­van: The Chelsea Man­ning case real­ly shows the bar­ri­ers a cis gaze places on eth­i­cal cov­er­age of trans peo­ple. Cis peo­ple put up bar­ri­ers to accep­tance — like, ​"now we'll accept your gen­der if you meet our stan­dards, each of which requires nav­i­gat­ing a blur of psy­chi­a­trists, doc­tors and hav­ing the mon­ey to pay for treatment."
Jos: The media and cis-dom­i­nat­ed cul­ture in gen­er­al assumes that the gen­der assigned to some­one at birth is ​"true," and has latched on to this notion that med­ical and/​or legal inter­ven­tion is nec­es­sary to have a trans gen­der rec­og­nized and respect­ed. Trans folks know, and have been say­ing for some time, that the gen­der we iden­ti­fy with is real regard­less of per­son­al med­ical and legal infor­ma­tion (which is nev­er required of cis peo­ple claim­ing their gen­ders in the press).
In Man­ning's case, the press seemed to decide that the way the sto­ry [of Man­ning com­ing out as a trans woman] was report­ed would become the sto­ry itself, despite most out­lets already hav­ing guide­lines that should have led to Man­ning's gen­der being respected.
I'm fas­ci­nat­ed about the point Jos and Emi­ly have brought up here, about out­side ​"author­i­ties" being able to con­fer ​"real" trans sta­tus on peo­ple. I remem­ber being hes­i­tant to report on Man­ning's gen­der myself pri­or to her announce­ment, most­ly because she was in a very vul­ner­a­ble posi­tion and I did­n't know if she would be com­fort­able hav­ing the infor­ma­tion out there, but this also seems like one more case of trans peo­ple not being posi­tioned as the most reli­able author­i­ties on their own lives.
Kather­ine: Although many of us in the trans com­mu­ni­ty had fig­ured out that Man­ning was a trans woman, I believe it was right to let her take the lead on decid­ing when, where, why, and how to come out.
I think the real media sin here was that when Man­ning did come out offi­cial­ly and made abun­dant­ly clear who she was and how she should be referred to, the press still balked and refused to see her as an expert on her own life. At that moment of affir­ma­tive dec­la­ra­tion, what she said ought to have, by rights, super­seded all spec­u­la­tion. But it did not, and that was where the press' prob­lem lay. Despite her words, and the ample his­to­ry of trans expe­ri­ence to guide them, they made a debate of it.
Jos: Emi­ly — and Kather­ine and I fol­low­ing her lead — all wrote about Chelsea Man­ning's gen­der almost two years before her pub­lic announce­ment. The infor­ma­tion was there, and it was clear to me and oth­er trans women who share expe­ri­ences with Man­ning. I agree with Kather­ine that there were rea­sons to be cau­tious and wait for Man­ning to iden­ti­fy her­self pub­licly. The impor­tant point about trans women rec­og­niz­ing and believ­ing Man­ning's gen­der ear­ly on is that we are like­ly to believe some­one when they self-iden­ti­fy. Jour­nal­ists insist­ed on need­ing some pre­pon­der­ance of evi­dence to be believed. Start­ing with this inac­cu­rate frame leads to bad, dis­re­spect­ful report­ing. Let­ting peo­ple self-iden­ti­fy, which is what most media style guides say to do, will lead to bet­ter and more inter­est­ing report­ing, instead of being stuck on the same tired tropes.
There are more high-pro­file trans women in the media these days, includ­ing Lau­ra Jane Grace, Lav­erne Cox and Janet Mock. Do you think this has the poten­tial to cre­ate pos­i­tive change, for exam­ple, by help­ing peo­ple who aren't famil­iar with trans issues per­son­al­ize them a bit?
Kather­ine: ​"Vis­i­bil­i­ty" is always a tightrope over an abyss. These women are doing fan­tas­tic work in the bright lights of pub­lic­i­ty while also engaged in their respec­tive crafts, but there are always intol­er­a­ble pres­sures exert­ed on those who rep­re­sent a com­mu­ni­ty. If you look at the exchange between Janet Mock and Piers Mor­gan, for instance, she was made to rep­re­sent every trans per­son who ever said any­thing to Mor­gan. Mean­while there have been some trans peo­ple who crit­i­cized Janet Mock for ​"pick­ing the fight" with Mor­gan in the first place (a posi­tion I stren­u­ous­ly dis­agree with, but it's out there). To be the ​"ambas­sador," as you say, means nev­er being able to please every­one and being expect­ed to some­how dis­till the col­lec­tive will of the entire community.
Emi­ly: It's always ques­tion­able what kinds of ​"change" celebri­ties pro­duce. Will we see changes to the laws reg­u­lat­ing trans peo­ple, or the mate­r­i­al cir­cum­stances that lead to astro­nom­i­cal rates of unem­ploy­ment, home­less­ness, impris­on­ment and HIV infec­tion? I doubt it. The social change celebri­ties pro­duce is a more neb­u­lous ​"aware­ness" for cis peo­ple, that trans peo­ple exist and deserve to be treat­ed like human beings. I don't know how far that goes. I sus­pect the great­est effect is on young trans peo­ple, who see celebri­ties ([Cher's son, musi­cian and Danc­ing With the Stars con­tes­tant] Chaz Bono too springs to mind) and real­ize that transness is a liv­able, viable pos­si­bil­i­ty for a life.
Kather­ine: I think there's a use­ful dis­tinc­tion to be made between, say, a Chaz Bono fig­ure, whose strength lies pri­mar­i­ly in his celebri­ty, and some­one like Lav­erne Cox, who has used her plat­form to mean­ing­ful­ly edu­cate. It is very much worth not­ing that both Ms. Cox and Janet Mock have used their respec­tive spot­lights to high­light issues that are nor­mal­ly kept well away from the main­stream boule­vard of news and opinion.
Cox and Mock both tes­ti­fy to the real­i­ties of what it means to be a trans woman of col­or in this soci­ety. Janet Mock­'s recent­ly released auto­bi­og­ra­phy is remark­able for how it sub­verts the genre of trans mem­oir to tell an avowed­ly *polit­i­cal* sto­ry, one where Mock always relates her real­i­ty to a larg­er social struc­ture. Her tale is the rad­i­cal inver­sion of ​"just a sta­tis­tic," where­in she gives life to cold num­bers and makes them real. That's the val­ue of ​"ambas­sador­ship" you describe, when it's used to its fullest extent. It's not enough to mere­ly have sym­pa­thet­ic trans faces on air. They must be say­ing and doing some­thing of substance.
Emi­ly: That's right. After all, trans peo­ple — espe­cial­ly trans women — have long been pub­licly vis­i­ble, and most of that vis­i­bil­i­ty has hurt rather than helped. It's not enough to repeat the tired tropes of cis-cen­tred nar­ra­tives, the objec­ti­fi­ca­tion and sen­sa­tion­al­iza­tion, we need a crit­i­cal dis­course talk­ing back — which women like Lav­erne Cox and Janet Mock are doing well right at the minute.
Jos: I'm a big believ­er in the pow­er telling our sto­ries has to change hearts and minds. We saw a ​"com­ing out" strat­e­gy work suc­cess­ful­ly in the cam­paign for gay mar­riage; I think trans women need some­thing sim­i­lar to win the sorts of sub­stan­tive changes we need as a mar­gin­al­ized group. And we're see­ing that with a num­ber of the well-known trans women in the media right now. I do think it's impor­tant not to be sad­dled with the respon­si­bil­i­ty of rep­re­sent­ing a whole group, which is why I'm par­tic­u­lar­ly hap­py to see mul­ti­ple trans women of col­or — includ­ing Lav­erne Cox, Janet Mock and Car­men Car­rera — being vis­i­ble. And, more impor­tant­ly, refus­ing to fol­low tired media tropes.
We've cov­ered a lot of dif­fer­ent fail­ures. What do you think we should be mov­ing toward? What would respon­si­ble jour­nal­ism around trans issues look like, and how would the pub­li­ca­tions that espouse it work? How would that jour­nal­ism work to re-shape the world, and make it a bet­ter and safer place for trans people?
Jos: First of all, believe trans peo­ple when they tell you their gender.
And don't focus on med­ical tran­si­tion, espe­cial­ly when it's not rel­e­vant. There is so much more to our lives. We also need to move away from press cov­er­age that's both objec­ti­fy­ing and relent­less­ly neg­a­tive. Tell sto­ries about trans women that focus on their accom­plish­ments or more mun­dane aspects of their lives. I know so many bril­liant trans women doing incred­i­ble things, despite what they've faced. Tell these stories.
I gen­uine­ly believe that media that rep­re­sents us on our own terms and as full human beings will go a long way to com­bat the dan­ger­ous dehu­man­iza­tion of trans women and the oppres­sion that comes with it.