The Union Behind the Biggest Campaign Against Walmart in History May Be Throwing in the Towel. Why?
With major cuts rumored, the future of the campaign against America's largest private employer is uncertain.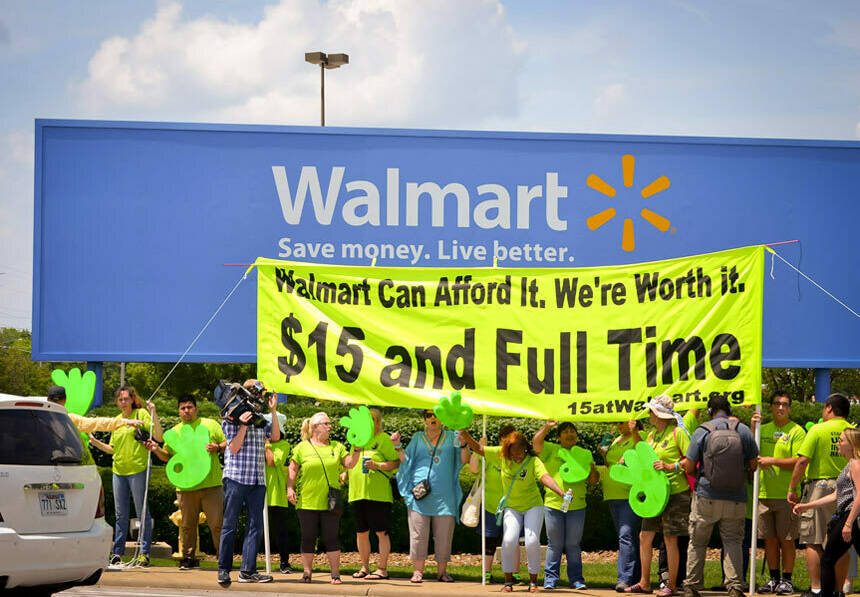 In the pre-dawn chill of Black Fri­day 2012, a half-dozen yel­low school bus­es pulled up at a South Side Chica­go Wal­mart store, dis­gorg­ing a small group of strik­ing Wal­mart work­ers and near­ly 250 supporters.
Critics of the union's focus on OUR Walmart believe that broadening the agenda to all retail will spread around organizing dollars more effectively, yielding more unionized shops.
Along with strik­ers and allies in 100 oth­er cities around the coun­try, they had come out that day under the aegis of the year-old Orga­ni­za­tion Unit­ed for Respect at Wal­mart (OUR Wal­mart), cre­at­ed to give Wal­mart work­ers a vehi­cle to protest their mis­treat­ment — includ­ing low wages, skimpy ben­e­fits, errat­ic sched­ul­ing and aggres­sive man­age­ment sup­pres­sion of employ­ees' voic­es at work.
"Some­where, some­how, down the line, it's going to make a big dif­fer­ence," said Tyrone Park­er, a strik­ing night-shift stock­er, at that first Black Fri­day action.
"If you weren't excit­ed after some of those Black Fri­days, you were dead," says for­mer Unit­ed Food and Com­mer­cial Work­ers (UFCW) Pres­i­dent Joseph Hansen, who start­ed OUR Wal­mart and the labor-com­mu­ni­ty coali­tion Mak­ing Change at Wal­mart in 2005. ​"It was going to be a long haul, but I thought we had no choice."
After Hansen's retire­ment last fall, the union's 55-mem­ber exec­u­tive board elect­ed Sec­re­tary-Trea­sur­er Antho­ny ​"Marc" Per­rone as the next pres­i­dent. Lead­ing up to the vote, Per­rone had ques­tioned the amount of mon­ey that had been devot­ed to the Wal­mart cam­paign with­out gain­ing any new mem­bers for the union, whose mem­ber­ship has declined in recent years. Sev­er­al sources close to the cam­paign, not named because they are not autho­rized to release finan­cial infor­ma­tion, esti­mate that the over­all cost had been about $7 mil­lion to $8 mil­lion a year.
In April, four months into Perrone's tenure, the Wash­ing­ton Post report­ed rumors of poten­tial cut­backs to OUR Wal­mart. In These Times​'s sources say the union plans to cut the campaign's bud­get by as much as 65 percent.
Sources close to the new lead­er­ship say no cuts are planned, only realign­ments, such as spend­ing more mon­ey on adver­tis­ing and pub­lic rela­tions cam­paigns to high­light Walmart's faults. At the same time, UFCW will try to par­lay the Wal­mart efforts into ​"a broad­er retail cam­paign," accord­ing to new Exec­u­tive Vice Pres­i­dent Stu­art Appel­baum, regard­ed as an ally of Per­rone. This prob­a­bly will encour­age more orga­niz­ing at oth­er retail­ers to win con­tracts and dues-pay­ing members.
As Buz­zfeed report­ed in June, the union also removed two direc­tors of the Wal­mart effort, Dan Schlade­man and Andrea Dehlen­dorf, in May. Mean­while, the board of OUR Wal­mart — five work­er-mem­bers and the two direc­tors — has sought and received new fund­ing from two pro­gres­sive donors, accord­ing to the direc­tor of a fun­ders' group to which both belong.
Most key labor lead­ers, what­ev­er their view of OUR Wal­mart, are unwill­ing to talk very much, because they hope to con­tin­ue to work with UFCW on the Wal­mart cam­paigns, if possible.
Although OUR Wal­mart and the Fight for 15 (the Ser­vice Employ­ees Inter­na­tion­al Union-backed fast-food work­ers' cam­paign, which has tar­get­ed McDonald's) have been expen­sive for the unions, they've stoked work­er and pub­lic fer­vor against two of the might­i­est glob­al corporations.
"The union's biggest accom­plish­ment is the devel­op­ment of OUR Wal­mart," says an ally in the cam­paign who feels that new spir­it may be lost in the reshuffling.
How big is too big?
The UFCW large­ly ignored Wal­mart when it was a small-town, South­ern five-and-dime chain. But as Wal­mart moved north and west and into gro­ceries, the union had to chal­lenge the mega-retail­er to pro­tect its con­tracts. A mas­sive array of strate­gies has been test­ed, with lit­tle suc­cess: orga­niz­ing depart­ment by depart­ment (when butch­ers at a Texas store vot­ed for the union, Wal­mart elim­i­nat­ed all its butch­ers); orga­niz­ing in Que­bec, where laws favor unions (Wal­mart closed the store); orga­niz­ing in strong union towns, like Las Vegas (sev­er­al cam­paigns failed after super­vi­sors intim­i­dat­ed a major­i­ty of work­ers out of unionizing).
UFCW has also tried edu­cat­ing the pub­lic about the high costs of Walmart's low prices. In 2005, both SEIU and UFCW began pub­lic­i­ty cam­paigns about the corporation's mis­be­hav­ior (called, respec­tive­ly, Wal­mart Watch and Wake Up, Wal­mart). Wal­mart Watch revealed a 2005 inter­nal com­pa­ny memo on how Wal­mart might cut its already low pay and ben­e­fits with­out incur­ring bad pub­lic­i­ty by increas­ing the num­ber of part-time work­ers. Such well-aimed, sharp darts wound­ed the company's rep­u­ta­tion and may have been a fac­tor in declin­ing prof­its, although cus­tomers have also fault­ed Wal­mart for bad­ly stocked, dis­or­ga­nized stores, unat­trac­tive pro­duce and poor service.
But these cam­paigns did not yield union mem­bers. By fail­ing to orga­nize the retail behe­moth, which pro­vides 8.9 per­cent of jobs in the sec­tor (which in turn employs near­ly 1 in 9 U.S. work­ers), unions lost pow­er to set wage and labor stan­dards. Since 1983, the per­cent­age of retail work­ers who belong to unions has declined by half — to 4.4 percent.
When Schlade­man start­ed work at the UFCW in 2010 on what would become the new Wal­mart strat­e­gy, he tried to learn from work­ers and orga­niz­ers in past cam­paigns, as he explained in an inter­view with In These Times in Decem­ber. First, he con­clud­ed, the cam­paign had to break down the bar­ri­ers iso­lat­ing work­ers from each oth­er, both with­in and among stores. Sec­ond, Wal­mart work­ers want­ed to be ​"front and cen­ter" in the cam­paigns and in solv­ing prob­lems. Third, work­ers had to dis­cov­er the pow­er of col­lec­tive action, pri­mar­i­ly through strikes, which Schlade­man called ​"prob­a­bly one of the most lib­er­at­ing things labor does. Strik­ing — just [the act of] strik­ing — helps build leaders."
Over the next three years, OUR Walmart's key achieve­ment was mobi­liz­ing work­ers to take direct action against the com­pa­ny. OUR Wal­mart mem­bers chal­lenged man­age­ment at both their work­places and at share­hold­er meet­ings in Ben­tonville, Ark., often with work stop­pages, sit-ins or sim­i­lar protests. In the process, effec­tive and com­mit­ted rank-and-file lead­ers emerged.
The cam­paign also won praise for its effec­tive use of online orga­niz­ing. Orga­niz­ers and mem­bers used the web to move work­ers into real­life col­lec­tive protests, build small groups of lead­ers at indi­vid­ual stores, and arrange local and nation­al direct actions. The online con­nec­tions pro­duced more direct, hor­i­zon­tal rela­tion­ships between Wal­mart work­ers than in most unions, which have a more hier­ar­chi­cal organization.
OUR Wal­mart said the cam­paign was just try­ing to make Wal­mart a bet­ter cor­po­rate cit­i­zen, not orga­nize a union. Tech­ni­cal­ly that was true (and tac­ti­cal­ly nec­es­sary, giv­en labor law restric­tions on pick­et­ing employ­ers for long peri­ods). But in spir­it, OUR Wal­mart resem­bled a strong minor­i­ty union, with­out enough votes to win a for­mal union and col­lec­tive bar­gain­ing, but with oth­er tools that could be used to solve work­ers' problems.
The cam­paign wrung sev­er­al con­ces­sions from Wal­mart. Work­ers won a few pilot pro­grams to reduce incon­sid­er­ate sched­ul­ing, and a work­er-led cam­paign to ​"Respect the Bump" yield­ed bet­ter preg­nan­cy accom­mo­da­tions. Accom­pa­nied by pub­lic­i­ty cam­paigns attack­ing the company's stingi­ness and its own­ers' extreme wealth, work­er actions undoubt­ed­ly helped prompt Walmart's deci­sion in April to raise its low­est wages to $9 an hour this year and $10 next year.
Hopes for trans­form­ing Wal­mart — and there­by the whole low-wage econ­o­my — rose among supporters.
OUR Wal­mart is ​"a lit­tle IWW-ish," Schlade­man said in Decem­ber. In their ear­ly 20th-cen­tu­ry hey­day, the Indus­tri­al Work­ers of the World eschewed con­tracts in favor of direct action at work. In OUR Wal­mart, Schlade­man sees a sim­i­lar appetite for mil­i­tant action and a more vig­or­ous involve­ment in the col­lec­tive, hor­i­zon­tal conversation.
At the time, Schlade­man said, OUR Wal­mart was pre­oc­cu­pied with secur­ing its right to exist with­out being attacked all the time: ​"Wal­mart must real­ize OUR Wal­mart is not going away."
But sus­tain­ing an expen­sive cam­paign like OUR Wal­mart is dif­fi­cult with vol­un­tary dues of $5 a month per mem­ber. Schlade­man has since been cut from the UFCW pay­roll but is still work­ing with OUR Wal­mart. And rumors of UFCW with­draw­ing funds have begun cir­cu­lat­ing, although a net­work of pro­gres­sive donors recent­ly pledged mon­ey for OUR Wal­mart to main­tain its work.
If UFCW, the organization's spon­sor, cuts back on OUR Wal­mart, how will man­agers — and work­ers — inter­pret the move?
Crit­ics of the union's focus on OUR Wal­mart believe that broad­en­ing the agen­da to all retail will spread around orga­niz­ing dol­lars more effec­tive­ly, yield­ing more union­ized shops and more dues-pay­ing mem­bers. No orga­niz­ing is easy, but look­ing beyond Wal­mart may pro­vide more real­is­tic tar­gets. In New York — the his­toric strong­hold of the Retail, Whole­sale and Depart­ment Store Union (now a depart­ment with­in UFCW) — UFCW Vice Pres­i­dent and RWD­SU Pres­i­dent Stu­art Appel­baum has over­seen suc­cess­ful orga­niz­ing of cloth­ing bou­tique work­ers, such as clerks at the Swedish-owned ​"cheap chic" H&M stores.
Vic­to­ry at such com­pa­nies will bring new mem­bers but will not nec­es­sar­i­ly trans­form the retail indus­try the way suc­cess at a major chain like Wal­mart or Home Depot could.
The union will almost cer­tain­ly main­tain some spe­cial focus on Wal­mart. ​"Nobody wants to walk away from or aban­don effort on Wal­mart," says one union staffer, who was not autho­rized to speak with reporters. But the union's Wal­mart project ​"will be a more media-focused cam­paign," rely­ing on print and tele­vi­sion ads, says the staffer.
Media buys can be very expen­sive, how­ev­er. Forbes report­ed that UFCW ​"spent six fig­ures" on a Fourth of July ad blitz por­tray­ing Wal­mart as unpa­tri­ot­ic for stash­ing $76 bil­lion in 15 for­eign tax havens. And if past attacks haven't altered Walmart's stance on unions, will more exposés do the trick?
On the oth­er hand, the sweep­ing vic­to­ries of the 1930s and 1960s in indus­tries from auto­mo­biles to health­care sug­gest the val­ue of a sec­tor-wide strat­e­gy for retail. But can one union take on a sec­tor with 16 mil­lion workers?
It starts with the workers
Stephen Lern­er is the archi­tect of SEIU's Jus­tice for Jan­i­tors cam­paign, one of the most suc­cess­ful sec­tor-wide orga­niz­ing efforts of the past three decades. He argues that, with labor hang­ing by a thread, most U.S. unions have gone into defense mode — which only occa­sion­al­ly delays fur­ther slip­page — rather than play­ing offense using cre­ative, large-scale campaigns.
Though most ana­lysts see the ever­shift­ing Wal­mart cam­paign as a defen­sive effort to keep Wal­mart from dri­ving down labor stan­dards at oth­er, union­ized gro­cery chains, Lern­er believes OUR Wal­mart is an exam­ple of a sweep­ing, inno­v­a­tive effort. ​"It's pret­ty impres­sive what work­ers in OUR Wal­mart have achieved so far," he says. He notes that strikes have yield­ed con­crete vic­to­ries and that cre­ative online orga­niz­ing has allowed work­ers to help move peo­ple into action, not sim­ply to ​"scream into the void."
For work­ers to form a union against the will of an indus­try or a big com­pa­ny like Wal­mart requires ​"an enor­mous amount of time" to under­stand the issues, over­come fears, devel­op lead­ers, and for­mu­late a ​"the­o­ry of how to beat the com­pa­ny," which may vary from tar­get to tar­get, Lern­er says. Jus­tice for Jan­i­tors' big break­through, in a 1988 orga­niz­ing cam­paign in Den­ver, came in part from under­stand­ing that tar­get­ing build­ing own­ers, for whom jan­i­to­r­i­al costs are minus­cule, was essen­tial to orga­niz­ing the small, cost­sen­si­tive clean­ing com­pa­nies. ​"There's not one tac­tic or secret sauce to take on an entire indus­try," he says.
As UFCW revis­es or expands its orga­niz­ing mis­sion, it would seem smart to look for ways to apply the strat­e­gy and style of work of OUR Wal­mart — that is, edu­cat­ing and empow­er­ing mem­ber-orga­niz­ers and lead­ers — through­out its retail orga­niz­ing. That includes rec­og­niz­ing the util­i­ty of the inter­net for real orga­niz­ing, break­ing bar­ri­ers and build­ing sol­i­dar­i­ty and expand­ing open, direct, hor­i­zon­tal lines of com­mu­ni­ca­tion among mem­bers and work­place lead­ers. It also includes real­iz­ing the cru­cial role of strikes and direct action in build­ing a sense of col­lec­tive pow­er and com­mu­ni­cat­ing with sup­port­ers and the public.
OUR Wal­mart mem­ber Tyfani Faulkn­er, 32, a high school grad­u­ate from Sacra­men­to who knew noth­ing about the labor move­ment when she took her job, now loves going online to answer ques­tions or solve oth­ers' prob­lems, or to work for leg­is­la­tion or a can­di­date she favors (most recent­ly, Bernie Sanders). Her ​"proud­est moment," she says, was par­tic­i­pat­ing in a two-hour sit-in at Wal­mart this past Novem­ber. OUR Wal­mart has pro­duced many pow­er­ful work­er-lead­ers and vocal pro­gres­sives like Faulkn­er who orga­nize effec­tive­ly — and at no cost.
The emer­gence of lead­ers like Faulkn­er rein­forces the urgency of tak­ing seri­ous­ly Lerner's key advice, which is as sim­ple as it is often ignored: ​"You can't win with­out the workers."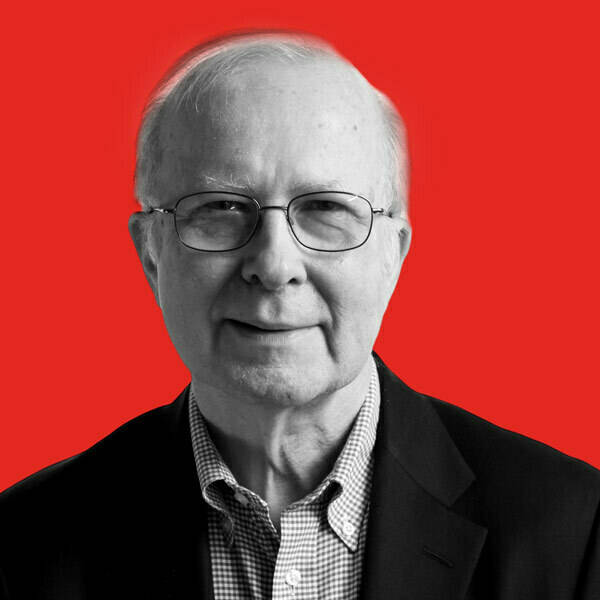 David Moberg, a senior edi­tor of In These Times, has been on the staff of the mag­a­zine since it began pub­lish­ing in 1976. Before join­ing In These Times, he com­plet­ed his work for a Ph.D. in anthro­pol­o­gy at the Uni­ver­si­ty of Chica­go and worked for Newsweek. He has received fel­low­ships from the John D. and Cather­ine T. MacArthur Foun­da­tion and the Nation Insti­tute for research on the new glob­al economy.