Who is Sherrod Brown?
An unabashed progressive takes aim at a Senate seat in Ohio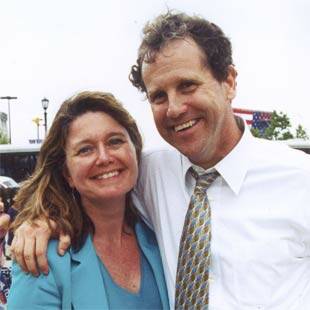 There are two small but reveal­ing items affixed to Ohio's 13th Dis­trict con­gress­man Sher­rod Brown. On his lapel, he wears not an Amer­i­can flag, but a pin of a yel­low bird in a cage. On a Thurs­day morn­ing in Octo­ber, as we leave his office to walk to the Capi­tol for a com­mit­tee meet­ing, Brown hands me a book­mark-sized slip of paper that explains: ​"The canary rep­re­sents the strug­gle for eco­nom­ic and social jus­tice." It recounts how min­ers once took canaries into the mines so that when the birds died, they knew the air was too tox­ic to breathe. ​"Min­ers were forced to pro­vide for their own pro­tec­tion. No mine safe­ty laws. No trade unions able to help. No real sup­port from their gov­ern­ment. … It has been a 100-year bat­tle between the priv­i­leged and the rest of us."
Clipped to Brown's belt is a small blue pedome­ter, one of a pair worn by him and his wife Con­nie Schultz, a Pulitzer-Prize win­ning colum­nist at the Cleve­land Plain Deal­er. He walks, or per­haps more accu­rate­ly, stalks all over Capi­tol Hill, lead­ing with his chest pitched for­ward just slight­ly in a gait that is halfway between a bounce and a prowl. ​"He nev­er takes the ele­va­tor," his spokesper­son Joan­na Kue­bler tells me as we wait for Brown to emerge from a meet­ing with a group of sci­en­tists advo­cat­ing for nuclear dis­ar­ma­ment. When it's time for a vote on the Hill, he eschews the under­ground sub­way that whisks mem­bers from their office build­ings to the Capitol.
Hand­some, with a slight­ly weath­ered face, curly hair and a deep, warm voice, Brown is uni­ver­sal­ly described as ​"down to earth." In per­son he's as unposed as any politi­cian I've ever met. ​"Those are the columns my wife wrote that won the Pulitzer," he says, dump­ing a pile of papers into the lap of Rep. Sher­wood Boehlert, who's wait­ing for the under­ground shut­tle as we trot past. ​"He's a Repub­li­can," Brown whis­pers as we walk away, ​"but I like him. How could I not? He rep­re­sents Cooperstown."
Brown, a huge base­ball fan and an avid ath­lete, will to need to mar­shal every last bit of his con­sid­er­able ener­gy in the next year as he seeks to be become the first Demo­c­ra­t­ic sen­a­tor from the state of Ohio since John Glenn retired in 1998. He faces a pri­ma­ry chal­lenge from Iraq war vet­er­an and Inter­net dar­ling Paul Hack­ett; if he wins the pri­ma­ry, he'll face Repub­li­can incum­bent Mike DeWine, a sen­a­tor with some of the low­est approval rat­ings in the coun­try, but a seat that the Repub­li­cans will zeal­ous­ly defend. With Ohio still the nation's pre­mier polit­i­cal bat­tle­field, the race will be one of next year's most-watched cam­paigns: If a bedrock eco­nom­ic pop­ulist like Brown can win in a red state, it will explode the post-Clin­ton con­ven­tion­al wis­dom that any­thing resem­bling ​"class war­fare" is a non-starter for the Democrats.
But Brown's deci­sion to enter the race after first say­ing he wouldn't prompt­ed parox­ysms of recrim­i­na­tion and anger in the blo­gos­phere. ​"Brown's inde­ci­sion cre­at­ed an ugly and total­ly unnec­es­sary scene," wrote blog­ger Lind­say Bey­er­stein, one of Hackett's most promi­nent online sup­port­ers. ​"If he'd declared in the first place, Hack­ett prob­a­bly wouldn't have chal­lenged him for the nom­i­na­tion. Now, there's prob­a­bly going to be a nasty lit­tle pri­ma­ry and last­ing bad blood amongst Ohio Democ­rats. These are very real costs that Brown chose to inflict on his party."
Hack­ett, whom many blog­gers treat like the local boy made good, and who was recent­ly the sub­ject of a glow­ing pro­file in Moth­er Jones titled ​"The Demo­c­rat Who Fought," pro­vides the blo­gos­phere an oppor­tu­ni­ty to prove, unequiv­o­cal­ly, its own influ­ence. ​"The rea­son to sup­port Hack­ett over Brown is sim­ple," wrote Bey­er­stein, ​"if Hack­ett wins (and he can win), the pro­gres­sive blo­gos­phere makes history."
Blog opin­ion on the race is by no means uni­form. Many sup­port Brown, but it's a strange fea­ture of the blo­gos­phere that a new­com­er to pol­i­tics like Hack­ett is wide­ly con­sid­ered a known quan­ti­ty, while Brown, who's spent his entire adult life in pub­lic office, is a mys­tery. One skep­ti­cal blog­ger on the Web site Swing State Project summed up his reser­va­tions with a post titled: ​"Who is Sher­rod Brown?"
Brown lacks the nation­al pro­file of col­leagues like Den­nis Kucinich and Bernie Sanders, but for the dura­tion of his six-and-a-half terms in office, he has been one of Congress's most stal­wart pro­gres­sives. ​"I've known him for many years," says Sanders. ​"What's very clear is that Sher­rod Brown knows which side of the strug­gle he is on." And when Brown's friend John Ryan, exec­u­tive sec­re­tary of the Cleve­land AFL-CIO, says, ​"Sher­rod Brown is one of us," he means it in the lit­er­al, famil­ial sense. Brown's old­er daugh­ter Emi­ly is a union orga­niz­er for SEIU. When I met Brown, Emi­ly had just lost a union elec­tion in a New Jer­sey nurs­ing home. ​"She was crushed," Brown told me. ​"I mean, it's hor­ri­ble. Have you ever sat and watched an elec­tion? They count the votes pub­licly and you can tell with­in 15 votes what's going to hap­pen, and the work­ers are scared. … It's pret­ty depress­ing for the orga­niz­er but it's more depress­ing for the workers."
If Brown had announced a deci­sion to enter the U.S. Sen­ate race over the sum­mer when he was being recruit­ed by the Demo­c­ra­t­ic Sen­ate Cam­paign Com­mit­tee, he like­ly wouldn't be fac­ing a pri­ma­ry chal­lenger and the ​"net­roots," as pro­gres­sive blog­gers have tak­en to call­ing them­selves, would be four-square behind him. But Brown demurred. His first mar­riage had end­ed in divorce, and he was aware of the strain that a cam­paign can place on a rela­tion­ship, par­tic­u­lar­ly a new one. After spend­ing most of his first year of mar­riage in D.C. orga­niz­ing against the Cen­tral Amer­i­can Free Trade Agree­ment (CAF­TA), he and Schultz had not even moved in togeth­er. Brown was prepar­ing for Emily's wed­ding and send­ing Schultz's daugh­ter Caitlin off to col­lege. And there were also ques­tions about how a Sen­ate can­di­da­cy would affect Schultz's job at the Plain Deal­er.
Some Democ­rats, frus­trat­ed with Brown's dither­ing, are con­vinced that he was reluc­tant sim­ply because he wasn't sure he could win. ​"I think he's cau­tious," says one Demo­c­ra­t­ic Hill staffer who knows Ohio pol­i­tics well and sup­ports Brown. ​"I think that's the real rea­son. He val­ues the seat he has and he's only will­ing to give it up if he's got a real­ly good shot at winning."
On August 17, Brown post­ed a let­ter on his Web site GrowOhio​.org, announc­ing he wouldn't run for Sen­ate, and since 17th Dis­trict Con­gress­man Tim Ryan had also declined to run, it looked like the Democ­rats might have trou­ble find­ing a can­di­date. That's when Hack­ett stepped in. The 43-year-old attor­ney gained nation­al atten­tion this sum­mer when he returned from a tour of duty in Iraq to his sub­ur­ban Cincin­nati home and ran in a spe­cial elec­tion to replace the 2nd District's Con­gress­man, Rob Port­man, who'd been appoint­ed Unit­ed States Trade Representative.
At first Hack­ett, who'd nev­er held an office high­er than city coun­cil in a small sub­urb, escaped the atten­tion of the nation­al media and the Demo­c­ra­t­ic Con­gres­sion­al Cam­paign Com­mit­tee. But his cam­paign was fol­lowed avid­ly by blogs, and Democ­ra­cy for Amer­i­ca, which togeth­er raised more than $500,000 and pushed him into the nation­al spot­light. Hackett's cred­i­bil­i­ty to talk about the mis­takes in Iraq, cou­pled with his tough-talk­ing demeanor (he called Bush a ​"son of a bitch" and Rush Lim­baugh a ​"fatass drug addict") made the net­roots swoon. It was like Howard Dean in uni­form. Hack­ett ulti­mate­ly lost the August 2 elec­tion in an over­whelm­ing­ly Repub­li­can dis­trict by just four points. A star, of sorts, was born.
In mid-Sep­tem­ber, Hack­ett start­ed to lay the ground­work for a Sen­ate run and paid Brown a call at his D.C. office. Brown had sup­port­ed Hack­ett dur­ing the spe­cial elec­tion, pay­ing the salary of online orga­niz­er Tim Tagaris and loan­ing Hack­ett his trust­ed polit­i­cal orga­niz­er Dan Lucas. Hack­ett says that in the meet­ing Brown spoke ​"in a gen­er­al way" about sup­port­ing him in the Sen­ate race; Brown says it was clear that he gave no endorse­ment. In either case, the take-away was that Brown wasn't get­ting in the race.
But three weeks lat­er, Brown changed his mind. Schultz was able to make sure his can­di­da­cy wouldn't jeop­ar­dize her job at the Plain Deal­er; Emi­ly was mar­ried; Caitlin had gone off to col­lege; friends and col­leagues kept urg­ing Brown to run; and as Schultz put it, ​"We moved into a real­ly new house where we could open a win­dow with­out a ham­mer, and we both said, ​'There is a real dan­ger here of get­ting too com­fort­able, and we didn't work this hard to get too comfortable.'"
In ear­ly Octo­ber, Brown called both Hack­ett and DeWine to let them know he was in. ​"Telling those two guys," he says, ​"it wasn't the most fun day of my life."
Born to run
Sher­rod Brown was born in Mans­field, Ohio in 1952, the youngest of three sons. His father Charles was a physi­cian. His moth­er Emi­ly hailed from Geor­gia and was an ear­ly sup­port­er of the civ­il rights move­ment, intro­duc­ing her boys to polit­i­cal activism at an young age. Sher­rod was elect­ed pres­i­dent of his high school stu­dent coun­cil. ​"He caused peo­ple a lot of headaches because he was such an activist," says his moth­er. ​"The prin­ci­pal didn't real­ly care for him at all."
In 1970, he and his friends orga­nized a march in Mans­field for the first Earth Day. ​"We did this real­ly cool march and we had a real­ly big crowd," says Brown with pride. ​"But we get down to the square and none of us had thought about what you do when you get down there. We didn't have any speak­ers, and it was like, ​'Oh, shit.' So we just disbanded."
Brown enrolled at Yale, where he split his time between Russ­ian Stud­ies and cam­paign work for lib­er­al can­di­dates, includ­ing George McGov­ern. He so impressed Don Kindt, his local Demo­c­ra­t­ic Coun­ty Chair­man, that the next spring, when Brown was back at Yale fin­ish­ing up his senior year, Kindt called Brown and asked him to run for state rep­re­sen­ta­tive. ​"I remem­ber him call­ing me," says Sherrod's old­er broth­er Charles, who was in Yale Law School at the time. "'You just can't believe this, this is the most excit­ing news. Don Kindt wants me to run!'"
Sher­rod grad­u­at­ed and moved back home, where his father, a Repub­li­can, was ini­tial­ly skep­ti­cal. ​"My dad says, ​'I'm not vot­ing for you, you're too young,'" says Sher­rod. ​"But he helped a lot." Mrs. Brown recruit­ed neigh­bor­hood kids to lick stamps and stuff envelopes in the base­ment of their house, and Charles spent near­ly the whole semes­ter in Mans­field run­ning the cam­paign. By the time the elec­tion rolled around, Sher­rod had knocked on 20,000 doors, near­ly half the house­holds in the dis­trict. In a stun­ning upset, he beat the Repub­li­can incum­bent. She nev­er saw it coming.
In 1982 at age 29, after eight years in the state House, Brown was elect­ed Sec­re­tary of State. He spent two terms in Colum­bus, where his sig­na­ture effort was vot­er reg­is­tra­tion out­reach. He con­vinced McDonald's to print vot­er reg­is­tra­tion forms on their tray lin­ers. ​"You could see vot­er reg­is­tra­tion cards with ketchup and mus­tard on them," he says, ​"and we accept­ed them."
Brown's first elec­toral defeat came in 1990, at the hands of a Hamil­ton Coun­ty Com­mis­sion­er with a fran­chise name: now-scan­dal-rid­den gov­er­nor Bob Taft. Taft's media con­sul­tant was none oth­er than one-time Nixon aide and cur­rent head of Fox News, Roger Ailes. Brown says, ​"It was the worst cam­paign I've ever run." By all accounts the race for gov­er­nor was bru­tal and the ads vicious. At one point, Brown showed up at Taft's cam­paign office and con­front­ed him. The scene quick­ly devolved into a shout­ing match.
After the defeat, Brown moved back to north­east­ern Ohio and jumped into a crowd­ed pri­ma­ry for an open con­gres­sion­al seat near his old home dis­trict out­side Cleve­land. He won the pri­ma­ry and imme­di­ate­ly began a dis­trict-wide bike tour that passed through every town­ship. It worked to great effect. He reports in his first book, Con­gress from the Inside, that in a debate with his oppo­nent late in the race he chal­lenged her to name the high schools in the two largest towns in the dis­trict. She couldn't. He also made a series of promis­es, includ­ing a pledge to pay for his own health care out-of-pock­et until Con­gress passed uni­ver­sal cov­er­age. For the past 13 years, he's kept that pledge, turn­ing down the insur­ance offered to mem­bers and pur­chas­ing his own, until recent­ly, when at the cajol­ing of his wife, he joined her plan.
A Capi­tol story
Brown entered Con­gress at a heady time, one of 110 fresh­men in the most diverse House class in his­to­ry. Bill Clin­ton had end­ed the Democ­rats' exile, and for the first time in more than a decade the par­ty had con­trol of both the White House and Capi­tol Hill. Two years lat­er, of course, after Clinton's health plan had gone down in defeat and Gin­grich had assid­u­ous­ly laid the ground­work for an insur­rec­tion, 54 House seats swung from Democ­rats to Repub­li­cans, end­ing 40 years of Demo­c­ra­t­ic con­trol. Brown bare­ly sur­vived that year's anti-incum­bent sen­ti­ment to return for a sec­ond term to a Con­gress in which, as he wrote in Con­gress from the Inside, the ​"some­times chaot­ic, no-one-seems-to-be-in-charge days of the Demo­c­ra­t­ic major­i­ty were over. A hier­ar­chi­cal, mil­i­tary-like style with one man in charge was in place."
The ​"man in charge" has changed from Newt Gin­grich to Tom DeLay, but for the last decade, life as a Demo­c­ra­t­ic con­gress­man has been frus­trat­ing if not down­right depress­ing. ​"It's Kabu­ki the­ater," says Kue­bler. ​"I stand over here and make a speech. You stand over there and say a speech. Then we pass what the Repub­li­cans want." The major­i­ty rarely allows amend­ments or oppo­si­tion bills to come to a vote, and any Demo­c­ra­t­ic changes to leg­is­la­tion that do make it out of com­mit­tee are prompt­ly gut­ted before reach­ing the floor. Per­haps most mad­den­ing­ly, House Repub­li­cans now hold votes open two to three hours past the cus­tom­ary vot­ing peri­od while they break enough kneecaps to win. In a 2003 op-ed about the Medicare vote, Brown described one Repub­li­can hid­ing in the Demo­c­ra­t­ic cloak­room to avoid the bul­ly­ing of DeLay's enforcers. These votes are, ​"always in the mid­dle of the night," Brown wrote. ​"Always after the press had passed their dead­lines. Always after the Amer­i­can peo­ple had turned off the news and gone to bed."
Despite all this, Brown seems to rel­ish the leg­isla­tive process. When I ask him if he ever feels that being a minor­i­ty-par­ty con­gress­man is an exer­cise in futil­i­ty, he says ​"Well, the one thing about this place is that if you focus on an issue, par­tic­u­lar­ly one that oth­er mem­bers don't know any­thing about, you can real­ly get some­thing done."
One such issue is tuber­cu­lo­sis, the glob­al scourge that infects one third of the world's pop­u­la­tion and kills 2 mil­lion peo­ple every year. After Joanne Carter, the leg­isla­tive direc­tor for the NGO Results, first broached the top­ic of TB with Brown in 1997, he began using his posi­tion as rank­ing Demo­c­rat on the Ener­gy and Com­merce Health sub­com­mit­tee to lob­by for increased fund­ing. He trav­eled with pub­lic health advo­cate Paul Farmer to Haiti and vis­it­ed Siberia, where rates of mul­ti-drug resis­tant TB are fright­en­ing­ly high. ​"It was an issue that was dying for lack of atten­tion," says Carter. ​"He saw that as an oppor­tu­ni­ty. It was kind of an ego-less thing. It wasn't about ​'this is my issue,' it was more: ​'Who can I work with to get more resources for this and make sure the resources get bet­ter spent'" In 1997 Con­gress appro­pri­at­ed no funds for com­bat­ing glob­al TB and today it bud­gets more than $90 mil­lion. ​"He cer­tain­ly deserves some of the cred­it for that," says Carter. ​"He helped cre­ate atten­tion for this out of nothing."
Oth­er than pub­lic health, the issue for which Brown is best known has been his ener­getic and sus­tained oppo­si­tion to the free trade agree­ments pushed by both the Clin­ton and Bush White Hous­es. In his sec­ond book, The Myths of Free Trade, Brown argues that "[a]n unreg­u­lat­ed glob­al econ­o­my is a threat to all of us," from ​"the child in Avon Lake, Ohio, who eats rasp­ber­ries grown in Guatemala by poor­ly paid farm­ers who use pes­ti­cides banned in the Unit­ed States," to ​"the Chi­nese prison camp laborer."
As wages in the Unit­ed States have con­tin­ued to stag­nate and the trade deficit explodes, free-trade agree­ments face stiffer oppo­si­tion among Democ­rats. While NAF­TA passed with sup­port from 40 per­cent of Democ­rats in the House, CAF­TA passed with the sup­port of only 7 percent.
For almost all of the last year, Brown was in D.C. coor­di­nat­ing the effort to block CAF­TA, which will cre­ate a NAF­TA-like ​"free-trade" agree­ment between the Unit­ed States, El Sal­vador, Nicaragua, Guatemala, Hon­duras, Cos­ta Rica and the Domini­can Repub­lic. While cor­po­rate Amer­i­ca pushed the bill hard with talk of open­ing mar­kets, Brown point­ed out that the com­bined pur­chas­ing pow­er of the coun­tries includ­ed in the agree­ment was rough­ly equiv­a­lent to Colum­bus, Ohio. He argues that it was cheap labor that CAFTA's cor­po­rate sup­port­ers were real­ly after. The agree­ment was also loaded with intel­lec­tu­al prop­er­ty pro­tec­tions for big Amer­i­can cor­po­ra­tions, but includ­ed no seri­ous labor or envi­ron­men­tal standards.
In an op-ed pub­lished on July 24, four days before the vote, Brown pre­dict­ed, ​"If the House of Rep­re­sen­ta­tives pass­es the Cen­tral Amer­i­can Free Trade Agree­ment, it will take place in the mid­dle of the night, the nor­mal 15-minute roll call will be extend­ed to about three hours so that House lead­ers can twist arms, and the leg­is­la­tion will pass by one or two votes." He was exact­ly right: The bill passed 217 to 215, in an extend­ed vote that gaveled closed just three min­utes after mid­night. One hun­dred eighty-sev­en Democ­rats vot­ed against the bill, joined by 27 Repub­li­cans. (Accord­ing to The Hill, the 15 Democ­rats who vot­ed for the bill have since reaped their rewards. Pro-CAF­TA busi­ness inter­ests have host­ed more than a dozen fundrais­ers on their behalf.)
'

A nasty lit­tle primary'?

One online orga­niz­er famil­iar with Hack­ett told me that if pri­ma­ry vot­ers thought the race was going to be decid­ed by Iraq, they'd be inclined to vote for Hack­ett, where­as if they thought it would come down to domes­tic issues, they'd vote for Brown. Hackett's recent ser­vice does give him unde­ni­able cred­i­bil­i­ty on Iraq. But Sher­rod Brown is no John Ker­ry when it comes to the war. He has been an out­spo­ken crit­ic from its incep­tion, and he vot­ed against grant­i­ng the pres­i­dent author­i­ty to wage it. In ear­ly 2003, as the Unit­ed States massed troops and U.N. inspec­tors were allowed to return, Brown co-wrote a let­ter to the pres­i­dent, signed by 133 oth­er mem­bers of Con­gress, affirm­ing their belief that the ​"U.S. should make every attempt to achieve Iraq's dis­ar­ma­ment through diplo­mat­ic means and with the full sup­port of our allies."

Inspired by a biog­ra­phy of John Quin­cy Adams that described his prac­tice of read­ing let­ters of con­stituents opposed to slav­ery, Brown took to the House floor near­ly every night to read let­ters from con­stituents oppos­ing the war. As the war has dragged on, he vot­ed for some sup­ple­men­tal fund­ing, but repeat­ed­ly called for a fuller account­ing by the admin­is­tra­tion of both the mis­takes lead­ing up to the war and the bil­lions of dol­lars that con­tin­ue to be unac­count­ed for. He's cur­rent­ly a co-spon­sor of a bi-par­ti­san bill call­ing for the pres­i­dent to present a plan for with­draw­al by Decem­ber 31 and to begin remov­ing troops by next October.

Hack­ett says that because Brown vot­ed for the Iraq Lib­er­a­tion Act of 1998, which expressed ​"the sense of Con­gress" that the Unit­ed States should ​"sup­port efforts to remove the régime head­ed by Sad­dam Hus­sein from pow­er in Iraq" and ​"pro­mote the emer­gence of a demo­c­ra­t­ic gov­ern­ment to replace that régime," Brown vot­ed for the war. ​"How do you do régime change with­out inva­sion?" Hack­ett asks. ​"Did he think Tin­ker­bell was going to come down from out­er space and wave her mag­ic wand? I don't think so. Guys like me have to go in and do that. Sher­rod Brown vot­ed for régime change; he vot­ed for mil­i­tary inter­ven­tion in Iraq."

But the text of the bill itself explic­it­ly con­tra­dicts that log­ic. ​"Noth­ing in this Act," it reads, ​"shall be con­strued to autho­rize or oth­er­wise speak to the use of Unit­ed States Armed Forces" with the excep­tion of train­ing and weapons for Iraqi oppo­si­tion groups. If Hackett's stan­dard is to be applied, then Bernie Sanders and Den­nis Kucinich, who both vot­ed for the bill, and Ted Kennedy and the late Paul Well­stone, who were in the Sen­ate where it passed unan­i­mous­ly, are all pro-war.

Brown could hard­ly believe Hackett's asser­tion. ​"Paul's fail­ure to make a dis­tinc­tion between some­thing like that and a vote to attack a sov­er­eign coun­try shows either his inex­pe­ri­ence or his will­ing­ness to say any­thing to get elect­ed," Brown said. ​"My posi­tion on the war has been con­sis­tent. Over the last three months, from his con­gres­sion­al race to now, he's had three posi­tions. I think he's decid­ed the only way for him to win is to be the most anti­war can­di­date, but he's danced too much for that."

Dur­ing his cam­paign in the 2nd Dis­trict, Hack­ett firm­ly opposed calls for with­draw­al, say­ing, like Bush, that the Unit­ed States could not ​"cut and run." On Octo­ber 19 Democ­ra­cy for Amer­i­ca sent out an e‑mail from Hack­ett ask­ing recip­i­ents to sign a pledge that they would only sup­port can­di­dates who "[a]dvocate for a respon­si­ble exit plan with a time­line." Yet when I inter­viewed Hack­ett in ear­ly Novem­ber, he called con­gres­sion­al requests for a man­dat­ed time­line ​"absolute­ly ludi­crous," and said instead it was the role of Con­gress to ​"pres­sure the exec­u­tive branch to issue the order to the Pen­ta­gon to devel­op the plan to with­draw the troops."

More than sub­stan­tive dif­fer­ences on the issues, those sup­port­ing Hack­ett seem most seduced by his blunt man­ner. ​"I'm sure Brown would win my sup­port if it were based sole­ly on a check­list of issue posi­tions," wrote one com­menter on Beyerstein's blog Majik­thise. ​"But the thing about Hack­ett, besides the mere­ly neat and cool net­roots stuff, is that the guy's got pizazz. I mean it. Pizazz counts. PH is a straight shootin', hairy chest­ed, bare knuck­led, ​'bite me' war vet [sic]."

Brown, who's been inti­mate­ly con­nect­ed to the pro­gres­sive grass­roots for the entire­ty of his career, evinces more than a lit­tle baf­fle­ment at the por­tion of the new blog con­stituen­cy that has been lob­bing rhetor­i­cal hand grenades in his direc­tion. ​"My wife says it's like when you have a cold sore, you keep run­ning your tongue over it," Brown says. ​"I keep telling her, ​'Con­nie, stop read­ing the blogs!' But she can't help herself."

But Brown's a shrewd cam­paign­er, and seems to grasp the poten­tial of online orga­niz­ing. Back in June, he start­ed GrowOhio​.org, a ​"com­mu­ni­ty-based project with the goal of empow­er­ing the grass­roots of Ohio's Demo­c­ra­t­ic Par­ty." Upon enter­ing the race, his cam­paign took out blog ads announc­ing his can­di­da­cy on all of the top pro­gres­sive blogs. He also hired Jerome Arm­strong, for­mer­ly of MyDD, and one of the orig­i­nal net­roots gurus. He even post­ed a help want­ed ad on the blogs seek­ing a cam­paign Web man­ag­er. ​"Hack­ett start­ed out with an edge in the blogs," Brown tells me, ​"but we should have that neu­tral­ized soon."

Part of the rea­son for all of the ran­cor in the ear­ly stages of the pri­ma­ry is that the even­tu­al oppo­nent, two-term Sen­a­tor Mike DeWine, seems so tan­ta­liz­ing­ly beat­able. Sur­vey USA ranks DeWine in 97th place among sen­a­tors, with a 45 per­cent approval rat­ing. In June, DeWine's own party's vot­ers offered him a sting­ing rebuke, when his son Pat fin­ished fourth in the Repub­li­can pri­ma­ry for the spe­cial elec­tion for Ohio's 2nd Dis­trict. Many observers viewed this as fall­out from the base's anger at DeWine for his role in the so-called Gang of 14, who stopped the GOP from car­ry­ing out its threat to use the ​"nuclear option" to get rid of the fil­i­buster. In a recent Colum­bus Dis­patch poll, Brown was ahead of DeWine 35 to 31. In the same poll, Hack­ett was down a point in a head-to-head match-up with DeWine, but ear­li­er polls, with­out Brown, also had Hack­ett beat­ing DeWine.

Hack­ett argues that with his mil­i­tary ser­vice and pro-gun stances he will be immune from the God, guns and gays cam­paign that Repub­li­cans pull out of the draw­er for every race against Democ­rats these days. ​"2006 won't be the year of musi­cal chairs for career politi­cians," he says. ​"At the risk of sound­ing over­ly impressed with los­ing the race in the 2nd Dis­trict, I demon­strat­ed I can cut deeply into Repub­li­cans and independents."

Brown believes his long pro­gres­sive record will help rather than hin­der. ​"For 10 years I won in a con­gres­sion­al dis­trict that was slight­ly Repub­li­can," Brown says. ​"I think that vot­ers that don't agree with me on some issues will still say, ​'Brown's on my side.' On eco­nom­ic issues I'm clear­ly not just in the main­stream, but in the great major­i­ty. The over­whelm­ing num­ber of peo­ple think the drug com­pa­nies, the oil com­pa­nies and the insur­ance com­pa­nies rip Amer­i­cans off. They don't like the Medicare bill, they want a min­i­mum wage increase and they think our trade agree­ments hurt our coun­try. On every one of those issues, I beat DeWine."

"I'll debate those with anybody."
Christo­pher Hayes
is the host of MSNBC's All In with Chris Hayes. He is an edi­tor at large at the Nation and a for­mer senior edi­tor of In These Times.