Who Killed Adulthood?
Feminism stands wrongly accused.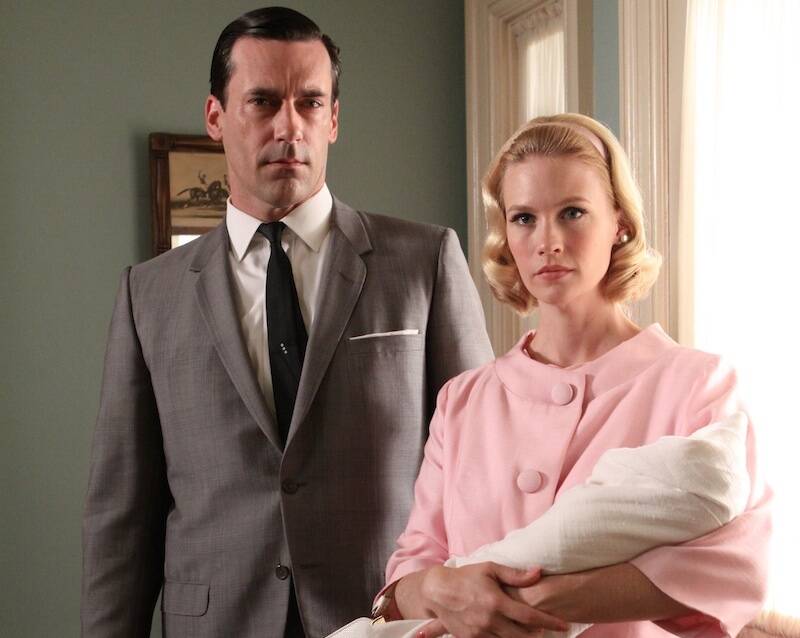 Adult­hood is dead. And fem­i­nism killed it. This, any­way, is the ver­dict of a long — and, frankly, pret­ty fas­ci­nat­ing — essay by A.O. Scott in last week's New York Times Mag­a­zine. The essay lopes and ram­bles through every imag­in­able ter­ri­to­ry of pop cul­ture, from pres­tige TV series about the deaths of fic­tion­al patri­archs (Break­ing Bad, The Sopra­nos, and, if the fan the­o­ries that Scott cites are cor­rect, Mad Men) to the fiery Inter­net back­lash that met crit­ic Ruth Graham's recent asser­tion in Slate that adults ​"should feel embar­rassed about read­ing lit­er­a­ture for chil­dren," stop­ping to take in Leslie Fiedler, Tay­lor Swift and Broad City.
Adulthood isn't an inevitability; it's an ideal. And it's a feminist ideal, too, which is perhaps why it's been so fiercely repressed, for so long, by pop culture.
Scott asserts, ​"The best and most authen­tic cul­tur­al prod­ucts of our time … imag­ine a world where no one is in charge and no one nec­es­sar­i­ly knows what's going on, where iden­ti­ties are in per­pet­u­al flux. Moth­ers and fathers act like teenagers; lit­tle chil­dren are wise beyond their years."
Now, I'll admit: The day before I read Scott's essay, I actu­al­ly found myself cry­ing because my life had con­tained so few of the rites of pas­sage I'd once envi­sioned as con­sti­tut­ing ​"adult­hood." I don't have kids, or a retire­ment plan, or real estate. I didn't fore­see those ever being real­is­tic pos­si­bil­i­ties. Like Peter Pan in reverse, I found myself curs­ing the fact that I couldn't grow up. Which is to say, I think Scott's large­ly right. Adult­hood, par­tic­u­lar­ly for peo­ple of my gen­er­a­tion ("mil­len­ni­als," if you can bring your­self to use that word; I'm at the old­er end of the curve) is dead, or at least on life support.
But the online sub-hed tells a dif­fer­ent sto­ry: It adver­tis­es the piece as ​"chart­ing the final, exhaust­ed col­lapse of the adult white male." Scott's the­sis is not just that behav­ing like a grown-up is increas­ing­ly out­ré, but that the era of stern, con­trol­ling, author­i­ta­tive father-fig­ures — the patri­archs who sup­pos­ed­ly made up the patri­archy — is ending.
And then there's the part where he says women have had to be ​"grown-ups" by virtue of civ­i­liz­ing, tam­ing, and pro­vid­ing domes­tic com­forts for male hus­bands. He goes on to con­flate wom­en's pow­er with their infan­tiliza­tion: ​"Just as the men passed through the stage of sin­cere rebel­lion to arrive at a stage of infan­tile refusal, so, too, have the women pro­gressed by means of regres­sion. After all, tra­di­tion­al adult­hood was always the rawest deal for them."
Scott seems to think that the entire struc­ture of grow­ing up hinged around either being Dad­dy or mar­ry­ing him; that, with­out ​"adult" men call­ing the shots, we've dete­ri­o­rat­ed a bunch of Apa­tov­ian child-men, and, increas­ing­ly, equal­ly stoned and unse­ri­ous girl-women, such as those who pop­u­late Broad City and Girls. He paints a mer­ry and per­pet­u­al­ly child­like free-for-all, trad­ing cer­tain­ty and matu­ri­ty for diver­si­ty and freedom.
While I may agree with Scott on the death of adult­hood, I dis­agree about what killed it, and whether that death ben­e­fits women — or even rep­re­sents ​"free­dom" at all.
Under West­ern patri­archy, fem­i­nin­i­ty has been con­strued as a per­pet­u­al child­hood. The idea goes back to Vic­to­ri­an ideals of True Wom­an­hood, but it's been per­pet­u­at­ed through the ages, from Bet­ty Crock­er house­wives to Bare­ly Legal porn: ​"Ide­al" women, which is to say white and wealthy ones, were sup­pos­ed­ly del­i­cate, emo­tion­al, inno­cent. Like chil­dren, they cried eas­i­ly, were effu­sive about the things they liked, had naïve ideas about the world. Like chil­dren, they could not work or vote; we couldn't be entrust­ed with such heavy adult respon­si­bil­i­ties. They were finan­cial­ly and phys­i­cal­ly depen­dent upon adult care­tak­ers, name­ly fathers or hus­bands. They need­ed pro­tec­tion; they were charged with obe­di­ence. They got allowances, and when they were good girls, presents. Oh, gosh, a dish­wash­er? All for me?! Mean­while, women exclud­ed from this ​"ide­al" — women of col­or and work­ing-class women, who actu­al­ly did have to work, and deal with the world's harsh­er real­i­ties — were cast as ​"unfem­i­nine," and there­fore appro­pri­ate tar­gets for male sex­u­al pre­da­tion and exploitation.
Much of fem­i­nism, then, has been about insist­ing that women can be adults, able to shoul­der the same bur­dens as those for­bid­ding, grey-faced patri­archs. It's been about insist­ing that women can and should do the hard stuff: Get full edu­ca­tions, vote, work, make tough choic­es and wran­gle with dif­fi­cult ideas, become politi­cians and bosses.
By con­trast, for priv­i­leged white men, ​"adult respon­si­bil­i­ty" seems to feel like a grim inevitabil­i­ty, the death of boy­hood fun and games. The worlds of lit­er­a­ture and film, from Peter Pan to Knocked Up, are lit­tered with male fan­tasies about ditch­ing it all and liv­ing in a life­long respon­si­bil­i­ty-free playpen, per­haps with a wife or Wendy-lady to clean up your mess­es and make sure you get din­ner on time. It's true that there's noth­ing inher­ent­ly fun about work­ing a 60-hour week or bal­anc­ing your check­book. But white men were (and are) priv­i­leged enough to ignore the trade-off that many fem­i­nists took as axiomat­ic, that sac­ri­fic­ing fun meant gain­ing auton­o­my — access­ing deci­sion-mak­ing pow­er and finan­cial resources with­out ask­ing Dad­dy for extra allowance or promis­ing to be a good girl if he let you stay out late.
Fem­i­nism not only refut­ed the idea that women were nec­es­sar­i­ly light-mind­ed and irre­spon­si­ble, but also that such ​"fem­i­nine" qual­i­ties were nec­es­sar­i­ly enjoy­able for the women in ques­tion, or that they were the only way to earn love: As women from Mary Woll­stonecraft onward have argued, the child­like and friv­o­lous ​"ide­al" woman was a case of some­one whose devel­op­ment had been inten­tion­al­ly arrest­ed, a human being who'd been warped and pruned like a bon­sai tree into a dec­o­ra­tive minia­ture person.
Which is to say: If Scott's cen­tral death-of-adult­hood text Mad Men por­trays the end of Don Drap­er, and patri­archs like him, it also por­trays the end of Bet­ty Drap­er, the 36-year-old-going-on-10-year-old who demon­strates bet­ter than any fic­tion­al char­ac­ter I can name the hor­ror that results when a woman is not per­mit­ted to grow up. Fem­i­nism is a his­tor­i­cal move­ment devot­ed to oppos­ing arrest­ed devel­op­ment in women. It seems unlike­ly that fem­i­nism has caused it.
And yet, here we are, in a cul­tur­al moment in which arrest­ed devel­op­ment is not only the norm, but quite pos­si­bly the ide­al, for both gen­ders. Adults read books for chil­dren (The Fault in Our Stars, The Hunger Games), lis­ten to music for chil­dren (One Direc­tion, Ari­ana Grande), and watch children's movies (Dis­ney fairy-tale adap­ta­tions, Mar­vel com­ic-book adap­ta­tions) and children's tele­vi­sion (Pret­ty Lit­tle Liars, Doc­tor Who). We buy our­selves video games and toys; we share pas­sion­ate opin­ions on how to inter­pret Malef­i­cent or how much we iden­ti­fy with Kat­niss or which Hog­warts house we are or what one ought to think of Tay­lor Swift. (Please note: I have done all of these things, often pub­licly.) Thanks to pop culture's nos­tal­gia cycle, peo­ple in their twen­ties and thir­ties are able to live through end­less­ly repeat­ed loops of their own child­hood plea­sures: If, as a 6‑year-old, I adored My Lit­tle Pony, I can still watch it now, in its new and more crit­i­cal­ly acclaimed ver­sion My Lit­tle Pony: Friend­ship Is Mag­ic. If, as a 10-year-old, I roller-skat­ed around my garage lis­ten­ing to Amy Grant and Mari­ah Carey, I can now lis­ten to Haim and Grande, who put tremen­dous amounts of ener­gy and pro­fes­sion­al­ism into sound­ing exact­ly like the Amy Grant and Mari­ah Carey records I once owned.
What's more, we react angri­ly to the idea that there's any­thing weird about this. In 1989, it wouldn't have been unusu­al or rude to sug­gest that a child­less 30-some­thing who knew plot details from Sweet Val­ley High nov­els or The Lit­tle Mer­maid, or who had a favorite mem­ber of New Kids on the Block, was a bit of an odd duck. In 2014, the dis­ap­proval and accu­sa­tions of being a mis­fit are more like­ly to be aimed at peo­ple who don't know much about YA nov­els, Dis­ney movies or boy bands, or who express dis­taste for them. The blunt-force rage aimed at Gra­ham for sug­gest­ing that adults ought to stick to books for adult audi­ences is a mat­ter of record. You could also look to the fiery back­draft that hit Saul Austerlitz's essay ​"The Per­ni­cious Rise of Pop­ti­mism," in which he had the temer­i­ty to ask, ​"Should gain­ful­ly employed adults whose job is to lis­ten to music thought­ful­ly real­ly agree so reg­u­lar­ly with the taste of 13-year-olds?"
As plen­ty of peo­ple were hap­py to inform Auster­litz, there is no such thing as ​"the taste of 13-year-olds" in 2014; there is only main­stream taste. And, while music in par­tic­u­lar has long been dri­ven by teenagers — look no fur­ther than Beat­le­ma­nia — there is, indeed, cause for con­cern when not only music, but movies, tele­vi­sion, and lit­er­a­ture are all cen­tered around nar­ra­tives writ­ten to be so sim­ple that a child can under­stand them. Our belief in putting aside child­ish things — the idea that kids can and should enjoy enter­tain­ment cen­tered around their expe­ri­ences, but that part of the fun of get­ting old­er was being grant­ed access to riski­er, more com­plex, more chal­leng­ing plea­sures; or, to be quite blunt, our belief that there's some­thing a lit­tle creepy about adults get­ting pas­sion­ate­ly invest­ed in shar­ing 11-year-olds' lifestyles and tastes if they're not cur­rent­ly rais­ing 11-year-olds them­selves — has decayed, as we've giv­en up the idea that child­hood and adult­hood are sep­a­rate spheres, with sep­a­rate sources of fun.
So what hap­pened? Well: Rather than fem­i­nism, it prob­a­bly has a lot more to do with the fact that the entire struc­ture of ​"adult­hood" evap­o­rat­ed just as peo­ple my age were sup­posed to be walk­ing through the door.
The lega­cy of the Great Reces­sion of 2008 has yet to be ful­ly processed. But one of its most last­ing impacts will no doubt stem from the fact that many col­lege stu­dents and recent grad­u­ates — peo­ple who were just start­ing to build the careers and finan­cial auton­o­my that would have allowed us ​"adult" lives — were sud­den­ly faced with an econ­o­my in which get­ting a steady job was unlike­ly. Even if you were priv­i­leged or lucky enough to be able to afford a col­lege edu­ca­tion, com­pa­nies' increas­ing reliance on unpaid intern­ships meant that build­ing a career was a mat­ter of being able to work for free after you grad­u­at­ed: Increas­ing­ly, only the chil­dren of the very wealthy were able to make the choic­es and secure the entry-lev­el jobs that might lead to ​"adult" auton­o­my down the line. As a result, we saved mon­ey by liv­ing with our par­ents far longer than pre­vi­ous gen­er­a­tions. The finan­cial expense of a wed­ding — or the respon­si­bil­i­ty of ask­ing anoth­er per­son to rely on you for the rest of their life — was not some­thing one could rea­son­ably embrace, if one were uncer­tain about mak­ing rent or hav­ing a job in six months' time. Sim­i­lar­ly, pro­vid­ing for a child was laugh­able if you couldn't even reli­ably pro­vide for your­self. And buy­ing a house? In today's mar­ket? For­get it.
My gen­er­a­tion didn't choose child­hood. Child­hood chose us, or rather, it refused to let us go. We stayed ado­les­cent because post-ado­les­cent respon­si­bil­i­ties were nev­er grant­ed to us. We were trapped in Nev­er­land, and soon­er or lat­er, we resigned our­selves to just hav­ing fun. But the his­tor­i­cal shock rearranged the pop-cul­ture land­scape in unex­pect­ed ways: For exam­ple, it once made at least some sense for the pro­duc­ers of pop cul­ture to con­cen­trate on the expe­ri­ences and tastes of teenagers and ear­ly twen­ty-some­things, because they were like­ly to be the con­sumers with time and mon­ey for enter­tain­ment. Teens were expect­ed to have allowances, and younger twen­ty-some­things were expect­ed to have jobs but not major finan­cial respon­si­bil­i­ties like mort­gage pay­ments or car­ing for chil­dren. Now, the finan­cial real­i­ties have changed. Twen­ty-some­things are often bur­dened with heavy stu­dent debt; buy­ing CDs and DVDs, rather than stream­ing or down­load­ing them, is an old man's game. But so have the social real­i­ties. We get old­er and old­er, but our lifestyles stay the same age; and, not hav­ing the means to make heavy invest­ments, we still pay for lit­tle things, like con­certs and movie tick­ets. Yet the cul­ture con­tin­ues to con­ceive of its core audi­ence as com­prised of teens and 22-year-olds, and we, hun­gry for dis­trac­tion and trained to con­sume, keep eager­ly pur­chas­ing accounts of a time in our lives that is fast fad­ing in the rearview mir­ror. I sus­pect it hap­pens, at least in part, because tun­ing out would be equiv­a­lent to admit­ting that we were actu­al­ly get­ting old­er; and, if you don't accrue accom­plish­ments as you age, get­ting old­er just feels like run­ning out of time.
Mean­while, the actu­al ado­les­cents com­ing up behind us are being raised to be more adult than we are, to sur­vive with­in the new, more hos­tile econ­o­my. They're build­ing up the resumes and intern­ships and cred­its, equip­ping them­selves to deal with a world in which employ­ment is a priv­i­lege rather than a right. Fif­teen-year-olds are expect­ed to have viable career plans, but 25-year-olds aren't expect­ed to have viable careers. Chil­dren have lost their priv­i­lege of irre­spon­si­bil­i­ty and exper­i­men­ta­tion, and adults have lost their priv­i­leges of auton­o­my and self-deter­mi­na­tion. The dis­tinc­tion between the age groups has col­lapsed, and tak­en the fun of both ages out with it. But, hey: At least we all watch the same cartoons.
For women, par­tic­u­lar­ly, the loss of adult­hood can feel cat­a­stroph­ic: The auton­o­my we need is hard­er than ever to attain, the strug­gle against being treat­ed like chil­dren is lost in a cul­tur­al moment where child­like behav­ior is what's expect­ed and desired. White men can enter­tain Peter Pan fan­tasies because, for them, ​"adult­hood" has always been implic­it­ly about gain­ing pow­er and respect; for a man to stay boy­ish and irre­spon­si­ble for­ev­er is not exact­ly becom­ing (Lord knows I don't like the thought of a world where men are encour­aged to be less account­able for their behav­ior) but it's also not rein­forc­ing any ideals about men's inher­ent weak­ness and inabil­i­ty to suc­cess­ful­ly take on lead­er­ship roles. When women are encour­aged to stay child­like, we're being guid­ed back toward the same age-old ideals of women as friv­o­lous, feath­er-head­ed plea­sure-seek­ers, ​"adorable" because we require out­side guid­ance and cod­dling in order to sur­vive. We rein­force the idea that a woman's only real val­ue lies in her youth or her abil­i­ty to sim­u­late it.
And for every good-humored, provoca­tive, sub­ver­sive pic­ture of female imma­tu­ri­ty — say, Broad City, which Scott cites in his piece — there are sev­er­al oth­er images that serve up the old stereo­types with­out irony, rang­ing from the mere­ly frus­trat­ing (Tay­lor Swift, a woman in her mid-20s whose brand still requires her to gush about how much she loves kit­ties and slum­ber par­ties) to the sex­ist and even harm­ful (the pro­found­ly uncom­fort­able sexy-10-year-old aes­thet­ic of Ari­ana Grande, who is made to dress and move like a severe­ly dis­turbed mid­dle-aged man's idea of an ado­les­cent girl even as she enters her twen­ties). As for fic­tion­al char­ac­ters, we have Jess from New Girl, a wide-eyed, baby-voiced incom­pe­tent who's sold as ​"adork­able," or, this fall, Eliza on the ABC sit­com Self­ie, a woman who's reduced to beg­ging a man to teach her how to be seri­ous and com­pas­sion­ate, with lines like ​"you don't like me? Change me!" spo­ken in full earnest­ness. In what seems like a very 2014 moment, becom­ing more ​"lik­able" for Eliza doesn't involve read­ing Russ­ian lit­er­a­ture, watch­ing the news, or vol­un­teer­ing at a soup kitchen; it means get­ting a ​"make-under" from a gag­gle of pas­tel-clad women who per­form impromp­tu ukelele cov­ers of Lady Gaga.
If you haven't guessed, I'm firm­ly #Tea­mAdult: The pow­ers and plea­sures of wom­an­hood, as opposed to girl­hood, the right for women to age and devel­op, to become more com­plex and expe­ri­enced and world­ly wise, are those that I par­tic­u­lar­ly crave. Adult­hood means gain­ing your own trust and respect, and the trust and respect of oth­ers; it means being able to take the hard parts of life head-on. The spe­cif­ic plea­sures of adult­hood — being able to take risks, to be self-deter­mined and account­able for your own deci­sions, to be sex­u­al­ly and finan­cial­ly autonomous, to accu­mu­late knowl­edge, respon­si­bil­i­ty, and pow­er — are pre­cise­ly the plea­sures that women have always been denied. Youth is won­der­ful, and deserves respect and pro­tec­tion. But every­one gets to be young once. There are peo­ple in their six­ties who aren't adults yet. Adult­hood isn't an inevitabil­i­ty; it's an ide­al. And it's a fem­i­nist ide­al, too, which is per­haps why it's been so fierce­ly repressed, for so long, by pop culture.
Yet it's not as if the cul­ture is devoid of role mod­els for female adult­hood: The weath­ered irony of Fiona Apple, the cool­ly intel­lec­tu­al art-school odd­i­ty of FKA twigs, and the mature, con­fi­dent sex­u­al­i­ty of Bey­once all seem deci­sive­ly adult to me. Orange Is the New Black spends a tremen­dous amount of time talk­ing about grown-up, mid­dle-aged and old women, eras­ing nei­ther their sex­u­al­i­ty nor their fal­li­bil­i­ty. There is per­haps no more adult pub­lic fig­ure than Hillary Clin­ton, although you couldn't exact­ly get away with call­ing Michelle Oba­ma or Eliz­a­beth War­ren ​"girls" either. If the old adult­hood is dead, there's still a chance that we can cre­ate a new one: some­thing that rec­og­nizes the cul­tur­al lim­bo in which we exist, the absurd­ly abbre­vi­at­ed child­hoods and pro­longed ado­les­cences we all endure, and still grants some spe­cial safe­ty and respect to youth, and some spe­cial desir­abil­i­ty to expe­ri­ence and matu­ri­ty. We can't grow up to be our par­ents. But we can still grow up. And that's the one good thing I can pull from this: No mat­ter what adult­hood looks like, once we've adapt­ed, it will look new. And with tra­di­tion­al mod­els of all-pow­er­ful mas­culin­i­ty killed off, we will have the chance to rebuild fem­i­nin­i­ty in a more pow­er­ful and fierce­ly grown-up image than ever before.