Who's Afraid of Valerie Jarrett?
Criticisms of Jarrett reveal gender and racial anxieties--and a rift in Democratic Party.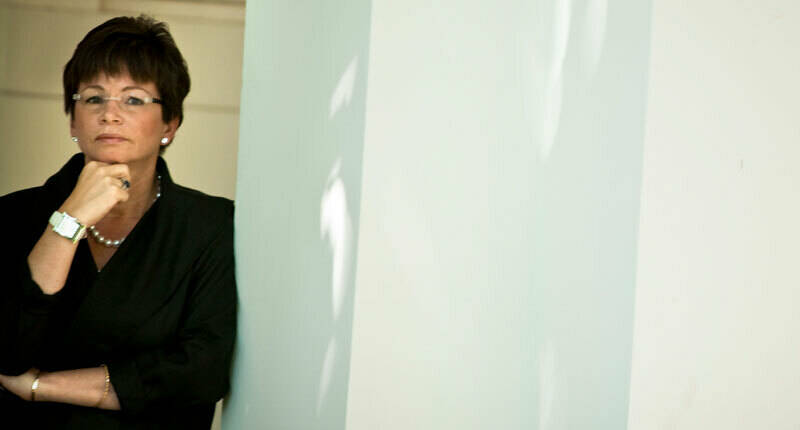 Valerie Jar­rett is, one could argue, the sec­ond most pow­er­ful per­son in Wash­ing­ton. How she rose to that posi­tion is no secret: Jar­rett, a Chica­go civic leader, has cham­pi­oned Barack Oba­ma since they met in 1991. She intro­duced him to her pro­fes­sion­al net­work, she advised him on his career choic­es, and when as an Illi­nois State sen­a­tor he suc­cess­ful­ly ran for U.S. Sen­ate and then for pres­i­dent, she went to the mat for him, telling all who would lis­ten why he was worth sup­port­ing, even when they had strong ini­tial reser­va­tions. In turn, Oba­ma has come to depend on her polit­i­cal opin­ion and judg­ment. ​"I trust her com­plete­ly," he has said.
What she represents is what the future looks like, and where the Democratic Party, as well as the nation, is going.
After he was elect­ed in 2008, Oba­ma named Jar­rett a ​"senior advi­sor." As such, she trav­els with the pres­i­dent at will. And she is free to involve her­self in and com­ment on all things.
So it is unsur­pris­ing that since she came to Wash­ing­ton, rivals for the president's ear have slot­ted Jar­rett into sev­er­al arche­typ­al roles — the Bad Boss, the Devot­ed Wife, the Omi­nous For­eign­er — all of which seem designed, pret­ty explic­it­ly, to avoid acknowl­edg­ing that she might be very good at her job: advis­ing Barack Obama.
But a dis­pas­sion­ate look at the record indi­cates that Jar­rett has giv­en the pres­i­dent some very valu­able advice. Pres­i­dent Oba­ma is the first pres­i­dent in Amer­i­can his­to­ry to take a stand in favor of equal mar­riage rights for same-sex cou­ples. Jar­rett is con­sid­ered as the best White House ally of the gay com­mu­ni­ty and a major force behind that deci­sion. She is cred­it­ed with ​"strong­ly encour­ag­ing" Oba­ma, dur­ing the Jere­mi­ah Wright brouha­ha, to give his land­mark 2008 cam­paign speech about race, and she worked per­son­al­ly with Michelle Oba­ma on coun­ter­ing the racist ​"angry black woman" car­i­ca­tures con­coct­ed by the GOP.
But then, Jar­rett — by dint of her pol­i­tics, her iden­ti­ty and her mere pres­ence in the White House — was always going to be more than a sim­ple advi­sor. She's also a light­ning rod for a fight that is ongo­ing with­in the Demo­c­ra­t­ic Par­ty between cen­trists and pro­gres­sives. And, for that mat­ter, between a sim­ple, vague­ly defined idea of pro­gres­sivism as ​"lit­tle guys" vs. ​"fat cats" and a more nuanced, real­is­tic under­stand­ing of race, class, gen­der and sex­u­al­i­ty as inter­sect­ing fac­tors in how pow­er is con­struct­ed and shared.
The dri­ve to dele­git­imize Jar­rett speaks to some of the more pro­found frac­tures with­in the Demo­c­ra­t­ic Par­ty — and an ongo­ing bat­tle about what the pro­gres­sive move­ment stands for and where it is headed.
The Bad Boss
Jarrett's role in the ear­ly advance­ment of Barack Oba­ma is well known. Jar­rett met Oba­ma in 1991, when she hired his then-fiancée Michelle Robin­son for a job at Chicago's City Hall. Impressed by both of them, Jar­rett worked to make sure that the right peo­ple shared that impres­sion, con­nect­ing Oba­ma to his ear­ly supporters.
Jar­rett had a for­mi­da­ble net­work to tap. The scion of a promi­nent South Side fam­i­ly, she got her start in Chica­go pol­i­tics in 1987 as deputy cor­po­ra­tion coun­sel for finance and devel­op­ment in May­or Harold Washington's admin­is­tra­tion. She then went on to work for May­or Richard M. Daley, ris­ing to the posi­tion of com­mis­sion­er of plan­ning and devel­op­ment. In that role she worked to revi­tal­ize the his­toric Bronzeville and oth­er dis­tressed neigh­bor­hoods as mixed income com­mu­ni­ties before run­ning afoul, in 1995, of white real estate devel­op­ers whose insid­er deals she had dis­rupt­ed. Daley then appoint­ed her to chair the Chica­go Tran­sit Author­i­ty—a posi­tion she held from 1995 to 2003, and where she fought to pre­serve tran­sit ser­vice to the city's minor­i­ty-dom­i­nat­ed South and West Sides.
From 1995 through 2008, Jar­rett was vice pres­i­dent and then chief exec­u­tive of Habi­tat Co., a Chica­go-based real estate firm. In 1987, fol­low­ing the fail­ure of the Chica­go Hous­ing Author­i­ty to build scat­tered-site pub­lic hous­ing, a fed­er­al judge had made Habi­tat respon­si­ble for the con­struc­tion of all new pub­lic hous­ing in Chica­go. Some pub­lic hous­ing advo­cates cred­it Jar­rett with pre­serv­ing afford­able hous­ing in an era when there was polit­i­cal pres­sure for whole­sale mar­ket-rate res­i­den­tial devel­op­ment on for­mer pub­lic hous­ing land. Oth­er advo­cates say she could have stood up to the Daley admin­is­tra­tion in order to ensure that low income hous­ing was a larg­er part of the mix in those same new developments.
As a polit­i­cal insid­er with exten­sive busi­ness con­nec­tions, Jar­rett was able to intro­duce Oba­ma to many of his first donors. When he sought the Demo­c­ra­t­ic nom­i­na­tion for Pres­i­dent, she had the sin­gu­lar­ly thank­less task of fundrais­ing, par­tic­u­lar­ly from Wall Street, and, once he won the nom­i­na­tion, of win­ning over Hillary Rod­ham Clinton's sup­port­ers. When he was elect­ed, he implored her to go with him to Washington.
So it's a lit­tle shock­ing to see Jonathan Alter, in his new book The Cen­ter Holds: Oba­ma and His Ene­mies, describe Jarrett's White House appoint­ment as being akin to ​"a CEO [mak­ing] his irri­ta­ble and over­pro­tec­tive sis­ter the head of mar­ket­ing."
Alter dou­bled down on this descrip­tion in a recent appear­ance on MSNBC's Hard­ball, insist­ing that Jar­rett ​"would not be a good chief of staff" because ​"she's not a well-liked fig­ure," and ulti­mate­ly dis­miss­ing her as ​"a very close con­fi­dant [of the pres­i­dent] who prob­a­bly shouldn't have all these line respon­si­bil­i­ties" — in oth­er words, a pal of the president's who was per­fect­ly fine for per­son­al con­ver­sa­tions, but who shouldn't play any role in run­ning offices, mak­ing staffing deci­sions, or doing any­thing else that might affect the day-to-day real­i­ties of the White House.
Alter is best known as a con­nois­seur of per­son­al­i­ty pol­i­tics. He made his pro­fes­sion­al name as the pur­vey­or of con­ven­tion­al wis­dom at Newsweek in 1988, when he and Mick­ey Kaus estab­lished ​"CW Watch" in the magazine's ​"Periscope" sec­tion. Week in and week out, they glibly gave an arrow up or an arrow down to indi­cate whether a person's polit­i­cal cur­ren­cy was on the rise or in decline in offi­cial Washington.
So it's no sur­prise that Alter's descrip­tion of Jar­rett is a stun­ning triv­i­al­iza­tion of a long, dis­tin­guished career. A 1978 Stan­ford grad­u­ate who went on to Uni­ver­si­ty of Michi­gan Law School and then became a respect­ed Chica­go offi­cial, a suc­cess­ful busi­ness­woman and then pol­i­cy advi­sor and pro­fes­sion­al men­tor to the pres­i­dent of the whole damn Unit­ed States is being writ­ten off as his cute lit­tle bud­dy — some­one who, in Alter's words, ​"prob­a­bly shouldn't have" the job she cur­rent­ly holds.
What emerges in Alter's book — and in much of the cov­er­age sur­round­ing Jar­rett — is a woman who is, indeed, ​"not well-liked" by some in the White House. The evi­dence Alter presents sug­gests, how­ev­er, that this is due not to her own fail­ings, but, in part, because her co-work­ers include peo­ple with inse­cu­ri­ties as deep as their polit­i­cal ambi­tion — peo­ple who are jeal­ous of the fact that Oba­ma lis­tens to Jar­rett and trusts her opin­ion. Each of Obama's for­mer chiefs of staff, Rahm Emanuel and Bill Daley, bat­tled with Jar­rett for the ear of the pres­i­dent, and lost.
Such envy finds its expres­sion in anec­dotes about slights. Most of Jarrett's griev­ous sins that Alter recounts are sim­ply office pol­i­tics at their most skull-numb­ing­ly pet­ty. Every­one else makes their points in the meet­ing — but Jar­rett talks to Oba­ma after­ward! Every­one else has to see him at work — but Jar­rett gets to vis­it him at home! And one time, you won't believe it: She crit­i­cized some­one. In an e‑mail. And then she called that some­one ​"sweet­ie" in an e‑mail, but she didn't even mean it, gah.
Pres­i­dents have always brought trust­ed advi­sors into the White House with them. Emanuel made the tran­si­tion into his White House along with Jar­rett. Plen­ty of peo­ple dis­like Emanuel, and more peo­ple mock him — this is a man who once mailed a dead fish to a col­league, with a note that read ​"it's been awful work­ing with you" — but no one ques­tions his basic sta­tus as a polit­i­cal pro­fes­sion­al. Robert Gibbs once cursed out both Jar­rett and the First Lady because he felt unap­pre­ci­at­ed; he's been paint­ed as a man who's made poor deci­sions, but not as a bad or threat­en­ing man. Mean­while, Jarrett's mild­ly insen­si­tive use of the word ​"sweet­ie" is por­trayed as more unpro­fes­sion­al than a bou­quet of dead halibut.
These tales of Jar­rett-based woe reveal some of the old­est, most per­ni­cious, most tire­some car­i­ca­tures of female man­agers: the Ice Queen, the Ditzy Incom­pe­tent, the woman whose deci­sive lead­er­ship qual­i­ties get twist­ed into sto­ries about mean e‑mails and ​"bitch­i­ness," whose priv­i­leges of friend­ship and access are cit­ed as rea­sons that she's unqual­i­fied for the job. Giv­en that quite a lot of peo­ple would no doubt like to be Barack Obama's bud­dy, it makes sense that an actu­al close friend would be paint­ed as an out­sider who got the job through unde­served patron­age — espe­cial­ly if that friend hap­pens to be a black woman. Alter quotes one unnamed male CEO, who is unim­pressed with Jar­rett, grous­ing: ​"When we go to the White House, we talk to peo­ple we wouldn't hire." Indeed.
The Devot­ed Wife
This ​"unqual­i­fied favor hire" sto­ry is part of a larg­er trend. Jarrett's influ­ence on the pres­i­dent and her White House respon­si­bil­i­ties are like­wise dis­missed when her crit­ics — and the media — shoe­horn her into the tra­di­tion­al role of the White House host­ess who, when not enter­tain­ing, is there to pro­vide emo­tion­al sup­port to the pres­i­dent and his family.
Of all Jarrett's White House respon­si­bil­i­ties, the ones that Alter cov­ers in most detail involve par­ty plan­ning. She con­trols invites, Alter writes, on ​"every­thing from state din­ners to the small par­ty for fam­i­ly and inner staff at the White House swim­ming pool on the 4th of July," and also has the fear­some glob­al pow­er of select­ing ​"what gift to give to a for­eign leader."
To por­tray Jar­rett as a glo­ri­fied per­son­al assis­tant is to use her gen­der as a means of dimin­ish­ing her seri­ous­ness. Alter gloss­es over the fact that she over­sees the White House Office of Pub­lic Engage­ment and Inter­gov­ern­men­tal Affairs, which serves as the liai­son between the pres­i­dent and inter­est groups, and state and local elect­ed offi­cials. In this role she is the one top White House offi­cial who is in direct con­tact with ​"the people."
Of course, it's not unfair to say Jar­rett is a close friend of the Oba­mas, or to sug­gest that they care about each oth­er deeply. Jar­rett her­self has said that she ​"loves" the fam­i­ly, and the pres­i­dent has said, of Jar­rett, ​"She's like a sib­ling to me."
But the main­stream cov­er­age of Jar­rett has tak­en that rel­a­tive­ly restrained ​"sib­ling" and spun out an end­less string of gen­dered and per­son­al metaphors — dot­ing moth­er, gen­er­ous god­moth­er, pro­tec­tive sis­ter, kind­ly yet inter­fer­ing aunt — that peaked in a 2008 Vogue pro­file by Jonathan Van Meter, who com­pared Jarrett's rela­tion­ship with the Oba­mas to that of a spouse:
She is actu­al­ly mar­ried, if not to the Oba­mas them­selves, then to their quest. Lis­ten­ing to her talk about how much she loves them is endear­ing, inspir­ing, and a tiny bit embar­rass­ing: the same com­bi­na­tion of feel­ings one expe­ri­ences when lis­ten­ing to a close friend explain why they love their soul mate.
No mat­ter how close Jar­rett is to the Oba­mas, it's hard to imag­ine, say, a pro­file of Karl Rove in which the inter­view­er con­coct­ed a fan­ta­sy about Rove dat­ing both George W. and Lau­ra Bush — nor, for that mat­ter, has there been much steamy pres­i­den­tial fan­fic­tion about David Axel­rod, who vir­tu­al­ly left his fam­i­ly for four years to be always avail­able to the president.
This embar­rass­ing­ly tone-deaf main­stream rhetoric has been adopt­ed whole­sale by a Right that por­trays Jar­rett as a Devour­ing Moth­er who has led Barack down the god­less path of left­ist pol­i­tics. ​"She fills the empti­ness at the core of his iden­ti­ty," writes Karin McQuil­lan in 2012 on the right-wing blog Amer­i­can Thinker, ​"She shares his left-wing pol­i­tics that project unfair­ness out onto white America."
The Omi­nous Foreigner
To parse the con­fu­sion and fear aimed at Jar­rett, con­sid­er which aspects of her iden­ti­ty peo­ple are react­ing to. She is a black woman — often cred­it­ed with pro­vid­ing a nec­es­sary per­spec­tive of col­or with­in Obama's senior staff, which is still large­ly white. On top of that, she was born in Iran (her par­ents worked in Shi­raz for a time), and her great-grand­fa­ther was Jew­ish.
This per­son­al back­ground has tak­en on a grue­some life with­in the con­spir­a­cy-prone Right. As ear­ly as August 2008, The Amer­i­can Spec­ta­tor​'s ​"The Prowler" col­umn billed her as the ​"shad­owy advis­er and friend the Oba­ma cam­paign would rather you not know about." Since then the rhetoric sur­round­ing her has become Tea Par­ty fan­ta­sy: Black woman as eter­nal for­eign­er, anti-Amer­i­can, anti-white, anti-Chris­t­ian secret Mus­lim and (hell, why not?) an ally, in her spare time, to a Jew­ish cabal.
One par­tic­u­lar­ly bizarre blog­ger traces it all back to 1979, when Jarrett's for­mer father-in-law — the late jour­nal­ist Ver­non Jar­rett — wrote an arti­cle about Mid­dle East­ern nations fund­ing black col­lege stu­dents. It there­fore fol­lows that the edu­ca­tions of both Jar­rett and Oba­ma were entire­ly fund­ed by Mus­lim cash, as part of a Mid­dle East­ern plot to deploy each and every black per­son in Amer­i­ca to ensure the cre­ation of a Pales­tin­ian state. As evi­dence, this con­spir­a­cy the­o­rist quotes Leon Trot­sky, and observes, ​"Sub­sti­tute the word ​'Islam' for the words ​'the pro­le­tar­i­an rev­o­lu­tion,' and you most clear­ly get the pic­ture." Sure, why not? In fact, if you sub­sti­tute the word ​"drag­ons" for the words ​"Valerie Jar­rett," this entire arti­cle can become the long-await­ed new install­ment of Game of Thrones!
To be sure, a mea­sure of far-right hys­te­ria around any pow­er­ful pro­gres­sive of col­or is to be expect­ed. Oba­ma has been the tar­get of sim­i­lar rhetoric — and more of it, at a loud­er vol­ume. But he also has his defend­ers. Most pro­gres­sives can break down, in detail, how shame­ful it was that the pres­i­dent of the Unit­ed States was bul­lied into show­ing the world his birth certificate.
Jar­rett, on the oth­er hand — as a woman, as an open­ly pro­gres­sive woman, and as a woman in a posi­tion of pow­er that is the envy of many Democ­rats both in and out of the White House — is not as well-defend­ed, and the ugly accu­sa­tions aimed at her from the Right are too often allowed to seep, unparsed and unchal­lenged, into the main­stream discourse.
The stretch from tin­foil-hat blog­gers to Jonathan Alter seems like a long one, but the por­tray­al of Jar­rett as the Oba­mas' con­sigliere (the advi­sor to a mafia boss) has, more than once, been float­ed in main­stream cov­er­age, includ­ing a descrip­tion of her as such in a 2009 New York Times Mag­a­zine article.
Dark metaphors have also been not-so-sub­tly adopt­ed and mar­ket­ed by more than a few of those in the Oba­ma admin­is­tra­tion who vie for pow­er. Jarrett's after-hours vis­its to the White House liv­ing quar­ters, famous­ly, have earned her the nick­name of ​"Night Stalk­er." What this does is to strip away the unbe­com­ing (and dele­git­imiz­ing) details of the sus­pi­cion itself, and leaves an unset­tled, seem­ing­ly apo­lit­i­cal feel­ing that she's just…suspect, an intrud­er, some­one who doesn't right­ly belong. A lit­tle dif­fer­ent, you know?
Obama's left-wing conscience
There's a para­dox at the core of Jarrett's rep­u­ta­tion: Half of the smears aimed at Jar­rett triv­i­al­ize her, por­tray­ing her as an unqual­i­fied, unpro­fes­sion­al Mom­my Dear­est who some­how got invit­ed to the White House sole­ly to hold the president's hand. The oth­er half are devot­ed to paint­ing her as a fig­ure of all-encom­pass­ing, malev­o­lent pow­er. When you con­sid­er that one accu­sa­tion is often uttered in the same breath as the oth­er, the log­ic becomes dizzy­ing: She's com­plete­ly unqual­i­fied for polit­i­cal work, but runs the entire White House with an iron fist; she's just a clingy girl­friend who stocks the gift bas­kets" but actu­al­ly she's the pow­er behind the throne.
Although hard data on the pub­lic pol­i­cy deci­sions Jar­rett has influ­enced is not easy to come by, Alter cred­its her with inform­ing much of Obama's pol­i­cy on ​"issues relat­ed to women, minori­ties and the gay com­mu­ni­ty." Accord­ing to a friend, who spoke on the con­di­tion of anonymi­ty, she was instru­men­tal in get­ting Oba­ma behind the Lil­ly Led­bet­ter Act, which restored fair pay pro­tec­tions for women. She also con­vinced him to make immi­gra­tion reform a pri­or­i­ty and stood by his side when he bat­tled the mil­i­tary estab­lish­ment in pulling out of Iraq.
Jar­rett is fre­quent­ly described as Obama's ​"left-wing con­science." Robert Drap­er in a 2009 pro­file of Jar­rett in the New York Times Mag­a­zine wrote that ​"sev­er­al African-Amer­i­cans who served at high lev­els in the Oba­ma cam­paign" con­sid­er Jar­rett ​"some­thing of a heroine":
As they saw it, she got that Obama's work as a com­mu­ni­ty orga­niz­er in poor black neigh­bor­hoods wasn't just a touch­ing bit of back­sto­ry but instead bespoke a per­son­al com­mit­ment to change. She got the impor­tance of cam­paign­ing for bet­ter schools and job oppor­tu­ni­ties for African-Amer­i­cans, even if such talk wouldn't make red states turn blue. She got that sim­ply elect­ing a black man would not make all urban trau­mas dis­ap­pear. And she got that Oba­ma got it, that this was cen­tral to his ​"authen­tic­i­ty" of which she was guardian — remind­ing the can­di­date, ​"Barack Oba­ma wouldn't say that."
Jarrett's clout isn't uni­ver­sal­ly appre­ci­at­ed. Drap­er wrote that Emanuel, then – White House chief of staff, ​"talks to a lot of peo­ple around town, and when the sub­ject is Valerie Jar­rett, it's fair to say that his words fall short of effu­sive." Accord­ing to Drap­er, the two had dif­fer­ent def­i­n­i­tions of what it meant for Oba­ma to suc­ceed. Emanuel's def­i­n­i­tions were ​"straight­for­ward" while Jarrett's were ​"very focused on why he ran in the first place." Sim­i­lar­ly, Drap­er report­ed that con­sul­tant David Axel­rod host­ed week­ly Wednes­day-night polit­i­cal dis­cus­sions at his house from which Jar­rett was ​"point­ed­ly excluded."
It's lit­tle won­der that Jar­rett has become a tar­get in a Demo­c­ra­t­ic Par­ty divid­ed by two visions and two strate­gies about how to build a sus­tain­able and win­ning future. On the one side is the Pro­gres­sive Pol­i­cy Insti­tute (the suc­ces­sor to the DLC)/Bill Clinton/​James Carville/​Rahm Emanuel cen­trism, which sees the path to par­ty vic­to­ry as occu­py­ing space slight­ly to the left of the Repub­li­cans and there­fore adopts its posi­tions through polling data and focus groups.On the oth­er is a more pro­gres­sive wing that sees the party's future as root­ed in the issues of con­cern to women, work­ers, peo­ple of col­or, the young, the LGBT com­mu­ni­ty, etc.
Oba­ma won the pres­i­den­cy twice by ener­giz­ing this pro­gres­sive wing, and Jar­rett played no small part.
The 2012 elec­tion swung, to an unprece­dent­ed degree, on issues of repro­duc­tive choice and access. Jar­rett encour­aged the pres­i­dent to face the issue head-on. One of the pol­i­cy choic­es that she is cred­it­ed with is the man­date for insur­ance to cov­er birth con­trol, which Oba­ma pushed through in the face of vehe­ment Catholic and con­ser­v­a­tive oppo­si­tion. It was a pol­i­cy strug­gle in the White House, fought out between Jar­rett and two promi­nent Catholics — Vice Pres­i­dent Joe Biden and then-chief of staff Bill Daley.
One can see why her work might be regard­ed, by cer­tain polit­i­cal fac­tions with lit­tle inter­est in racial and gen­der jus­tice, as less impor­tant or inter­est­ing than her role in plan­ning the office pool par­ties. Or, for that mat­ter, why some peo­ple believe she ​"prob­a­bly shouldn't have" even that much influence.
What she rep­re­sents — whether or not she wants to (it's hard to imag­ine some­one vol­un­teer­ing for the posi­tion) — is what the future looks like, and where the Demo­c­ra­t­ic Par­ty, as well as the nation, is going. This makes her immense­ly pow­er­ful. And for those inter­est­ed in steer­ing the par­ty away from a pro­gres­sive future, there will always be a rea­son to por­tray a pro­gres­sive woman with this much pow­er as just some girl who tried to play with the real men and got in over her head.