Whose Recovery?
A year after Hurricane Sandy hit, despite community efforts, marginalized New Yorkers aren't back on their feet.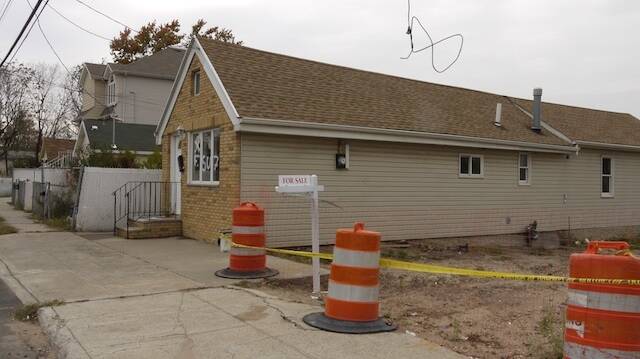 It's been a year since Super­storm Sandy dev­as­tat­ed swaths of the East Coast, but Stat­en Island res­i­dent Vic­to­ri­na Ramirez remem­bers it like it was yesterday.
The immediate response to Sandy was led by volunteer groups and community organizations.
​"The ocean was on the street right there on High­land Boule­vard," she recalls.
On Octo­ber 28, 2012, with the storm fast approach­ing, Ramirez and her hus­band left their Mid­land Beach apart­ment and head­ed to Cost­co to stock up on dia­pers and oth­er sup­plies for their 18-day-old baby, as well as food that wouldn't spoil if the pow­er went out. Then they went to stay with friends on high­er ground, expect­ing to get back soon.
But the land­lord called the day after the storm to tell them that their base­ment apart­ment had flood­ed and every­thing was destroyed.
They had to stay with oth­er fam­i­lies for a month or so, but even­tu­al­ly their land­lord man­aged to fix up the apart­ment — a bit too well, Ramirez notes, because the woman put in a wash­er-dry­er for her own use, tak­ing away some of Ramirez's space. The rent went up as well.
They decid­ed to move, but they want­ed to stay on Stat­en Island, where they have lived for 12 years; Ramirez likes the area bet­ter than oth­er parts of the city because it's less cramped and her daugh­ters have space to play outside.
When I met Ramirez on Octo­ber 22, 2013, she and her fam­i­ly had found a new apart­ment, though it took them a while, she says, because rents had risen all over Stat­en Island. ​"Peo­ple, they take advan­tage of you because you don't have an apart­ment." Her hus­band is back at work, but busi­ness is slow at the Stat­en Island auto shop where he is a mechanic's assis­tant, as many res­i­dents lost their cars after the storm. With mon­ey tight, Ramirez relies on dona­tions and aid through her daughter's school to get clothes, dia­pers and toys for her daugh­ters. Over the sum­mer, dur­ing the heat wave, she couldn't afford an air conditioner.
Vic­to­ri­na and her 1‑year-old daugh­ter in their new apartment.
Her 6‑year-old daugh­ter, she says, is still affect­ed by the storm. ​"Every time she gets some­thing, a toy or some­thing, she wants to keep it safe because she says she doesn't want the water com­ing again. She asks me so many times, ​'Mom, Sandy's com­ing again? Mom­my, Sandy will be hap­pen­ing again?' "
She's applied for rental assis­tance through the city, but is still wait­ing for a response. Like many New York­ers, she feels that the relief effort has been unequal at best. Peo­ple who had more mon­ey before the storm, or peo­ple who were not immi­grants, she feels, have had an eas­i­er time get­ting help. ​"I think help has to be for every­one, every­body lost every­thing," she says.
Out­side of the affect­ed areas, New York feels back to nor­mal. But for many peo­ple in Stat­en Island, Coney Island, the Rock­aways, and oth­er neigh­bor­hoods, life is any­thing but nor­mal. Though few res­i­dents are actu­al­ly out on the streets, many, like Ramirez's fam­i­ly, are still strug­gling with steep­er rents, slow repairs, dis­place­ment and the psy­cho­log­i­cal trau­ma of the storm.
Ter­ri Ben­nett, of the grass­roots relief orga­ni­za­tion Respond and Rebuild in the Rock­aways, explains, ​"It's hard to tell what the dis­place­ment looks like. There's still a lot of peo­ple dou­bled up; there's still a lot of peo­ple whose first floor was destroyed and they don't real­ly know what to do about it, so they've moved the entire fam­i­ly up onto the sec­ond floor. They might be home, but they've got five peo­ple liv­ing in a 400-square-foot sec­ond floor. We've walked into people's hous­es where all of their pos­ses­sions are stacked on the stairs in the upstairs of their home [and] there's almost no room to walk."
On the anniver­sary of the storm, it's worth look­ing back at how the relief effort was han­dled and what's still left to do.
A com­mu­ni­ty effort
As I and many oth­er reporters have not­ed, the imme­di­ate response to Sandy was led by vol­un­teer groups form­ing ad hoc orga­ni­za­tions and com­mu­ni­ty orga­ni­za­tions that already had roots in the affect­ed com­mu­ni­ties — many of which were already marginalized.
Respond and Rebuild was one of those groups, formed by Ben­nett and her part­ner and a friend, all of whom had done dis­as­ter relief work in Haiti fol­low­ing the earth­quake of 2010. ​"It seemed like the com­bi­na­tion of var­i­ous expe­ri­ences that we had might make us rel­a­tive­ly use­ful in the first response," she tells In These Times. ​"We real­ized that peo­ple real­ly did­n't know any­thing about what was com­ing with the mold issue. Because New York's been spared these kinds of storms for decades, peo­ple real­ly had no idea to what extent they were going to have to get rid of every­thing they owned that touched con­t­a­m­i­nat­ed water — that they were going to have to gut their entire home."
They worked close­ly with Occu­py Sandy, the relief net­work begun by Occu­py Wall Street activists. In the begin­ning, both groups had all the vol­un­teers they could want. At a time when New York­ers were still unable to get to work, as pow­er was still out in parts of the city and sec­tions of the sub­way remained down, hun­dreds pitched in to help their neighbors.
Respond and Rebuild began to focus specif­i­cal­ly on the mold issue, send­ing teams of vol­un­teers into homes to rip out soaked dry­wall and floor­ing and leave the skele­ton of the home to dry out. (Full dis­clo­sure: I par­tic­i­pat­ed on one of the teams). They worked most­ly with home­own­ers who had trou­ble get­ting help in oth­er ways — through insur­ance com­pa­nies or through the city's Rapid Repair pro­gram — and formed rela­tion­ships with many of them that last­ed for months.
The hol­i­days saw the flood of vol­un­teers start to dry up. But recov­ery hubs con­tin­ued to oper­ate and feed peo­ple. Respond and Rebuild began to get calls from stu­dent groups and oth­er orga­ni­za­tions request­ing ​"alter­na­tive spring break" vol­un­teer oppor­tu­ni­ties as ear­ly as the first week of Novem­ber, and signed up hun­dreds of out-of-town­ers to help the wait­ing list of Rock­aways res­i­dents in need of mold reme­di­a­tion. Over the course of the spring break peri­od — from Feb­ru­ary to April — they made it through most of their eight-week backlog.
Mean­while, the process for get­ting offi­cial aid, or even aid from non-gov­ern­men­tal orga­ni­za­tions like the Red Cross, was com­pli­cat­ed and slow. Home­own­ers had to deal with their insur­ance com­pa­nies; res­i­dents need­ed to reg­is­ter with FEMA, often as a pre­req­ui­site for oth­er kinds of aid. Melis­sa McCrumb of the com­mu­ni­ty orga­ni­za­tion Make the Road New York explains that many NGOs still asked for a FEMA num­ber before giv­ing aid. That often exclud­ed undoc­u­ment­ed immi­grants who were inel­i­gi­ble for FEMA and thus blocked from oth­er forms of aid as well.
Ismene Spe­li­o­tis, exec­u­tive direc­tor of the Mutu­al Hous­ing Asso­ci­a­tion of New York (MHANY), notes that the process was a con­stant strug­gle for appli­cants, who had to reg­is­ter over and over, prove that they had a right to their home, and prove that some­one else hadn't already giv­en them mon­ey. Judy Sheri­dan-Gon­za­lez, pres­i­dent of the New York State Nurs­es Asso­ci­a­tion and a reg­u­lar vol­un­teer doing health­care assis­tance in the Rock­aways after Sandy, told me in Feb­ru­ary that to her, the sys­tem seemed designed more to pre­vent any­one from gam­ing it than actu­al­ly dis­pens­ing aid.
"[The agen­cies] have a for­mu­la. You either qual­i­fy or don't, and it's in black and white," says Ben­nett. But in the cas­es she encoun­tered through her work with Respond and Rebuild, it was rarely so simple.
By late sum­mer, Respond and Rebuild was get­ting few­er requests for rel­a­tive­ly sim­ple demo­li­tion and mold removal — the kind of things vol­un­teers could han­dle — and more for the final stages of rebuild­ing, which required skilled labor. ​"We wound up divert­ing our resources more into hir­ing peo­ple in the Rock­aways who are con­struc­tion work­ers of var­i­ous kinds to do this fin­ish­ing work for peo­ple, so that they could actu­al­ly get that last step done, that was keep­ing them from either being able to move home or hav­ing a liv­able home."
Near­ly all the peo­ple I spoke with agree that the city, state, and fed­er­al response was lack­ing, despite self-con­grat­u­la­to­ry reports issued by FEMA and oth­er agen­cies. And New York Attor­ney Gen­er­al Eric Schnei­der­man pres­sured the Red Cross and oth­er char­i­ties to release more of their funds raised for Sandy relief — as of July, his office found that 90 char­i­ties had spent less than half of what they'd raised. In addi­tion to address­ing the fail­ure of the big orga­ni­za­tions, the grass­roots vol­un­teer groups spent time con­sid­er­ing the impact and val­ue of their own work. Occu­py Sandy in par­tic­u­lar oper­at­ed under the same prin­ci­ples of mutu­al aid that had been deeply val­ued in the orig­i­nal Occu­py Wall Street move­ment, where sol­i­dar­i­ty, not char­i­ty, was a cen­tral ide­al. But in the days and weeks and even months after a dis­as­ter, when peo­ple are trau­ma­tized and strug­gling to sur­vive, the first thing peo­ple need is their basic needs met, and con­cern for polit­i­cal impli­ca­tions has to take some­what of a back­seat. That means accept­ing every vol­un­teer, every dona­tion and sim­ply doing the work. ​"Occu­py Sandy did a lot of char­i­ty," says Andy Smith, an activist with the group. "[It] brought in a whole bunch of diverse peo­ple who had a bunch of dif­fer­ent skills and social jus­tice orga­niz­ing was not the skill that per­vad­ed them, not by a long shot."
As long-term recov­ery begins, the relief groups had to think hard­er about the impact they might be hav­ing on the com­mu­ni­ty. ​"There was cer­tain­ly a strug­gle with­in Occu­py Sandy about [iden­ti­fy­ing] the dif­fer­ences between char­i­ty and orga­niz­ing social jus­tice work," Smith says. ​"Where are our resources most use­ful, in real­ly deep com­mu­ni­ty orga­niz­ing or to be doled out one by one to this fam­i­ly, this fam­i­ly and this fam­i­ly? That dis­cus­sion con­tin­ues." As Occu­py Sandy's finan­cial resources began to run out, the orga­ni­za­tion began to shift to the resource it had more of — orga­niz­ing skill, to help res­i­dents fig­ure out how to polit­i­cal­ly pres­sure the city, state and fed­er­al gov­ern­ment for bet­ter aid and sus­tain­able rebuild­ing. The Alliance for a Just Rebuild­ing, a coali­tion of com­mu­ni­ty and labor groups, grew up out of the need to do polit­i­cal work as well as aid work around Sandy.
To Ben­nett of Respond and Rebuild, think­ing about deep­er impact meant mak­ing absolute­ly sure that the con­struc­tion work they did for free was as good as any done for pay. If their work was bad, not only would it have long-term con­se­quences for res­i­dents, but it would also reflect bad­ly on grass­roots relief efforts in general.
Respond and Rebuild also made an effort to hire local work­ers for their jobs. Because a num­ber of res­i­dents lost their jobs as well as their homes after Sandy — par­tic­u­lar­ly, as Make the Road­'s McCrumb points out, immi­grant work­ers who were doing domes­tic work or con­struc­tion — it became even more impor­tant to ensure that the jobs cre­at­ed in the recov­ery process go to res­i­dents of the most affect­ed areas.
And as the com­mu­ni­ties began to get back on their feet, the ques­tion of pro­vid­ing free help vs. putting mon­ey back into the econ­o­my by spend­ing at local busi­ness­es and hir­ing local work­ers remained com­pli­cat­ed. Sheri­dan-Gon­za­lez com­ment­ed that after Sandy, issues like this made her and oth­ers con­sid­er broad­er ques­tions of how soci­ety should be organized.
Who got help?
​"The hur­ri­cane didn't dis­crim­i­nate but the peo­ple who should have been help­ing us did," Edith Olme­do says. (This inter­view was con­duct­ed through a translator.)
Olme­do and her fam­i­ly spent three months in a hotel after Sandy because her apart­ment was unliv­able — the first floor flood­ed and every­thing was destroyed, and the pow­er was out for months. She feels that the aid process left too many peo­ple out, and, like Ramirez, that she had been gouged by land­lords who demand­ed more mon­ey. Her land­lord demand­ed that her fam­i­ly con­tin­ue to pay rent on their apart­ment while they were liv­ing in the hotel. Now back in the apart­ment, her fam­i­ly is liv­ing on the top floor in a build­ing they used to share with fam­i­ly and friends. One of those friends left the coun­try after the storm, after fil­ing for FEMA aid with their address — because of that, Olme­do did­n't qual­i­fy for FEMA, as two peo­ple could­n't use the same address.
Her hus­band, a con­struc­tion work­er, had worked inde­pen­dent­ly before the storm, but his tools were all in the garage and were washed away. Olme­do her­self had worked clean­ing hous­es for near­by res­i­dents, some of whom have not returned. Both of them bring home much less mon­ey now. But while, she says, some peo­ple were able to make it a full-time job to chase down the var­i­ous types of aid avail­able, her fam­i­ly has had a hard time find­ing it, and has been dis­ap­point­ed with the aid they could get. The Sal­va­tion Army gave them vouch­ers to buy used fur­ni­ture, but the fur­ni­ture on offer was junk, she says, and the food assis­tance they got did­n't allow them to buy hot food, leav­ing them with nowhere to cook the food they could buy. After stay­ing in the cold, her daugh­ter, who already suf­fers from asth­ma, came down with pneumonia.
​"We all went through the same sit­u­a­tion and we all have needs – all of us," she says.
While the dis­as­ter cer­tain­ly hit indis­crim­i­nate­ly, wip­ing out the homes of renters and own­ers, wealthy and work­ing-class, the inequal­i­ties that already exist­ed have com­bined with a deeply indi­vid­u­al­ized recov­ery process to leave neigh­bor­hoods hap­haz­ard­ly rebuilt and some peo­ple receiv­ing aid much faster than others.
​"The indi­vid­ual-ori­ent­ed fund­ing does­n't work in a city where very few things only affect­ed an indi­vid­ual," Spe­li­o­tis says. When peo­ple live in row homes and apart­ment build­ings, respond­ing per­son by per­son rather than tack­ling the whole build­ing, block or neigh­bor­hood seems inefficient.
Archi­tect Emi­ly Sprague, who works with Archi­tec­ture for Human­i­ty on dis­as­ter response, says that the den­si­ty of New York made it dif­fi­cult to pro­vide tran­si­tion­al hous­ing to peo­ple who lost their homes.
​"You can't just bring in FEMA trail­ers and house peo­ple, so it was a more tiered response where one thing that was real­ly done was to try to keep peo­ple that could stay in their homes." That meant rush­ing to fix heat­ing in pub­lic hous­ing build­ings so that peo­ple did­n't have to relocate.
But the funds allo­cat­ed to help with hous­ing expens­es have been very slow to arrive. The Wall Street Jour­nal report­ed this week that of $648 mil­lion in fed­er­al aid allot­ted to New York City, only one per­son has received help — a Stat­en Island woman who took a buy­out for her dam­aged home. The arti­cle is filled with offi­cials blam­ing one anoth­er and blam­ing Con­gress, but the gist of the sto­ry is clear: Hur­ri­cane response hasn't got­ten much bet­ter since Katrina.
Some of the recov­ery mon­ey, accord­ing to Melis­sa McCrumb, is set aside for assis­tance for renters. Sim­i­lar to the Sec­tion 8 hous­ing pro­gram, the city gives out coupons to renters, who can use them for a por­tion of their rent bill — but so far, only a few peo­ple, all of whom were stay­ing in hotels, have received them, and some land­lords have been unwill­ing to accept them , accord­ing to McCrumb. While that's tech­ni­cal­ly ille­gal, she notes, unless orga­ni­za­tions like hers hear about it right away, there's lit­tle they can do to help.
Then there's the ques­tion of who can afford to rebuild. Low­er-income land­lords have been hit hard — par­tic­u­lar­ly sin­gle women who relied on rent­ing out one floor of their home as their sole source of income. ​"This often means that they live in the sec­ond floor of their home, they've always rent­ed out the first floor, that $1,200 a month or what­ev­er they got from rent was most of their income," said Ben­nett of Respond and Rebuild, which assist­ed some of these land­lords with rebuild­ing. ​"Nobody would help them because that [rental income] was con­sid­ered a busi­ness. They could­n't get a loan from the Small Busi­ness Asso­ci­a­tion because with­out the rental income they did not make enough mon­ey to qual­i­fy for the loan – do you see the cir­cle that is arising?"
Peo­ple who can afford loans to rebuild their homes or small busi­ness­es wind up tak­ing on a lot of debt. In Decem­ber, a report issued by the Occu­py-affil­i­at­ed group Strike Debt not­ed that many fed­er­al aid pro­grams required res­i­dents to apply for loans before they could qual­i­fy for grants or aid mon­ey, so that they're going to take on inter­est-bear­ing loans rather than get­ting aid. Also, this process favored giv­ing aid to peo­ple who had more mon­ey to begin with, and left out those who were seen as less cred­it-wor­thy — read, those who make less money.
Renters fall through the cracks
Infor­ma­tion, too, has been hard to come by — Ben­nett says that she was shocked, even more than by the slow­ness of the aid funds, by the fact that the infor­ma­tion pro­vid­ed about mold reme­di­a­tion was dif­fer­ent at every agency or NGO. ​"There's no con­ti­nu­ity in the pub­lic health mes­sage," she says. Nei­ther has there been good, up-to-date data about com­mu­ni­ty needs — Ben­nett says that while relief groups began can­vass­ing attempts ear­ly on, she has been able to find no offi­cial plan by the city to assess needs.
Renters par­tic­u­lar­ly suf­fered from the lack of infor­ma­tion on how to access var­i­ous kinds of aid and sup­port, McCrumb says. ​"The city did real­ly exten­sive out­reach with home­own­ers to get them to sign up for the Build it Back pro­gram; they were very aggres­sive about call­ing every­one that talked to FEMA. [But in] the mate­ri­als that you see out there, it's not obvi­ous that this prob­lem is also for renters. When folks call 311, which is sup­posed to be this clear­ing­house, espe­cial­ly when renters call through the Span­ish trans­la­tion line, they're often told that renters can't sign up for the program."
That becomes a prob­lem not only for the indi­vid­ual who called, she con­tin­ues. Those peo­ple tell their friends and neigh­bors, and so when Make the Road can­vassed renters they found that many of them had­n't even called because some­one else told them it was hope­less. And renters can be hard to track down once they've been dis­placed. Home­own­ers, she notes, pay prop­er­ty tax­es, but renters, who are more like­ly to be low-income and peo­ple of col­or or immi­grants, can eas­i­ly fall through the cracks.
​"Renters are extreme­ly vul­ner­a­ble to that ​'go live some­where else, sor­ry' type of sit­u­a­tion because they don't have a real claim to prop­er­ty in a par­tic­u­lar loca­tion," Spe­li­o­tis says. ​"So we have renters that have been get­ting dis­placed because either where they were liv­ing is gone, where they were has not yet been reha­bil­i­tat­ed, or where they were was reha­bil­i­tat­ed and they were not invit­ed back."
There's not much that even the grass­roots groups like Respond and Rebuild can do for renters, Ben­nett points out. ​"Does it make sense for a group like us with extreme­ly lim­it­ed resources, to rebuild an apart­ment of a renter that we have a rela­tion­ship with when there's no legal con­tract that says the land­lord even has to let that same renter back into the house?"
Chang­ing neighborhoods
Anoth­er big ques­tion is whether homes that pre­vi­ous­ly qual­i­fied for rea­son­ably priced flood insur­ance will sud­den­ly see their rates rise. Changes in fed­er­al law to raise rates for fed­er­al­ly sub­si­dized flood insur­ance are now tak­ing effect. More­over, FEMA is redraw­ing flood-zone maps, mean­ing that peo­ple who weren't pre­vi­ous­ly con­sid­ered to be in a flood zone may now be required to get insur­ance. In New York espe­cial­ly, where the flood-prone areas are some of the few where low­er-income folks could still afford to buy homes, these insur­ance rates could be yet anoth­er smack to already-reel­ing res­i­dents. Many of those flood-zone homes are bun­ga­lows that weren't orig­i­nal­ly built to be lived in year-round, but rather had been part of resort towns where peo­ple went for sum­mer vaca­tions, Sprague points out. This means that many of them were unsta­ble and sus­tained a lot of damage.
Each neigh­bor­hood had its own pecu­liar­i­ties that affect­ed recon­struc­tion, Sprague says, depend­ing on every­thing from the con­struc­tion of the build­ings to the class make­up of the com­mu­ni­ty to indi­vid­ual per­son­al­i­ties. Peo­ple who had con­struc­tion skills or skilled work­ers in their social net­works were able to rebuild faster than their neigh­bors even if eco­nom­i­cal­ly they were no bet­ter off. Some res­i­dents whose homes were destroyed are sim­ply look­ing to take a buy­out and move on, while oth­ers are deter­mined to build their homes back. Some peo­ple who rebuilt quick­ly are see­ing mold return because it was­n't prop­er­ly dealt with in the first place, a reminder that access to good infor­ma­tion was key.
All of this means that the recov­ery might well change, pos­si­bly per­ma­nent­ly, the class make­up of neigh­bor­hoods like the Rock­aways and Stat­en Island, where work­ing-class folks had pre­vi­ous­ly been able to own or rent homes for less mon­ey than most of the rest of the city. Home­own­ers with less mon­ey to rebuild may wind up tak­ing the buy­out mon­ey and mov­ing else­where — and that may mean out of the city, as com­mu­ni­ties like the Rock­aways and Stat­en Island are already as cheap as it gets in New York. Renters like Olme­do find them­selves being asked to pay more and more, if they're even allowed back into their apart­ments in the first place, and if they do want to relo­cate, they have lit­tle chance to come up with the mon­ey for a new secu­ri­ty deposit. Where before work­ing-class immi­grant fam­i­lies could afford an apart­ment or bun­ga­low, now the ris­ing rents and flood insur­ance rates might push them out, and leave the space open for fanci­er developments.
This makes McCrumb ask, ​"Who is this recov­ery for?"
Orga­niz­ing for the future
​"I think it will be maybe years until we'll be fine, 100 per­cent," Ramirez says.
The prob­lem with rebuild­ing is that the neigh­bor­hoods that were most affect­ed already had prob­lems. It's become almost a cliché already to say that Sandy brought atten­tion to the ram­pant inequal­i­ty in New York, but a year lat­er, that inequal­i­ty con­tin­ues to be exac­er­bat­ed by the recov­ery itself.
Andy Smith from Occu­py Sandy sees some hope, still, that some­thing bet­ter can emerge from the storm. ​"When we get folks togeth­er, they have some pow­er almost because of the storm," he says. ​"There are some ter­ri­ble sto­ries and also some real­ly great exam­ples of grass­roots orga­ni­za­tions that are com­ing togeth­er. There's a whole net­work of faith groups being cre­at­ed in the Rock­aways called Faith in New York, I think Rock­away Youth Task Force has been able to step up and grow."
​"An orga­nized com­mu­ni­ty is a resilient com­mu­ni­ty, an orga­nized com­mu­ni­ty responds to dis­as­ters of all types," he con­tin­ues. ​"Orga­niz­ing saves peo­ple's lives in any type of cri­sis." Orga­nized res­i­dents can push for the rebuild­ing to ben­e­fit the peo­ple who already lived there, rather than just wealthy developers.
What's come out of Occu­py Sandy in the Rock­aways is a group called Wild­fire, what Smith calls ​"an old-school mem­ber­ship-based com­mu­ni­ty orga­ni­za­tion," which is work­ing on a com­mu­ni­ty ben­e­fits agree­ment to make sure that the devel­op­ment of a piece of prop­er­ty known as Arverne East meets com­mu­ni­ty needs, hires local­ly for the project, and cre­ates com­mu­ni­ty space beyond the high-income hous­ing. There's already one exam­ple of that, he says, in Arverne by the Sea, a devel­op­ment of expen­sive homes that abuts a new YMCA — which gives pref­er­ence for mem­ber­ship to the res­i­dents of the high-end devel­op­ment. ​"That's a real slap in the face," Smith says. ​"A YMCA is what the Rock­aways needs and they can't go to it."
​"We need poli­cies in place to ensure the long-term afford­abil­i­ty of those areas," McCrumb says. ​"New York should be lead­ing the way in set­ting up a recov­ery that works for renters."
For Spe­li­o­tis, there's an oppor­tu­ni­ty in New York to move beyond the indi­vid­ual response to dis­as­ter relief and come up with a more holis­tic approach that takes the whole com­mu­ni­ty into account. Ben­nett points out that orig­i­nal­ly, the state had said that its buy­out of destroyed homes would leave the land unde­vel­oped, but now that the city and state are work­ing togeth­er, ​"to my knowl­edge most things are avail­able for rede­vel­op­ment, ​'when appro­pri­ate.' I think when appro­pri­ate seems to mean if some­one has enough mon­ey in a ​'resilient' way."
But that does­n't have to mean just fan­cy vaca­tion homes for the wealthy. Spe­li­o­tis sug­gests instead using bought-out prop­er­ty to build afford­able hous­ing for the peo­ple who were dis­placed. Fight­ing with land­lords one at a time to get them to take their ten­ants back is all well and good, but, she says, ​"Why not build? Why not take the mon­ey and say we're gonna build a big mul­ti-fam­i­ly dwelling and the peo­ple who are going to live here are the peo­ple who were actu­al­ly on the Rock­aways on Octo­ber 29th." Devel­op­ments like Arverne by the Sea could be bal­anced with afford­able hous­ing — the kind of devel­op­ment deal that, among oth­ers, may­oral hope­ful Bill de Bla­sio has sug­gest­ed, where any devel­op­ment has to come with low­er-priced hous­ing, too.
Ramirez says her expe­ri­ence with the storm has made her more adamant about help­ing oth­ers. In Guer­rero, Mex­i­co, where she's from, floods and mud­slides have dev­as­tat­ed the area after Trop­i­cal Storms Ingrid and Manuel. While her fam­i­ly is still strug­gling to make ends meet, she's also rais­ing mon­ey from friends and neigh­bors to send back home to help. ​"A lot of peo­ple helped peo­ple after Sandy, so we have to do the same thing," she says. ​"You nev­er know when it could be you. What they're feel­ing now, I felt already, and I'm a lit­tle stronger because I've already reached one year."
Sarah Jaffe
is a for­mer staff writer at
In These Times
and author of
Nec­es­sary Trou­ble: Amer­i­cans in Revolt
, which Robin D.G. Kel­ley called ​
"
The most com­pelling social and polit­i­cal por­trait of our age." You can fol­low her on Twit­ter
@sarahljaffe
.