Why a War With Iran Would Be Insane
The former deputy director of National Intelligence for Analysis talks about our options.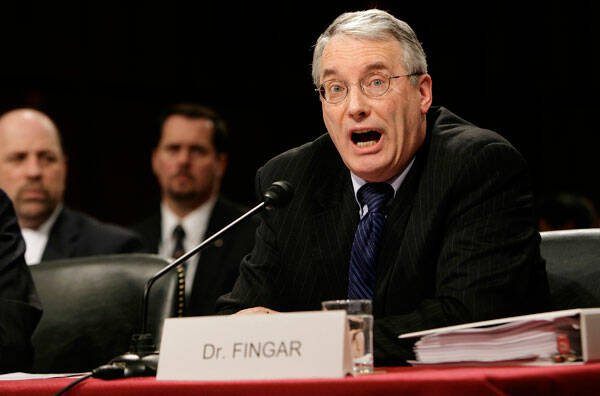 Tom Fin­gar is sen­ti­men­tal enough to sup­pose that if you give intel­li­gence ana­lysts free rein to orga­nize facts and log­ic, they'll pro­duce supe­ri­or judg­ments. From 2005 to 2008, Fin­gar served as Deputy Direc­tor of Nation­al Intel­li­gence for Analy­sis and, concurrently,Chairman of the Nation­al Intel­li­gence Coun­cil. From 1986 to 2005 he held a vari­ety of posi­tions at the State Depart­ment, includ­ing Assis­tant Sec­re­tary of the Bureau of Intel­li­gence and Research (INR). At the State Depart­ment, Fin­gar was renowned for fierce­ly defend­ing the inde­pen­dence of analysts.
'[The Iranians] buy the Syrians and they rent Hezbollah, but they're alone out there. So they have both legitimate and inflated security concerns.'
Politi­cians, all too often, tend to believe their own naïve pre­dic­tions, as in the inva­sion of Iraq and its unfor­tu­nate, pro­longed after­math. From the onset of the ​"Glob­al War on Ter­ror," neo­con­ser­v­a­tives and their allies have been hop­ing to make Iraq a step­ping stone to war with Iran. But war with Iran entails far graver geopo­lit­i­cal con­se­quences, espe­cial­ly regard­ing nuclear proliferation.
Despite being over­looked in pub­lic debate, these con­se­quences are of inter­est to the intel­li­gence com­mu­ni­ty, which long ago formed a con­sen­sus that war with Iran is a no-win scenario.
It is dis­heart­en­ing, then, to read in the pop­u­lar press the cur­rent to-and-fro between the pro-war crowd and lib­er­al activists who cry wolf at the slight­est sign that war with Iran may be under con­sid­er­a­tion. Anti-war lib­er­als should, instead, pro­pose fea­si­ble alter­na­tives to the armed con­flict that war sup­port­ers wish to por­tray as inevitable. Here, Fin­gar, an inter­na­tion­al stud­ies fel­low at Stan­ford Uni­ver­si­ty, explores a few of them.
How should we make sense of Iran­ian intentions?
I'm not sure that the Ira­ni­ans have clear objec­tives they wish to achieve. Iran is alone in a tough neigh­bor­hood – a Shia coun­try in a Sun­ni neigh­bor­hood, Per­sians in an Arab neigh­bor­hood. They buy the Syr­i­ans and they rent Hezbol­lah, but they're alone out there. So they have both legit­i­mate and inflat­ed secu­ri­ty con­cerns. Their long his­to­ry and the 1979 rev­o­lu­tion lead them to an unwill­ing­ness to accept sec­ond-class sta­tus on any dimen­sion. And that comes through clear­ly on the nuclear issue.
How bad would it be if they got a nuclear bomb?
If they get a bomb, that's a prob­lem. I don't know – and I don't think any­one knows out­side of Iran – whether and when they made deci­sions to go for [nuclear] break­out capa­bil­i­ty, when they made a deci­sion to actu­al­ly go for a device, or what cri­te­ria they would apply in decid­ing to go for a bomb as opposed to a capa­bil­i­ty. But Iran was seri­ous and remains seri­ous about hav­ing at a min­i­mum the break­out capa­bil­i­ty and the abil­i­ty to get a weapon.
Gen. Bill Odom, for­mer direc­tor of the Nation­al Secu­ri­ty Agency, once told me half-jok­ing­ly that the best thing would be for us to just give Iran the bomb, on the the­o­ry that then the con­ven­tion­al rules of deter­rence would begin to apply. If he were right, then the most dan­ger­ous phase would be between break­out capa­bil­i­ty and acquisition.
That's arguably the most dan­ger­ous time, when every­body knows you've got a break­out capa­bil­i­ty, but you don't yet have a deter­rent. So if you're going to go get it, go get it now, before the capa­bil­i­ty is there.
What's prob­lem­at­ic is that the Mid­dle East, seem­ing­ly pre­pared to live with the very high prob­a­bil­i­ty that Israel has had nuclear weapons for a long time, has made clear that Iran get­ting a weapon is a worse prob­lem than Israel. Whether that's because they think the Aya­tol­lahs are crazy, or have more dan­ger­ous objec­tives than Israel, or whether they think the Amer­i­cans and Euro­peans have more influ­ence with Israel and Israel would pay more atten­tion to them than Tehran would pay to any­body, I don't know. But Egypt, Turkey and Sau­di Ara­bia are usu­al­ly cit­ed as states that could not live with a bomb in Iran.
I won­der some­times if Israel's pre­oc­cu­pa­tion with Iran's nuclear capa­bil­i­ty may be a pre­text – con­scious or uncon­scious – intend­ed to deflect inter­na­tion­al atten­tion from the Pales­tin­ian situation.
I don't share that cyn­i­cism. I think the Israelis have real rea­son to be con­cerned about Iran­ian rhetoric and behav­ior. For them, it real­ly is a mat­ter of sur­vival; they have to ​"worst case" it. I think they see this as a gen­uine and seri­ous threat and not as a way to deflect from their own mis­treat­ment of the Pales­tin­ian population.
But isn't it rea­son­able to sup­pose that if the Ira­ni­ans uni­lat­er­al­ly launched a nuclear attack on Israel, that would be the end of Iran? Wouldn't they know that?
Yes, but it would also be the end of Israel. Israel isn't like a con­ti­nen­tal pow­er that los­es a cou­ple of cities.
What would be the effect of Iran­ian break­out capac­i­ty, or even bomb devel­op­ment, on oth­er play­ers, say, Sau­di Arabia?
What­ev­er the pre­cise nature of the Saud­is' arrange­ment with the Pak­ista­nis on weapons pro­grams, which the Saud­is have helped to fund direct­ly or indirectly–
Are you sug­gest­ing there's a Sau­di flag paint­ed on a bomb some­where in Pakistan?
Could be. Metaphor­i­cal­ly, there could be one in a ware­house that they've already got ear­marked for them. One can spec­u­late. There's lots of ground for say­ing the nature of the rela­tion­ship over so many years is such that it would be fool­ish to assume that there's no rea­son for con­cern about that.
Wouldn't the fall­out of a pre-emp­tive attack by the Unit­ed States and/​or Israel on Iran to stop their nuclear activ­i­ties be considerable?
Yes, it would be. There are two things you can say with a high degree of cer­tain­ty. The first is, since we don't know where all the facil­i­ties are, the like­li­hood of get­ting them all is small. The sec­ond is, even if we got them all, or the Israelis got them all, that vir­tu­al­ly guar­an­tees that Iran is going to try to recon­sti­tute the pro­gram and be even more secre­tive about where it hides it.
Every­body, as far as I know, is in basic agree­ment that at most, an attack would delay acqui­si­tion by a few years, because they know how to do it. And an attack would trans­form the actions of an unpop­u­lar régime into a nation­al­ist issue on which the Iran­ian reform­ers are going to be lined up shoul­der-to-shoul­der with the theocracy.
I'm think­ing that even though Iran and Pak­istan are Shia and Sun­ni respec­tive­ly, Pak­ista­nis would react in unpre­dictable ways to what they might see as an attack on an Islam­ic state.
I agree. And giv­en the nature of their inter­nal prob­lems, there would be cries for Mus­lim uni­ty. Any gov­ern­ment is going to be hard pressed to ignore that. There is an ele­ment of the unpre­dictabil­i­ty of a pret­ty capa­ble mil­i­tary with nuclear weapons, with an unsta­ble rela­tion­ship with India. It is impor­tant for Afghanistan and what­ev­er comes out of that. And it is impor­tant for pipelines mov­ing oil and gas out of Cen­tral Asia.
For­mer Iran­ian Pres­i­dent Abol­has­san Ban­isadr argues that the Unit­ed States should be push­ing hard­er to present itself as an inof­fen­sive enti­ty – that the more we try to threat­en or sanc­tion Iran, the more we bol­ster the last remain­ing argu­ment the régime has to elic­it sup­port from pow­er cen­ters and the people.
I under­stand the argu­ment. But I've become a lit­tle less sym­pa­thet­ic to it, in light of the Oba­ma administration's sin­cere effort to talk, and the inabil­i­ty to accom­plish any­thing with that.
I'm not a fan of sanc­tions. I think sanc­tions are more feel-good than effec­tive. But the inter­na­tion­al com­mu­ni­ty and the Unit­ed States are get­ting bet­ter at tar­get­ing pieces of the mil­i­tary than we were in the past. At a min­i­mum, it makes things more dif­fi­cult for ele­ments in the régime that are most prob­lem­at­ic; the Rev­o­lu­tion­ary Guard, for exam­ple. But doing things to make some­body who's already inse­cure and para­noid feel more inse­cure and para­noid is not like­ly to get them to throw in the towel.
What is need­ed is the right com­bi­na­tion of sup­port for fair, open pol­i­tics and elec­tions; free­dom of assem­bly and speech; the rights that are sup­pos­ed­ly guar­an­teed in the Iran­ian constitution.
But I don't like the think­ing: ​"Despite your bad behav­ior, non­com­pli­ance with the Inter­na­tion­al Atom­ic Ener­gy Agency, non­com­pli­ance with the Secu­ri­ty Coun­cil, we're going to wel­come you back into the fold with nor­mal rela­tions." I'm not sym­pa­thet­ic to that.
This exchange was adapt­ed from a pod­cast inter­view at Elec​tricPol​i​tics​.com.
George Ken­ney
, a for­mer career U.S. for­eign ser­vice offi­cer, resigned in
1991
over U.S. pol­i­cy toward the Yugoslav con­flict. He is now a writer in Wash­ing­ton, and host and pro­duc­er of the pod­cast
Elec­tric Pol­i­tics
.