The Paradox of Bernie Sanders and the Black Voter
Despite Sanders' historic election, we still don't seem any closer to resolving the rancorous intra-left debates about race and class.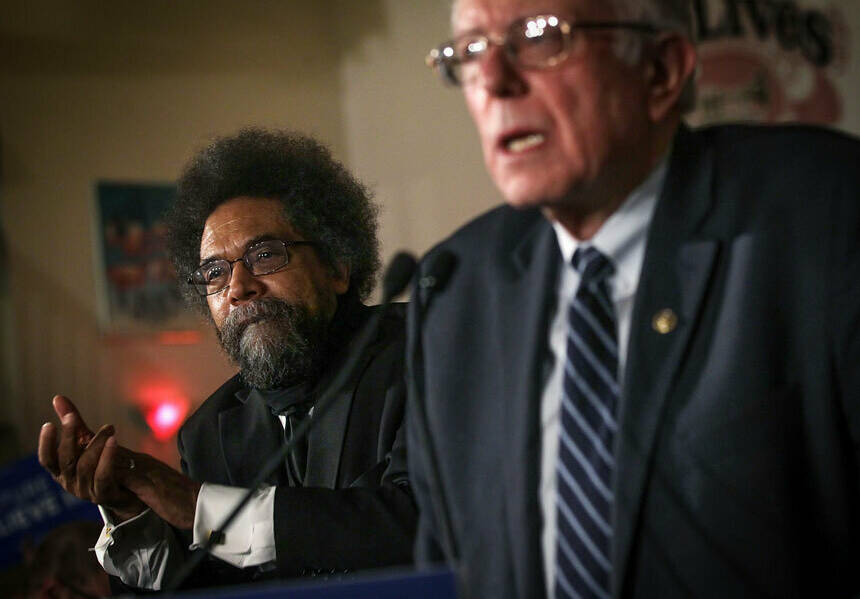 One of the most strik­ing devel­op­ments of this elec­tion sea­son is the inabil­i­ty of Ver­mont Sen. Bernie Sanders to attract black vot­ers to a cam­paign that speaks more direct­ly to their needs than that of any major par­ty can­di­date in recent mem­o­ry — if ever. Even Jesse Jackson's pio­neer­ing cam­paigns failed to chal­lenge the eco­nom­ic foun­da­tions of white suprema­cy like Sanders does.
Many are perplexed by what they see as black Americans' perverse allegiance to Clinton.
Giv­en this, some argue that a vote against Sanders is an aban­don­ment of the black community's best inter­ests. Among them is schol­ar-activist Cor­nel West, who attrib­ut­es the black electorate's pref­er­ence for Hillary Clin­ton to ​"an addic­tion to the famil­iar" — and the black leadership's sup­port of Clin­ton to ​"moral cowardice."
Despite West's ten­den­cy toward hyper­bole, the Sanders cam­paign enlist­ed him as a liai­son to the black elec­torate. But his high-charged crit­i­cism of Pres­i­dent Oba­ma (he has called him a ​"pimp" and a ​"black mas­cot of Wall Street oli­garchs and a black pup­pet of cor­po­rate plu­to­crats") have won him few fans with folks still smit­ten with the first black president.
In the South, the Sanders cam­paign need­ed a sur­ro­gate with a ​"gospel accent," so to speak. Uti­liz­ing West for this pur­pose reveals Sanders' cam­paign as either tone-deaf to cul­tur­al nuances in the black com­mu­ni­ty or so des­per­ate for high-pro­file black sup­port that it doesn't care.
Oth­er black Sanders sur­ro­gates, like activist-actor Dan­ny Glover, rap­per Killer Mike and the icon­ic Har­ry Bela­fonte, were enlist­ed to bol­ster his racial bonafides but instead give the cam­paign a book­ish, bou­tique character.
Cer­tain­ly they failed to pierce Hillary Clinton's fire­wall of South­ern black sup­port. The for­mer sec­re­tary of state car­ried mar­gins of 7 to 1 or more among black vot­ers. That sup­port is like­ly a func­tion of her his­to­ry as a first lady in the state of Arkansas, hazy nos­tal­gia for the boom days of the Clin­ton ​'90s and her ful­some embrace of the beloved Oba­ma. The pos­si­bil­i­ty of elect­ing the first female pres­i­dent is also a prob­a­ble fac­tor: Women com­prise 66 per­cent of the black electorate.
Sanders does only a bit bet­ter with black vot­ers in north­ern states, win­ning rough­ly 30 per­cent in Michi­gan, Ohio, Mis­souri and Wis­con­sin. But the gap remains significant.
Many are per­plexed by what they con­sid­er black Amer­i­cans' per­verse alle­giance to Clin­ton. Michelle Alexan­der, author of the high­ly influ­en­tial The New Jim Crow, for exam­ple, argued in a wide­ly dis­cussed Nation essay that Clin­ton is unde­serv­ing of black sup­port. Alexan­der notes that the Clin­tons ​"presided over the largest increase in fed­er­al and state prison inmates of any pres­i­dent in Amer­i­can history."
Oth­ers are not so per­plexed. Glen Ford, exec­u­tive edi­tor of Black Agen­da Report, argues that black peo­ple ​"tune Sanders out, because their main pur­pose for vot­ing in nation­al elec­tions is to keep the White Man's Par­ty, the Repub­li­cans, out of the White House, and believe Clin­ton has a bet­ter shot."
I think Ford is on tar­get, and although he bemoans this ten­den­cy, it's one that's been honed by cen­turies of hard-earned expe­ri­ence. New York Times colum­nist Charles Blow calls it ​"func­tion­al prag­ma­tism." In the push-pull rela­tion­ship between Bernie and the black com­mu­ni­ty, that's some of the push.
Bernie's pull also needs help. When Ta-Nehisi Coates gen­tly chid­ed Sanders for exclud­ing repa­ra­tions from his list of pol­i­cy demands, the senator's sup­port­ers went bal­lis­tic. Cedric John­son in Jacobin and Paul Street in Coun­ter­punch launched attacks that recalled those ide­o­log­i­cal screeds from the ​'70's denounc­ing black nation­al­ists as ​"bougie" class traitors.
The sig­nif­i­cance of these ide­o­log­i­cal nuances made a brief appear­ance dur­ing a debate in Flint, Michi­gan, when Sanders' response to a ques­tion about his ​"racial blind spots" implied that only black peo­ple live in ​"ghet­tos" and that most black peo­ple were poor.
It was a minor ver­bal gaffe that was like­ly the prod­uct of debate exhaus­tion. But it was a gaffe that might also be char­ac­ter­ized as a ​"Marx­i­an slip," in that a bit of Bernie's world­view slipped out. Specif­i­cal­ly, his con­fla­tion of black Amer­i­ca with the lumpen­pro­le­tari­at, a Marx­ist-Lenin­ist con­ceit wide­ly held dur­ing the days of the Black Pan­ther Par­ty, the time of Sanders' ide­o­log­i­cal for­ma­tion, but one that can elide the speci­fici­ties of racial oppres­sion and the sub­tleties of class divi­sions in the black community.
It was indeed a slip for Sanders. He's been try­ing hard to update his rhetoric to be more atten­tive to issues of white suprema­cy. He effec­tive­ly incor­po­rat­ed an ear­ly encounter with Black Lives Mat­ter pro­test­ers into a more inclu­sive cam­paign platform.
But his gaffe also played into an ongo­ing squab­ble among pro­gres­sives about the role of race in the class strug­gle (or the role of class in the racial strug­gle). That dis­agree­ment has been debat­ed ran­corous­ly for the bet­ter part of a cen­tu­ry now. And despite the his­toric cam­paign Bernie Sanders has run in this elec­tion, we still don't seem any clos­er to resolv­ing it.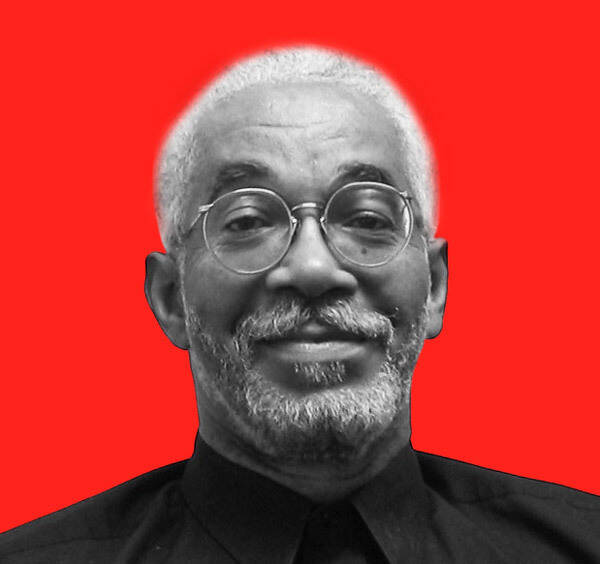 Sal­im Muwakkil
is a senior edi­tor of
In These Times
, where he has worked since
1983
. He is the host of The
Sal­im Muwakkil
show on WVON, Chicago's his­toric black radio sta­tion, and he wrote the text for the book
HAROLD: Pho­tographs from the Harold Wash­ing­ton Years
.