Why Chuy Garcia Needs To Condemn Rahm Emanuel's Secret Police Interrogation Site (Updated)
By any other name, it still smells like torture.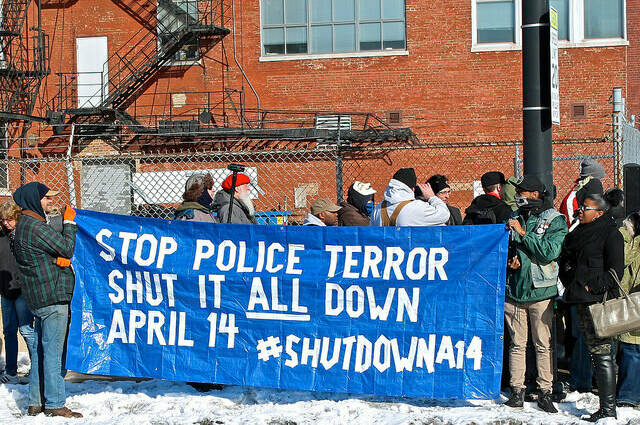 Guardian inves­tiga­tive reporter Spencer Ack­er­man has sparked a firestorm with a series of reports expos­ing a ​"secret" site, in the heart of Chicago's pre­dom­i­nant­ly African-Amer­i­can West Side, at which police have con­duct­ed off-the-books inter­ro­ga­tions for more than 15 years.
What is the purpose of taking people off the books to interrogate them at Homan Square? And who, among the thousands that may be taken into custody by the Chicago police on a given week, are brought there?
Ack­er­man reports that black and brown sus­pects and wit­ness­es, as well as white activists, have been tak­en by police to the aban­doned Sears and Roe­buck com­plex, known as Homan Square, and sub­ject­ed to abuse. The vic­tims describe, var­i­ous­ly, being denied con­tact with lawyers or fam­i­ly for up to three days, being shack­led hand and foot, and being sub­ject­ed to star­va­tion, swel­ter­ing heat, sen­so­ry depri­va­tion and beat­ings. On at least one occa­sion, a detainee — John Hub­bard, 44 — died in an inter­view room. (After the Guardian arti­cle appeared, Cook Coun­ty said the death was due to hero­in intoxication.)
The ini­tial Guardian exposé prompt­ed calls for an inves­ti­ga­tion from two for­mer high-lev­el Jus­tice Depart­ment offi­cials, William Yeo­mans and Sam Bagen­stos, and sev­er­al pro­gres­sive Chica­go politi­cians (includ­ing one, Luis Gutier­rez, who has been a con­spic­u­ous sup­port­er of Chica­go May­or Rahm Emanuel). The city attempt­ed to give the grow­ing scan­dal the back of the hand: Emanuel stat­ed that the alle­ga­tions were ​"not true. We fol­low the rules." The police depart­ment issued a state­ment claim­ing that the site was not secret, that lawyers had access to their clients (the lawyers dis­agree) and that the charges of bru­tal­i­ty were ​"offen­sive." The local press, beat­en on the sto­ry — by a UK paper no less — and hav­ing lost many of its award-win­ning inves­tiga­tive jour­nal­ists years ago, turned to the Chica­go Sun-Times' vet­er­an police reporter, Frank Main, who has long embed­ded with the CPD, to attack the Guardian reports. Main said that he had been to Homan Square 20 to 30 times to be shown drugs seized in raids. This, how­ev­er, exhibits only the strange hid­den-in-plain-sight nature of Homan Square: Press and lawyers were some­times allowed in, but the inter­ro­ga­tions and bru­tal­i­ty were nev­er report­ed. Nonethe­less, a local NPR reporter, rely­ing on Main's asser­tion and dogged­ly focus­ing on the Guardian​'s use of the term ​"black site" to draw a par­al­lel with the CIA's secret inter­ro­ga­tion sites in the Mid­dle East, attempt­ed to dis­miss the reports as ​"exag­ger­at­ed."
The Guardian coun­tered with yet anoth­er sto­ry, which detailed four more cas­es of secret phys­i­cal abuse in ​"ken­nel-like" cells at Homan Square. The young African-Amer­i­can men describe being grilled about guns and gangs for days. This time, the alleged prac­tices includ­ed hand­cuff­ing both wrists in a way that, accord­ing to the vic­tim, felt like being ​"cru­ci­fied," and stomp­ing on anoth­er victim's groin.
The text­book definition
So how should we view Homan Square? The U.N. Con­ven­tion Against Tor­ture and Oth­er Cru­el, Inhu­man or Degrad­ing Treat­ment or Pun­ish­ment, which has been adopt­ed, with reser­va­tions, by the Unit­ed States, defines tor­ture as follows:
Any act by which severe pain or suf­fer­ing, whether phys­i­cal or men­tal, is inten­tion­al­ly inflict­ed on a per­son for such pur­pos­es as obtain­ing from him or a third per­son, infor­ma­tion or a con­fes­sion, pun­ish­ing him for an act he or a third per­son has com­mit­ted or is sus­pect­ed of hav­ing com­mit­ted, or intim­i­dat­ing or coerc­ing him or a third per­son, or for any rea­son based on dis­crim­i­na­tion of any kind, when such pain or suf­fer­ing is inflict­ed by or at the insti­ga­tion of or with the con­sent or acqui­es­cence of a pub­lic offi­cial or oth­er per­son act­ing in an offi­cial capacity.
Giv­en this, the emerg­ing evi­dence of abus­es at Homan Square once again places the ques­tion of sys­temic, racial­ly and polit­i­cal­ly moti­vat­ed tor­ture square­ly at the doorstep of the polit­i­cal pow­ers that be in Chicago.
The sim­i­lar­i­ties to the Burge tor­ture era of the 1970s and 1980s are hard to miss. While the coer­cive tac­tics that have so far been doc­u­ment­ed at Homan Square are not as extreme as those prac­ticed by then-Police Com­man­der Jon Burge and his men (which includ­ed elec­tric shock, sim­u­lat­ing suf­fo­ca­tion with a bag and mock-exe­cu­tions), they still inten­tion­al­ly inflict ​"severe pain or suf­fer­ing, whether phys­i­cal or men­tal" as for­bid­den by the CAT. Dur­ing the Burge era, lawyers and fam­i­ly mem­bers would call the police look­ing for an African-Amer­i­can client or loved one who had been tak­en into cus­tody, only to be told that he or she was not there. When the per­son was final­ly locat­ed, Burge and his con­fed­er­ates had fin­ished their tor­ture and abuse, and in most cas­es, obtained a con­fes­sion. Sim­i­lar to Homan Square, numer­ous black men, includ­ing Dar­rell Can­non, Michael Till­man, and Alon­zo Smith, were tak­en off­site to remote loca­tions or to the base­ment of the police sta­tion to be inter­ro­gat­ed under tor­ture. And, as in Homan, at least one per­son died under high­ly sus­pi­cious cir­cum­stances on Burge's watch.
Homan Square itself has a direct tie to oth­er bru­tal chap­ters of Chica­go police his­to­ry: The site is geo­graph­i­cal­ly locat­ed in the noto­ri­ous Fill­more Police Dis­trict, near the for­mer Area 4 detec­tive head­quar­ters. In the 1980s and 1990s, a team of well-known Area 4 detec­tives inter­ro­gat­ed sus­pects with a vicious­ness that was sec­ond only to that of Burge and his men. Decades ear­li­er, in the 1960s, Fill­more Dis­trict Offi­cer James ​"Gloves" Davis, and his part­ner, Nedrick Miller, patrolled the streets with a bru­tal­i­ty so extreme that they are remem­bered by res­i­dents to this day. (Davis has anoth­er claim to infamy: When the Chica­go police were enlist­ed by Cook Coun­ty State's Attor­ney Edward Han­ra­han and F.B.I. Direc­tor J. Edgar Hoover's Coin­tel­pro pro­gram to exe­cute the dead­ly West Side raid on the apart­ment of Black Pan­ther lead­ers Fred Hamp­ton and Mark Clark, Davis was one of the lead­ers of the raid, and bul­lets from his car­bine were found in the bod­ies of both of the slain leaders.)
More to unearth?
The first case of Burge relat­ed tor­ture came to light in 1982, but it was more than two decades before the larg­er scope of his unit's sys­temic tor­ture on the South and West Sides of Chica­go — 120 vic­tims and still count­ing — was unearthed. So it is lit­tle won­der that the sto­ries emerg­ing from the sprawl­ing brick edi­fice chill those who have expe­ri­enced sim­i­lar ter­ror­iz­ing bru­tal­i­ty at the hands of the Chica­go police. At a ral­ly in front of Emanuel's City Hall on March 2, tor­ture vic­tim Dar­rell Can­non linked Homan Square to Burge's racist tor­ture, para­phras­ing Mar­tin Luther King Jr.: ​"Jus­tice denied to one is jus­tice denied to all." Angry young activists of col­or at the ral­ly sug­gest­ed that the rev­e­la­tions to date are just the tip of an ice­berg and described every­day occur­rences of bru­tal inter­ro­ga­tions in their com­mu­ni­ties. Since the Guardian sto­ries hit, lawyers have come for­ward and com­plained that hold­ing clients incom­mu­ni­ca­do is a city­wide problem.
That it is, with­out doubt, and it is much too ear­ly to call the sto­ry ​"exag­ger­at­ed" or to con­clude that there has been trans­paren­cy with regard to what goes on in those ken­nel-like cells. One vet­er­an and well-respect­ed African Amer­i­can activist, Prexy Nes­bitt, who has lived in the shad­ow of that com­plex of build­ings and had tast­ed the law­less­ness of the Fill­more cops back in the day, has assert­ed, with a straight face, that Homan Square is ​"where the bod­ies are buried." Unfor­tu­nate­ly, in Chica­go that state­ment can be tak­en lit­er­al­ly, as well as figuratively.
On the Sat­ur­day after the first Homan Square arti­cle broke, a group of hardy pro­test­ers, led by Black Lives Mat­ter, gath­ered before the for­ti­fied entrance of the main build­ing. A spokesper­son posed ques­tions to the silent row of police guards: ​"How many peo­ple are you hold­ing there?" ​"What are you doing to them?"
Those ques­tions deserve answers, along with many oth­ers. Fore­most among them: Giv­en Chica­go lawyers' reports that offi­cers feel free to prac­tice these kinds of abus­es through­out the city, what is the pur­pose of tak­ing peo­ple off the books to inter­ro­gate them at Homan Square? And who, among the thou­sands that may be tak­en into cus­tody by the Chica­go police on a giv­en week, are brought there?
The CPD isn't telling. But an answer may be pieced togeth­er from what the police, the embed­ded reporter and the Guardian's exposé have so far revealed. Here's what we know: First, the CPD's under­cov­er oper­a­tions and intel­li­gence and anti-gang units are based at Homan Square. Sec­ond, select­ed polit­i­cal activists are brought there, along with youth of col­or. The for­mer are ques­tioned about ​"ter­ror­ist" and oth­er polit­i­cal activ­i­ties, and the lat­ter are grilled about gang activ­i­ties, drugs and guns. Third, detainees are secret­ed away from their lawyers and fam­i­lies for as long as pos­si­ble, some­times days. Fourth, in many instances they are not charged with a crime. Fifth, one of Homan Square's main func­tions is, by the CPD's own admis­sion, to ​"dis­rupt" gang activ­i­ty, in a chill­ing echo of how the FBI's Coin­tel­pro pro­gram char­ac­ter­ized an ille­gal set of tac­tics, which were also prac­ticed by the CPD's noto­ri­ous Red Squad and Gang Intel­li­gence Unit to tram­ple on the rights of polit­i­cal activists and peo­ple of col­or in the 1960s and 1970s.
All of this indi­cates that Homan Square hous­es a cen­tral­ized police intel­li­gence gath­er­ing and dis­rup­tion oper­a­tion — secret, law­less, and out of con­trol. Since the tac­tics at least some­times include human rights vio­la­tions for­bid­den by the Unit­ed Nations Con­ven­tion Against Tor­ture, it seems depress­ing­ly appro­pri­ate to liken Homan Square to Burge's House of Screams, to Guan­tanamo Bay, and yes, to the CIA's secret black sites.
The pol­i­tics at play
Two final over­ar­ch­ing ques­tions also must be posed: How, if at all, will the Oba­ma Jus­tice Depart­ment respond? And will these relat­ed human rights issues impact the may­oral runoff between May­or Rahm Emanuel and pro­gres­sive chal­lenger Jesus ​"Chuy" Gar­cia on April 7?
With regard to the Jus­tice Depart­ment, local activists remem­ber all too well that Barack Oba­ma, when a state sen­a­tor, steered a wide berth around the Burge tor­ture issue. That, cou­pled with his staunch sup­port for his for­mer chief of staff in the may­oral pri­ma­ry, make the chances of a mean­ing­ful fed­er­al inves­ti­ga­tion, at least in the short term, next to zero.
As for the may­oral race, Gar­cia took a posi­tion in the pri­ma­ry elec­tions that, to many pro­gres­sives, appeared to be to the right of Emanuel on the issue of polic­ing. He called for 1,000 more cops on the street in his one and only TV adver­tise­ment, a posi­tion that hard­ly res­onat­ed with those peo­ple of col­or and pro­gres­sives who suf­fer the slings and arrows of over­ly aggres­sive, racial­ly moti­vat­ed polic­ing. He does sup­port the ordi­nance for repa­ra­tions for Burge tor­ture sur­vivors, but came to it late in the cam­paign, with an ill-informed writ­ten state­ment. He there­by missed a gold­en oppor­tu­ni­ty to seize upon an issue that would have fur­ther sep­a­rat­ed him­self from Emanuel — who has refused to com­mit to the ordi­nance despite its sup­port by a major­i­ty of the City's alder­men — while appeal­ing to the African-Amer­i­can community.
The Homan Square scan­dal offers Gar­cia yet anoth­er chance to show pro­gres­sives and peo­ple of col­or that he is com­mit­ted to reform a cor­rupt and bru­tal police depart­ment. With a broad-based attack on his oppo­nent for fail­ing to sup­port tor­ture repa­ra­tions or to halt Homan Square, Gar­cia would be tak­ing a page from his men­tor, the late and great May­or Harold Wash­ing­ton. Harold's cam­paign caught fire in 1983 when he heed­ed the advice of one of his pro­gres­sive advi­sors and seized on the issue of ram­pant police bru­tal­i­ty to attack the incum­bent, Jane Byrne. His base was gal­va­nized, and the rest is his­to­ry. Unfor­tu­nate­ly, to date, Gar­cia has ignored that suc­cess­ful exam­ple and remained silent on Homan Square. Time is run­ning short, but to para­phrase the late Con­gress­man Ralph Met­calfe, it is nev­er too late to be right.
Update: On the evening of March 5, in response to sev­er­al inquiries from In These Times, may­oral can­di­date Chuy Gar­cia issued a brief state­ment on Homan Square, ​"Media reports about issues at Homan Square raise trou­bling ques­tions. I call on May­or Emanuel to answer those ques­tions." His cam­paign indi­cat­ed he would be releas­ing a longer state­ment in the com­ing days.
Flint Tay­lor
is a found­ing part­ner of the People's Law Office in Chica­go. He is one of the lawyers for the fam­i­lies of slain Black Pan­ther lead­ers Fred Hamp­ton and Mark Clark, and togeth­er with his law part­ner Jef­frey Haas was tri­al coun­sel in the marathon
1976
civ­il tri­al. He has also rep­re­sent­ed many sur­vivors of Chica­go police tor­ture, was involved in the strug­gle for repa­ra­tions, and has done bat­tle with the Chica­go Police Depart­ment — and the Fra­ter­nal Order of Police — on numer­ous occa­sions over his
45
year career as a people's lawyer