A Progressive Case for Clinton
I am a progressive, I like Hillary Clinton and I do not feel remotely conflicted about that.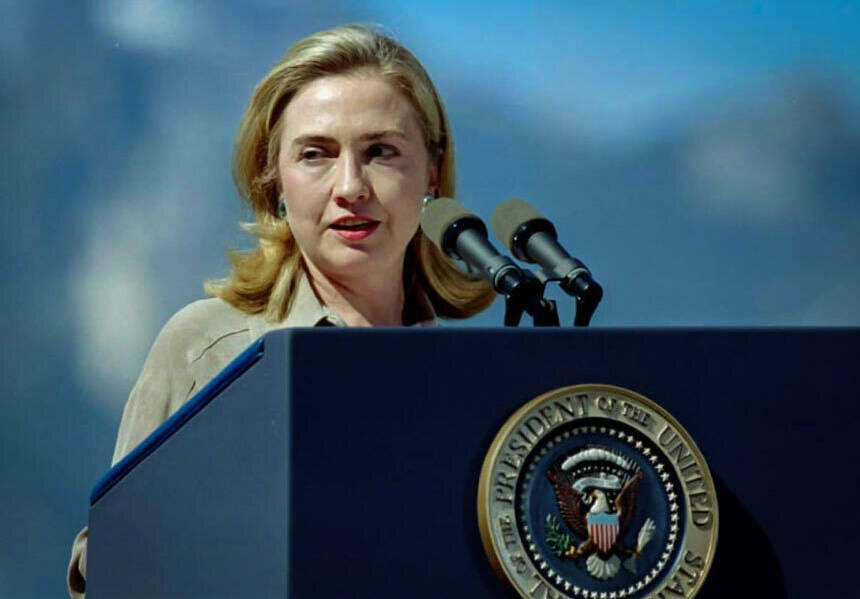 In In These Times' Hillary vs. Bernie round­table last July—oh, what a far­away, inno­cent time July was — I was aware that I was mak­ing nice rather than mak­ing my case. My ret­i­cence was due to a fear that I voiced at the end of the con­ver­sa­tion: that ​"Sanders vs. Clin­ton will become ugly, and we're going to get to the fin­ish line unable to get behind the nom­i­nee, and then I am going to wake up one day and Ted Cruz will be president."
When I hear claims about Hillary Clinton, the money-grubbing shill for Wall Street who thinks just like a Republican, I don't recognize the woman who once snapped at her husband for not fighting hard enough for universal healthcare, telling him, "You weren't elected to do Wall Street economics."
Now, the ugli­ness has arrived. So here comes my full-throat­ed case for Hillary Clin­ton for pres­i­dent of the Unit­ed States.
First, it is impos­si­ble to ana­lyze Clin­ton — her poli­cies, her career path, her hair — with­out under­stand­ing how gen­der bias oper­ates. Bias plays a role in all of our reac­tions, no mat­ter how fem­i­nist we are. As pro­gres­sives, it is our duty to resist these stereo­types, and, if we are jour­nal­ists, to help our read­ers under­stand how gen­der bias oper­ates at an uncon­scious level.
When you hear that Hillary Clin­ton is unlik­able, be aware of the study that shows com­pe­tent women are gen­er­al­ly seen as unlik­able; when you hear that Hillary Clin­ton is dis­hon­est, know that this same study shows women in pow­er are gen­er­al­ly seen as dis­hon­est. And know that when the same imag­i­nary job can­di­date is pre­sent­ed to two groups, with the only dif­fer­ence being a male or female name at the top of the résumé, the female can­di­date is seen as less trust­wor­thy than the man. In each study, these biased reac­tions were found in both women and men.
And real­ize that when women seek pow­er — for exam­ple, by run­ning for the nation's high­est office—a Yale study reports that ​"par­tic­i­pants expe­ri­enced feel­ings of moral out­rage (i.e. con­tempt, anger, and/​or dis­gust) towards them" and that ​"women were just as like­ly as men to have neg­a­tive reac­tions." In the very same Yale study, when ​"par­tic­i­pants saw male politi­cians as pow­er-seek­ing, they also saw them as hav­ing greater agency (e.g. being more assertive, stronger and tougher) and greater competence."
That is not to say that there can­not be spe­cif­ic, con­vinc­ing argu­ments against Hillary Clin­ton, or that there are not argu­ments against her. It is to say that peo­ple who crit­i­cize Hillary Clin­ton, espe­cial­ly from the Left, should be aware of how these stereo­types may dis­tort our per­cep­tions, and how we can frame crit­i­cisms with­out feed­ing into the very real misog­y­ny that has dogged Clin­ton through­out her career — an antipa­thy once expressed in a ​"Hillary Clin­ton dis­mem­ber­ment doll," com­plete with detach­able limbs.
Once one cuts through that misog­y­ny, one is forced to con­front the rea­son the GOP has fos­tered hatred against her: For much of the ear­ly por­tions of Clinton's career, begin­ning when she arrived on the nation­al stage in 1992, Hillary Clin­ton was pre­sumed by the Right (and many Democ­rats) to be too far left to be in pol­i­tics. She was Bill Clinton's left-wing lia­bil­i­ty, a Saul Alin­sky-hug­ging, Children's‑Defense-Fund-working, non-cook­ie-bak­ing, mouthy fem­i­nist, attacked on the stage of the Repub­li­can Nation­al Con­ven­tion for sup­port­ing ​"rad­i­cal fem­i­nism" and ​"homo­sex­u­al rights."
It was in part because of this hatred that Hillary Clin­ton became the per­son we know today: a can­di­date defined by her cau­tion and her frus­trat­ing self-con­tra­dic­tions, seem­ing­ly torn between chal­leng­ing the pow­er struc­ture and gain­ing enough cred­i­bil­i­ty with­in that pow­er struc­ture to sur­vive. Clin­ton believes that you need to be in the sys­tem in order to change the sys­tem, and I think that is true. Clinton's path has giv­en her tremen­dous impact, and in many ways, her pol­i­tics — left sym­pa­thies com­bined with a survivor's instinct for using the sys­tem, and a lawyer's love of the fine detail — are rem­i­nis­cent of Obama's. While left­ists have cri­tiques of Oba­ma, too, I think he's been the best pres­i­dent in my life­time, which start­ed with Rea­gan. I also remem­ber that sec­ond Bush a lit­tle too well to ever believe that the two par­ties are ​"basi­cal­ly the same" (though I have been told this many times).
When I hear claims about Hillary Clin­ton, the mon­ey-grub­bing shill for Wall Street who thinks just like a Repub­li­can, I don't rec­og­nize the woman who once snapped at her hus­band for not fight­ing hard enough for uni­ver­sal health­care, telling him, ​"You did­n't get elect­ed to do Wall Street eco­nom­ics." Sim­i­lar­ly, I see no shifty dis­hon­esty in the Hillary Clin­ton who, in 2005, pushed for a 9/11-style com­mis­sion to inves­ti­gate the Bush administration's fail­ure to respond to Hur­ri­cane Kat­ri­na, and who today is the woman mak­ing the admin­is­tra­tive neg­li­gence in Flint, Mich., cen­tral to her campaign.
Sim­i­lar­ly, the Hillary Clin­ton who trav­eled to Bei­jing in 1995 against the wish­es of her husband's admin­is­tra­tion to declare that ​"women's rights are human rights" is entire­ly rec­og­niz­able as the Sec­re­tary of State who helped to cre­ate the Office of Glob­al Women's Issues and declared that ​"the Unit­ed States must be an unequiv­o­cal and unwa­ver­ing voice in sup­port of women's rights in every coun­try on every con­ti­nent." In short, this is the same Hillary Clin­ton who is today stress­ing equal pay for women as a racial jus­tice issue, giv­en that the women who are most penal­ized by the pay gap are black women and Latinas.
And the Hillary Clin­ton who is ​"Repub­li­can lite," ​"more like Rea­gan than FDR" and ​"to the right of Nixon" does not seem remote­ly the same Clin­ton whose votes aligned with Sen. Bernie Sanders' 93 per­cent of the time dur­ing the two years they over­lapped in the Sen­ate. They famous­ly part­ed ways on the 2002 deci­sion to autho­rize the war in Iraq — a vote that Clin­ton acknowl­edges was a mis­take. That doesn't undo the war, or make her right in ret­ro­spect, and it doesn't even defuse the idea that she vot­ed for the war specif­i­cal­ly to pro­tect her rep­u­ta­tion; many Demo­c­ra­t­ic politi­cians with pres­i­den­tial aspi­ra­tions, from John Ker­ry to Joe Biden, made that same vote. I respect that for a seri­ous and thought­ful per­son, the Iraq vote might rule Clin­ton out; it ruled her out for me in 2008. But this is not 2008, and this year, her opponent's lack of inter­est or exper­tise in for­eign pol­i­cy wor­ries me more than her record. We got into Iraq — a quag­mire that has last­ed, lit­er­al­ly, for my entire adult life — not only because of U.S. inter­ven­tion­ism, but because the com­man­der in chief didn't under­stand the region well enough to know how pro­found­ly we would desta­bi­lize it, or how that would trap us in a con­flict that would last for gen­er­a­tions. I may not always agree with Clin­ton, but at least I believe she knows her stuff.
So, yes. There are prob­lems with her record, and I rec­og­nize them. I could also crit­i­cize Sanders. I could go on about, for instance, his ten­den­cy to bring every sin­gle ques­tion back to eco­nom­ic inequal­i­ty (an out­dat­ed, sin­gle-axis analy­sis that, as Andrea Plaid not­ed in these pages, is as myopic as #white­fem­i­nists try­ing to make every­thing ​"all about gen­der"). But I won't. I want to talk about the woman who has sur­vived 25 years of misog­y­nist hatred and GOP attacks, and came out unbro­ken and unbowed.
I want to talk about the woman who, know­ing full well how bad it gets, signed up for any­where between a few months to anoth­er decade of hideous treat­ment. It doesn't hurt that she was the first can­di­date to advo­cate over­turn­ing the Hyde Amend­ment on the cam­paign trail, or that she has been vocal and insis­tent on equal pay and repro­duc­tive rights, or that she has respond­ed to pres­sure for her cam­paign to demon­strate a seri­ous com­mit­ment to racial jus­tice by reach­ing out to women affect­ed by police bru­tal­i­ty and giv­ing lengthy pub­lic state­ments about the need for white peo­ple to rec­og­nize their own priv­i­lege and take part in resist­ing and end­ing racism.
I do not believe she would do all this if she sim­ply want­ed per­son­al pow­er. We've seen what a can­di­date who wants per­son­al pow­er looks like: Don­ald Trump. If you are a nar­cis­sist, ways exist to make peo­ple like you; a life­long career as a high­ly vis­i­ble fem­i­nist is, trust me, not one of them. Work­ing for a legal fund that pro­vides free defense to the poor, or going under­cov­er as a civ­il rights oper­a­tive to uncov­er racial dis­crim­i­na­tion in schools, are not things the pow­er-hun­gry do, but Sec­re­tary Clin­ton has done them.
I am a pro­gres­sive. I like Hillary Clin­ton and I do not feel remote­ly con­flict­ed. The qual­i­ties she's exhib­it­ed over her long career — prac­ti­cal­i­ty, resilience, the abil­i­ty to use the sys­tem to improve the lives of the least pow­er­ful with­in it, the abil­i­ty, above all, to sur­vive — are not just admirable. They're exact­ly what pro­gres­sives need if we are to car­ry the White House.