Will Japan's Largest Union Support Renewable Energy?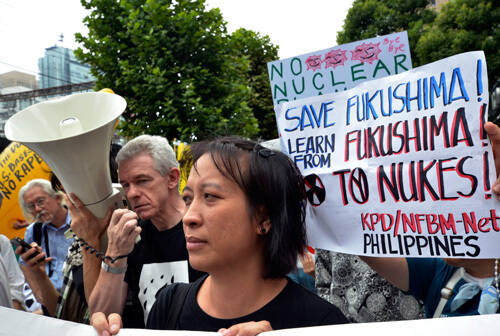 As Japan observed the 66th anniver­sary of the Hiroshi­ma and Nagasa­ki atom­ic bomb­ings this week, the coun­try con­tin­ues to grap­ple with the radioac­tive fall­out from the Fukushi­ma nuclear cri­sis.

Near­ly five months after an earth­quake and tsuna­mi sparked the worst nuclear dis­as­ter in 25 years, cit­i­zens, anti-nuclear groups, and gov­ern­ment offi­cials gath­ered in Hiroshi­ma and Nagasa­ki to push for renew­able ener­gy sources and nuclear non-pro­lif­er­a­tion.

With pub­lic anger mount­ing against TEP­CO, the government's bun­gled response and unrav­el­ing polit­i­cal scan­dals, a July poll showed that more than 70 per­cent of the coun­try sup­ports doing away with atom­ic pow­er. That dis­as­ter and sub­se­quent mass sen­ti­ment may have also caused Japan's largest labor fed­er­a­tion to reex­am­ine its sup­port for nuclear energy.
The Japan­ese Trade Union Con­fed­er­a­tion, also known as Ren­go, said the country's nuclear ener­gy pol­i­cy and the union's sup­port of it should be ques­tioned going for­ward. At an anti-nuclear gath­er­ing last Thurs­day in Hiroshi­ma, the union's sec­re­tary gen­er­al told reporters, ​"We have to start dis­cus­sions con­cern­ing nuclear ener­gy from the begin­ning to decide what we should do in the future."

The state­ment, as tepid as it is, was the first time since 2005 the union even addressed the issue. It is a fol­low up from May when the union decid­ed to review its pol­i­cy and freeze the pro­mo­tion of nuclear ener­gy.

That is a change from last August when the union pro­mot­ed atom­ic pow­er. There had been inter­nal ten­sion about tak­ing an offi­cial posi­tion, but sev­er­al unions affil­i­at­ed under the Ren­go umbrel­la are employed in the ener­gy indus­try and suc­cess­ful­ly lob­bied to pro­mote nuclear pow­er.

The con­fed­er­a­tion is also one of the largest sup­port­ers of the cur­rent rul­ing Demo­c­ra­t­ic Par­ty of Japan (DPJ) and has gained favor­able polit­i­cal poli­cies in the past. TEPCO's labor union belongs to the Fed­er­a­tion of Elec­tric Pow­er Relat­ed Indus­try Work­ers' Unions of Japan, which is a core mem­ber of Ren­go.

A recent report found that unions work­ing for elec­tric com­pa­nies donat­ed over 100 mil­lion yen ($1.3 mil­lion dol­lars at the cur­rent exchange rate) to DPJ politi­cians from 2006 to 2009. In turn, elec­tric com­pa­ny exec­u­tives donat­ed over 162 mil­lion yen ($2.1 mil­lion) to the oppo­si­tion Lib­er­al Demo­c­ra­t­ic Par­ty (LDP) in the same peri­od. Both work­ers and exec­u­tives lob­bied oppos­ing par­ties with a mutu­al goal. Japan's Kyo­do News writes:

​"The labor unions mobi­lized their funds to sup­port the DPJ while the man­age­ment backed the LDP to achieve the com­mon goal of secur­ing polit­i­cal endorse­ment for nuclear pow­er as an impor­tant ener­gy source."

As a result, DPJ's polit­i­cal posi­tion also evolved. The DPJ had pre­vi­ous­ly tak­en a ​"cau­tious stance" on nuclear pol­i­cy, but in 2006 the par­ty wrote in a pol­i­cy paper that it is an ​"indis­pens­able ener­gy source." By 2010, the party's cam­paign man­i­festo sought to ​"push exports of nuclear pow­er plants."

Offi­cials have stepped back from their pro-nuclear stance in the wake of the triple dis­as­ters. The deeply unpop­u­lar Prime Min­is­ter Nao­to Kan, of the DPJ, has expressed his desire to reduce the country's reliance on nuclear ener­gy with the goal of elim­i­nat­ing it in the future. But he faces polit­i­cal pres­sure from both par­ties to con­tin­ue the sta­tus quo. More­over, with calls for his res­ig­na­tion, he may not see a new ener­gy pol­i­cy through. Asahi writes that the calls to remove Kan may be tied to lob­by­ing inter­ests:

​"There are many law­mak­ers in both the rul­ing Demo­c­ra­t­ic Par­ty of Japan and the oppo­si­tion Lib­er­al Demo­c­ra­t­ic Par­ty who have tak­en TEP­CO mon­ey for years and feel oblig­at­ed to pro­tect the company's inter­ests."

It remains to be seen how the gov­ern­ment and the union will go for­ward, but a deci­sion will be need­ed in the near future. Japan has one-third of its 54 reac­tors oper­at­ing and is faced with pow­er short­ages. The reac­tors are sched­uled for main­te­nance next May.

Still, the pub­lic has grown increas­ing­ly skep­ti­cal about the safe­ty of nuclear pow­er. Like­wise, Ren­go has also soft­ened their stance. And if the past is any indi­ca­tion, they have the abil­i­ty to shape pol­i­cy. Whether their posi­tion will mir­ror pub­lic opin­ion or their own inter­ests is some­thing that will come to light in the near future.