Will Sanity Prevail on CBS?
It's style versus substance for morning news shows. Guess which one is winning.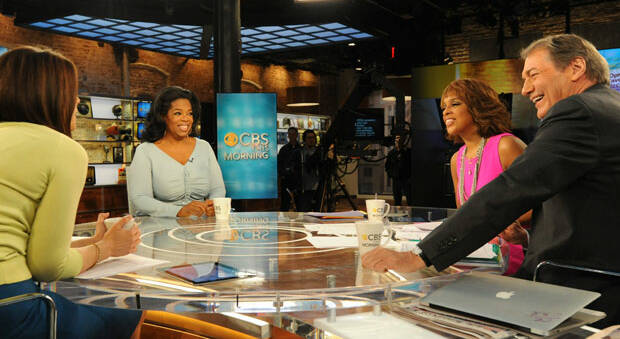 Watching network TV morning shows tends to be like listening to strangers yelling at you inside your kitchen: ​"Wake up, America! We have hot, young one-percenters to show you! Plus the latest in home appliances!"
CBS brought on Charlie Rose to help change its format. But are people tuning in? Or are they happy with the fast food gimmicks that are the mainstay of Good Morning America and Today?
Charlie Rose and Gayle King, anchors of the new CBS This Morning, are not loud and overly energized. Their 60 Minutes-talk show-morning program hybrid, which premiered in January, is slow journalism: Interviews last longer, and the show airs serious news features, like a April 12 segment on the investigation into Indian IT company Infosys for U.S. visa fraud, and what that kind of fraud means for American software engineers. For anyone interested in a calm, newsy, adult conversation over breakfast, CBS This Morning is the only option. News junkies should care about this show's future, because it says a lot about where TV journalism is headed.
The morning shows matter: Evening news viewership may be down, but morning show viewership is solid, and it's a money-making machine for the networks. But CBS has struggled in the morning news segment. It has tried copying NBC and ABC, in the same way all three networks (plus CNN) have copied the opinion-focused Fox News over the last 15 years. It's gotten them nowhere. The Early Show, which CBS This Morning replaced, lagged well behind behind both NBC's Today and ABC's Good Morning America in the ratings.
CBS brought on Charlie Rose to help change its format. They're concocting a whole new mousetrap over there on the West Side of Manhattan. As one CBS spokesperson said to me recently, they're ​"in it to win it."
But are people tuning in? Or are they just as happy with the fast food gimmicks that are the mainstay of Good Morning America and Today?
Consider this: When Katie Couric filled in for Good Morning America host Robin Roberts during the ​"ratings wars" of early April, Today producers thought it would be funny to bring in Sarah Palin as its guest host, pitting her against Couric in a kind of rematch to the 2008 tragicomedy widely considered to be Palin's worst-ever election season interview. Palin, coupled with Top 40 DJ and American Idol host Ryan Seacrest (who will be covering the Olympics for NBC), helped Today win the war with 5.07 million total viewers, compared to Good Morning America​'s 4.6 million.
CBS This Morning wasn't even mentioned in stories on the ratings race at The Huffington Post. It's as if the show doesn't exist. The only mention of it in a discussion of the morning shows on WNYC's The Takeaway implied that Rose and King will never succeed. Maybe, New York Times media reporter Bill Carter said on the segment, CBS should have hired Oprah Winfrey, who had just appeared on the show, instead.
It's true. We do care more about Ashley Judd's puffy face.
One of the reasons news budgets continue to get slashed is that no one is paying attention. From a business perspective, it's cheaper and easier to air 15 seconds of cross-promoting celebrities or bring in a local chef to discuss the latest in haute cuisine than it is to staff a newsroom full of reporters, producers and fact checkers who need to earn a living wage.
The CBS This Morning format is based around Rose's interview style. But he's a slow cooker. He's old. He's probably not even a ​"belieber".
But wait! Take heart, news fans: According to Nielsen, CBS This Morning gained viewers in its second month, rising from an average of 2.7 million viewers in January to 2.9 million in February. (Good Morning America, for comparison, went from 4.8 million to 4.9 million. And Today, thanks to morning star Matt Lauer, rose from 5.3 million to 5.5 million viewers.)
The Nielsen numbers show that CBS This Morning​'s viewership rose 11 percent among women aged 25 to 54 (a key demographic for the morning shows) between the last week of March and the first month of April – and that demographic is up for the network from the same time last year. The show's overall March viewership basically held steady compared to the first two months of the year, logging 2.8 million. So CBS This Morning hasn't lost any ​"Early Show" viewers, despite the format change. And it's got A-list talent almost daily (like King's pal Oprah, who praised the show when she made her appearance earlier this month). But the new show is still well behind Good Morning America and Today, which both had more than 5 million viewers in March, according to Nielsen.
Morning show viewership is in part a matter of habit, as CBS programmers will tell you. People are just more used to Good Morning America and Today. A quick look at the thread of comments by the news junkies over at The Huffington Post suggests that people may be coming around: GMA and CBS This Morning have really improved," writes one user. Another one says, ​"I made the switch to CBS months ago, no regrets."
There's a lot at stake here for CBS. If this format doesn't interest viewers, cloning Good Morning America and Today hasn't proved any better. People concerned that American journalism has gone more Gawker than New York Times should care about this outcome, or at the very least change the channel.
A longtime reporter and foreign correspondent for Dow Jones and the
Wall Street Journal
,
Kenneth Rapoza
is an
In These Times
columnist who writes about the news business. His work has also appeared in
The American Prospect, The Nation
and at
Salon​.com
. He can be reached at ken@​inthesetimes.​com.