In Wisconsin's Battle Against Right to Work, Labor Goes Through the Motions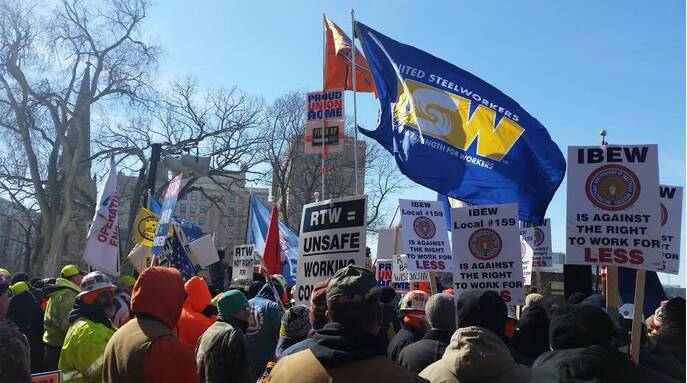 Over two thou­sand angry work­ers marched around the Wis­con­sin state capi­tol on a frigid Sat­ur­day after­noon Feb­ru­ary 28 to denounce Wis­con­sin gov­er­nor and lead­ing GOP pres­i­den­tial can­di­date Scott Walker's lat­est round of union-bust­ing leg­is­la­tion. But a bit­ter sense of inevitably was thick in the air.
It's a bit­ter­ness to which the Left has become accus­tomed. And if orga­nized labor con­tin­ues to make the same mis­takes they have made in Wis­con­sin over the last four years, the defeats will like­ly keep coming.
Last week, thou­sands of union mem­bers packed the capi­tol in Madi­son on two con­sec­u­tive days to fight a ​"right-to-work" bill that would elim­i­nate union secu­ri­ty claus­es in col­lec­tive bar­gain­ing agree­ments and crip­ple pri­vate sec­tor labor resources and power.
The bill was fast-tracked with almost no debate by a Repub­li­can-dom­i­nat­ed state sen­ate and is now set to move through the Wis­con­sin state assem­bly this week, to be signed into law as ear­ly as Fri­day by a gov­er­nor who has tied his ris­ing con­ser­v­a­tive polit­i­cal cap­i­tal to his rep­u­ta­tion as a politi­cian will­ing and able to take on orga­nized labor and win.
This almost cer­tain defeat will mark yet anoth­er seri­ous blow to the trade union move­ment, encour­age copy­cat leg­is­la­tion in half the coun­try, and fur­ther ele­vate Walk­er's nation­al pro­file as a seri­ous pres­i­den­tial con­tender ahead of next year's influ­en­tial Iowa Cau­cus. Wis­con­sin, once one of the dens­est labor strong­holds in the nation, will be turned into some­thing of a union ghost town, with no pub­lic or pri­vate sec­tor unions of sig­nif­i­cant size. Both employ­ers and politi­cians across the coun­try will be embold­ened to attack work­ers' rights.
Labor has nobody to blame but them­selves for the car­bonite they seem frozen in. The upris­ing that swept Wis­con­sin in the win­ter of 2011 sparked the imag­i­na­tion of the nation pre­cise­ly because it was a bot­tom-up move­ment of direct action. It had street heat: teacher sick-ins and walk­outs, capi­tol occu­pa­tions and mass protests. Hun­dreds of thou­sands of every­day peo­ple were inspired to join the fight.
But labor made a fatal mis­take that it has stub­born­ly repeat­ed ever since. Faced in 2011 with the option of esca­lat­ing jobs actions and push­ing for­ward to orga­nize the much vaunt­ed and near myth­i­cal gen­er­al strike, union lead­er­ship instead made the cal­cu­lat­ed deci­sion to demo­bi­lize the protests and fun­nel the move­ment into the courts and the bal­lot box. Labor lead­ers high-jacked the elec­tric grass­roots ener­gy and prompt­ly drove it straight into elec­toral pol­i­tics, where the move­ment con­tin­ues to be stuck.
Court chal­lenges to Act 10, the 2011 law that elim­i­nat­ed col­lec­tive bar­gain­ing and dues check­off for pub­lic employ­ees, failed. The recall elec­tion in 2012 and Walk­er's third suc­cess­ful elec­tion in four years in 2014 both divert­ed tremen­dous union resources away from work­place and com­mu­ni­ty orga­niz­ing and into cam­paign con­tri­bu­tions, door knock­ing and phone-bank­ing for luke­warm Demo­c­ra­t­ic can­di­dates like cor­po­rate mod­er­ates Tom Bar­rett and Mary Burke.
The results were pre­dictable. Absent a mobi­lized mass move­ment to ele­vate real can­di­dates, or at least give the ones we appeared stuck with some back­bone, Bar­rett and Burke refused to even talk about work­ers' issues, played it safe and steered their cam­paigns straight into mediocrity.
The same thing hap­pened nation­al­ly in 2014. In response to pro­gres­sives' ​"Get Out the Vote" effort, the gen­er­al pub­lic tuned out and cor­po­rate con­ser­v­a­tives near­ly took over. The 2012 pres­i­den­tial elec­tions would have been equal­ly bogged down if focus group poll­sters had been allowed to steer the ship. The only rea­son 2012 was dif­fer­ent was because the Occu­py Wall Street movement's brief mutiny caused enough of a ruckus to change the nation­al con­ver­sa­tion away from deficits and towards inequal­i­ty, pro­pelling Pres­i­dent Oba­ma into a sec­ond term.
The rank-and-file work­ers I spoke with at Sat­ur­day's ral­ly were not igno­rant of any of this, and dis­ap­point­ment was evi­dent in people's voic­es even as most enjoyed let­ting off steam in col­lec­tive action with like-mind­ed union broth­ers and sisters.
"Last time the move­ment was way­layed into Recall Walk­er," said Babette Grunow, an elder­ly woman car­ry­ing a giant ​"Gen­er­al Strike" ban­ner. ​"Now we're not even in the right posi­tion to orga­nize a gen­er­al strike," she said.
"Today's ral­ly is a great start, but the move­ment isn't ready for sus­tained direct action, and that's what we real­ly need to win," said David Williams, a retired AFSCME librar­i­an. ​"Imag­ine if labor had put all that time and mon­ey they dumped down the drain on elec­tions the last four years and had used it to actu­al­ly orga­nize the work­ing class instead," Williams continued.
To Williams's point, it's not hard to imag­ine under a dif­fer­ent sce­nario labor unions turn­ing in over one mil­lion peti­tion sig­na­tures in Jan­u­ary 2012 in sup­port of direct action instead of a recall election.
There are still some signs for opti­mism, of course. Nation­wide, labor unrest is increas­ing and some com­men­ta­tors say we are on the verge of a new labor mil­i­tan­cy. It was good to see thou­sands of work­ers out on the streets in Madi­son again. Peo­ple in the crowds spoke open­ly about the pos­si­bil­i­ty of statewide strikes, includ­ing dur­ing sev­er­al con­ver­sa­tions I lis­tened to after­wards as peo­ple warmed up at the near­by Michelan­gelo's Cof­fee House. I saw signs and over­heard folks con­nect­ing Walk­er's union-bust­ing to oth­er parts of his cor­po­rate agen­da, like mas­sive tax breaks for big busi­ness and his newest bud­get pro­pos­al for mil­lions in cuts to high­er edu­ca­tion. Many peo­ple car­ried ban­ners and leaflets and sang chants call­ing for a gen­er­al strike. Some young demon­stra­tors car­ried red and black flags and a giant ​"Black Lives Mat­ter" ban­ner was promi­nent­ly placed inside the capi­tol rotunda.
But over­all, labor unions in Wis­con­sin and across the coun­try are in retreat and about to take anoth­er cat­a­stroph­ic loss. What has hap­pened in Wis­con­sin has not and will not stay inside state bor­ders. The Repub­li­can gov­er­nor in Illi­nois has already tak­en Walker's ideas to a new lev­el, cir­cum­vent­ing the state leg­is­la­ture and using exec­u­tive pow­er to try and elim­i­nate bar­gain­ing rights for pub­lic work­ers. Under the right con­di­tions, absent a real pop­ulist move­ment every­day peo­ple can believe in, a con­ser­v­a­tive can­di­date like Scott Walk­er could real­is­ti­cal­ly ice out a tepid Demo­c­rat like Hillary Clin­ton in a nation­wide pres­i­den­tial contest.
Such an out­come is not inevitable. But to pre­vent it labor will need to start heed­ing the lessons of Wis­con­sin, and stop bring­ing snow­balls to a gunfight.
David Good­ner
is a writer, orga­niz­er and Catholic Work­er from Iowa City.