How a Wave of New Voters Could Take Out Scott Walker in 2018
Thanks to increased voter registration efforts, Democrats may be able to oust Wisconsin Governor Scott Walker this fall.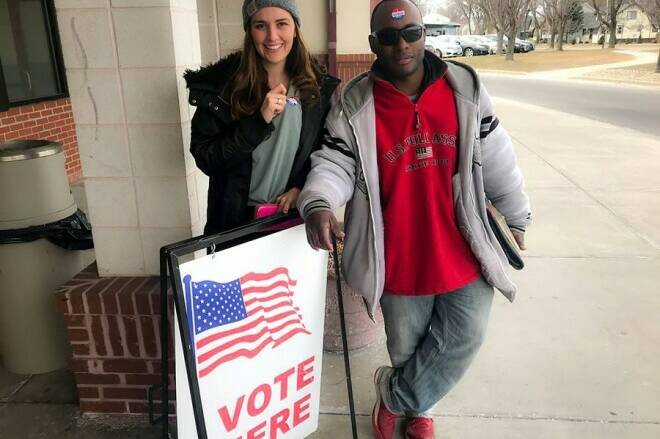 MADI­SON, WIS. — Vot­ers stream into the Mead­owridge Library, a typ­i­cal polling place on the south­west side. It's elec­tion day, April 3, icy and mis­er­able. Sev­en years ago, Wis­con­sin Gov. Scott Walk­er ® launched a wide-rang­ing project imped­ing turnout, insti­tut­ing vot­er ID require­ments and clos­ing ear­lyvot­ing sites, all of which helped his own party.
But Walker's suc­cess is begin­ning to thaw. City­wide turnout reached 45 per­cent this spring, high for an April election.
That's thanks in part to a non­par­ti­san coun­terof­fen­sive led by elec­tion clerks in metro vot­ing districts.
In an email to In These Times, Madi­son city clerk Mari­beth Witzel-Behl said, ​"Our goal is for each eli­gi­ble vot­er to be able to cast a bal­lot and have that bal­lot count­ed." The effect will like­ly be a spike in turnout for the August pri­maries and Novem­ber gen­er­al elections.
Madison's pio­neer­ing vot­er out­reach effort began in 2012, after state Repub­li­cans passed the first of dozens of vot­er sup­pres­sion laws. Des­ig­nat­ed ​"ambas­sadors" from the City Clerk's office train vot­ing rights work­ers for groups such as the Dane Coun­ty Vot­er ID Coali­tion who reach out to seniors, stu­dents and civ­il rights groups.
"We go to where we think vot­ing rights may be at risk — food pantries, col­lege cam­pus­es, home­less shel­ters — to reg­is­ter vot­ers and help them get an ID, includ­ing tak­ing them to the DMV," says Mar­i­an Matthews of the League of Women Vot­ers of Dane Coun­ty. ​"I feel strong­ly about social jus­tice and I think vot­ing rights are crit­i­cal to achiev­ing it."
Madi­son has seen high turnouts since 2016, when the One Wis­con­sin Insti­tute v. Thom­sen fed­er­al court deci­sion swept away much of the Repub­li­can vot­er-obstruc­tion leg­is­la­tion, includ­ing the man­date that cities have only one ear­ly vot­ing site. The rul­ing applied statewide, but Madi­son has done the most to expand vot­er out­reach, increas­ing ear­ly-vot­ing sites to a state-record 15 stations.
"It appears that all of this proac­tiv­i­ty paid off," notes Bar­ry Bur­den, polit­i­cal sci­ence pro­fes­sor at the Uni­ver­si­ty of Wis­con­sin-Madi­son. In Novem­ber 2016, Madi­son saw high vot­er par­tic­i­pa­tion while over­all state turnout declined. This April, Madison's turnout rough­ly dou­bled that of the state at large, help­ing to pro­pel pro­gres­sive Rebec­ca Dal­let to a land­slide vic­to­ry in the Wis­con­sin Supreme Court race.
Oth­er Wis­con­sin munic­i­pal­i­ties con­tact­ed the Madi­son Clerk's Office to use the city as a mod­el. Kenosha,the state's fourth-most pop­u­lous city, adopt­ed a sim­i­lar vot­er ambas­sador project in 2017 and record­ed a 26 per­cent turnout in April, almost dou­bling the April 2017 turnout.
Mil­wau­kee is open­ing 20 vot­er reg­is­tra­tion kiosks at pub­lic libraries across the city, and will increase its ear­ly-vot­ing sites from three to eight for the gen­er­al election.
Uni­ver­si­ties have also joined in. At the Uni­ver­si­ty of Wis­con­sin-Madi­son, the Andrew Good­man Foun­da­tion — named for an activist mur­dered in 1964 while help­ing black Mis­sis­sip­pi­ans reg­is­ter to vote — has fund­ed three ​"Vote Every­where Ambas­sadors" since 2016. Sev­er­al cam­pus wards saw record turnout in April.
Pri­vate groups have chipped in, too, such as a local taxi coop­er­a­tive, Union Cab, which drove peo­ple to the polls for free.
In Novem­ber, Madi­son, which votes more than 80 per­cent Demo­c­ra­t­ic, could poten­tial­ly increase the anti-Walk­er vote by tens of thou­sands over the 2014 elec­tion. Near-pres­i­den­tial-lev­el turnout could sig­nal the end of the Repub­li­cans' vot­er obstruc­tion project.
Michael Leon
has writ­ten for The Pro­gres­sive, In These Times, Coun­ter­Punch and others.