Under-the-Table Workers Are Left Out of the Paid Sick Leave Conversation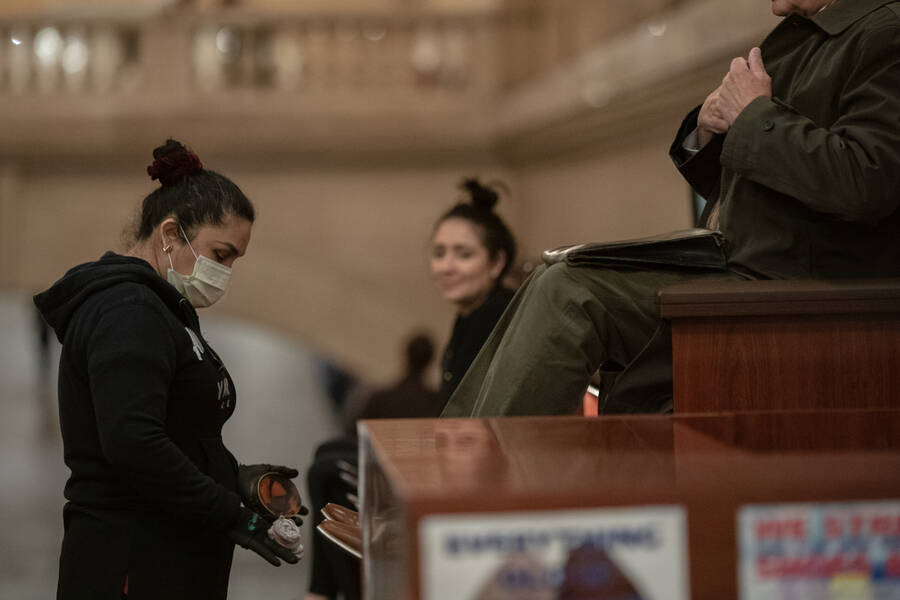 First pub­lished at Jacobin.
In the rush — or at least the pre­tense of rush — to bring imme­di­ate eco­nom­ic relief to the mil­lions of aver­age work­ers gut­ted by the tank­ing glob­al econ­o­my brought on by the coro­n­avirus, Demo­c­ra­t­ic Par­ty elites and cen­trist papers of record Wash­ing­ton Post and New York Times are cement­ing the terms of the debate to a nar­row, inef­fec­tive, and whol­ly inad­e­quate dis­cus­sion of paid sick leave.
Over a forty-eight-hour peri­od from Fri­day after­noon to Sun­day after­noon, the New York Times has run twelve arti­cles and op-eds online that sub­stan­tive­ly men­tion paid sick leave, includ­ing Asso­ci­at­ed Press and Reuters reprints. Not a sin­gle one of those pieces men­tions the fact that infor­mal econ­o­my and con­tract work­ers would not ben­e­fit from such pro­tec­tions, which are urgent­ly need­ed — but ide­al­ly would just be one strand of a much larg­er safe­ty net.
A piece pub­lished Sat­ur­day by the New York Times edi­to­r­i­al board does crit­i­cize the leg­is­la­tion for paid sick leave passed by the House Sat­ur­day morn­ing, shep­herd­ed by House Speak­er Nan­cy Pelosi, for not going far enough because it doesn't apply to com­pa­nies with 500 or more work­ers. ​"In fact, the bill guar­an­tees sick leave only to about 20 per­cent of work­ers," the piece notes. ​"Big employ­ers like McDonald's and Ama­zon are not required to pro­vide any paid sick leave, while com­pa­nies with few­er than 50 employ­ees can seek hard­ship exemp­tions from the Trump admin­is­tra­tion." Yet nowhere in this arti­cle will you find any men­tion of the infor­mal econ­o­my work­ers who are entire­ly exclud­ed from this legislation.
This omis­sion is glar­ing, because a sig­nif­i­cant por­tion of the US work­force is employed in the free­lance and infor­mal economies not cov­ered by paid sick leave. Accord­ing to some counts there's over 56 mil­lion free­lancers in the Unit­ed States (though not all are eco­nom­i­cal­ly pre­car­i­ous, many almost cer­tain­ly are).
As for the infor­mal econ­o­my, it is, by def­i­n­i­tion, dif­fi­cult to deter­mine the exact scale of this sec­tor. The Inter­na­tion­al Labor Orga­ni­za­tion (ILO) esti­mat­ed in 2018 that 18.1 per­cent of total employ­ment in North Amer­i­ca is in the infor­mal sec­tor (the ILO didn't look just at the Unit­ed States). A 2011 Urban Insti­tute report found ​"there are no pre­cise esti­mates of the size of the infor­mal employ­ment sec­tor in the Unit­ed States, but it could range from 3 to 40 per­cent of the total non-agri­cul­tur­al work­force," which means it could be as low as 4 mil­lion or as high as 53 mil­lion Americans.
Many of these infor­mal econ­o­my and free­lance work­ers are already in cri­sis. ​"Sex work has giv­en me a lev­el of finan­cial sta­bil­i­ty I've nev­er had before, but I'm still just one rent pay­ment away from cri­sis," a New Eng­land – based sex work­er told Jacobin. ​"Most sex work­ers don't have a safe­ty net and will almost cer­tain­ly be left out of any for­mal sys­tems put in place to make up for lost wages. I'm already wor­ried about what I will do when I lose income and have nowhere to turn."
Dur­ing the same forty-eight-hour peri­od, the Wash­ing­ton Post pub­lished fif­teen arti­cles and op-eds that sub­stan­tive­ly men­tioned paid sick leave, includ­ing Asso­ci­at­ed Press and Bloomberg Wire reprints. Of those, none gave a clear men­tion of infor­mal econ­o­my work­ers. One opin­ion col­umn by Adam Shan­dler dis­cussed gig work­ers, but this brief men­tion pro­vid­ed the entire scope of cov­er­age of the infor­mal, free­lance, and undoc­u­ment­ed econ­o­my in the con­text of the coro­n­avirus relief package.
Read­ing the Times and Post cov­er­age, and state­ments from both Repub­li­can and Demo­c­rat lead­ers, it's clear that help­ing the vul­ner­a­ble and pre­car­i­ous dig out from the eco­nom­ic con­di­tions they face is almost inci­den­tal to the paid sick leave mech­a­nism. ​"The House's fail­ure to require uni­ver­sal paid sick leave," the afore­men­tioned March 14 Times edi­to­r­i­al con­clud­ed, ​"is an embar­rass­ment that endan­gers the health of work­ers, con­sumers and the broad­er Amer­i­can public."
The urgent con­cern for our polit­i­cal and media lead­ers at the moment appears to first and fore­most be con­tain­ing the rate of the virus's spread. A noble goal, of course, but one that is sep­a­rate from mak­ing sure peo­ple don't suf­fer eco­nom­ic hardship.
The press­ing polit­i­cal ques­tion is: the focus on only paid sick leave? And why only two weeks? These ques­tions are espe­cial­ly impor­tant giv­en the almost immea­sur­able lev­el of need among all workers.
"Infor­mal econ­o­my work­ers are being entire­ly left out of the con­ver­sa­tion, on the fed­er­al lev­el but also state and local lev­els," Fahd Ahmed, the direc­tor of Desis Ris­ing Up and Mov­ing, a New York – based orga­ni­za­tion, said to Jacobin. ​"Con­ver­sa­tions have cen­tered on more estab­lished, more for­mal, and resourced employ­ers, but our mem­ber­ship is pri­mar­i­ly undoc­u­ment­ed and work­ing in small busi­ness­es, often work­ing on cash, doing domes­tic work inside of homes. A lot of the mes­sage doesn't apply to their employ­ers, or they wouldn't qual­i­fy because of doc­u­men­ta­tion process­es that are required."
The answer lies, in part, in the world­view of the most pow­er­ful Demo­c­rat on this issue and all oth­ers: House Speak­er Nan­cy Pelosi. Pelosi is a long­time ide­o­log­i­cal adher­ent to think­ing on deficits which pri­or­i­tizes find­ing out how ​"one is going to pay for things" over whether the pol­i­cy is moral or need­ed as such. Thus, in the event of a mass cat­a­stro­phe, ques­tions of aus­ter­i­ty will, before nego­ti­a­tions even begin, lim­it what's pos­si­ble to the bare min­i­mum required for Democ­rats to look like they're Doing Something.
The excuse for the cur­rent half of a half mea­sure, per usu­al, is that the ground ced­ed was nec­es­sary for ​"com­pro­mise." But we have decades of evi­dence, includ­ing com­ments made by Pelosi her­self in the past sev­en­ty-two hours, that this wasn't a reluc­tant com­pro­mise made by an oth­er­wise pro­gres­sive cham­pi­on of broad pop­ulist action, but the log­i­cal con­clu­sion of her long-stand­ing approach to pol­i­tics. Pelosi has referred to far-right deficit hawk and Repub­li­can Pete Peter­son as a ​"nation­al hero," and has derid­ed any­one to her left for sug­gest­ing the Demo­c­ra­t­ic Par­ty may be insuf­fi­cient­ly progressive.
On Sat­ur­day, when the Times broke the news of the lim­it­ed scope of the bill, Pelosi took to Twit­ter to defend it, insist­ing, ​"I don't sup­port U.S. tax­pay­er mon­ey sub­si­diz­ing cor­po­ra­tions to pro­vide ben­e­fits to work­ers that they should already be pro­vid­ing … Large employ­ers and cor­po­ra­tions must step up to the plate and offer paid sick leave and paid fam­i­ly & med­ical leave to their work­ers." Not only does Pelosi begin her state­ment with the right-wing aus­ter­i­ty catch­phrase ​"US tax­pay­er mon­ey," her rhetor­i­cal cli­max is mild­ly chid­ing cor­po­ra­tions and demand­ing they ​"step up to the plate" with­out any sense of what the con­se­quences are if they don't.
In the time of the most press­ing cri­sis fac­ing the Amer­i­can poor poten­tial­ly since the Great Depres­sion, the vul­ner­a­ble are offered up ide­o­log­i­cal­ly razor-thin hand-wring­ing by one of the peo­ple most empow­ered to actu­al­ly help them.
It's impor­tant to note that Alexan­dria Oca­sio-Cortez and Bernie Sanders' pol­i­cy pro­pos­als would implic­it­ly solve many of the prob­lems of free­lancers and those in the infor­mal econ­o­my. In Sun­day night's debate Sanders name-checked home­less peo­ple and pris­on­ers and he took a big risk when, months ago, he includ­ed undoc­u­ment­ed peo­ple in his Medicare for All plan and Oca­sio-Cortez has tak­en to social media this week to cham­pi­on evic­tion mora­to­ri­ums, stu­dent debt can­cel­la­tion, and a uni­ver­sal basic income — all of which would fill much of the gap left in paid sick leave framing.
The goal, of course, is not to pit for­mal econ­o­my and infor­mal econ­o­my work­ers against each oth­er. Whether one is labor­ing for Jeff Bezos or for a small employ­er who pays cash under the table, work­ers deserve to be imme­di­ate­ly bailed out by this unfore­seen pan­dem­ic. Paid sick leave must be a part of this rubric, espe­cial­ly in times of pro­found pub­lic health cri­sis. But when paid sick leave — for a small num­ber of work­ers, and for a lim­it­ed amount of time — is accept­ed as the only emer­gency response, it's tan­ta­mount to repair­ing a crum­bling build­ing with scotch tape.
We need to be talk­ing about wealth redis­tri­b­u­tion on a far grander scale: What would it look like to pro­vide imme­di­ate mate­r­i­al relief, in the form of guar­an­teed income, to work­ers who are los­ing work — and who should not work, so that we can have a hope of con­tain­ing this health cri­sis? How can we enact such a pol­i­cy to ensure no one is left behind, no mat­ter how they make their mon­ey, or whether they are able to make any mon­ey at all, regard­less of immi­gra­tion sta­tus or dis­abil­i­ty? What does it look like to pur­sue an ambi­tious pro­gram to redis­trib­ute wealth, uncon­cerned with selec­tive ​"how will you pay for it?" con­cern trolling, on an unprece­dent­ed scale so that the peo­ple los­ing their jobs, and poten­tial­ly los­ing their homes, can sur­vive this crisis?
Mil­lions of peo­ple are in free fall right now: Bars and restau­rants are clos­ing, con­struc­tion sites are shut­ter­ing, yet rent is still due, mouths need to be fed, and there is no clear end date to the cri­sis. When the para­me­ters of debate are drawn so nar­row­ly as to exclude the actu­al actions that could bring these peo­ple mate­r­i­al relief, that's the same thing as leav­ing them to fend for themselves.