The Democrats' Timid COVID-19 Response Does Not Bode Well for the Climate
The Democrats want us to believe they'll act fast on climate if in power, but they've proven themselves slow in a crisis.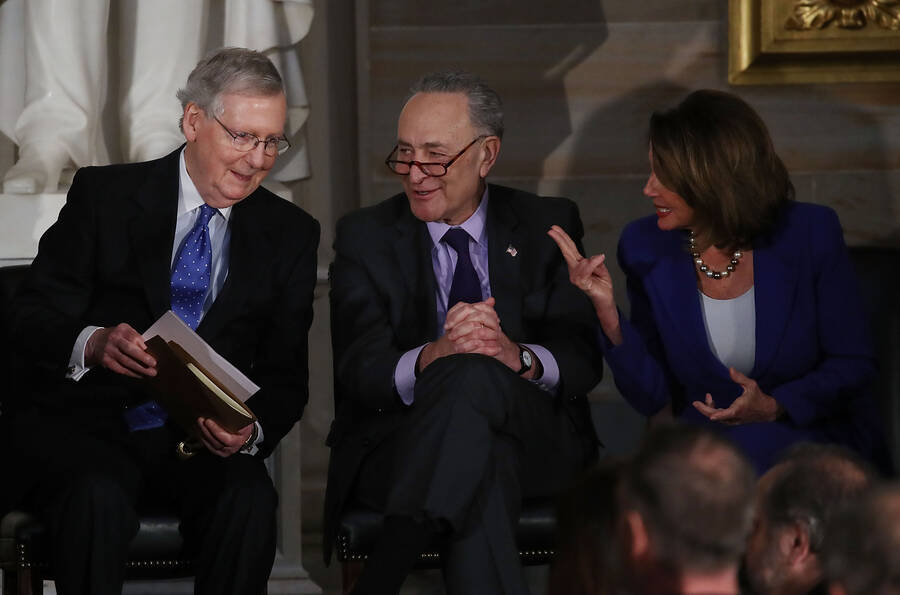 Demo­c­ra­t­ic Par­ty lead­ers have repeat­ed­ly brushed off urgent calls for rad­i­cal cli­mate action by declar­ing that they — the Seri­ous Adults in the Room — should be trust­ed to fix the sit­u­a­tion. Yet their utter fail­ure to rise to the COVID-19 cri­sis and catch the mil­lions of peo­ple in free-fall right now should dis­pel any notion that cur­rent polit­i­cal lead­er­ship will save us from the cli­mate cri­sis — poised to be far worse than the glob­al pan­dem­ic if the sta­tus quo con­tin­ues unabated.
It's not enough to simply blame the Republicans with each failure.
In Feb­ru­ary 2019, when Sen. Dianne Fein­stein (D‑Calif.) was con­front­ed by young orga­niz­ers from the Sun­rise Move­ment about her oppo­si­tion to the Green New Deal, she told them to step back and let her take care of it. ​"That res­o­lu­tion will not pass the Sen­ate, and you can take that back to who­ev­er sent you here and tell them," she declared, adding, ​"I've been in the Sen­ate for over a quar­ter of a cen­tu­ry and I know what can pass and I know what can't pass."
That same month, Nan­cy Pelosi, the speak­er of the House, derid­ed the Green New Deal as, ​"The green dream or what­ev­er they call it, nobody knows what it is, but they're for it right?" Her remarks sug­gest­ed that she, the prag­ma­tist, should hold the levers of pow­er — not rad­i­cals who have proven them­selves naïve and fool­ish by demand­ing too much.
And then, when Trump's NAF­TA 2.0 — known as the Unit­ed States-Mex­i­co-Cana­da Agree­ment (USM­CA) — passed with no cli­mate pro­vi­sions, despite the out­cry of cli­mate activists, Pelosi insist­ed that the con­ces­sion was nec­es­sary, in light of Trump's con­trol of the White House, and we should entrust the Democ­rats with fix­ing this issue at some lat­er date. ​"There's only so far an admin­is­tra­tion that doesn't believe in the cli­mate cri­sis or sci­ence will go, but the changes Democ­rats secured in USM­CA put us on a firm foot­ing for action when we have a pres­i­dent who brings us back into the Paris accord," Pelosi spokesper­son Hen­ry Con­nell said in a statement.
Obvi­ous­ly Repub­li­cans are far worse than Democ­rats on cli­mate cri­sis and COVID-19 response. But Repub­li­cans will be insa­tiable, pow­er-serv­ing racists no mat­ter what the Left does. It's impor­tant to cal­i­brate crit­i­cism of Demo­c­ra­t­ic lead­er­ship with this under­stand­ing, but Repub­li­cans' exis­tence as a reac­tionary force does not excuse the clear fail­ure of Demo­c­ra­t­ic lead­ers to match the urgency of our COVID and Cli­mate crises.
Sim­i­lar assur­ances that The Seri­ous Adults In the Room are on top of things have been espoused by a Demo­c­ra­t­ic law­mak­er who sits on the Select Com­mit­tee on the Cli­mate Cri­sis. The com­mit­tee was estab­lished by Pelosi in Decem­ber 2018 and explic­it­ly exclud­ed key demands from pro­po­nents of the Green New Deal, includ­ing sub­poe­na pow­er and a com­mit­ment to reject con­tri­bu­tions from fos­sil fuel com­pa­nies. Among them is Rep. Sean Cas­ten (D‑Ill.), who said in April 2019 that the key to fix­ing the cli­mate cri­sis is to put ​"legit experts" in the room. ​"It didn't hap­pen with the Green New Deal," he said.
This prag­ma­tism-scold­ing is often under­writ­ten by the deficit hawk ide­ol­o­gy that has defined the pol­i­tics of Pelosi and oth­er lead­ing Democ­rats. ​"Now, in terms of the Green New Deal [as con­ceived], that goes beyond what our charge is," Pelosi said to Rolling Stone in an inter­view pub­lished in Feb­ru­ary 2019. ​"Our charge is about sav­ing the plan­et. They have in there things like sin­gle-pay­er and …  what is it? Guar­an­teed income?" Yet these are the very social pro­grams that would have shield­ed us from the dev­as­tat­ing eco­nom­ic effects of the COVID-19 cri­sis, and have been mer­ci­less­ly derid­ed by cen­trist Democ­rats because they ​"cost too much."
Instead, we are told by the polit­i­cal and pun­dit class alike that we should look to pri­vate mar­kets to save us. In a Jan­u­ary 2019 col­umn for the New York Times, Times colum­nist and Oba­ma-influ­encer Thomas Fried­man declared, ​"I believe there is only one thing as big as Moth­er Nature, and that is Father Greed — a.k.a., the mar­ket." Fried­man, who is an heir to a mul­ti-bil­lion-dol­lar fam­i­ly busi­ness, con­tin­ued, ​"I am a green cap­i­tal­ist. I think we will only get the scale we need by shap­ing the mar­ket. If I were draft­ing a Green New Deal plat­form today, it would put in place steadi­ly ris­ing mileage, man­u­fac­tur­ing and emis­sions stan­dards; stronger build­ing codes; and car­bon mar­ket prices." This pre­scrip­tion was a response to — and a knock against — the actu­al Green New Deal pro­pos­al ini­tial­ly put for­ward by Rep. Alexan­dria Oca­sio-Cortez (D‑N.Y.), which empha­sized broad social pro­grams that are not based on prof­it motive, such as a jobs guar­an­tee and pub­lic banks.
Now that we are going through an epi­demi­o­log­i­cal cri­sis — a dress rehearsal for the far-worse cli­mate cri­sis to come — where are these mag­i­cal plans Democ­rats sup­pos­ed­ly have in their back pock­ets? What are the Seri­ous Adults in the Room doing to make sure the more than 16 mil­lion peo­ple who have filed for unem­ploy­ment in the past three weeks alone do not starve to death, or die in the streets, where count­less peo­ple are already being made more vul­ner­a­ble to the virus and the dai­ly harms of being house­less? What are the Seri­ous Peo­ple we're sup­posed to entrust with the fate of human­i­ty doing about the fact that 7.3 mil­lion more peo­ple are expect­ed to be unin­sured by June, on top of the 27.5 mil­lion who were already unin­sured? The Demo­c­ra­t­ic lead­er­ship has made it clear that it oppos­es Medicare for All, so what is its grand plan now that an unprece­dent­ed pub­lic health cri­sis is here — not in some far-away future, but now.
In the $2 tril­lion stim­u­lus 3 bill, known as the CARES Act, Democ­rats con­ced­ed to a $500 bil­lion cor­po­rate bailout while get­ting a pal­try one-time $1,200 check for every­one in the Unit­ed States mak­ing less than $75,000, with an addi­tion­al $500 per child. But there's a catch: As jour­nal­ist David Dayen explains, if you don't have a direct deposit on file with the IRS, ​"the check will be mailed and it will take up to four months." The bill also includes a $600-per-week increase in unem­ploy­ment insur­ance. But accord­ing to Dayen, ​"this ben­e­fit will be run through state unem­ploy­ment insur­ance sys­tems, a creaky patch­work of vary­ing qual­i­ty that is most­ly unpre­pared for the crush of claims." In an arti­cle titled ​"Count­less Amer­i­cans can­not com­plete unem­ploy­ment appli­ca­tions," CNN describes the plight of one woman who wait­ed eight hours and 45 min­utes on hold with the North Car­oli­na Divi­sion of Employ­ment Secu­ri­ty, yet has still been unable to com­plete her appli­ca­tion. A San Anto­nio man called the state Work­force Com­mis­sion 5,257 times but got noth­ing but busy sig­nals, dis­con­nec­tions and voicemails.
One might reply that Democ­rats are up against a Trump White House and a Repub­li­can-major­i­ty Sen­ate, and are lim­it­ed in what they can win. And indeed, it is true that the Repub­li­can Par­ty con­sti­tutes a pro­found­ly dan­ger­ous force, unleash­ing untold harm dur­ing this cat­a­stro­phe, with GOP voic­es increas­ing­ly advo­cat­ing a pre­ma­ture end to shel­ter­ing in place, a move that would kill count­less peo­ple. But Demo­c­ra­t­ic lead­ers' pro­pos­als were gross­ly insuf­fi­cient and unam­bi­tious from the get-go. In mid-March, Pelosi cham­pi­oned a paid sick leave bill that cov­ers only 20% of pri­vate-sec­tor work­ers in the for­mal econ­o­my, exempt­ing big cor­po­ra­tions like Ama­zon and exclud­ing all of the tens of mil­lions of infor­mal econ­o­my and con­tract work­ers. She even took to Twit­ter to vig­or­ous­ly defend the bill, and her deputy chief of staff Drew Ham­mill went on to denounce uni­ver­sal pro­grams: ​"As Con­gress con­sid­ers the next steps, the Speak­er believes we should look at refund­able tax cred­its, expand­ed UI [unem­ploy­ment insur­ance] & direct pay­ments — but MUST be targeted."
But that's not all. Accord­ing to a Politi­co arti­cle pub­lished March 17, Pelosi ini­tial­ly reject­ed calls for cash pay­ments. ​"When a for­mer eco­nom­ic advis­er to Pres­i­dent Barack Oba­ma raised the idea pri­vate­ly to Democ­rats last week, Pelosi shot down the sug­ges­tion say­ing she didn't want to write checks to mil­lion­aires," the arti­cle states. The means-test­ing she ulti­mate­ly got guar­an­tees that count­less des­per­ate peo­ple will like­ly face delays in receiv­ing their cash pay­ments. It also means that Pelosi was, at least rhetor­i­cal­ly, out­flanked from the Right by deeply con­ser­v­a­tive Repub­li­cans like Sen. Tom Cot­ton (R‑Ark.), who called for cash pay­ments while she did not. (Bernie Sanders, Rashi­da Tlaib and Alexan­dria Oca­sio-Cortez — the ​"pie in the sky" sup­port­ers of the Green New Deal — are among those who have called for robust cash payments).
The result is a Demo­c­ra­t­ic Par­ty lead­er­ship that is pur­su­ing small-scale, piece­meal and means-test­ed respons­es to a cri­sis of epic pro­por­tions. Mil­lions of peo­ple are now being hit with the bru­tal real­iza­tion that, despite what they've been told, there is no one stand­ing between them and utter des­ti­tu­tion and pover­ty. There is no super­struc­ture, there is no floor. The Democ­rats who were sup­posed to swoop in and save us with their smart plans, it turns out, are use­less. Last Thurs­day, rough­ly 10,000 fam­i­lies showed up at a San Anto­nio food bank to receive help: An aer­i­al view of the seem­ing­ly end­less rows of cars lined up looked like a Los Ange­les traf­fic jam in rush hour. Those peo­ple, like peo­ple in sim­i­lar posi­tions across the coun­try, have no guard rails to keep them from going over the cliff.
It's not enough to sim­ply blame the Repub­li­cans with each fail­ure. After 16 years as the leader of Con­gres­sion­al Democ­rats, when does the blame for los­ing con­trol of Con­gress in the first place fall on Pelosi? The lack of robust pop­ulist mes­sag­ing when the bot­tom fell out of the econ­o­my in mid-March shows the tone-deaf polit­i­cal instincts at work, instincts that rou­tine­ly pri­or­i­tize deficits and process over — at the least the appear­ance of — fight­ing for work­ing peo­ple. Some con­ces­sions to labor were made, yes, but these are a frac­tion of what is need­ed. Any emer­gency response from Demo­c­ra­t­ic lead­er­ship that spent two weeks refus­ing to con­sid­er cash pay­outs to ordi­nary peo­ple because of inane deficit ide­ol­o­gy is whol­ly inad­e­quate for the times.
If our tra­jec­to­ry con­tin­ues as-is, the cli­mate cri­sis will be far worse than what we are expe­ri­enc­ing now. The IPCC deter­mined in 2018 that we have a 12-year win­dow to lim­it glob­al warm­ing to 1.5° Cel­sius above pre-indus­tri­al lev­els. Any­thing beyond that and we'll expe­ri­ence cat­a­stroph­ic storms, droughts, floods, heat, food inse­cu­ri­ty and pover­ty. Even if warm­ing is kept to 1.5°, we will still face greater extremes that require col­lec­tive response and broad social pro­grams. Just as with the COVID-19 cri­sis, the sci­ence is the sci­ence. It is unde­ni­able that we will face unprece­dent­ed dis­as­ter if we don't take imme­di­ate action. And unlike the glob­al pan­dem­ic, there is no end date to cli­mate cat­a­stro­phe. The time is now to pre­vent the worst-case sce­nario from becom­ing our new normal.
Recent autop­sies of what went wrong in the government's prepa­ra­tion for COVID-19 show wide­spread indif­fer­ence lead­ing up to our fall off the cliff, most of it from the Trump admin­is­tra­tion, which gut­ted the team in charge of a response. But in all the reports one sees a default bipar­ti­san com­pla­cen­cy, a sort of mass psy­chol­o­gy where every­one assumed some­one else was on the top of the prob­lem — that there was a back­stop that would step in, should the worst-case sce­nario come to pass.
But there wasn't. Indeed if there's one major take-home les­son from the cur­rent cat­a­stro­phe it's that there isn't some cabal of empow­ered experts some­where work­ing on cri­sis pre­ven­tion or response, ready to swoop in and save the day. There are no mys­te­ri­ous tech­no­log­i­cal or mar­ket forces that will come along and solve the prob­lem. These deus ex machi­nas, implic­it in our cur­rent ​"prag­mat­ic," wait-and-see approach to the cli­mate cri­sis, will not be com­ing. We are it: the Sun­rise move­ment, the cli­mate strik­ers, the front-line cli­mate jus­tice orga­niz­ers, the indige­nous peo­ple fight­ing pipeline con­struc­tion, the work­ers call­ing for a just tran­si­tion, Glob­al South social move­ments, the elect­eds call­ing for a large-scale mobi­liza­tion to meet the cri­sis with broad, uni­ver­sal pro­grams that redis­trib­ute wealth — that's who is stand­ing between us and the precipice.
The COVID-19 pan­dem­ic and the sub­se­quent — entire­ly avoid­able — human dev­as­ta­tion that fol­lowed shows our elites are whol­ly ill-equipped, cow­ard­ly or venal to meet the times. Nei­ther the pan­dem­ic nor the cli­mate cri­sis cares about deficits, ​"polit­i­cal real­i­ty" or the pro­tec­tion of cap­i­tal mar­kets. The for­mer has dev­as­tat­ed us because our polit­i­cal elites dragged their feet; the lat­ter will undoubt­ed­ly extin­guish us if we do the same. The Seri­ous Adults in the Room won't save us — only we can.
Ambi Colón Nuñez con­tributed research to this arti­cle. Views expressed are the authors'. As a 501©3 non­prof­it, In These Times does not sup­port or oppose can­di­dates for polit­i­cal office.