Workers Suffer as Japan Airlines Goes Bankrupt, Gets Bailout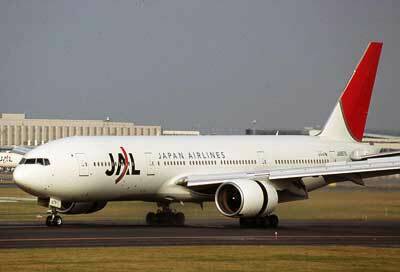 15,700 lay-offs, huge pen­sion con­ces­sions roil JAL workforce
These days, it seems like the air­line indus­try can't catch a break. Faced with in-flight ter­ror­ist plots and a reces­sion, air­lines are strug­gling with rev­enue, secu­ri­ty con­cerns and cus­tomer dis­sat­is­fac­tion. And most of all, air­line employ­ees have felt the pinch as car­ri­ers tight­en their bud­gets.

Those issues have long been grow­ing among U.S. air­lines, but now the prob­lem has extend­ed to Japan's flag­ship car­ri­er. Last Tues­day, Japan Air­lines, Asia's largest air­line by rev­enue, filed for bank­rupt­cy pro­tec­tion after fac­ing a debt load of over $25 bil­lion. The peti­tion was the largest-ever fil­ing in Japan by a non-finan­cial com­pa­ny and the fourth largest cor­po­rate fail­ure.

In a move that large­ly resem­bles recent cor­po­rate blun­ders in the U.S., the deci­sion was in prepa­ra­tion for a state-led bailout to under­go mas­sive restruc­tur­ing. Japan­ese tax­pay­ers are foot­ing the bill along the way as JAL unions suf­fer huge set­backs in job loss­es and benefits.
As one of Japan's most promi­nent cor­po­ra­tions, JAL once sym­bol­ized the country's post­war rise to a glob­al indus­tri­al pow­er. The com­pa­ny first began as a state-led enter­prise but­tressed by the long-gov­ern­ing Lib­er­al Demo­c­ra­t­ic Par­ty before being pri­va­tized in 1987.

But the close rela­tion­ship with the gov­ern­ment ulti­mate­ly con­tributed to its down­fall. Trans­porta­tion bureau­crats pushed pork bar­rel poli­cies that kept unprof­itable routes run­ning, and the four gov­ern­ment bailouts since 2001 insu­lat­ed the com­pa­ny from being effi­cient, fur­ther exac­er­bat­ing the mis­man­age­ment. Exter­nal shocks from Sep­tem­ber 11th, soar­ing fuel prices and the glob­al finan­cial cri­sis also crip­pled the air­lin­er.

​"JAL has always had the pro­tec­tion of the state, so it could put off mak­ing hard deci­sions," says Moto­shige Itoh, an eco­nom­ics pro­fes­sor at the Uni­ver­si­ty of Tokyo to the Finan­cial Times. ​"While big US car­ri­ers such as Unit­ed Air­lines, US Air­ways and Delta Air­lines went through court-pro­tect­ed restruc­tur­ings in the first half of the 2000s, it took the finan­cial cri­sis and reces­sion to fin­ish off JAL."

Still, with a ​"too big to fail" men­tal­i­ty, JAL will con­tin­ue to keep fly­ing as the com­pa­ny is under­writ­ten once again with gov­ern­ment mon­ey before it pre­pares to reor­ga­nize. Much like the bailouts of GM in the Unit­ed States, JAL will receive $10 bil­lion in loans and cash infu­sions. Oth­er lenders will report­ed­ly pro­vide $8 bil­lion of debt relief.

But work­ers are tak­ing the biggest hit. As part of the restruc­tur­ing, the air­line will lay­off 15,700 employ­ees, rough­ly one-third of their work­force. Autowork­ers and flight atten­dants in the U.S. have sac­ri­ficed their pay and ben­e­fits to sur­vive down­turns. Sim­i­lar­ly, JAL has asked its employ­ees to make enor­mous con­ces­sions. In response, the company's biggest union agreed to halve their remain­ing work­ers' pen­sions in order for JAL to receive gov­ern­ment funds.
The response resem­bles what has hap­pened to U.S. unions. Four major U.S. air­lin­ers who filed Chap­ter 11 pro­tec­tions in the wake of the Sep­tem­ber 11 attacks reworked their labor con­tracts, accord­ing to a report by Demos, a U.S. pub­lic pol­i­cy group.
In the most dras­tic case, US Air­ways — dur­ing two peri­ods of bank­rupt­cy pro­tec­tion — extract­ed pay cuts adding up to as much as

40

per­cent for some employ­ees.

At US Air­ways and Unit­ed, tens of thou­sands of work­ers were forced to exchange a guar­an­teed com­pa­ny pen­sion for the dras­ti­cal­ly reduced pro­tec­tion pro­vid­ed by the fed­er­al Pen­sion Ben­e­fit Guar­an­ty Cor­po­ra­tion.

59

DOT Data for US Air­ways, Unit­ed, Delta, Amer­i­can and North­west show labor costs falling by near­ly a third, on aver­age, between the end of

2001

and the begin­ning of

2006

. Hourly wages declined by any­where from

10

to

25

per­cent dur­ing this peri­od. (The remain­ing sav­ings came in the form of lost ben­e­fits and work-rule changes.)

As In These Times has report­ed, the decline in wages reflect the larg­er prob­lem of dete­ri­o­rat­ing work con­di­tions in the air­line indus­try. Pay lev­els have gone down, hours have increased and rest breaks have decreased. Put sim­ply, the pilots, flight atten­dants and mechan­ics are over­worked and under­paid.

That might explain why a pilot mys­te­ri­ous­ly over­shot a land­ing or a pilot showed up to work ine­bri­at­ed. For con­sumers, faced with delays, can­cel­la­tions, erro­neous fees and penal­ties, the qual­i­ty of air trav­el has declined.

Those con­di­tions may loom for JAL through its impend­ing reor­ga­ni­za­tion. It is inter­est­ing to note how two seem­ing­ly diver­gent, rev­enue mod­els in the U.S. and Japan have pro­duced the same results, with com­pa­nies fil­ing bank­rup­cy and receiv­ing gov­ern­ment assis­tance. While JAL failed despite gov­ern­ment sub­si­dies and pro­tec­tions, Amer­i­can air­line indus­tries have attempt­ed to reduce costs through dereg­u­la­tion, both with lit­tle success.
But whether their eco­nom­ic mod­el hinged on lais­sez-faire ide­ol­o­gy or cor­po­ratist state pro­tec­tion­ism, JAL's and U.S. busi­ness plans have sig­nif­i­cant­ly reduced work­ers' pay and benefits.
As JAL seeks an Amer­i­can car­ri­er for a tie-up deal, the U.S. and Japan­ese air­line indus­tries will become more inter­twined Hope­ful­ly this will be the last of any futher employ­ee cuts. But with grim air­line rev­enue pro­jec­tions, it's not look­ing good.