'Yelp for Guestworkers' Shines Light On Shadowy, Abusive Recruiting Process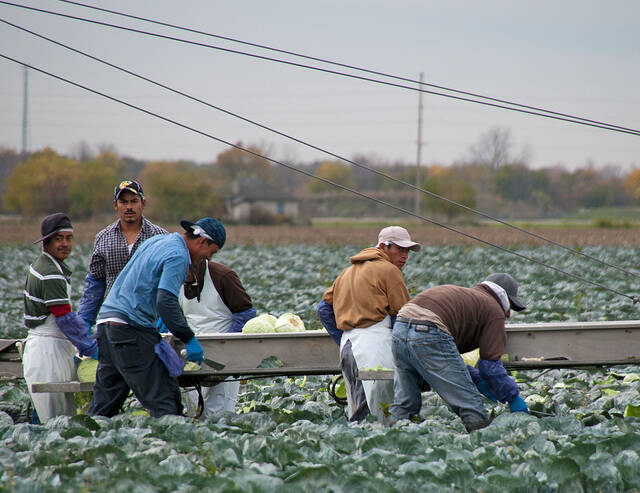 In 2007, Adare­ly Ponce Hernán­dez saw an announce­ment in her home­town of Cha­pul­huacán, Mex­i­co, for jobs pick­ing apples in the Unit­ed States. Not only were the wages far high­er than what she could make in Cha­pul­huacán, but the work was com­plete­ly legal, secured through a U.S. tem­po­rary visa pro­gram known as H‑2. She and her sis­ter went straight to the recruiter who placed the announce­ment and paid 2,000 pesos apiece — about $180 at the time — to reserve their spots.
But the recruiter kept push­ing back the date of their inter­view for the visa: ​"Next month, next month." He start­ed demand­ing more pay­ments. Hernán­dez and her sis­ter reluc­tant­ly oblig­ed with anoth­er 1,500 pesos each. Then the recruiter dis­ap­peared, tak­ing their mon­ey and the promise of jobs with him.
Hernández's expe­ri­ence is com­mon for peo­ple in Mex­i­co look­ing for legal work in the U.S. as ​"guest­work­ers," tem­po­rary labor­ers who return to their home coun­tries when their jobs are fin­ished. Cen­tro de los Dere­chos del Migrante (CDM), a migrant work­er advo­ca­cy group with offices in the U.S. and Mex­i­co, report­ed in a study of Mex­i­can work­ers recruit­ed for the H‑2 pro­gram that more than half their sub­jects had paid ille­gal recruit­ment fees. One in ten had paid fees for jobs that turned out not to exist at all.
After she and her sis­ter were cheat­ed in 2007, Hernán­dez was defraud­ed two more times by false recruiters. She knew she was tak­ing a risk by trust­ing them. But Hernán­dez had tak­en out a loan to pay for her first round of recruit­ment fees, and she couldn't repay the loan on Mex­i­can wages, even after mov­ing to a big­ger city for a bet­ter-pay­ing restau­rant job. Each fraud put her fur­ther in debt and more des­per­ate for a U.S. job. And there was no way to tell a good recruiter from a bad one.
That may have just changed. In its recruit­ment report, CDM called for a com­pre­hen­sive data­base of recruiters and employ­ers. Nei­ther the U.S. nor the Mex­i­can gov­ern­ment seemed like­ly to cre­ate one. So they did it them­selves, launch­ing a Yelp-like web­site for guest­work­ers, Con​trata​dos​.org. Users can write, phone or text-mes­sage reviews of recruiters and employ­ers. In addi­tion to the review­ing plat­form, Con­trata­dos includes comics and brief radio plays cre­at­ed to edu­cate work­ers on their rights.
The site is designed for peo­ple with lim­it­ed com­put­er skills and Inter­net access, as is the case with most migrants. In con­trast to Yelp, Con­trata­dos' users do not have to cre­ate an account, a fea­ture CDM says is impor­tant for pro­tect­ing work­ers from retal­i­a­tion for neg­a­tive reviews.
Only a hand­ful of reviews have been post­ed so far, but they are already serv­ing to warn oth­ers of shady enter­pris­es. A recruiter in Mon­ter­rey, Mex­i­co, gets two one-star reviews. ​"This man cheat­ed me," one of the reviews says in Span­ish. ​"In the end he gave me a fake visa past­ed into my pass­port and charged me 35 thou­sand pesos, I was detained at the bor­der and put in jail." A land­scap­er in Col­orado also gets one star. ​"The work was bad because we didn't live with dig­ni­ty," the review says in unpunc­tu­at­ed Span­ish. ​"There were lots of us in one house and we couldn't cook or bathe properly."
The Mex­i­can gov­ern­ment main­tains a data­base of employ­ment agen­cies and recruiters. But its weak­ness­es came into the spot­light last year when one of its reg­is­tered agen­cies defraud­ed more than 3,000 would-be guest­work­ers for around $500 each.
"There's no account­abil­i­ty mech­a­nism built into this reg­istry," says Sarah Farr, a project coor­di­na­tor for CDM, whose group is begin­ning to reach out to migrant com­mu­ni­ties about the site. ​"I could just fill out this form now and the Mex­i­can gov­ern­ment would stamp me and say ​'Okay, you're registered.'"
CDM keeps its own data­base of recruiters. Farr says that isn't enough, either.
"This uni­verse is much larg­er than what we're able to see or what either gov­ern­ment is able to see, and migrant work­ers are in the best posi­tion, col­lec­tive­ly, to fill that infor­ma­tion­al vacuum."
Adare­ly Hernán­dez even­tu­al­ly found a job pro­cess­ing craw­fish through a friend and has been able to pay off her loans. Direct hires by employ­ers are rare, how­ev­er, and many work­ers aren't so lucky. If she'd had more infor­ma­tion, Hernán­dez says, she might nev­er have lost over 11,000 pesos.
"I would have been able to know good recruiters from bad ones, instead of hav­ing to just take a risk and see what hap­pened," she says.
Rachel Luban
is a writer liv­ing in Mary­land. She con­tributes to Full Stop and her work has appeared on Jezebel, The Rum­pus, and In Our Words. Fol­low her on Twit­ter: @rachelcluban.