Yes, It's Okay To Have a Metaphorical Rape in a Disney Movie
The problem with Maleficent isn't the dark themes.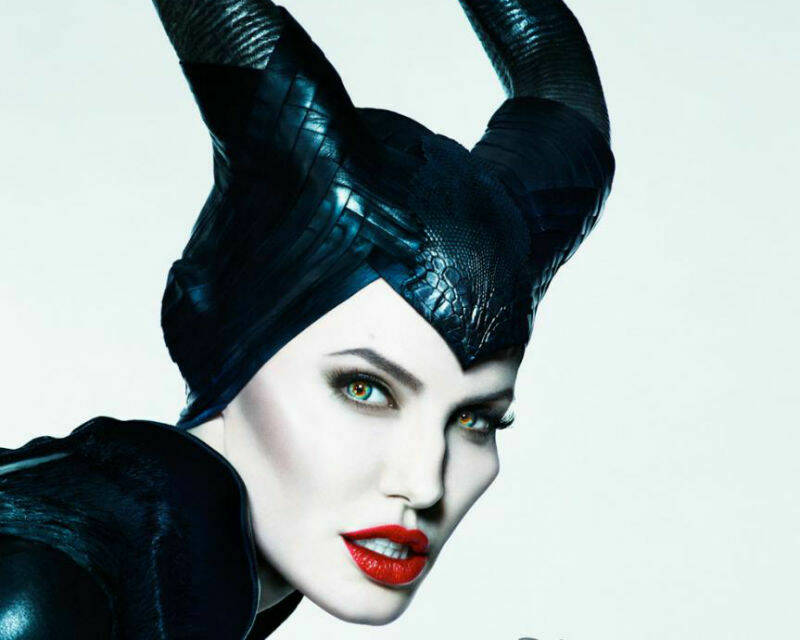 I would love to report that Malef­i­cent is a great movie. Unfor­tu­nate­ly, it's a mud­dled, incon­sis­tent junk-heap of a movie at best: Its bad scenes are abysmal­ly ter­ri­ble, and even its good scenes (which can be very good) suf­fer from tak­ing place with­in a bad movie. Which is a shame, because when Malef­i­cent is work­ing, it's a pow­er­ful — and very fem­i­nist — take on the Sleep­ing Beau­ty tale.
In a sense, the rape allegory in Maleficent is only restoring the subtext that the first Disney version of Sleeping Beauty cut out.
For those who've missed Dis­ney's blitz of pro­mo­tion: : Malef­i­cent is Disney's attempt at doing Wicked-lite. Just as Gre­go­ry Maguire's 1995 nov­el — and its mas­sive­ly pop­u­lar musi­cal-the­ater adap­ta­tion, which made a star out of Idi­na Men­zel — attempt­ed to re-make The Wiz­ard of Oz as a vin­di­ca­tion of the mis­un­der­stood Wicked Witch of the West, Malef­i­cent does the same thing with the vil­lain of Sleep­ing Beau­ty: the wicked fairy who curs­es the princess to prick her fin­ger on a spin­dle and fall into an eter­nal sleep.
In order to explain why a grown woman with super­pow­ers would spend her time crash­ing baby show­ers and knock­ing teens into comas, Malef­i­cent gives its title char­ac­ter (played by Angeli­na Jolie) both a polit­i­cal edge and a trau­mat­ic back­sto­ry. In this ver­sion of the tale, Malef­i­cent is the leader of ​"the Moors," a peace­able fairy king­dom that's always ward­ing off inva­sion from the ​"greedy" and evil human king­dom just down the road. She also has huge dev­il horns and dra­con­ian wings, which make her look like some fas­ci­nat­ing-yet-grand Greek harpy. (The wings, in par­tic­u­lar, are cen­tral to the plot.) One day, Malef­i­cent befriends a young human boy, Ste­fan, who would be king. They fall in love. Nev­er­the­less, in order to be appoint­ed the leader of the human king­dom, Ste­fan is told that he must kill Malef­i­cent, the leader of the fairies.
And here's where things get dark. As in, very pos­si­bly too dark for a PG movie: Ste­fan does not kill Malef­i­cent. Instead, he takes her out, drugs her drink, and cuts off her wings while she's uncon­scious, so that he can bring them back to the humans as a tro­phy. If the obvi­ous alle­go­ry here didn't occur to you the moment you read the phrase ​"drugs her drink," trust me, it will: The scene of a drugged Jolie wak­ing up alone, feel­ing around her own tat­tered dress, and pro­ceed­ing to scream and sob hys­ter­i­cal­ly for about one full minute, dri­ves the point home pret­ty unmis­tak­ably. It's a deeply upset­ting scene, and Jolie gives it her all; her reac­tion is so raw and real that you hard­ly even notice the goofy dev­il horns. At the view­ing I attend­ed, chil­dren were gasp­ing and sob­bing in the movie the­ater. This orig­i­nal trau­ma is the wound from which Maleficent's hatred of the humans (and her dri­ve to curse Stefan's daugh­ter, the Princess Auro­ra, with uncon­scious­ness) is derived.
Sev­er­al review­ers have expressed baf­fle­ment and dis­plea­sure that Malef­i­cent intro­duces rape (albeit metaphor­i­cal rape) into a beloved children's sto­ry. ​"Dis­ney thought it would be a good idea to spend well over a hun­dred mil­lion dol­lars mak­ing a movie that shows the back­sto­ry of Sleep­ing Beau­ty to be a rape/​revenge tale," writes Devin Faraci at Badass Digest. ​"It was, pre­dictably, not a good idea." Mean­while, Christo­pher Orr at The Atlantic returns to that scene of Jolie shriek­ing as she regains con­scious­ness: ​"Malef­i­cent awakes scream­ing: betrayed, defiled, muti­lat­ed, her most won­drous gift torn from her. (Have I men­tioned yet that this is not real­ly a kids' film?)" Even Lindy West at Jezebel, who enjoyed the film, finds the rape alle­go­ry to be ​"cheap and clum­sy," not­ing that ​"it's a movie (for chil­dren!) in which TWICE women are delib­er­ate­ly ren­dered uncon­scious and then phys­i­cal­ly vio­lat­ed, once ​'for her own good.'"
How­ev­er, it's worth not­ing that Sleep­ing Beau­ty has always been a sto­ry about rape. In the ear­li­est known ver­sion of the tale — the Ital­ian ​"Sun, Moon and Talia," by Giambat­tista Basile — the princess is not awak­ened by ​"true love's kiss," or by a kiss at all. She's dis­cov­ered by a king who repeat­ed­ly rapes her while she's uncon­scious. She gives birth to two chil­dren in her sleep, before one of those chil­dren dis­lodges the splin­ter in her fin­ger and wakes her up. Lat­er ver­sions of the tale (includ­ing the ver­sion record­ed by the Grimm Broth­ers, or by Charles Per­rault, who's cred­it­ed as a writer on Malef­i­cent) cen­sor this end­ing, to make it more chaste and less vio­lent. But that cen­tral image — a man ​"kiss­ing" an uncon­scious woman — made it into the Dis­ney ver­sion, and has sur­vived into the present day.
Indeed, you could even argue that the cen­tral curse of Sleep­ing Beau­ty—the pre­dic­tion that, on her six­teenth birth­day, the beau­ti­ful princess shall ​"prick her fin­ger" on a spin­dle and fall into a ​"sleep like death" — is a rape alle­go­ry, one of those wild and eerie and inap­pro­pri­ate bits of dream imagery that give fairy tales their endur­ing pow­er. When the princess is a child, she's safe. But as soon as she reach­es sex­u­al matu­ri­ty, she will be pen­e­trat­ed. There will be blood, and pain, and it will cause her to fall into a liv­ing death. If you buy the idea that fairy tales were women's sto­ries—cod­ed ways of pass­ing down wis­dom about the world — the ​"prick­ing your fin­ger on a spin­dle" sto­ry is a very effec­tive way to talk about how sex­u­al assault (or sex and mar­riage more gen­er­al­ly, in heav­i­ly patri­ar­chal soci­eties where women didn't get to choose their part­ners or exert pow­er with­in rela­tion­ships) can feel like the end of a woman's life.
So, in a sense, the rape alle­go­ry in Malef­i­cent is only restor­ing the sub­text that the first Dis­ney ver­sion of Sleep­ing Beau­ty cut out. And the idea of retelling that sto­ry to give agency and dig­ni­ty to the vic­tim — cen­ter­ing it, not on a pas­sive, two-dimen­sion­al tro­phy princess who hap­pi­ly mar­ries the guy who kissed her while she was passed out, but on a scarred, trau­ma­tized, angry woman — is extreme­ly com­pelling. There's a raw pow­er in the scenes of Maleficent's trau­ma and ret­ri­bu­tion. You get the sense that you're watch­ing snip­pets from a much bet­ter film, a dark fem­i­nist fairy tale about how women's pain and agency is cast as demon­ic by their abusers and oppressors.
But Malef­i­cent is not that movie. For one thing, it descends rapid­ly from ​"watch­able" to ​"unbear­able" when­ev­er Angeli­na Jolie is not on screen. Jolie's screen pres­ence is already well on its way to becom­ing leg­endary: She has the unde­ni­able, high-volt­age visu­al charis­ma of an old-school mat­inée idol like Gre­ta Gar­bo or Mar­i­lyn Mon­roe, and future gen­er­a­tions will prob­a­bly speak of them in the same breath. When she shows up, clad in flu­id black and drip­ping with men­ace, her sheer star pow­er is enough to spack­le over the movie's lazy plot­ting and sog­gy dia­logue. But when­ev­er the cam­era cuts away from its title char­ac­ter, we're left strand­ed in a sparkle-over­dosed day-glo fairy­land. full of wee, winged sprites who are so aggres­sive­ly chip­per and adorable you find your­self hop­ing they'll run into the busi­ness end of a bug zap­per. (The direc­tor, Robert Stromberg, was a pro­duc­tion design­er on Avatar; think Nabu, with a much high­er ratio of gig­gling and frolicking.)
Then, too, there's the fact that Malef­i­cent nev­er seems entire­ly sure of what sto­ry it wish­es to tell. It's not giv­ing away too much to say that Malef­i­cent ulti­mate­ly comes down to a sto­ry about the rela­tion­ship between two women, and their attempts to save each oth­er. (Like last year's Frozen, it leaves itself open to a refresh­ing­ly queer read­ing; Prince Charm­ing, hilar­i­ous­ly, is dis­posed of with­in about two scenes, leav­ing Malef­i­cent and the Princess Auro­ra to work out their own, much more cen­tral rela­tion­ship.) But the movie nev­er seems quite clear on what we're sup­posed to think of Maleficent's anger. The pri­mal pow­er you see in the scenes of Malef­i­cent curs­ing King Ste­fan, the ​"rape/​revenge" angle so many review­ers have not­ed, quick­ly gets lost in the story's dri­ve to soft­en its title char­ac­ter — to sup­ply her with mater­nal instincts, and with regret over all that Ste­fan-curs­ing mag­ic busi­ness, includ­ing a scene in which she cries while talk­ing about how she ​"got lost" in ​"hatred and revenge." It's not enough to say that Malef­i­cent has rea­sons to be angry, that her ​"wicked­ness" is actu­al­ly self-empow­er­ment when viewed in its prop­er con­text: The movie also needs to assure us that she's a nice lady, even though the char­ac­ter (and Jolie her­self) is most com­pelling when she's cruel.
There are moments when you see the great movie Malef­i­cent is try­ing to be. Con­sid­er Jolie's solil­o­quy over her lost wings — ​"so big they dragged behind me when I walked, and they were strong … they nev­er fal­tered, I could trust them" — and how well it works as a speech from a woman mourn­ing her own lost pow­er and con­fi­dence.. But those moments are lost with­in a movie that doesn't trust its own sub­text. I wish I could report that Malef­i­cent is good. But, even though it's not, it's worth watch­ing any­way, just to get a sense of what might have been.