Zora Neale Hurston's Lost Decade
The Harlem Renaissance writer's obscure and impoverished final years are being rehabilitated.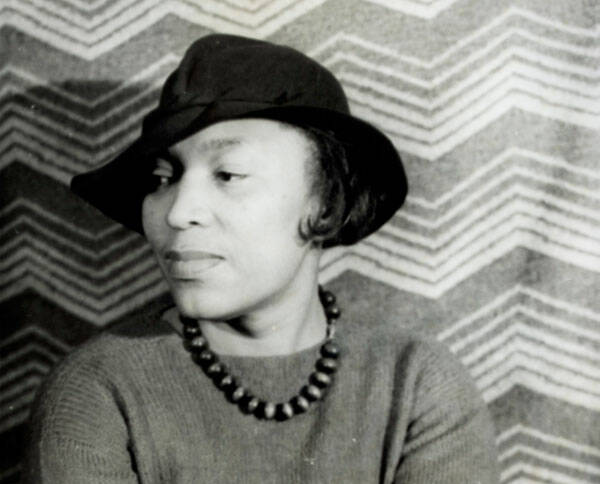 For Zora Neale Hurston the 1950s were years in which she strug­gled to sur­vive. The sto­ry of her last 10 years might sound like a gloomy tale, but in Vir­ginia Lynn Moylan's Zora Neale Hurston's Final Decade (Uni­ver­si­ty of Flori­da) this is not at all the case.
True, at age 60, Hurston – the author of the 1937 nov­el Their Eyes Were Watch­ing God who first made her mark in the Harlem Renais­sance in the late 1920s – had to fight ​"to make ends meet" with the help of pub­lic assis­tance. At one point she worked as a maid on Mia­mi Beach's Rivo Alto Island.
But Hurston was still active and pro­duc­tive dur­ing her final years, and did not end up at the extreme of lit­er­ary cat­a­stro­phe (exem­pli­fied by Edgar Allen Poe, who died an alco­holic in a gut­ter), though in 1948 she was false­ly accused of hav­ing molest­ed a 10-year-old boy – a scan­dal that near­ly drove her to sui­cide at the begin­ning of this last decade. (Her pass­port proved she was in Hon­duras at the time of the alleged crime.)
Though she would have been loath to admit it, Hurston suf­fered because she was black and a woman – two fac­tors that stood in the way of her being able to pub­lish her work. But despite repeat­ed rejec­tion, she kept writ­ing, espe­cial­ly about her his­tor­i­cal research on the Hebrew king Herod.
Since her death, Hurston's rep­u­ta­tion has received two major reha­bil­i­ta­tions. The first was a 1975 Alice Walk­er essay in Ms. mag­a­zine, ​"In Search of Zora Neale Hurston," and the sec­ond the 2005 TV movie ver­sion of Their Eyes Were Watch­ing God, pro­duced by Oprah Win­frey and star­ring Halle Berry. Now that Hurston's place in the pan­theon of Amer­i­can writ­ers is secure, it is unset­tling to see her in Zora Neale Hurston's Final Decade, going hat-in-hand to pub­lish­ers and employ­ers at an age when she should have been enjoy­ing her retire­ment and rest­ing on her laurels.
Moy­lan, an edu­ca­tor and inde­pen­dent schol­ar, observes that uni­ver­si­ties all over the world had her books in their syl­labi, yet none offered her a teach­ing posi­tion. So she became a sub­sti­tute teacher at a local high school in Flori­da, wrote free­lance arti­cles for news­pa­pers that paid spo­rad­i­cal­ly and moved fre­quent­ly due to poverty.
Hurston was in some ways a con­ser­v­a­tive. She fought with Richard Wright and fell out with her old friend Langston Hugh­es. Both con­flicts con­cerned their left­ist pol­i­tics and sym­pa­thy to com­mu­nism. As Moy­lan points out, Hurston was a devo­tee of the mer­i­to­crat­ic phi­los­o­phy of Book­er T. Washington.
Hurston want­ed her peo­ple to pull them­selves up by their boot­straps. On the sub­ject of blacks who emu­late whites, she wrote in 1934: ​"Fawn as you will. Spend an eter­ni­ty stand­ing awe-struck, but until we have placed some­thing upon his street cor­ner that is our own, we are right back where we were when they filed our iron col­lars off."
Hurston, the anthro­pol­o­gist and folk­lorist, who stud­ied at Barnard with Franz Boas, Ruth Bene­dict and Mar­garet Mead, nev­er lost her focus on the unique­ness of African-Amer­i­can cul­ture. She bucked the con­ven­tions of the black lit­er­ary estab­lish­ment and had her char­ac­ters speak in black dialect.
Hurston was also a con­trar­i­an polit­i­cal­ly. She vocal­ly opposed school deseg­re­ga­tion and, as Moy­lan writes, ​"blamed the NAACP, Pres­i­dent Dwight D. Eisen­how­er and the Brown deci­sion for what she per­ceived as the ​'hate-filled, stink­ing mess' in which south­ern blacks and whites found themselves."
Yet years ear­li­er, in 1945, Moy­lan writes that Hurston had crit­i­cized Amer­i­can for­eign pol­i­cy for sup­port­ing ​"democ­ra­cy abroad while ​'sub­ju­gat­ing the dark world com­plete­ly' through its sanc­tion­ing of Jim Crow at home." Hurston must have known very well that Jim Crow had more to do with that ​"hate-filled, stink­ing mess" than the NAACP, but in the heat of jour­nal­is­tic com­bat could not admit that. Instead, she belit­tled the idea of a court order that would com­pel some­one to asso­ciate with her who did not want to. She seems not to have con­sid­ered the per­spec­tive of ordi­nary mor­tals, who might in fact need a court order to go to a bet­ter school.
Moy­lan argues that regard­ing edu­ca­tion, Hurston was a black sep­a­ratist, and devotes pages to defend­ing Hurston's dia­tribes against Brown v. The Board of Edu­ca­tion. Though at first it may seem jar­ring, this is in fact one of the most nuanced sec­tions of a much-need­ed book, one that illu­mi­nates the last, near­ly des­ti­tute years of a great writer's life, years pre­vi­ous­ly cloaked in obscu­ri­ty. These years have been ​"a peri­od that might appear out­ward­ly unprof­itable," Hurston wrote in a 1957 let­ter. ​"But … I have made phe­nom­e­nal growth as a cre­ative artist. … I am not mate­ri­al­is­tic… If I do hap­pen to die with­out mon­ey, some­body will bury me, though I do not wish it to be that way."
And on Jan. 28, 1960, Hurston died in the St. Lucie Coun­ty Wel­fare Home.
Eve Otten­berg
recent­ly pub­lished a nov­el,
Dead in Iraq
(Plain View Press,
2008
), and has writ­ten book reviews in the
New York Times Book Review
,
Van­i­ty Fair
,
The New York­er
​
'
s ​
"
In Brief" sec­tion, the
Bal­ti­more Sun
,
USA Today
,
The Nation
,
The Wash­ing­ton City Paper
,
The Wash­ing­ton Post
and many oth­er news­pa­pers and magazines.