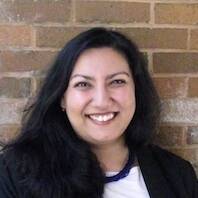 Eesha Pan­dit is a Hous­ton-based writer, activist and free­lance con­sul­tant who believes in social jus­tice move­ments, the pow­er of inter­sec­tion­al­i­ty, fem­i­nism, sis­ter­hood and the pow­er of col­lec­tive action.
Her writ­ing can be found at Crunk Fem­i­nist Col­lec­tive, Fem­i­nist­ing, Salon, The Nation, RH Real­i­ty Check, Fem­i­niste and In These Times. She has also appeared on numer­ous TV news out­lets includ­ing CNN, HLN, MSNBC and Grit TV with Lau­ra Flanders.
Eesha is currently serving as a Movement Maker Fellow with the Move to End Violence (MEV) Program of the NoVo Foundation. The prestigious MEV fellowship brings together 20 national leaders to make connections across organizations, issues and perspectives in the service of a stronger movement to end violence in our communities.
Eesha most recently worked as Executive Director of Men Stopping Violence, a social change organization dedicated to ending men's violence against women. She's also served as Women's Rights Manager at Breakthrough, a global human rights organization. At Breakthrough, Eesha worked on the Bell Bajao! (Ring the Bell!) Campaign that asks men and boys to take action, get involved, and help end violence against women. Previously, Eesha served as Director of Advocacy at Raising Women's Voices (RWV). RWV is a national initiative working to make sure women's voices are heard and women's concerns are addressed as policymakers put the new health reform law into action. At RWV, Eesha coordinated a national field network of 22 state-based regional coordinators working to include women's health access in local, state and national policy efforts. Eesha has also served as Associate Director of Programs at the Civil Liberties and Public Policy Program at Hampshire College, where she coordinated the organization's New Leadership Networking Initiative and the Reproductive Rights Activist Service Corps. She's worked with the Carr Center for Human Rights Policy at Harvard University, and Amnesty International USA's Women's Rights Program. Eesha currently serves on the board of the National Network of Abortion Funds. She has a B.A. from Mount Holyoke College and an M.A. from the University of Chicago.
With Roe Under Threat, We Can Learn From the "Janes" of the 1960s Underground Abortion Network
46 years after the Supreme Court ruling, Roe v. Wade could actually be repealed. But rather than despair, abortion advocates should learn from a long, radical history of community organizing and mutual aid.
Hurricane Relief, in the Spirit of Ella Baker
These volunteers are rebuilding northeast Houston, with a dose of transformative justice.
Abortion's Underground Railroad
As state laws restrict abortion access, volunteers are stepping up to help women clear the hurdles.