Hurricane Relief, in the Spirit of Ella Baker
These volunteers are rebuilding northeast Houston, with a dose of transformative justice.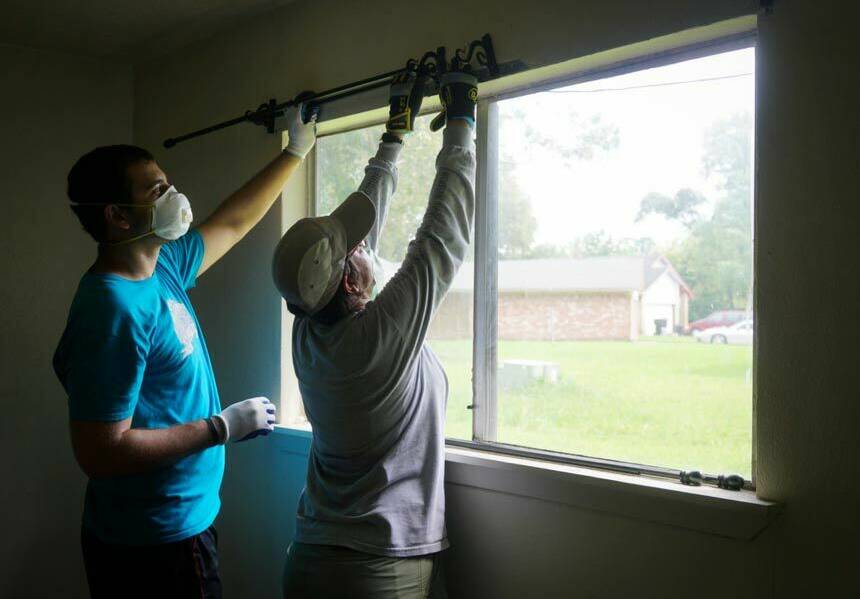 HOUS­TON — Under­neath a noisy high­way over­pass sits St. John's Down­town Church. In the after­math of Hur­ri­cane Har­vey, which brought 19 tril­lion gal­lons of water upon the city and dis­placed more than 30,000 peo­ple, the church gym­na­si­um has been trans­formed into an aid center.
"In a time of devastation and confusion, we were sure our communities would be a second thought."
On Sep­tem­ber 9, St. John's was the site of a vol­un­teer train­ing orga­nized by BLMHTX, a Black-led local col­lec­tive of aca­d­e­mics, activists, artists, reli­gious lead­ers and com­mu­ni­ty organizers.
In addi­tion to pass­ing out gloves and face masks and offer­ing tips on how to remove wet floor­ing, dry­wall and mud, the BLMHTX team asked each vol­un­teer to sign an agree­ment by writer and mem­ber Josie Pick­ens. ​"Offer help with humil­i­ty," it says, and ​"Lis­ten more than you speak." The final guide­line reads, ​"Do not expect to be cel­e­brat­ed for your efforts by com­mu­ni­ty mem­bers, or any­one. We must remem­ber that this mis­sion is not meant to cen­ter the col­lec­tive or vol­un­teers in any way. We are in these com­mu­ni­ties to give and not to receive."
"We did not want to add any addi­tion­al trau­ma to those affect­ed," says Bran­di Holmes, BLMHTX direc­tor of strat­e­gy and com­mu­ni­ty orga­niz­ing, ​"and we want­ed to show our love, respect, and treat folks with dignity."
BLMHTX is focus­ing its ener­gy on low-income com­mu­ni­ties of col­or in north­east Hous­ton, where help was slow­est to arrive. ​"Black and Brown com­mu­ni­ties by gov­ern­ment def­i­n­i­tion are con­sid­ered under­served," says Secun­da Joseph, the group's direc­tor of smart media and com­mu­ni­ty orga­niz­ing. ​"In a time of dev­as­ta­tion and con­fu­sion, we were sure our com­mu­ni­ties would be a sec­ond thought." So, just as soon as the water began to drain from Houston's vast high­way sys­tem, allow­ing trav­el across the city, the group began host­ing reg­u­lar week­end cleanup and aid dis­tri­b­u­tion days that will like­ly con­tin­ue for months.
Vol­un­teers arrive ear­ly Sat­ur­day morn­ing and are orga­nized into muck­ing teams of five to eight. The teams clear out mud and silt-cov­ered belong­ings and help fam­i­lies get homes ready for rebuild­ing. The silt and mud are per­va­sive, a thin veneer over most every­thing, hard to remove and hard to for­get. Even weeks after Har­vey, a dri­ve through Hous­ton involves dri­ving past piles of dry­wall, fiber­glass, wood and fur­ni­ture. Entire lives lie out on the curb.
The group has now helped more than 600 peo­ple. BLMHTX's net­work of reli­gious groups, includ­ing an anti-hunger pro­gram of St. John's called Bread of Life, allowed the orga­niz­ers to find the gaps in city ser­vices. ​"A month after the storm, res­i­dents on the north­east side of the city are not receiv­ing clear or up-to-date infor­ma­tion about the city's plans to aid with clean-up and basic ser­vices and sup­port that are still very much need­ed," Joseph says. Those ser­vices include assis­tance from groups like the Red Cross and FEMA. ​"It is not lost on us or the res­i­dents of the north­east side that peo­ple in oth­er, more afflu­ent areas of the city have not had to con­tend with such delays," she says.
"We are in this for the long haul," Joseph adds. ​"We have a mul­ti-phase relief effort that involves not only pro­vid­ing the more imme­di­ate needs of muck­ing and clean­ing, but also the more long-term needs, includ­ing legal aid, relo­ca­tion assis­tance, insur­ance con­sul­ta­tions and men­tal health ser­vices. In the end, we want to see folks in the north­east com­mu­ni­ty restored bet­ter than they were before the storm hit."
The lead­ers of BLMHTX have worked in this delib­er­ate and deter­mined way since the organization's found­ing about two years ago. Their phi­los­o­phy of social change is root­ed in Ella Baker's mod­el of com­mu­ni­ty orga­niz­ing: decen­tral­ized, local lead­er­ship with a focus on direct action, edu­ca­tion and com­mu­ni­ty empow­er­ment. They eschew the com­mon ten­den­cy then (and now) to val­ue only charis­mat­ic male lead­er­ship. BLMHTX's lead­ers cen­ter humil­i­ty, resist cen­tral­ized pow­er, and strive to stay account­able to their com­mu­ni­ty above all else.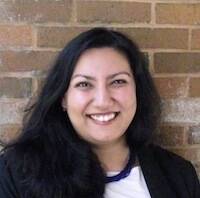 Eesha Pan­dit is a Hous­ton-based writer, activist and free­lance con­sul­tant who believes in social jus­tice move­ments, the pow­er of inter­sec­tion­al­i­ty, fem­i­nism, sis­ter­hood and the pow­er of col­lec­tive action.
Her writ­ing can be found at Crunk Fem­i­nist Col­lec­tive, Fem­i­nist­ing, Salon, The Nation, RH Real­i­ty Check, Fem­i­niste and In These Times. She has also appeared on numer­ous TV news out­lets includ­ing CNN, HLN, MSNBC and Grit TV with Lau­ra Flanders.