10th Annual 'Fighting Bob' Fest Aims to Honor Workers, Light Fire Under Obama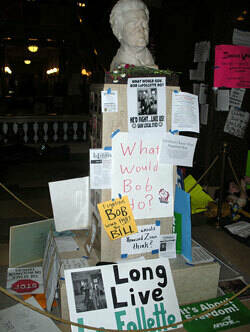 Wisconsin's labor and pro­gres­sive move­ments are get­ting rest­less again, and that will become obvi­ous with the 10th anniver­sary of the ​"Fight­ing Bob" Fes­ti­val that will gath­er thou­sands this Sat­ur­day, Sept. 17, in Madi­son, Wis.
The fes­ti­val will focus on sup­port of pub­lic-employ­ee rights and demand­ing more pro­gres­sive poli­cies from the timid Oba­ma administration.
The event is named after Wisconsin's most tow­er­ing his­toric fig­ure, Gov­er­nor and lat­er Sen­a­tor ​"Fight­ing Bob" La Fol­lette, who thor­ough­ly embod­ied Wisconsin's Pro­gres­sive tra­di­tion from the 1890s into the 1920s.
La Fol­lette was the state's lead­ing voice for a host of reforms on work­ers' rights, fair tax­es, qual­i­ty pub­lic edu­ca­tion, the envi­ron­ment and cam­paign finance — essen­tial­ly, much of the lega­cy that Wisconsin's Gov. Walk­er is seek­ing to eradicate.
An all-too-brief sum­ma­ry of recent events in Wisconsin
Recent­ly in Wis­con­sin, two Repub­li­can sen­a­tors, who had vot­ed for Gov. Scott Walker's bill that makes it vir­tu­al­ly impos­si­ble to sus­tain a union among pub­lic employ­ees, were replaced by two pro-labor Democ­rats, nar­row­ing the Repub­li­can major­i­ty to 17 – 16. And the labor-led, polit­i­cal­ly inde­pen­dent We Are Wis­con­sin coali­tion built exten­sive orga­ni­za­tions in six Repub­li­can Sen­ate districts.
But right-wing State Supreme Court Jus­tice David Pross­er, despite his record of com­bat­ive, bul­ly­ing prac­tices on the court and pre­vi­ous­ly in the Leg­is­la­ture, some­how avoid­ed legal charges for putting his hands on the throat of fel­low Jus­tice Ann Walsh Bradley.
Mean­while, the Walk­er admin­is­tra­tion is mov­ing ahead to unfair­ly and decep­tive­ly dis­cour­age vot­ing in 2012 through what Com­mon Cause calls ​"the most restric­tive, bla­tant­ly par­ti­san and ill-con­ceived vot­er iden­ti­fi­ca­tion leg­is­la­tion in the nation." Walk­er and his allies have topped off their assault on democ­ra­cy with a bla­tant­ly pro-Repub­li­can redis­trict­ing plan.
Most trou­bling, the new anti-union law has stripped pub­lic-sec­tor unions of the legal sta­tus to they had used since 1959 to effec­tive­ly pro­tect and rep­re­sent their mem­bers through tra­di­tion­al bar­gain­ing and griev­ance procedures.
But giv­en the cre­ativ­i­ty and non-vio­lent mil­i­tan­cy dis­played by Wisconsin's pub­lic work­ers, I would expect that the com­ing months will pro­duce an epi­dem­ic of non-coop­er­a­tion with man­age­ment when­ev­er and wher­ev­er the boss­es' author­i­ty is not clear­ly spelled out in writ­ten work rules.
The work­ers' spir­it of deter­mi­na­tion and suc­cess­ful out­reach to non-labor groups — cap­tur­ing world­wide atten­tion and sup­port, espe­cial­ly when crowds of 100,000 or more gath­ered at the State Capi­tol for weeks on end ear­li­er this year — will be hon­ored at Bob Fest, held all day Sat­ur­day at the Alliant Ener­gy Cen­ter. (A small­er event will kick off the fes­ti­val Fri­day night at the Bar­ry­more Theatre.)
Cor­nel West, Bernie Sanders, Jim High­tow­er among speakers
This year's line-up of pro­gres­sive ora­tors will include not­ed activist and author Prof. Cor­nel West, Vermont's demo­c­ra­t­ic social­ist Sen. Bernie Sanders, pop­ulist radio host Jim High­tow­er, Con­gress­man Den­nis Kucinich, 9 to 5 founder and author Ellen Bra­vo, inves­tiga­tive jour­nal­ist Greg Palast, author and TV host Thom Hart­mann, for­mer con­gress­man Dave Obey, Wisconsin's new can­di­date for the U.S. Sen­ate, Rep. Tam­my Bald­win, local pub­lic-employ­ee union lead­ers, and fam­i­ly farmer Tony Schultz, who elec­tri­fied a ral­ly at the State Capi­tol with his speech in sup­port of the work­ers' strug­gle against Walker's bill to deprive pub­lic work­ers of their voice.
Vir­tu­al­ly all off the lead­ing speak­ers have become increas­ing­ly harsh about their dis­ap­point­ment with the Oba­ma admin­is­tra­tion, most recent­ly with its approval of the haz­ardous Key­stone XL pipeline through the U.S. and Cana­da , sus­pen­sion of some key envi­ron­men­tal rules, con­ces­sions to Repub­li­cans on Social Secu­ri­ty, Medicare and Med­ic­aid, and a too-mod­est jobs bill that does not mea­sure up to Obama's pow­er­ful rhetoric.
Fes­ti­val orga­niz­er Ed Gar­vey sees this year's 10th anniver­sary cel­e­bra­tion as hon­or­ing and embold­en­ing the pub­lic-employ­ee union mem­bers and increas­ing the heat from labor and the Demo­c­ra­t­ic base on Pres­i­dent Oba­ma. Gar­vey warns that, unless Oba­ma — who has tak­en guid­ance from Wall Street insid­ers and aban­doned the pop­ulist anti-cor­po­rate rhetoric that helped him to win Wis­con­sin by 14 points in 2008 — reverts to the fight­ing stance he took dur­ing his pres­i­den­tial cam­paign, he could lose the enthu­si­asm of his long-neglect­ed Demo­c­ra­t­ic base.
Gar­vey believes that only a much more force­ful Oba­ma stands between us and the pres­i­den­cy of Rick Per­ry or Mitt Rom­ney. He hopes that Fight­ing Bob Fest will add fuel to a grow­ing prairie fire of eco­nom­ic pop­ulism that will final­ly get Oba­ma mov­ing in a pro­gres­sive direction.
"I think Oba­ma has time to enlist the pro­gres­sives, but he can't do it with nam­by-pam­by cries for bi-par­ti­san­ship when the Repub­li­cans are doing every­thing they can, every wak­ing moment, to send Oba­ma back to Har­vard," Gar­vey declared on his Fight­ing Bob blog. ​"It is time to fight for Social Secu­ri­ty and Medicare. It is time to bring our troops home. It is time for leadership."
With the huge gath­er­ing antic­i­pat­ed Sat­ur­day, ​"We have a chance to change the way our coun­try is run. Let's do it!"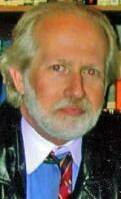 Roger Bybee

is a Mil­wau­kee-based free­lance writer and Uni­ver­si­ty of Illi­nois vis­it­ing pro­fes­sor in Labor Edu­ca­tion.Roger's work has appeared in numer­ous nation­al pub­li­ca­tions, includ­ing

Z

mag­a­zine,

Dol­lars

&

Sense, The Pro­gres­sive, Pro­gres­sive Pop­ulist, Huff­in­g­ton Post, The Amer­i­can Prospect, Yes!

and

For­eign Pol­i­cy in Focus

.More of his work can be found at

zcom​mu​ni​ca​tions​.org/​z​s​p​a​c​e​/​r​o​g​e​r​d​bybee

.