10th Annual 'Fighting Bob' Fest Aims to Honor Workers, Light Fire Under Obama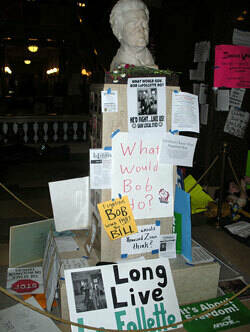 Wisconsin's labor and progressive movements are getting restless again, and that will become obvious with the 10th anniversary of the ​"Fighting Bob" Festival that will gather thousands this Saturday, Sept. 17, in Madison, Wis.
The festival will focus on support of public-employee rights and demanding more progressive policies from the timid Obama administration.
The event is named after Wisconsin's most towering historic figure, Governor and later Senator ​"Fighting Bob" La Follette, who thoroughly embodied Wisconsin's Progressive tradition from the 1890s into the 1920s.
La Follette was the state's leading voice for a host of reforms on workers' rights, fair taxes, quality public education, the environment and campaign finance — essentially, much of the legacy that Wisconsin's Gov. Walker is seeking to eradicate.
An all-too-brief summary of recent events in Wisconsin
Recently in Wisconsin, two Republican senators, who had voted for Gov. Scott Walker's bill that makes it virtually impossible to sustain a union among public employees, were replaced by two pro-labor Democrats, narrowing the Republican majority to 17-16. And the labor-led, politically independent We Are Wisconsin coalition built extensive organizations in six Republican Senate districts.
But right-wing State Supreme Court Justice David Prosser, despite his record of combative, bullying practices on the court and previously in the Legislature, somehow avoided legal charges for putting his hands on the throat of fellow Justice Ann Walsh Bradley.
Meanwhile, the Walker administration is moving ahead to unfairly and deceptively discourage voting in 2012 through what Common Cause calls ​"the most restrictive, blatantly partisan and ill-conceived voter identification legislation in the nation." Walker and his allies have topped off their assault on democracy with a blatantly pro-Republican redistricting plan.
Most troubling, the new anti-union law has stripped public-sector unions of the legal status to they had used since 1959 to effectively protect and represent their members through traditional bargaining and grievance procedures.
But given the creativity and non-violent militancy displayed by Wisconsin's public workers, I would expect that the coming months will produce an epidemic of non-cooperation with management whenever and wherever the bosses' authority is not clearly spelled out in written work rules.
The workers' spirit of determination and successful outreach to non-labor groups — capturing worldwide attention and support, especially when crowds of 100,000 or more gathered at the State Capitol for weeks on end earlier this year — will be honored at Bob Fest, held all day Saturday at the Alliant Energy Center. (A smaller event will kick off the festival Friday night at the Barrymore Theatre.)
Cornel West, Bernie Sanders, Jim Hightower among speakers
This year's line-up of progressive orators will include noted activist and author Prof. Cornel West, Vermont's democratic socialist Sen. Bernie Sanders, populist radio host Jim Hightower, Congressman Dennis Kucinich, 9 to 5 founder and author Ellen Bravo, investigative journalist Greg Palast, author and TV host Thom Hartmann, former congressman Dave Obey, Wisconsin's new candidate for the U.S. Senate, Rep. Tammy Baldwin, local public-employee union leaders, and family farmer Tony Schultz, who electrified a rally at the State Capitol with his speech in support of the workers' struggle against Walker's bill to deprive public workers of their voice.
Virtually all off the leading speakers have become increasingly harsh about their disappointment with the Obama administration, most recently with its approval of the hazardous Keystone XL pipeline through the U.S. and Canada , suspension of some key environmental rules, concessions to Republicans on Social Security, Medicare and Medicaid, and a too-modest jobs bill that does not measure up to Obama's powerful rhetoric.
Festival organizer Ed Garvey sees this year's 10th anniversary celebration as honoring and emboldening the public-employee union members and increasing the heat from labor and the Democratic base on President Obama. Garvey warns that, unless Obama — who has taken guidance from Wall Street insiders and abandoned the populist anti-corporate rhetoric that helped him to win Wisconsin by 14 points in 2008 — reverts to the fighting stance he took during his presidential campaign, he could lose the enthusiasm of his long-neglected Democratic base.
Garvey believes that only a much more forceful Obama stands between us and the presidency of Rick Perry or Mitt Romney. He hopes that Fighting Bob Fest will add fuel to a growing prairie fire of economic populism that will finally get Obama moving in a progressive direction.
"I think Obama has time to enlist the progressives, but he can't do it with namby-pamby cries for bi-partisanship when the Republicans are doing everything they can, every waking moment, to send Obama back to Harvard," Garvey declared on his Fighting Bob blog. ​"It is time to fight for Social Security and Medicare. It is time to bring our troops home. It is time for leadership."
With the huge gathering anticipated Saturday, ​"We have a chance to change the way our country is run. Let's do it!"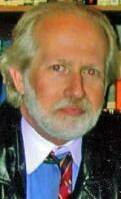 Roger Bybee

is a Milwaukee-based freelance writer and University of Illinois visiting professor in Labor Education. Roger's work has appeared in numerous national publications, including

Z

magazine,

Dollars

&

Sense, The Progressive, Progressive Populist, Huffington Post, The American Prospect, Yes!

and

Foreign Policy in Focus

. More of his work can be found at

zcom​mu​ni​ca​tions​.org/​z​s​p​a​c​e​/​r​o​g​e​r​d​bybee

.