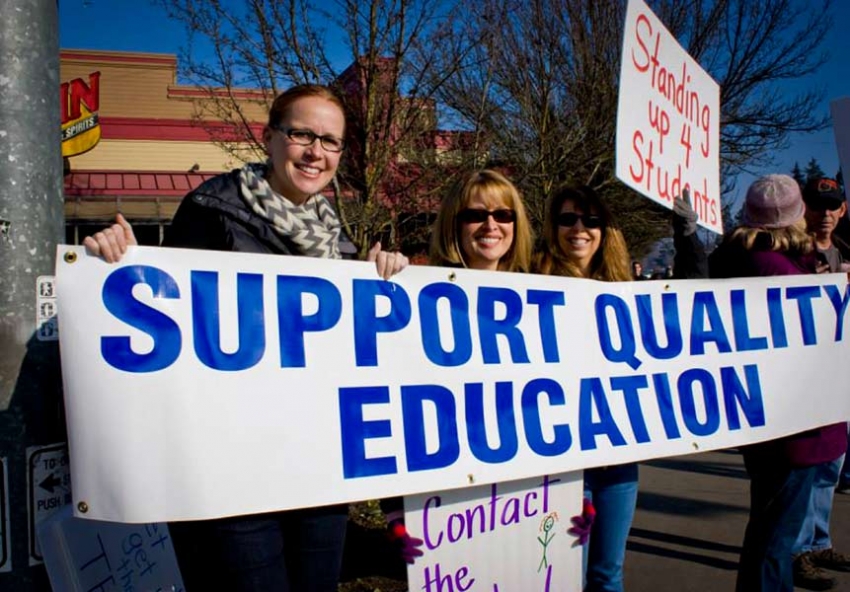 Act Locally » March 26, 2014
Teachers' Strikes, Catching Fire
From Oregon to Minnesota, school is out unless teachers and communities are heard.
Medford teachers protected their preparation time from proposed cuts and limited the student-to-teacher ratio. Portland teachers won an increase in their prep time and the hiring of new instructors to shrink class sizes.
Conventional wisdom holds that it's hard to garner sympathy for relatively well-paid public workers at a time when fewer and fewer people have jobs that make ends meet. So the so-called "age of austerity" has seen unions of teachers and other public-sector employees accept cut after cut. Teachers in particular have been targeted by an education reform movement that posits unionized educators as a threat to children's learning.
Yet in spite of that, teachers are beginning to win some battles—by winning over hearts and minds in the communities they serve.
"I think we've reached the point where it's very clear to teachers that we can't give [students] what they deserve under the circumstances that we find ourselves in now," says Elizabeth Thiel, a high-school English teacher at Madison High School in Portland, Ore. Parents and students have also realized that endless standardized testing and demands for "accountability" from teachers at the same time that budget cuts swell class sizes and reduce services is a recipe for disaster, not success.
Thiel's union, the Portland Association of Teachers (PAT), came within days of a strike before reaching an agreement February 18 with Portland Public Schools that includes the hiring of 150 new teachers to reduce class sizes and curtailing the extent that teacher evaluations hinge on student test scores. In Medford, Ore., a 16-day strike ended February 21 when the district conceded to many of the teachers' demands on pay, benefits and working time. And in St. Paul, Minn., the district agreed to a deal on February 21, the last working day before the union was due to take a strike vote. In all three districts, strong community support helped the teachers win a stronger contract. A year and a half after the Chicago Teachers Union revived the strike with a seven-day work stoppage that became national news, teachers unions around the country are showing a willingness to fight, and are doing the organizing necessary to win communities to their side.
"[The district] didn't believe that we would go out on strike, and they didn't believe that after 11 days we'd still be every single one of us strong," Cat Brasseur, the communications chair of the Medford Education Association, tells In These Times.
The Medford and Portland school districts seemed to be counting on the austerity ideology to hold sway as they demanded "rollbacks" from the workers: 118 separate demands for concessions in Medford, 78 in Portland. Both districts called an end to direct bargaining after the minimum amount of time mandated by law and then declared an impasse after the minimum 15 days of mediation. But teachers called their bluff, and the community was on their side. It turns out that making conditions in schools, not just wages and benefits, central to collective bargaining is popular with the public. In Oregon and Minnesota, the unions built relationships with parents and students that helped convince the school districts that they should accede to some demands.
Medford teachers protected their preparation time from proposed cuts and limited the student-to-teacher ratio. Portland teachers won an increase in their prep time and the hiring of new instructors to shrink class sizes. In St. Paul, teachers secured an expansion of the city's pre-kindergarten program and smaller class sizes in high-poverty schools, in order to allow teachers to give individual attention to students who need it the most. According to Nick Faber, a 28-year St. Paul teacher and an officer in the St. Paul Federation of Teachers union (SPFT), families are facing more economic challenges than ever, which means students are coming to teachers with more problems that require closer relationships.
Bargaining for policies that help teachers deepen their relationships with parents is not new to the SPFT: Their last contract won funding for a project that trains teachers to make home visits. In addition to maintaining that program, which has now trained more than 400 teachers, Mary Cathryn Ricker, president of the SPFT, says that the new contract allows schools to change how parent-teacher conferences work. In the past, she says, conferences had been modelled on "a generally white, middle-class mom who could find time to stop by after school got out and visit with her teachers." But today, more children come from single-parent homes or those where two parents work, and schedules can be erratic. And so, Ricker says, St. Paul teachers successfully won the flexibility to design conferences in ways that better suit community needs.
---
Help In These Times Continue Publishing
Progressive journalism is needed now more than ever, and In These Times needs you.
Like many nonprofits, we expect In These Times to struggle financially as a result of this crisis. But in a moment like this, we can't afford to scale back or be silent, not when so much is at stake. If it is within your means, please consider making an emergency donation to help fund our coverage during this critical time.
Sarah Jaffe
Sarah Jaffe is a former staff writer at In These Times and author of Necessary Trouble: Americans in Revolt , which Robin D.G. Kelley called "The most compelling social and political portrait of our age." You can follow her on Twitter @sarahljaffe.
View Comments