Teachers' Strikes, Catching Fire
From Oregon to Minnesota, school is out unless teachers and communities are heard.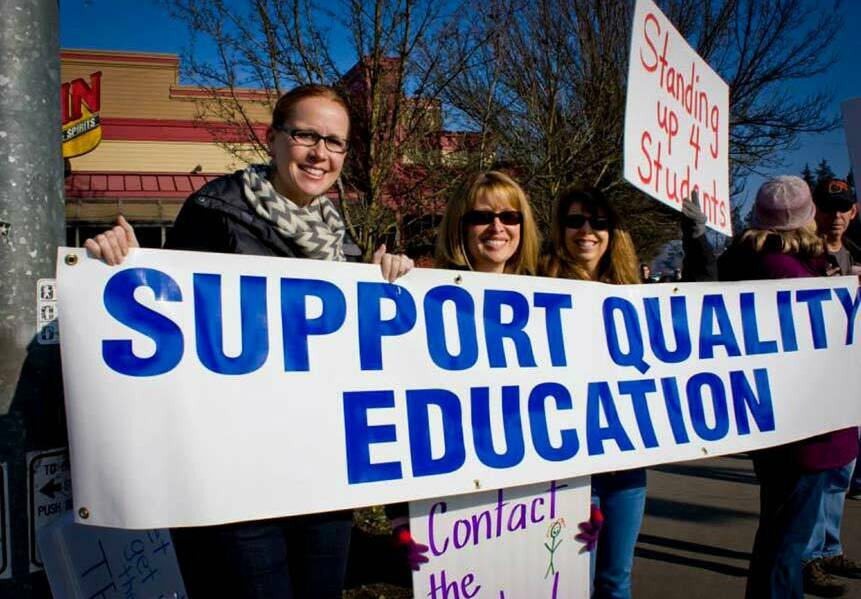 Con­ven­tion­al wis­dom holds that it's hard to gar­ner sym­pa­thy for rel­a­tive­ly well-paid pub­lic work­ers at a time when few­er and few­er peo­ple have jobs that make ends meet. So the so-called ​"age of aus­ter­i­ty" has seen unions of teach­ers and oth­er pub­lic-sec­tor employ­ees accept cut after cut. Teach­ers in par­tic­u­lar have been tar­get­ed by an edu­ca­tion reform move­ment that posits union­ized edu­ca­tors as a threat to children's learning.
Yet in spite of that, teach­ers are begin­ning to win some bat­tles — by win­ning over hearts and minds in the com­mu­ni­ties they serve.
​"I think we've reached the point where it's very clear to teach­ers that we can't give [stu­dents] what they deserve under the cir­cum­stances that we find our­selves in now," says Eliz­a­beth Thiel, a high-school Eng­lish teacher at Madi­son High School in Port­land, Ore. Par­ents and stu­dents have also real­ized that end­less stan­dard­ized test­ing and demands for ​"account­abil­i­ty" from teach­ers at the same time that bud­get cuts swell class sizes and reduce ser­vices is a recipe for dis­as­ter, not success.
Thiel's union, the Port­land Asso­ci­a­tion of Teach­ers (PAT), came with­in days of a strike before reach­ing an agree­ment Feb­ru­ary 18 with Port­land Pub­lic Schools that includes the hir­ing of 150 new teach­ers to reduce class sizes and cur­tail­ing the extent that teacher eval­u­a­tions hinge on stu­dent test scores. In Med­ford, Ore., a 16-day strike end­ed Feb­ru­ary 21 when the dis­trict con­ced­ed to many of the teach­ers' demands on pay, ben­e­fits and work­ing time. And in St. Paul, Minn., the dis­trict agreed to a deal on Feb­ru­ary 21, the last work­ing day before the union was due to take a strike vote. In all three dis­tricts, strong com­mu­ni­ty sup­port helped the teach­ers win a stronger con­tract. A year and a half after the Chica­go Teach­ers Union revived the strike with a sev­en-day work stop­page that became nation­al news, teach­ers unions around the coun­try are show­ing a will­ing­ness to fight, and are doing the orga­niz­ing nec­es­sary to win com­mu­ni­ties to their side.
"[The dis­trict] didn't believe that we would go out on strike, and they didn't believe that after 11 days we'd still be every sin­gle one of us strong," Cat Brasseur, the com­mu­ni­ca­tions chair of the Med­ford Edu­ca­tion Asso­ci­a­tion, tells In These Times.
The Med­ford and Port­land school dis­tricts seemed to be count­ing on the aus­ter­i­ty ide­ol­o­gy to hold sway as they demand­ed ​"roll­backs" from the work­ers: 118 sep­a­rate demands for con­ces­sions in Med­ford, 78 in Port­land. Both dis­tricts called an end to direct bar­gain­ing after the min­i­mum amount of time man­dat­ed by law and then declared an impasse after the min­i­mum 15 days of medi­a­tion. But teach­ers called their bluff, and the com­mu­ni­ty was on their side. It turns out that mak­ing con­di­tions in schools, not just wages and ben­e­fits, cen­tral to col­lec­tive bar­gain­ing is pop­u­lar with the pub­lic. In Ore­gon and Min­neso­ta, the unions built rela­tion­ships with par­ents and stu­dents that helped con­vince the school dis­tricts that they should accede to some demands.
Med­ford teach­ers pro­tect­ed their prepa­ra­tion time from pro­posed cuts and lim­it­ed the stu­dent-to-teacher ratio. Port­land teach­ers won an increase in their prep time and the hir­ing of new instruc­tors to shrink class sizes. In St. Paul, teach­ers secured an expan­sion of the city's pre-kinder­garten pro­gram and small­er class sizes in high-pover­ty schools, in order to allow teach­ers to give indi­vid­ual atten­tion to stu­dents who need it the most. Accord­ing to Nick Faber, a 28-year St. Paul teacher and an offi­cer in the St. Paul Fed­er­a­tion of Teach­ers union (SPFT), fam­i­lies are fac­ing more eco­nom­ic chal­lenges than ever, which means stu­dents are com­ing to teach­ers with more prob­lems that require clos­er relationships.
Bar­gain­ing for poli­cies that help teach­ers deep­en their rela­tion­ships with par­ents is not new to the SPFT: Their last con­tract won fund­ing for a project that trains teach­ers to make home vis­its. In addi­tion to main­tain­ing that pro­gram, which has now trained more than 400 teach­ers, Mary Cathryn Rick­er, pres­i­dent of the SPFT, says that the new con­tract allows schools to change how par­ent-teacher con­fer­ences work. In the past, she says, con­fer­ences had been mod­elled on ​"a gen­er­al­ly white, mid­dle-class mom who could find time to stop by after school got out and vis­it with her teach­ers." But today, more chil­dren come from sin­gle-par­ent homes or those where two par­ents work, and sched­ules can be errat­ic. And so, Rick­er says, St. Paul teach­ers suc­cess­ful­ly won the flex­i­bil­i­ty to design con­fer­ences in ways that bet­ter suit com­mu­ni­ty needs.
Medford teachers protected their preparation time from proposed cuts and limited the student-to-teacher ratio. Portland teachers won an increase in their prep time and the hiring of new instructors to shrink class sizes.
In St. Paul, teach­ers held lis­ten­ing ses­sions and formed book groups with com­mu­ni­ty mem­bers. They read Alfie Kohn's The Schools Our Chil­dren Deserve, from which the union took the title for its report, ​"The Schools St. Paul Chil­dren Deserve." The Chica­go Teach­ers Union had issued a sim­i­lar report with a sim­i­lar title in 2012, and Port­land, too, adopt­ed that fram­ing in the pre­am­ble to its bar­gain­ing demands.
Such com­mu­ni­ty out­reach has helped teach­ers over­come the rhetoric of ​"self­ish­ness" lev­eled at them. Faber says that par­ents inde­pen­dent­ly start­ed a Face­book group to sup­port the teach­ers, which grew to around 1,500 mem­bers before the dis­trict chose to set­tle. In Min­neso­ta, where union bar­gain­ing ses­sions are cov­ered by open meet­ings law, the SPFT began encour­ag­ing not just rank-and-file teach­ers, but par­ents, too, to come watch nego­ti­a­tions. ​"Sud­den­ly we had par­ents and com­mu­ni­ty mem­bers com­ing," says Rick­er. ​"We start­ed gain­ing their trust." This year, she says, when the dis­trict moved to medi­a­tion, a process closed to the pub­lic, par­ents were angry at being shut out.
But even while teach­ers scored vic­to­ries in each of these cities, the con­tracts also con­tained con­ces­sions. Rick­er says that the class sizes in St. Paul are still not where the teach­ers want them to be — while they man­aged to low­er the max­i­mum num­ber of stu­dents in some class­es by two or three, that still leaves teach­ers, in many cas­es, with more than 30 stu­dents. But water­shed moments like the Chica­go strike, she notes, are built on incre­men­tal momen­tum; so she sees the new con­tract as progress.
Teach­ers around the coun­try are part of some­thing that's begin­ning to look like a real move­ment. Teach­ers in Port­land felt con­nect­ed to Chica­go when the strike hap­pened there. Teach­ers in St. Paul, Rick­er says, came to her excit­ed to hear that issues in Port­land were so sim­i­lar to their own. Con­ver­sa­tions that hap­pened online, at con­fer­ences, and in face-to-face meet­ings are help­ing teach­ers to con­nect across the coun­try, to become part of some­thing bigger.
​"We need to be look­ing at issues relat­ed to pover­ty and edu­ca­tion and class all togeth­er," Thiel says, ​"and mak­ing huge coali­tions that don't treat each of these issues as sep­a­rate fights but part of a much big­ger goal of cre­at­ing more equal­i­ty for everybody."
Sarah Jaffe
is a for­mer staff writer at
In These Times
and author of
Nec­es­sary Trou­ble: Amer­i­cans in Revolt
, which Robin D.G. Kel­ley called ​
"
The most com­pelling social and polit­i­cal por­trait of our age." You can fol­low her on Twit­ter
@sarahljaffe
.