2009: A Very Dangerous Year for Journalists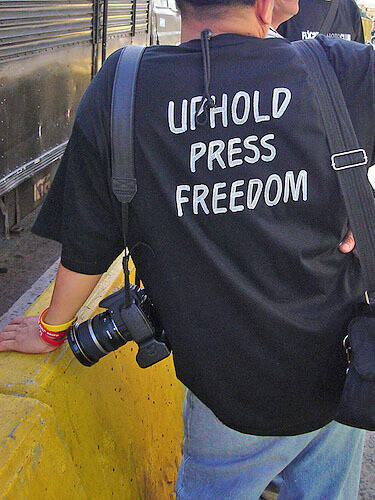 The late French photojournalist and filmmaker Christian Poveda came to El Salvador in the 1980s to document the civil war at its height and remained unscathed. But shortly after documenting and releasing a film about a different kind of war — Salvadoran gang conflicts — he was found dead, shot in the head.
He's one of dozens of journalists around the world who were killed, tortured or jailed last year, violence thoroughly documented by two new reports about the dangers faced by journalists in 2009.
The number of journalists killed broke records, according to the Committee to Protect Journalists.
CPJ's report found killings the highest they've been since the group started keeping records in 1992, with some 68 journalists killed for their work — up more than 60 percent from 42 deaths in 2008. Of the killings, print journalists made up 56 percent of the toll.
Boosting the 2009 death rate was the largest massacre of journalists in a single day: the November massacre of 30 journalists in the Philippines. They were among 57 people killed in an ambush ​"motivated by political clan rivalries."
The report noted that for the past two years, the Philippines has been identified as ​"one of the world's worst nations in combating violence against the press."
The CPJ reported it was concerned that the investigation into the murders was already compromised and that the crime scene had not been ​"well preserved, that potential witnesses had been intimidated and the investigation was poorly coordinated."
CPJ noted three other journalist deaths in the Philippines, bringing the number to 32 journalists and two support workers killed in that country in 2009.
Worldwide, violence against reporters escalated in Somalia where nine journalists were killed in combat or murdered.
In Iraq, things improved just a bit for media workers, with the death toll down. Four Iraqi journalists were killed in 2009 – down from 11 in 2008 and the lowest since the yearly count there began in 2003.
Murder was cited as the main cause of work-related deaths this past year. Fifty journalists, according to the report, were targeted and killed in retaliation for their work. Eleven others were killed in crossfire while in war situations. Seven others died covering dangerous stories. According to a report by Reporters Sans Frontiéres/​Reporters Without Borders, the number of journalists behind bars (167) jumped 9 percent over 2008.
That report states that 76 journalists were killed in 2009, differing from CPJ's tally. It says that ​"nearly every journalist killed in 2009 died in their own country. The exception was filmmaker Poveda, murdered shortly after releasing Mi Vida Loca, which offers a searing look at El Salvadoran gang life.
The report notes that 160 journalists
in all continents were forced to go into exile to escape prison or death, often in very dangerous circumstances. The Iranian press photographers crossing the Turkish border to escape arrest or the Somali radio journalists fleeing to neighbouring countries to avoid certain death had all reported essential news and information that some people would go to any lengths to suppress.
Journalists and bloggers in Iran experienced an unprecedented wave of arrests, detentions and convictions after President Mahmoud Ahmadinejad's controversial and disputed reelection. According to the report:
No one should be surprised that, as bloggers and websites continue to flourish, censorship and repression have surged proportionately. There is almost no country nowadays that has entirely escaped this phenomenon. As soon as the Internet or new media (social networking, mobile phones etc) start to play a leading role in the spread of news and information, a serious clampdown follows. Bloggers are now watched as closely as journalists from the traditional media.
Reporters Without Borders found that for the first time since the emergence of the Internet, more than 100 bloggers and cyberdissidents were imprisoned worldwide for posting their opinions online.
"Although China continued to be the leading Internet censor in 2009, Iran, Tunisia, Thailand, Saudi Arabia, Vietnam and Uzbekistan have also resorted to frequent blocking of websites and blogs and surveillance of online expression," the report says.
The most dangerous country for journalists
Reporters Without Borders identified drug-trafficking as one of the leading threats to journalists in the western hemisphere. The report identified 13 reporters killed in Mexico in 2009.
In Mexico, radio journalist José Luis Romero, 40, was killed December 30. He had been shopping when gunmen pulled him away and threw him in a pickup truck. Earlier that month, journalist and lawyer José Alberto Velásquez López, based in Tulum in Quintana Roo, Mexico, was shot and killed. He was editor of Diario Express de Tulum newspaper.
In September, after spending months in Mexico, a Reporters without Borders delegation released a report titled Mexico: Behind the Scenes of Impunity.

Investigators found impunity, cases bounced from one agency to another, local to federal, and that that country's Special Federal Attorney's Office for Combating Violence Against the Media /​Periodistas (FEADP), which investigates journalist murders, was, for the most part, a useless agency. The report called Mexico the most dangerous country for journalists in the western hemisphere.
U.S. Immigration is being urged to grant protections to journalists who flee across the border. And for the first time, Reporters Without Borders annual roundup includes journalists who have fled their countries because of threats to their lives and liberty.
Speaking at a news conference in Washington, D.C., Mexican journalist Emilio Gutiérrez Soto explained why he was seeking political asylum. He stated, ​"I left my country June 16, 2008, to escape attacks on journalists the Mexican government was orchestrating through the Mexican Army … I left to ensure my safety and right to life and also of that of my 15-year-old son."
Limited time: $10 gift subscriptions
We've made it easier and more affordable to give the gift of In These Times than ever. Give a shining example of a free, independent press to all the progressive thinkers on your gift list. For a limited time, 12-issue gift subscriptions are just $10.
Rose Arrieta
was born and raised in Los Angeles. She has worked in print, broadcast and radio, both mainstream and community oriented — including being a former editor of the Bay Area's independent community bilingual biweekly El Tecolote. She currently lives in San Francisco, where she is a freelance journalist writing for a variety of outlets on social justice issues.
Special Offer: Gift subscriptions for just $10
For a limited time, you can give a gift subscription to In These Times magazine for just $10.