Raise a Glass to These Progressive Victories in 2015
From the death of the Keystone XL pipeline to Fight for 15 victories, progressives made have major strides this year--thanks to groundwork laid over the past decade.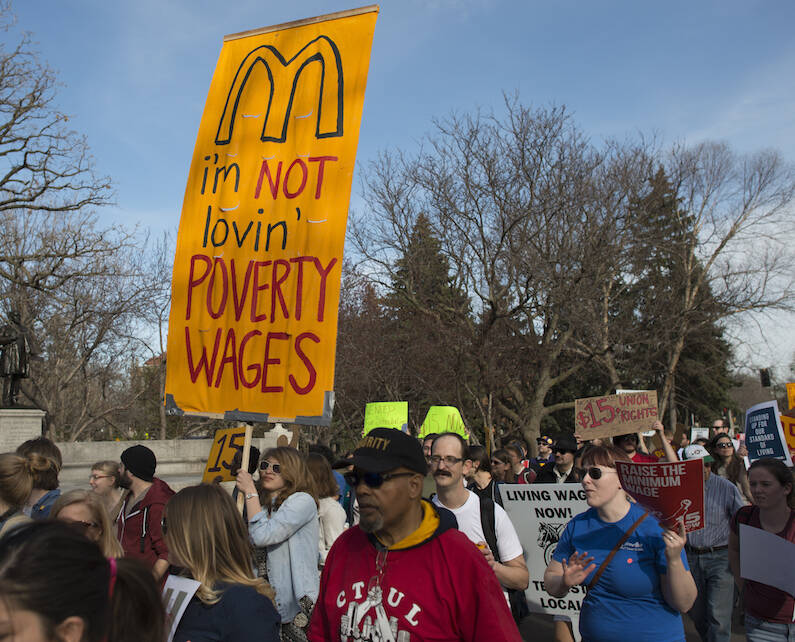 Pro­gres­sives under­stand­ably avoid cel­e­brat­ing our suc­cess­es. There's no joy in being proven trag­i­cal­ly right, as in the case of the Iraq War. And most vic­to­ries are par­tial — there's always a caveat. Could it be, though, that our reluc­tance is sap­ping us of the verve need­ed for the strug­gles to come? In the long march for social and eco­nom­ic jus­tice, we need to sound a few trumpets.
Indeed, progressives have been winning the contest of ideas for some time.
We have plen­ty to cel­e­brate this
year. Pushed by the work­er-led OUR Wal­mart cam­paign, Wal­mart raised its min­i­mum hourly wage to $9. Rivals T.J. Maxx, Mar­shalls and Tar­get fol­lowed. Respond­ing to the Fight for 15, McDonald's raised wages for 90,000 work­ers (although not to $15 an hour). The year also saw the death of the Key­stone XL pipeline, the abo­li­tion of the death penal­ty in Nebras­ka and the elec­tion of two politi­cians on pro-pub­lic edu­ca­tion plat­forms — Philadel­phia May­or Jim Ken­ney and Louisiana Gov. John Bel Edwards — to name just a few.
Such vic­to­ries don't come from nowhere. Ken­ney and Edwards won because teach­ers unions have demon­strat­ed that the bil­lions of dol­lars spent on cor­po­rate edu­ca­tion ​"reform" have failed to improve schools; that pover­ty is the main deter­mi­nant of edu­ca­tion­al out­comes; and that privatization's ​"win­ners and losers" ethos is bad for pub­lic education.
Indeed, pro­gres­sives have been win­ning the con­test of ideas for some time. The anti-Iraq War move­ment gave our fel­low cit­i­zens per­mis­sion to be skep­ti­cal about war. Sev­en­ty-one per­cent of the pub­lic now says Iraq was not worth it. Cre­ative orga­niz
ing by activists has reshaped the immi­gra­tion debate: Even as GOP anti-immi­grant fer­vor ris­es, 72 per­cent of the pub­lic thinks undoc­u­ment­ed immi­grants should have a way to stay. Thanks to 350​.org and its alliance-build­ing across the polit­i­cal spec­trum, an over­whelm­ing major­i­ty of Amer­i­cans now sup­port gov­ern­ment action to mit­i­gate cli­mate change.
Amid a stul­ti­fy­ing post-Cold War free-mar­ket tri­umphal­ism, the Occu­py move­ment cre­at­ed space for the Amer­i­can pub­lic to embrace a cri­tique of wealth. Six­ty-three per­cent of Amer­i­cans now say the dis­tri­b­u­tion of wealth in the Unit­ed States is unfair, and 52 per­cent favor heavy tax­es on the rich as a fix. Near­ly 60 per­cent approve of labor unions, and 70 per­cent sup­port rais­ing the fed­er­al min­i­mum wage. In this con­text, Bernie Sanders's cam­paign has thrived.
The debate about the Demo­c­ra­t­ic Party's pro­gres­sive poten­tial will con­tin­ue, but clear­ly the demise of the Demo­c­ra­t­ic Lead­er­ship Coun­cil (DLC) in 2011 was a coup for pro­gres­sives. Their cen­trist poli­cies, a hall­mark of Bill Clinton's pres­i­den­cy, are in dis­re­pute. Today the con­cerns of the Demo­c­ra­t­ic base — racial jus­tice, eco­nom­ic equi­ty and equal rights for all peo­ple— dom­i­nate the party's agen­da. Hillary Clin­ton, the would-be DLC heir, finds it polit­i­cal­ly nec­es­sary to sound more and more like Sanders.
Of course, as a pro­gres­sive, I must include a caveat. Though we have achieved tan­gi­ble and mean­ing­ful change, we need a stronger social move­ment, greater fund­ing and a firm­ly allied polit­i­cal par­ty — be it 
the Demo­c­ra­t­ic Par­ty or its replace­ment — to bring trans­for­ma­tion­al and per­ma­nent change. But the con­sen­sus we have achieved on so many fronts is an impor­tant foun­da­tion for such change. For the moment, a lit­tle self- con­grat­u­la­tion is appropriate.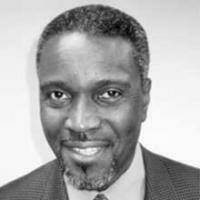 James Thind­wa
is a mem­ber of
In These Times
' Board of Direc­tors and a labor and com­mu­ni­ty activist.